Can you please give an overview of your brand?
At Britvic we supply retailers with many of the nation's soft drinks brands, from Robinsons and Fruit Shoot, to Tango and Pepsi MAX. We're dedicated to growing our brands through continuous innovation, alongside a commit- ment to sustainability.
During Recycle Week, which took place earlier this month, we announced that a number of our brands are moving to 100% rPET (recycled plastic), across single serve 500ml and/or 600ml bottles, by the end of September. This includes Pepsi, 7UP, Tango, Lipton Ice Tea, Robinsons Ready to Drink and drench, and Mountain Dew in December 2022.
How is your brand currently performing?
Despite the pandemic, soft drinks has remained largely buoyant, supported by at-home consumption. Products such as squash and cola delivered the highest volume growth YOY as shoppers looked for value. Robinsons, for example, grew at +13.5% in the past year, equivalent to £24.8m in additional sales value.
But with restrictions eased we also now see single-serve begin to regain momentum. We anticipate this will continue to grow, as on- the-go occasions surge again, and more people return to their routines.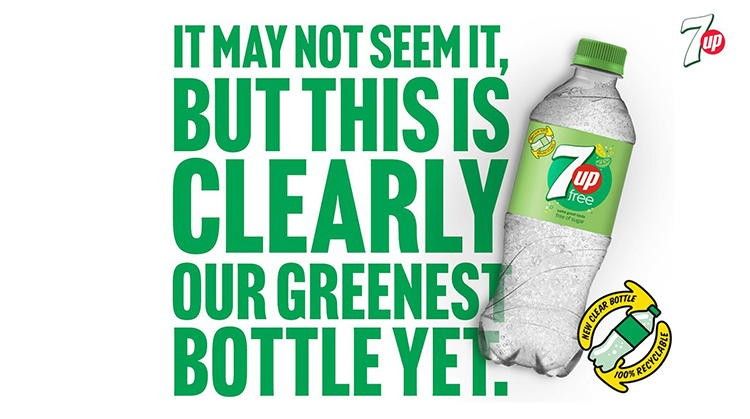 How is the single serve soft drinks market currently performing?
Despite the pandemic 28 million consumers still bought drinks in single serve formats last year. Coupled with the fact that soft drinks remain the number one category bought on a food-to- go mission, retailers have an opportunity to drive further sales by ensuring they consider shopper needs – including sustainability.
Shoppers' priorities are always evolving, but a growing number are increasingly concerned about their impact on the environment, which now influences shopping habits and decision-making. This was evident in research we commissioned this summer. Almost 60% of Brits stated they are more likely to choose a soft drink brand that communicates its use of 100% rPET, than those that don't.
Do you have any new product development?
Last year we announced our intention that all our GB bottles will be made from 100% rPET by end 2022. We have made huge progress towards this goal, and can confirm the next step in achieving our target: making the change across leading brands. We are proud to see the first use of Esterpet in our iconic brands as they make the move to 100% rPET, across single-serve formats.
Lipton Ice Tea was the first, with 100% rPET bottles this summer. Each will state its 100% recycled credential clearly, helping consumers make informed purchasing decisions.
How are you supporting your brand & NPD?
To highlight the transition of many of our brands to 100% rPET we have invested in a fully-integrated single-serve campaign, which will lead with Pepsi MAX – appearing on social, TV and OOH. Shoppers will therefore be on the lookout for the brands in their local stores, with the advert front of mind. But more importantly, we're supporting our trade customers, helping them to generate sales through on- pack communications of our moves to 100% rPET and POS materials.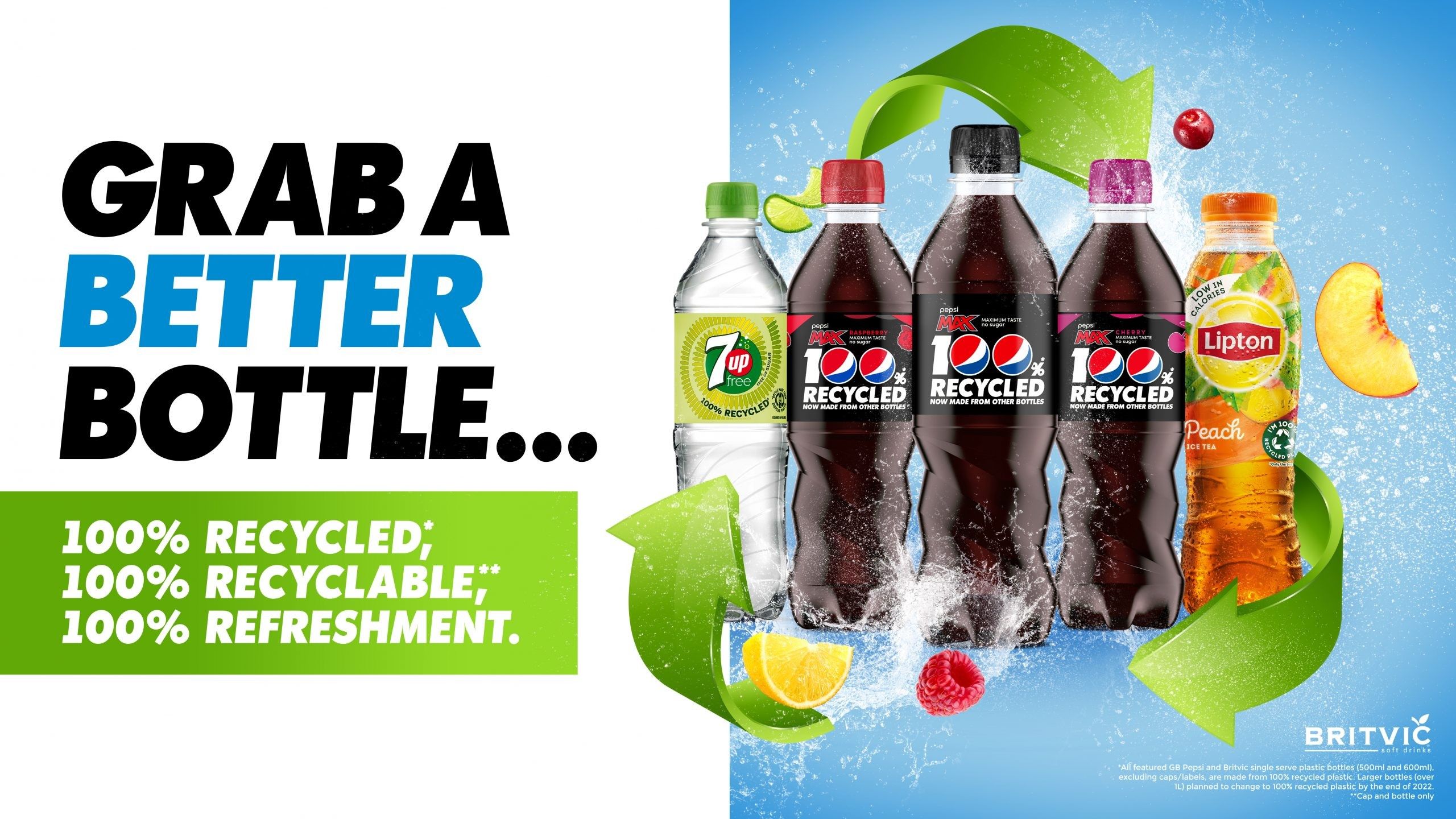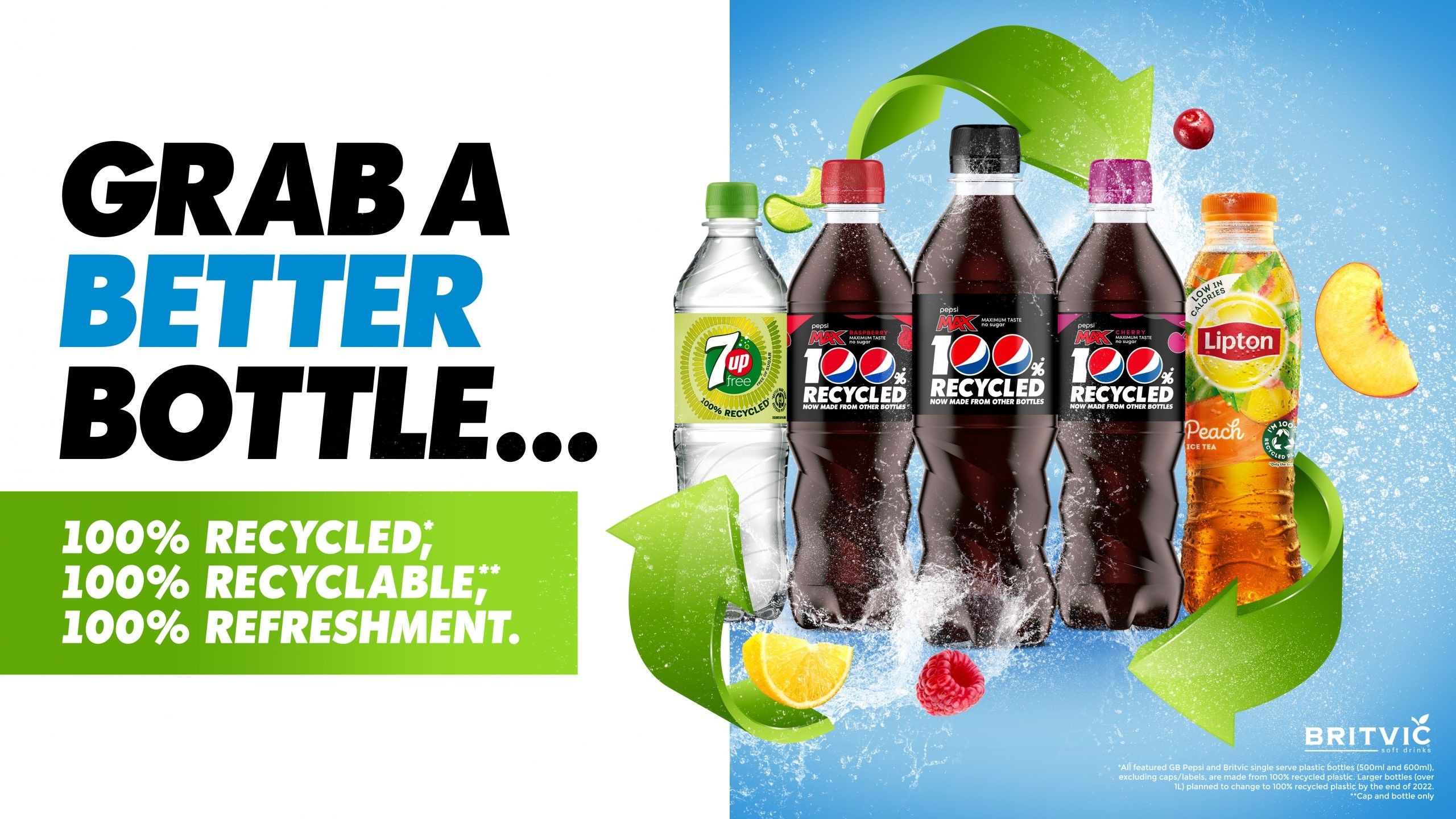 How important are independent retailers to your brand?
Independent retailers have always been vital to Britvic. We add value for retailers not just goes to show how important it is for independ- ent retailers to offer a range of sustainable products as it will now affect shopper loyalty. Our campaign and POS will aid retailers in driving sales.
What trends are occurring in the sector?
Environmental considerations and sustainability have soared on people's agenda over the last decade. Globally, climate change remains the number one concern of people, with 19.6% of respondents citing this – an increase of 0.5% compared to 2019. The second biggest concern remains plastic waste (14.8%).
It is not only a growing concern among people, but it is also now a factor in their decision-making and purchasing process. Our research reveals that the majority of Brits (80%) think it is important that manufacturers and brands use recycled plastic, showing how important it is for brands to step up when it comes to sustain- able packaging.
Therefore, consumers are expecting brands and organisations to demonstrate their environmental efforts through the products they manufacture and sell. In turn, it is important for retailers to keep up with consumer priorities, and their expectations of local stores. Retailers will benefit by indicating they too are aware of these issues, by stocking and signposting sustainable products in their stores.
Describe your brand in three words…
Iconic, Dynamic, Innovative