Can you please give an overview of your brand?  
Founded in 1999, Kurkure is an Asian-inspired snacking brand and one of the biggest salty snack brands in Asia1. Following this success, Kurkure made its debut in the UK last year, backed by PepsiCo. The brand celebrates the diversity of modern Britain, while bringing the rich heritage of Asian cuisine to tea-time savoury snacking.
We spent 18 months recreating the authentic taste profile of Kurkure, with a delicious fusion of rich spices and fragrant herbs for the UK market. Currently two flavours are available in the UK – Naughty Tomato and Masala Munch.
How is your brand currently performing? 
In August 2022, we conducted a survey across convenience retailers, revealing that Asian-inspired snacks have grown in importance for both retailers and customers in the last year2.  This demonstrated the growth opportunity for brands like Kurkure. In fact, 50 per cent of convenience retailers now stock Asian-inspired savoury snacks and this is growing rapidly, with 57 per cent expecting to expand their range in the future3. We also found 60 per cent of consumers favouring Indian flavours above all others4.  We recommend retailers stock the full Kurkure range to make the most of the opportunity for growth within the Asian-inspired savoury snack category.
How is the snacks market currently performing? 
Within the convenience channel, crisps and snacks have continued to be a critical sales driver for retailers. Over the last five years, savoury snacks have delivered a consistent value growth of +2.4 per cent5, with Crisps, Snacks and Nuts being the second biggest segment and making up 44 per cent of snacking occasions6. The savoury snacks category is well positioned for growth and continues to innovate and adapt to consumer needs – for example, through the launches of new Asian-inspired flavour options. Recent research from Kurkure found that, of those retailers surveyed, savoury snacks outperformed cakes, biscuits, and confectionery among 54 per cent of impulse retailers during Diwali and Eid occasions7. Kurkure's findings show that three in four retailers believe events and occasions benefit their Asian-inspired savoury snacking sales8. This gives retailers a great opportunity to capitalise on both upcoming occasions, and stocking the full Kurkure range will help meet both shoppers' and retailers' demands.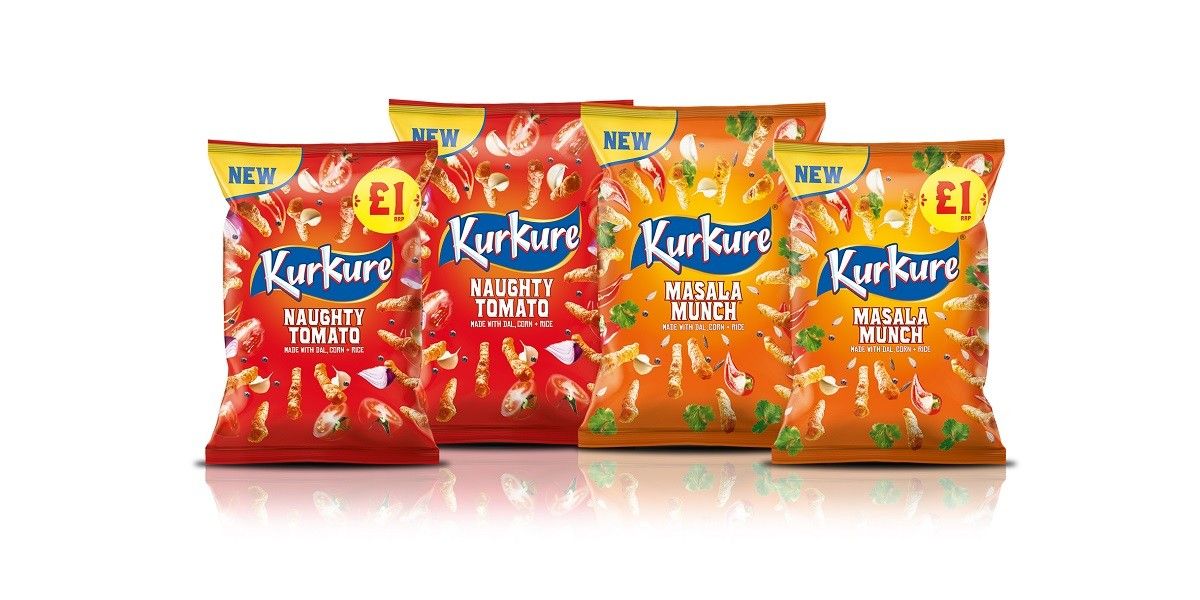 Do you have any new product development? 
We had two new launches last year with the bold flavours Naughty Tomato and Masala Munch. Both flavours answer the increasing demand for Asian-inspired savoury snacks, offering two varieties of "hot and spicy" flavours to the snacking category – a flavour which is one of the top three most loved by consumers9.
How important are independent retailers to your brand? 
Independent retailers are crucial to PepsiCo and our brands, and we have developed the Kurkure range with indies in mind. We offer both of our flavours in RRP price marked packs (PMPs), as PMPs are the number one contributor to crisps and snacks growth in value vs other segments10, demonstrating their importance to customers and retailers alike. We recommend retailers stock a variety of PMP formats to maximise this growth opportunity, including Kurkure, to meet consumer demands for more Asian snack flavours.
What trends are occurring in the sector? 
We've seen an increase in sharing savoury snack formats as consumers come together to connect and socialise, especially during occasions like Diwali. 42 per cent of all impulse snacking occasions come from fun moments with friends, family time together and evening unwind and treat occasions11. We're set to see many larger gatherings during the World Cup and Christmas, as well as the Big Night In occasion, and offering larger sharing formats is key to maximising sales for the snacking category during these times. In fact, our research shows that Christmas and the Big Night In have the biggest impact on Asian-flavoured snack sales, alongside seasonal festivals such as Eid and Diwali12. The Kurkure range is available in 100g sharing packs, to answer the demand for snacks that can be enjoyed by multiple people.
Describe your brand in three words
Inspired, innovative, bold.
---
[1] Kurkure is the 3rd largest brand in the entire Salty Snacking landscape in India (source: Insights industry construct, Nielsen, PGM) Kurkure is 8.5% of the total salty snacks category (Euromonitor Report June 2021)
2 KAM Research, Kurkure Convenience Retailer Survey, August 2022
3 KAM Research, Kurkure Convenience Retailer Survey, August 2022
4 KAM Research, Kurkure Convenience Retailer Survey, August 2022
5 AC Nielsen Total Impulse 5 Year CAGR MAT 23/4/2022 – Total Savoury Snacks
6 PepsiCo Consumer Landscape study 2021 (Bolt) – All macro–Snacking UK
7 KAM Research, Kurkure Convenience Retailer Survey, August 2022
8 KAM Research, Kurkure Convenience Retailer Survey, August 2022
9 PepsiCo Consumer Landscape study 2021 (Bolt) – All Snacking UK
10AC Nielsen Crisps, Snacks and Nuts – MAT 23/4/2022 Total Impulse Value Sales RRPMP's YA £value absolute growth compared to other sectors (Singles, Multipacks, Non PMP Sharing, Nuts)
11 PepsiCo Consumer Landscape study 2021 (Bolt) – All macro–Snacking UK
12 KAM Research, Kurkure Convenience Retailer Survey, August 2022