Can you please give an overview of your brand?
Although Shaken Udder is a relatively young brand, it has a rich heritage, having originally launched at UK festivals, where founders Andy and Jodie Howie would sample and sell fresh shakes from a stand. Today the brand is sold in all major grocery retailers, wholesalers, convenience stores, schools, farm shops and cafés nationwide. The range continues to expand and includes ambient on-the-go 330ml bottles, alongside chilled on-the-go 330ml bottles, 750ml share bottles, kids' cartons, and vegan-friendly Dairy-Free shakes.
We pride ourselves on having an uncompromising focus on taste and quality. We use superior ingredients, including real Belgian chocolate, Madagascan vanilla seeds, real fruit and absolutely nothing artificial, to achieve a delicious, creamy taste. With less than five per cent added sugar, all our shakes are also HFSS compliant.
How is your brand currently performing?
Shaken Udder continues to lead growth contribution for Core Flavoured Milk and has seen incredible growth since first launching in 2004. The brand is now worth £23.8m in retail sales value with double digit growth of +17 per cent year on year1. Shaken Udder is the UK's No. 1 premium milkshake brand1 and No. 2 flavoured milk brand in Grocery Multiples2.
How is the chilled milk drinks market currently performing?
The Flavoured Milk category has been performing well, with steady growth in recent years. It is now worth £310m, growing at +9.7 per cent YOY3. As household budgets get squeezed, shoppers often look to the Flavoured Milk category for affordable tasty treats.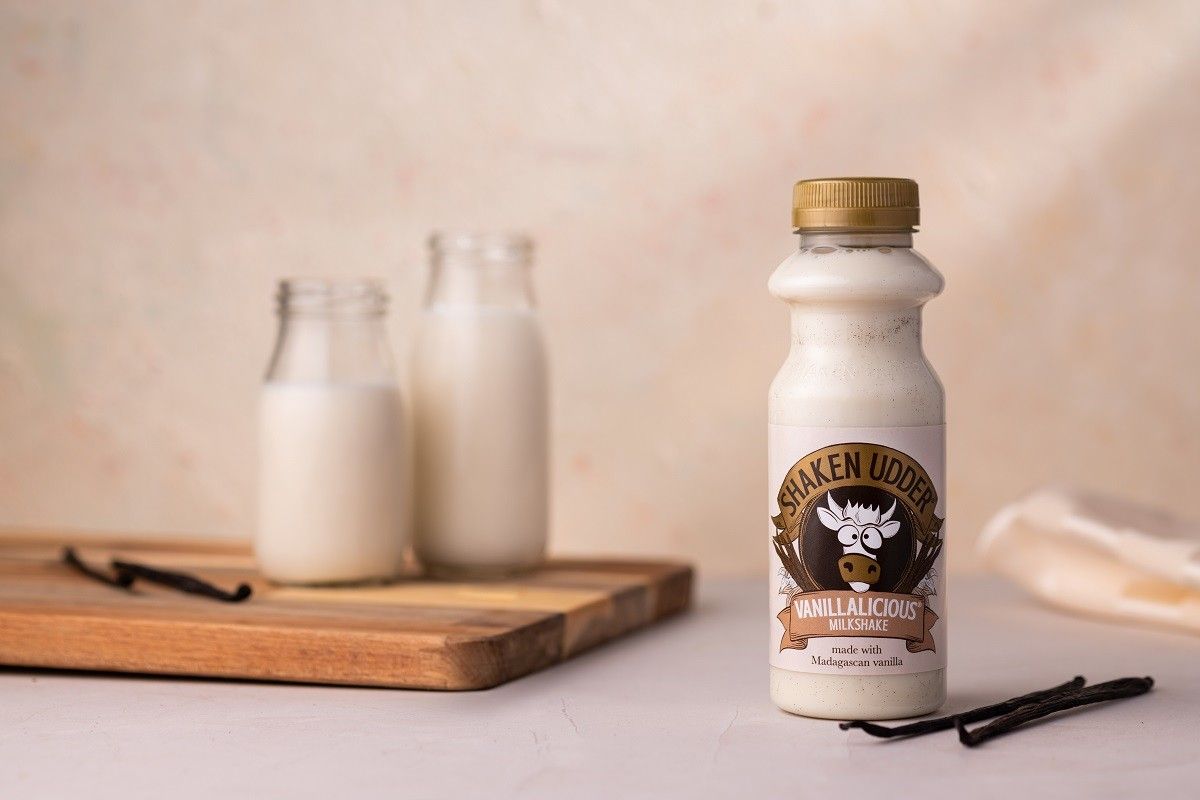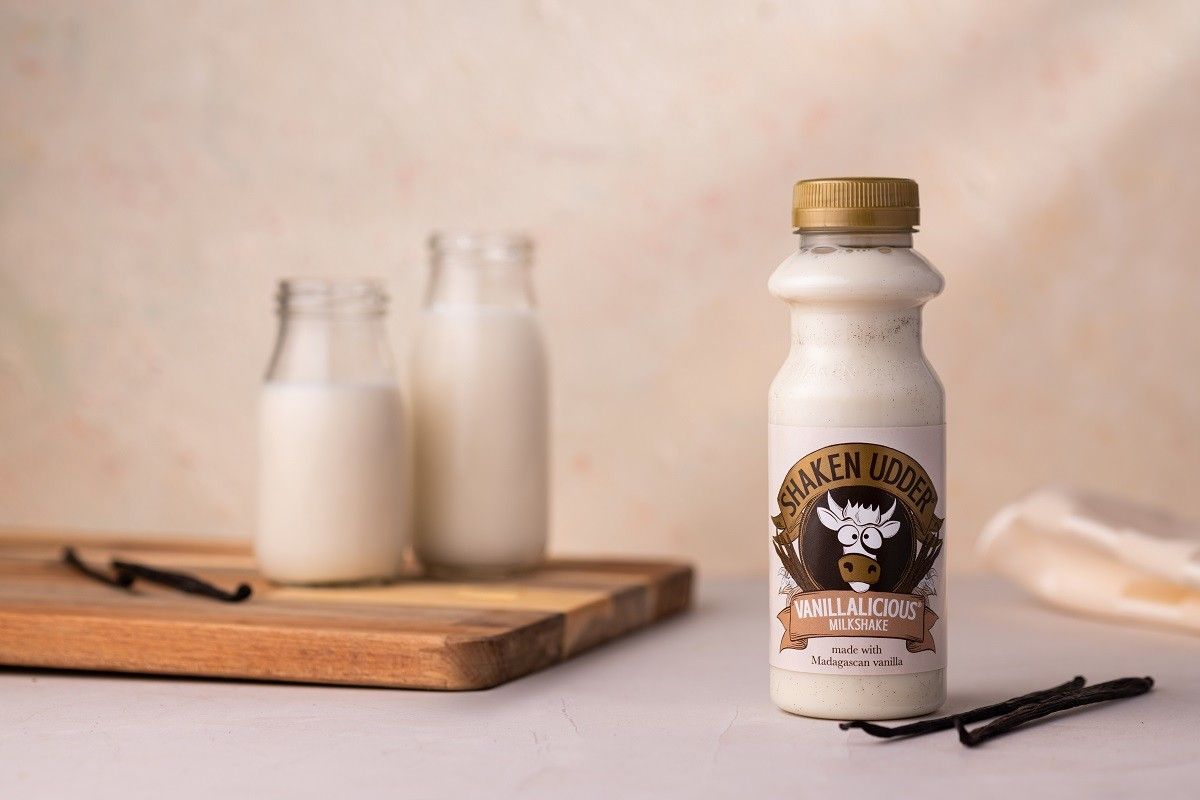 Do you have any new product development?
Last year, we launched an on-the-go ambient range which offers a longer shelf-life, no need for chilled storage and zero compromise on taste – designed for the convenience channel. The new ambient range comes in 330ml bottles which are ideal for impulse on-the-go purchases. They're currently available in two flavours – Chocolush and Vanillalicious – and fill the gap for an affordable premium milkshake brand in the convenience sector.
How are you supporting your brand and NPD?
In January, we started the rollout of our new packaging design, which evolves and strengthens branding and dials up premium taste credentials whilst celebrating our festival heritage. The new design elevates the brand to reflect our superior quality, with a colour palette of gold and soft pastels. Shaken Udder's taste credentials are communicated through hand-drawn images of the real ingredients and "made with" cues.
The rebrand is just the start and we have very exciting plans ahead, including the launch of our first ever large-scale advertising campaign this Spring. We're investing in an engaging media campaign, spanning TV, OOH, PR, digital, and social amongst other areas.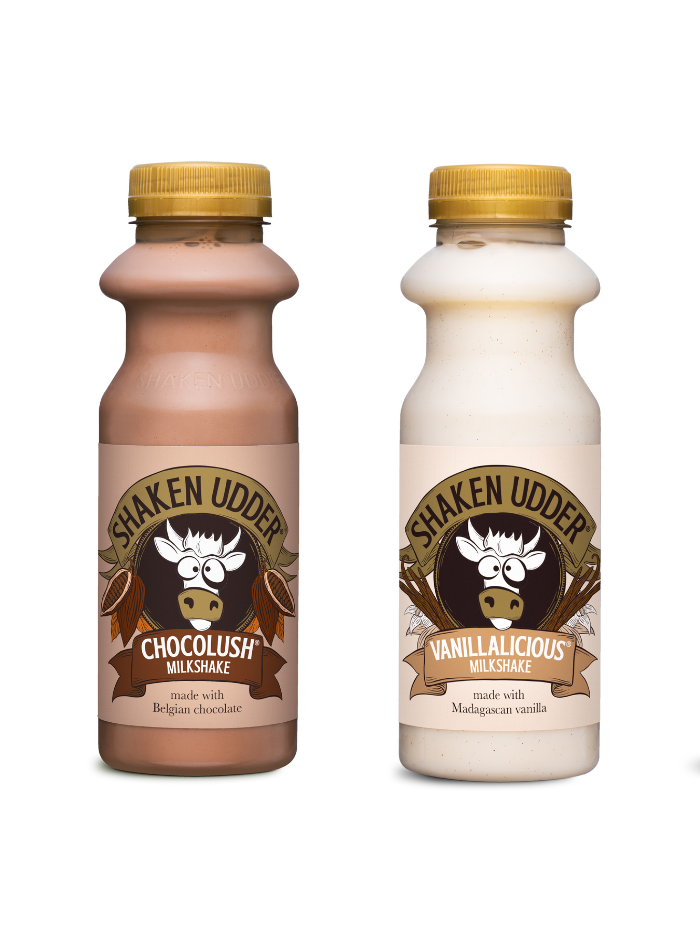 How important are independent retailers to your brand?
Independent retailers will play a leading role in the next stage of our growth journey, which includes a focus on the convenience channel. We're committed to supporting our retailer partners by offering a range of premium milkshakes, in the right format, to help grow sales. To help convenience retailers get to know us better, we've recently launched a dedicated section of our site which provides all the information they need on our ambient range4.
What trends are occurring in the sector?
In recent years, the Flavoured Milk category has seen a shift towards healthier options, as consumers become more health-conscious and seek out products with lower sugar content and natural ingredients. This has led to the introduction of new products with less sugar and fewer artificial ingredients. Another key factor driving growth is increasing consumer demand for convenient drinks that are easy to consume on-the-go.
Shaken Udder milkshakes tick both boxes by offering a convenient on-the-go option with less than five per cent added sugar, a good source of calcium and protein, and B12 for natural immunity support.
Describe your brand in three words …
Delicious. Uplifting. Affordable.
---
1 Nielsen IQ | Total Coverage | 52 w/e 11/02/23 | Shaken Udder £23.8m Value Sales (+17 per cent)
2 Nielsen IQ | Grocery Multiples | 52 w/e 11/02/23 | Shaken Udder £22.6m Value Sales
3 Nielsen IQ | Total Coverage | 52 w/e 11/02/23 | Total Flavoured Milk £310m Value Sales (+9.7 per cent)
4 Shaken Udder Ambient Milkshakes https://shakenudder.com/shaken-udder-ambient-milkshakes