Can you please give an overview of your brand?
KP Nuts is the UK's number one Nuts brand, well-known and synonymous with delicious nuts. We make sure we're catering to our consumers' search for tasty snacks with a portfolio that packs a real flavour punch, offering something for everyone from our iconic Original Salted Peanuts to our tasty Aromatic Thai Chilli Coated Peanuts.
Our KP Nuts appeal on both taste and health cues and are naturally packed with protein and fibre. Perfect for every occasion from in-home sharing to snacking on the go, KP Nuts guarantees a great-tasting, permissible snack.
How is your brand currently performing? 
KP Nuts is worth £81.9m and leads the category at over four times bigger than the nearest branded competitor1. We're delighted to say that the brand is growing ahead of the total Nuts category at +4.3 per cent2 (vs the category at +0.3 per cent3).
Shoppers gravitate towards trusted brands, with 42 per cent of Crisps, Snacks and Nuts sales going through the top five brands4, and KP Nuts is well-loved and recognisable. Known for its tasty nuts and boosted by a comprehensive pack and format range, KP Nuts is perfectly positioned to drive sales for retailers.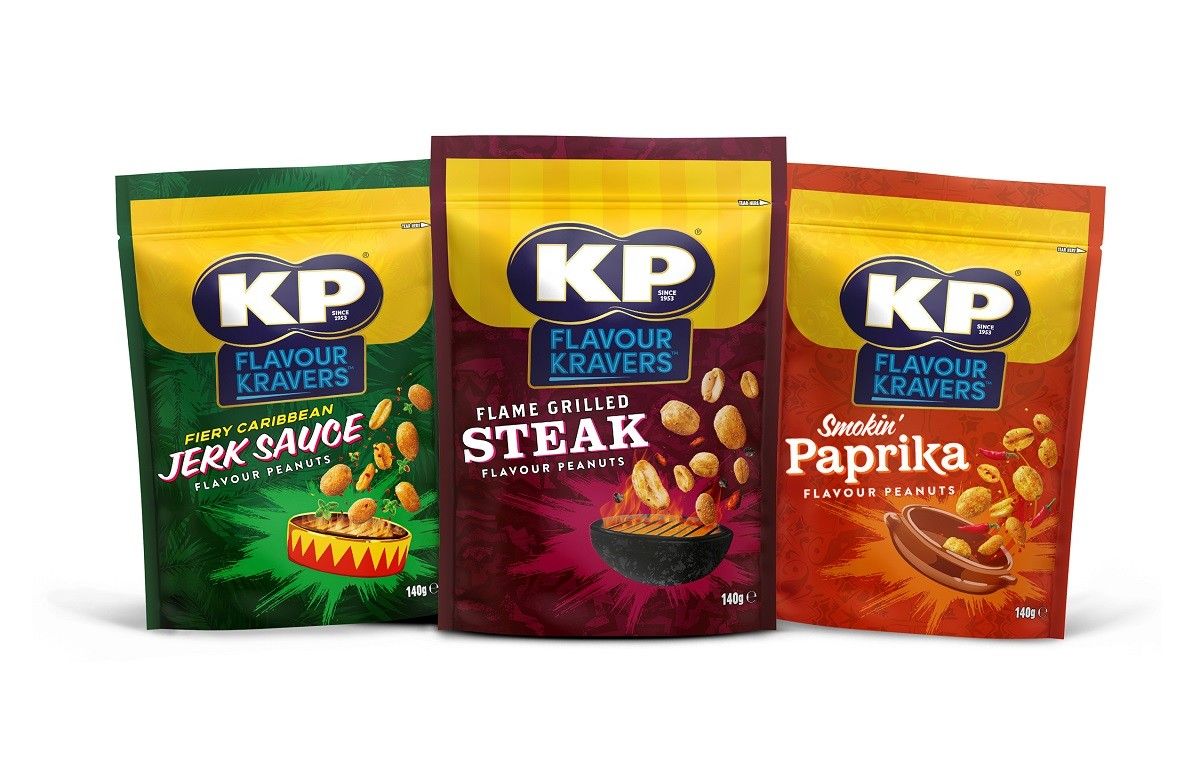 How is the nuts market currently performing? 
The Nuts segment is performing well, worth £335.2m5. Nuts are a versatile snack fit for consumption occasions throughout the day and have strong credentials in Sharing, with sharing occasions for Nuts continuing to grow in popularity, up +9.1 per cent since 20196.
As Christmas fast approaches, we can expect a seasonal boost for the Nuts category which sees a 60 per cent increase in purchase over the festive period7. Our KP Limited Edition Christmas Tins and large packs are ideal for all sharing occasions over Christmas, as consumers look to bring extra enjoyment to celebrations with family and friends.
Do you have any new product development? 
Our NPD strategy is always to develop sustainable new products, anchored in insight and innovation to delight and engage shoppers, driving sales for our retail partners. Launched this year, our new KP Flavour Kravers range is delivering bold flavours to evening sharing, the largest occasion within both Nuts and Sharing8. Available in three delicious flavours: Flame Grilled Steak, Smokin' Paprika, and Fiery Caribbean Jerk Sauce, Flavour Kravers brings a real spark to the category!
We also launched our exciting new KP Snack Packs earlier this year, building on our strategy to increase daytime nut consumption and deliver innovation within healthier snacking. Available in popular Original Salted, Dry Roasted and Salt & Vinegar flavours, KP Snack Packs come in multipacks of 5x30g. The new multipack format offers our tasty and iconic KP peanuts in a convenient and "perfectly portioned" pack – great for an afternoon pick-me-up either on-the-go or at home.
How are you supporting your brand & NPD?
We supported the Flavour Kravers launch this year with an £150k PR and social investment, engaging consumers with a fun campaign encouraging them to "awaken their inner Flavour Kraver".
How important are independent retailers to your brand?
At KP Nuts we deeply value our retail partners and we are committed to supporting them. As the category leader, our aim is always to drive growth and retailers are a crucial part of that goal.
To support retailers in navigating the changes caused by the introduction of HFSS legislation, we've undertaken retailer trials which have seen a significant uplift in nut purchases when located in the right space, adding profit as a higher value purchase. Using this insight, we're providing recommendations on different POS and display solutions to help retailers capitalise on nuts.
What trends are occurring in the sector? 
Health remains a vital trend across categories, with the healthier snacking segment growing +13.8 per cent YOY9. The implementation of new HFSS rules in October has contributed to the growth of the health trend as location restrictions impact ranging and displays.
Recognised for their natural credentials and the important part they have to play within a healthy, sustainable diet, nuts have been excluded from HFSS legislation. This has created an important opportunity to grow the Nuts segment by capitalising on impulse sales and including nuts in till point offerings, secondary sightings and POS such as stackers and dump bins.
Daytime snacking is also on the rise, and 'tide me over' is an increasingly important on-the-go snacking opportunity.  Whether it be during the school run, evening commute, or the lunchtime zoom call, 64 per cent of consumers eat snacks to keep their energy up throughout the day, and 53 per cent eat snacks to satisfy hunger between meals10. 76 per cent of consumers recognise that nuts provide a positive source of energy11, making them an excellent, healthier choice for "refuel and revive" missions.
Describe your brand in three words…
Iconic. Tasty. Chucklesome.
---
1 Nielsen IQ, Total Coverage, Total Value, MAT 10.09.22
2 Nielsen IQ, Total Coverage, Total Value, MAT 12 w/e  10.09.22
3 Nielsen IQ, Total Coverage, Total Value, MAT 12 w/e  10.09.22
4 Nielsen IQ, Total Coverage, Total Value, MAT 26.03.22
5 Nielsen IQ, Total Coverage, Total Value, MAT 10.09.22
6 Kantar 52 weeks to w/e 26th December 2021
7 Nielsen IQ, Total Coverage, Total Value, w/e 26.12.20
8 Kantar, WPO & Usage,  52 weeks to w/e 5th September 2021
9 Nielsen IQ, Total Coverage, Total Value, MAT 10.09.22
10 MMR Mindset Consumer research 2018
11 Mintel 2018