Please give an overview of your brand.
Weetabix is the nation's number one cereal1. We've been serving the UK healthy and nutritious breakfasts for over 90 years. We are one of the first foods you try as a baby and the one the nation comes back to time and again.
Weetabix gives you more with every box: great nutrition, versatility, 100% recyclable packaging, sustainable farming with wheat from mills within 50 miles, and major investment into home nation and grassroots football. It's no wonder you will find us in so many kitchen cupboards – Weetabix Food Company products are bought by 9.5 million UK households!2
How is your brand currently performing?
Weetabix Original is worth more than £106m annually and is the biggest brand in the market, with our iconic yellow box present in almost six million homes across Great Britain.
How is the breakfast cereals market currently performing?
Currently 6.5% of the UK population is skipping breakfast altogether, up from just under 5% in Jan 20213.
It's part of our job to remind people that breakfast remains the most affordable – and easiest – meal. In fact, Kantar4 says that per serve, we spend around £3 on dinner, £2 on lunch and only 70p on breakfast. The cost of cereal and milk for breakfast is much less – perhaps 25p per serving. When you break down the cost of of Weetabix into individual servings with milk, you can feed a family breakfast for around a pound per occasion.
In the months ahead, this will be an important factor as shoppers seek the reassurance of brands they know, while looking for variety for an increased number of breakfasts at home, and little lifts that surprise and delight.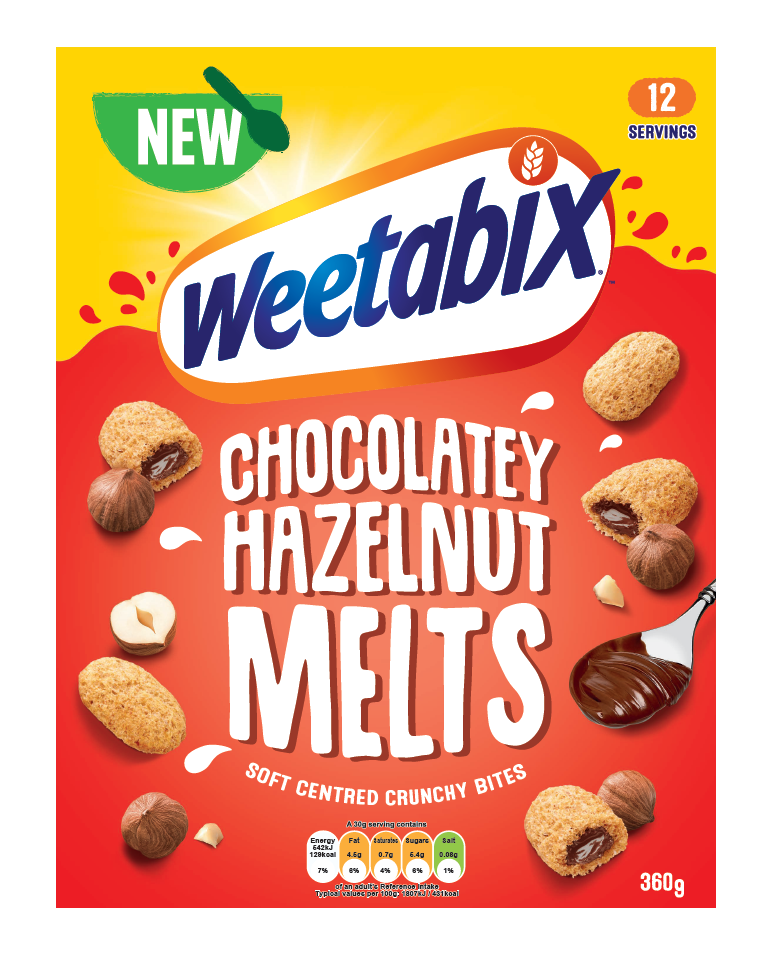 Do you have any new product development?
We recently added a new variant to the wider Weetabix portfolio: Chocolatey Hazelnut Melts – an on-trend flavour with broad appeal. The global hazelnut market is projected to register a CAGR of 10% over the next five years5, such is the popularity among consumers.
Chocolatey Hazelnut Melts taste great and these soft-centred crunchy bites are HFSS-compliant, making them a healthier choice for consumers. Recent polls have shown that consumption "as a treat" is one of shoppers' primary motivators for choice at breakfast time6, making this the perfect moment to introduce them.
How are you supporting your brand and NPD?
This summer, we are launching on-pack promotions in partnership with the FA for the Women's World Cup. Running from 3 July to 30 September across our portfolio, including Weetabix Original, Weetabix Banana, Weetabix Chocolate and Weetabix Protein, they give consumers the chance to win an official shirt or one of thousands of footballs every 90 minutes (between the hours of 07:00 and 19:00 daily)
And as the World Cup is in Australia, kick-off will be at breakfast time, giving Weetabix an edge over other categories!
The promotions also run through the back-to-school month – the second biggest cereal trading period, when morning routines will be back in full swing.
In the snacking space, the addition of branded bays and the shrinking of gondola-end shelving to make space for extra bays in aisle have contributed to visibility of healthier snacks. This has benefitted HFSS-compliant bars like Alpen Light, which have grown 21% in volume in the last four weeks7. The growth in this sector has led us to develop a new "permissible indulgence" snack bar for Q3.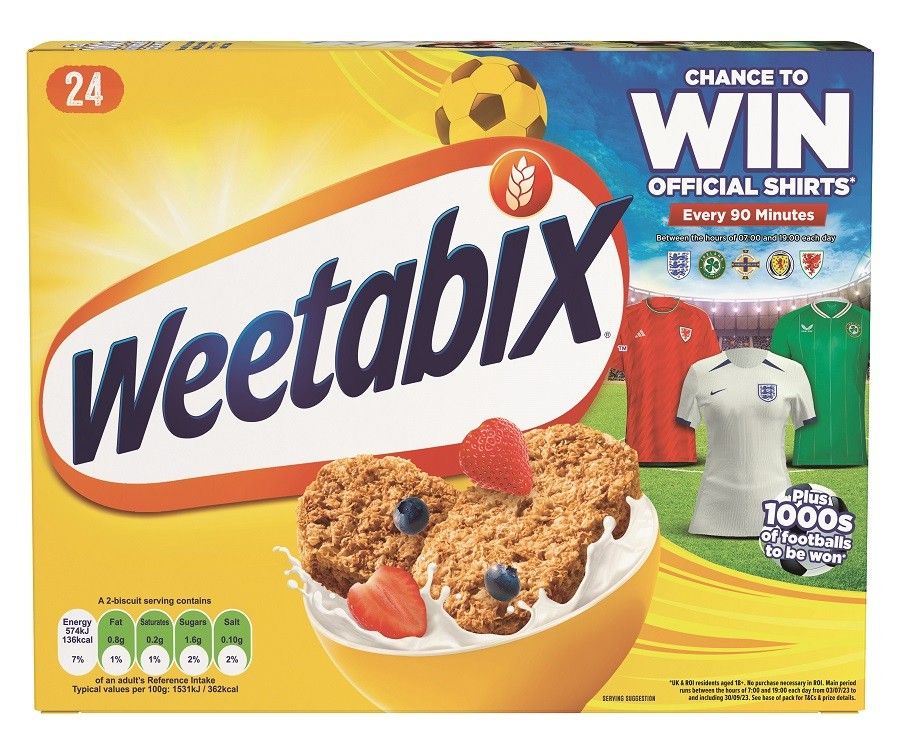 How important are independent retailers to your brand?
There are 48,590 independent retailers in the UK, each a cornerstone in their community. ACS's Local Shop Report highlights that there are 405,000 colleagues in the sector, working an average nine million hours a week. These retailers have the ear of their shoppers and are often our best route to consumers.
In our recent KAM8 survey of indies and their customers, over two thirds (76%) of retailers said best-sellers dictate what cereal sits on their shelves. The second crucial factor is brands that consumers know and trust (69%), underlined by 89% of retailers agreeing that "trusted brands are important within the breakfast cereal category."
We have recently increased our pack options for Weetabix with convenience retailers in mind, to suit all tastes and budgets.
What trends are occurring in the sector?
You always want your morning routine to be easier – so Weetabix On the Go was created. Cereal bars also meet the convenience trend as they are a staple of school lunchboxes, hitting the parental demands for health and taste. As well as being HFSS-compliant, Alpen Light Bars come in a variety of flavours and are versatile enough for a mid-morning break, lunch, or as a post-school/work snack.
Our work and life patterns may have changed in the last two years, but we are all still leading busy lives. The portability and convenience of Weetabix On The Go has allowed us to evolve and adapt to 'the new normal'. In fact, 70% of Weetabix On The Go drinks consumption is already in the home and multi-packs have proven really popular in the past year.
Describe your brand in three words…
Health, value, versatility
---
1 Nielsen Value Sales data – 10th September 2022
2 Kantar WPO | Total Coverage | Feb 2023 52we
3 Dipsticks Monthly Breakfast Tracker January 2023
4 Kantar usage panel 52 we 07 August 2022
5 Hazelnut Market Size and Share Analysis – Growth Trends and Forecasts (2023-2028), Mordor Intelligence
6 'Top 3 needs at breakfast time'% change Q3 to Q4 2022, Dipsticks Breakfast Tracker, Nat Rep Sample
7 Nielsen data to 22nd April 2023
8 Weetabix x KAM survey, Feb 2023, 200 convenience retailers and 300 UK adults surveyed