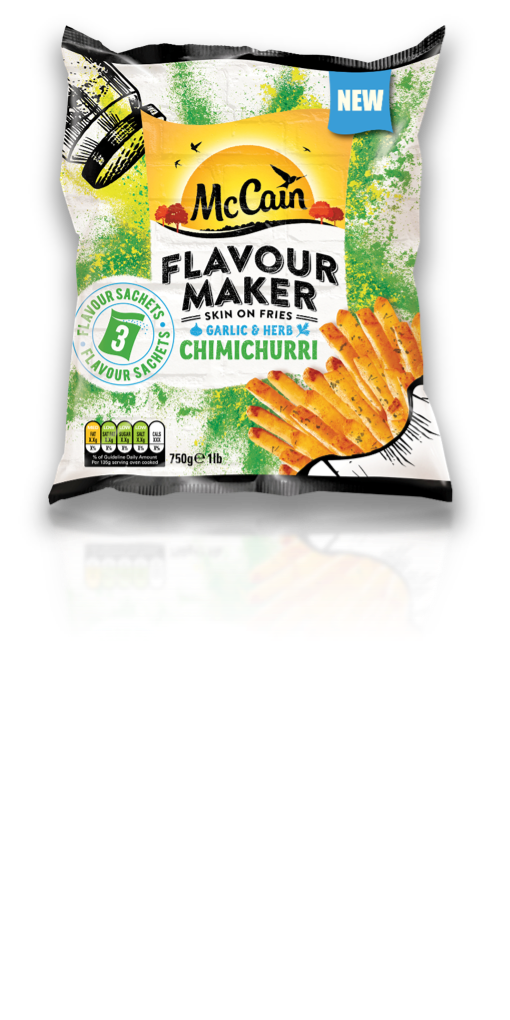 The UK's no.1 frozen potato brand is launching a new range of frozen fries and chips called McCain Flavour Maker available in three flavours: Smokey BBQ Fries Garlic & Herb Chimichurri Skin on Fries, and Spicy Chilli Chipotle Deep Ridge Chips.
Targeted at younger shoppers, Flavour Maker's make it easier to cook with modern restaurant flavours from around the world, as consumers continue to enjoy replicating the products and flavours they enjoy eating out at home.
McCain is launching this product in response to the popularity of flavoured fries in restaurants and the casual dining sector, with a new opportunity for retailers to bring excitement to the frozen chips category and attract new shoppers. The new fries allow shoppers to recreate an "at-home restaurant" experience.
Each Flavour Maker pack comes with three flavour sachets and consumers simply pour the sachet over the fries and put them in the oven. With three flavour sachets per packet, this allows the consumer to recreate the intense flavour time and time again! By adding a customised element, shoppers feel like they've elevated their meal whilst also providing a quick and convenient mealtime solution.
"McCain is really excited to be shaking up the category with Flavours Makers as it allows us to offer a unique proposition with flavoured chips and fries," said Mark Hodge, Marketing Director at McCain. "We know that our consumers love to recreate their favourite restaurant and pub flavour experiences in their own homes, and now with these three bold flavours, it's easy to do exactly that."
McCain's Flavour Maker range is available from March with an RRP of £2.99 in national supermarkets and selected convenience stores (although the Spicy Chilli Chipotle SKU is launching in Tesco only).