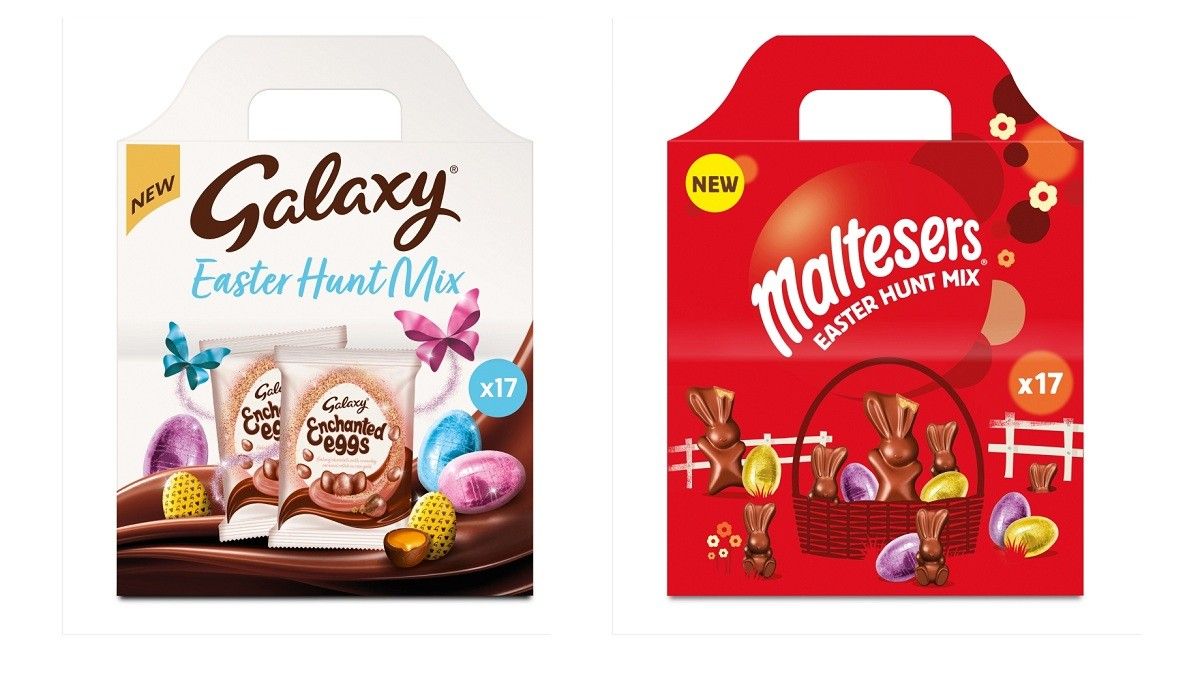 Mars Wrigley UK has unveiled a host of Easter chocolate treats, from mini treats to indulgent luxury eggs, offering something for everyone this spring.
"Although this spring may not resemble the season we're used to – one thing Mars Wrigley UK knows for certain is that the British public have an enduring love for Easter as it presents the perfect opportunity to gift loved ones, have fun with the family and treat themselves in the process," the confectionery giant said.
MALTESERS Bunny Orange (RRP £0.62 – 29g) [NEW]
Sure to squeeze the excitement out of Brits is the new MALTESERS Bunny Orange. As orange chocolate has grown 20 per cent in the last two years, the company is confident this zesty makeover will get the shoppers and retailers alike 'peeling' good this Easter.
MALTESERS Bunny (RRP £0.62 – 29g)
Fear not though, as the classic MALTESERS Bunny isn't going anywhere. As the UK's second most popular single treat on the market – grossing a whopping £36m in sales in 2019!
MALTESERS White Mini Bunnies (RRP £1.29 – 58g) [NEW]
Also coming to shelves for Easter 2021 is the number 1 most requested product on social media – MALTESERS White Mini Bunnies.
MALTESERS will also launch this year an explosive national campaign offering shoppers the chance to 'find the bunny and win the money", with £5,000 in prize money and 100's of other prizes up for grabs.
The MALTESERS White Mini Bunnies will be available as a Tesco exclusive and are available now.
MALTESERS Easter Mix (RRP £4.99 – 270g) | CELEBRATIONS Easter Mix (RRP £4.99 – 400g )
MALTESERS is the UK's third most popular chocolate brand so it's a no brainer as to why Mars Wrigley UK will return the much-loved MALTESERS Easter Mix alongside the CELEBRATIONS Easter Mix. Both of these offer consumers a variety of plentiful fun treats to go around – whether used for egg hunts or for sharing at family feasts. Both packs are available at RRP £4.99.
MALTESERS Easter Hunt Mix (RRP £6.99– 279.8g) [NEW] / GALAXY Easter Hunt Mix (RRP £6.99– 306.4g) [NEW]
New for 2021, each offering an assortment of treats within, perfect for entertaining the family and providing variety to the easter hunt.
GALAXY Caramel Mini Eggs (RRP £1.19 – 80g)
With fewer social gatherings expected this Easter, we'll likely see more Easter egg hunt events hosted at home, alongside Easter activities such as crafting and baking becoming a popular pastime.
Hitting shelves will be the classic GALAXY Caramel Mini Eggs, showcasing its 2021 glow up in a brand-new bold packaging design. These irresistible bites are perfect for decorating baked Easter creations.
MALTESERS Truffles Luxury Egg (RRP £11.99 – 286g) | GALAXY Truffles Luxury Egg (RRP £11.99 – 301g)
Out of all seasonal products, Easter eggs are the largest and most traditional ritual of the Easter celebration. 2021 will see the return of the MALTESERS Truffles Luxury Egg, a top 10 NPD for 2019, alongside the GALAXY Truffles Luxury Egg, both of which will be available at an RRP of £11.99.
GALAXY Enchanted Eggs 'More to Bake' (RRP £1.29 – 80g)
With 30 per cent of consumers are cooking or baking more than they did before lockdown and more widely 60 per cent of shoppers enjoy baking, Mars Wrigley UK is eager to tap into this and get even more of the nation baking in 2021.
To cater for this ritual, Mars Wrigley UK will return its popular 'more to bake' GALAXY Enchanted Eggs in the 80g large pouch formats – RRP is £1.29.