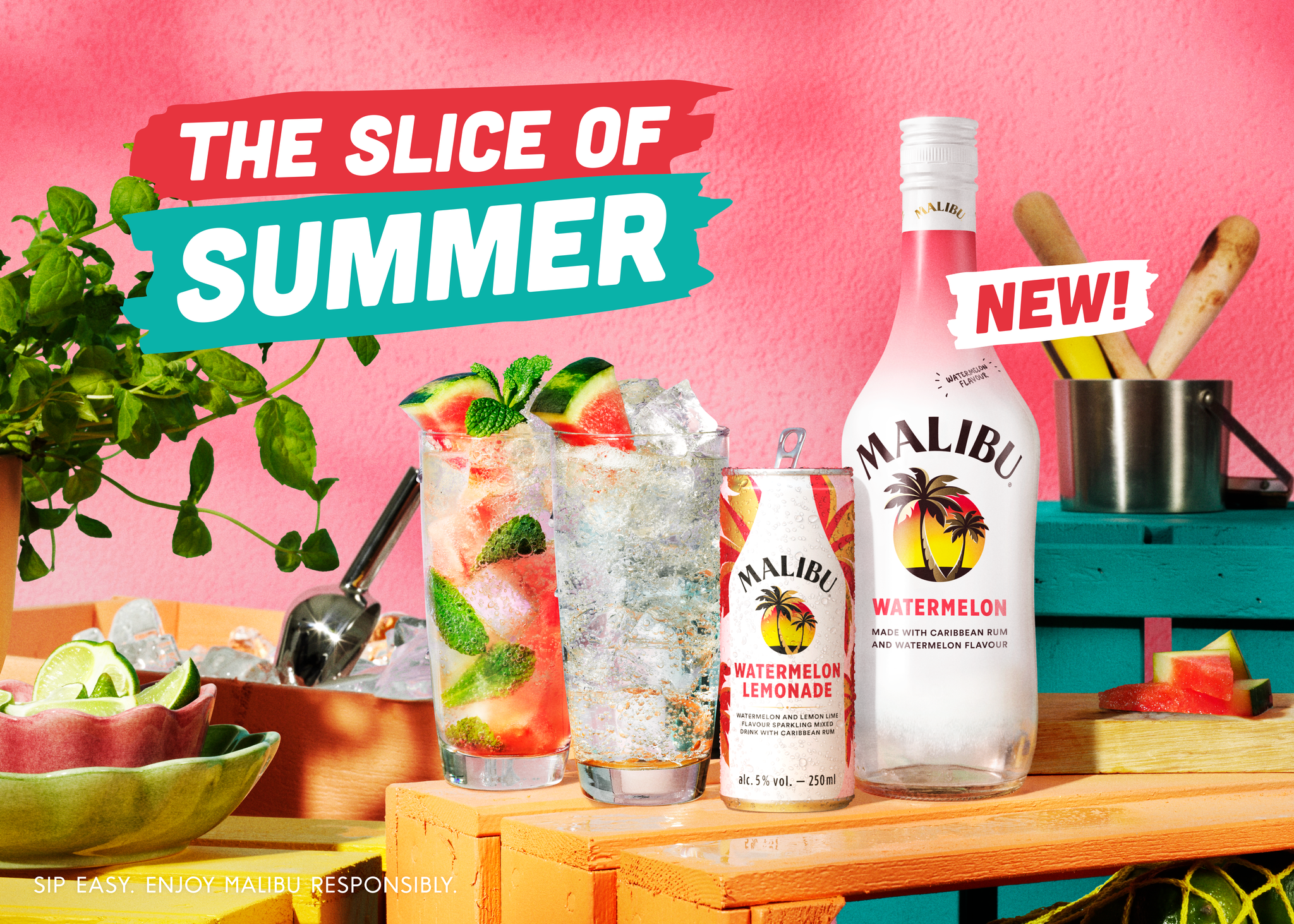 Malibu is launching two new products offering a slice of summer to the brand's 18-24 year-old consumers. Malibu Watermelon and Malibu Watermelon Lemonade tap into the increased demand for watermelon flavour alcoholic drinks, which has grown +63 per cent YoY. The brand is looking to continue this momentum by celebrating the most refreshing flavour of the season and adding to its flavour portfolio.
Malibu Watermelon brings together Caribbean rum, blended with the ripe watermelon and a smooth and fruity finish. Simply add lemonade for chilled moments with friends, or stir things up with a Malibu Watermelon Mojito. Available in a 70cl bottle with a 21 per cent ABV, Malibu Watermelon has an RRP of £15.
Malibu Watermelon Lemonade RTD taps into at-home consumption and alfresco moments, and is positioned to fill this market need. The pre-mixed drinks category is growing +26.8 per cent YOY and the Malibu can range is growing +50.2 per cent, over double the rate of the pre-mixed drinks can category (19.2 per cent). Malibu Watermelon Lemonade 250ml cans have an ABV of 5 per cent and an RRP of £1.80.
"Malibu is a true icon of summer and with flavoured spirits on the rise, the brand's latest innovations are sure to be a sizzling hit," said Chris Shead, Channel Director at Pernod Ricard UK. "We're delighted to be extending our current can offering at a time when the ready-to-drink market is booming, and Malibu's RTD range has gone from strength to strength over the last three years, helping to recruit younger shoppers into the brand. These two new additions to the Malibu family are primed to take this summer over by clearly answering consumer needs for great tasting drinks, suitable for all daytime occasions."
Both SKUs are available from wholesalers including Bestway, Booker and United.