Tell us about Tayto – where it started and where it wants to go.
Founded in 1956, we are the largest British-owned snack manufacturer and also remain proudly family-owned. In recent years, the business has successfully acquired a number of brands including the leading pork scratching brands – Mr Porky and Midland Snacks. We also own Golden Wonder, which is currently celebrating its 75th anniversary, tracing its roots back to Edinburgh in 1947. With such a stable of much-loved brands, Tayto continues to be at the forefront of the snacking world with our incredibly broad range of products, and so will continue to strive towards our ambition of having "Snacking Sorted".
You said recently that Sharing snacks are driving the market as we continue watching Netflix or have friends round – do you think that as the summer comes on, and the pandemic recedes into memory, that is set to change?
We anticipate Sharing snacks to continue to lead the way over the coming months as people enjoy catching up with friends and family after so long. Snacks are at the heart of social events and we have already seen this with an uplift in sales over the Jubilee celebrations. Let's hope the British summer delivers some great weather so we can enjoy BBQs and picnics with our favourite snacks!
They warn us of recession, and if so, what will be the role of PMPs and how is the margin loss divided up? Is it price – or pack size – or both, that is affected by relentlessly rising costs?
PMPs are a proven way of independent retailers demonstrating value to an increasingly cost-conscious shopper – and should remain a key part of a retailer's snacks offering. Maintaining the status quo is impossible in the face of unprecedented inflation in raw materials but Tayto is committed to ensuring that we continue to deliver market-leading margins to our loyal retailers who have supported us over the years. Our response is being led by understanding consumers' attitudes and will be tailored to each product – with increases in PMP for some ranges, and weight reductions for others where our research shows that the price-point is more important to consumers than the pack size.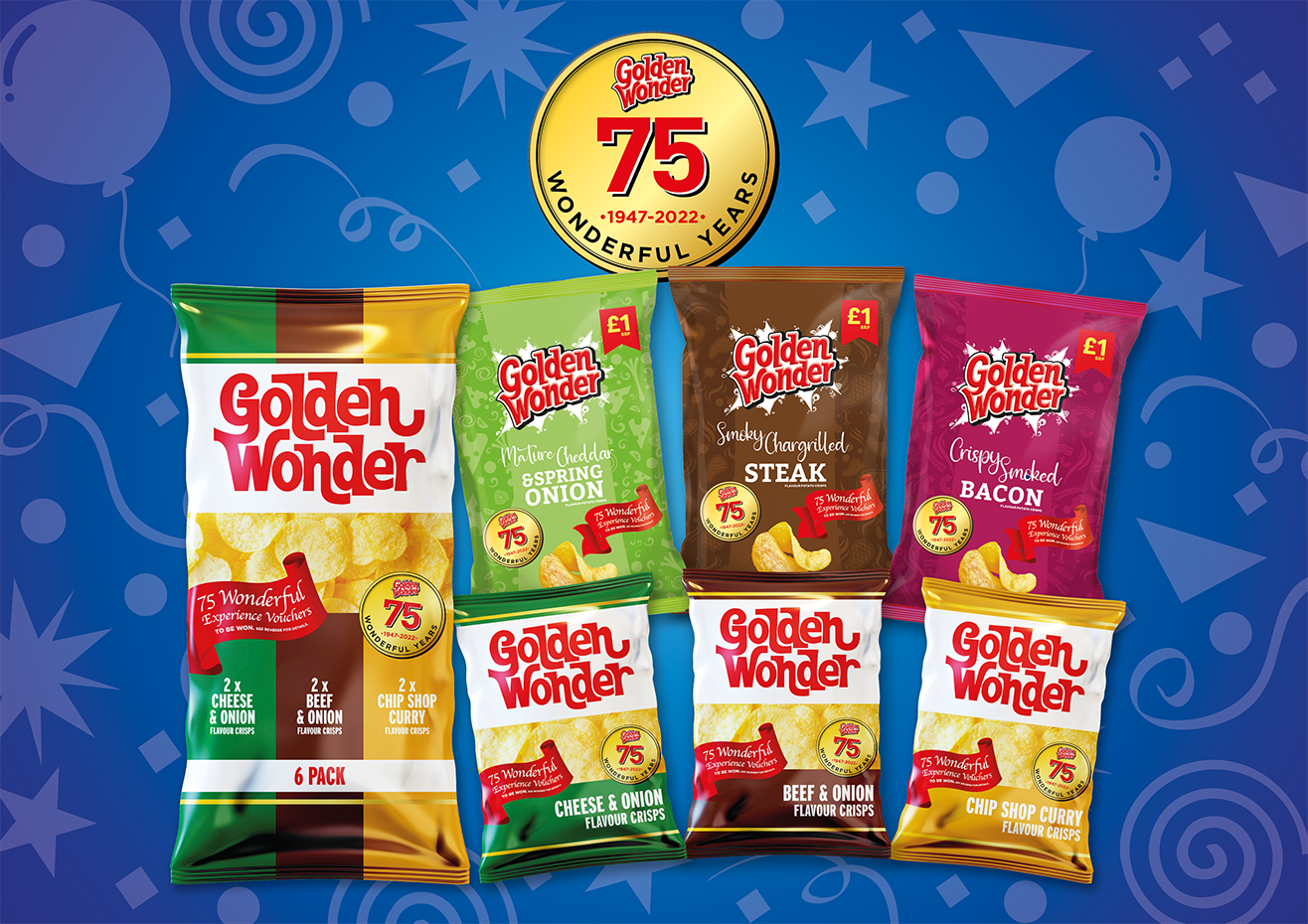 How will HFSS affect your business and what plans do you have to deal with (and even take advantage) of it?
Taste is the main reason for purchasing snacks, and so, healthier snacks have a credibility challenge – as many consumers don't believe that they will taste as good. Snacks have to be "worth the calories". For snacks, reducing fat and salt to meet the HFSS guidelines often means compromising too much on taste – and consumers will vote with their feet. Golden Wonder is famous for its flavours and so, we will only launch healthier products if they still deliver our "more punch per crunch". Through recipe innovation we have overcome this challenge and created Ringos Puffs – a non-HFSS product that doesn't compromise on taste and that enables retailers to stock Puffs anywhere in-store, given the location restrictions will go ahead as planned this October.
The one-year delay to multi-buy restrictions enables us to continue working on reformulating our Fun Snacks range (that includes Tangy Toms and Spicy Bikers), to become HFSS-compliant and still maintain the highly successful multi-buy offer that has helped it outperform the market.
Golden Wonder is still going strong at 75, Tayto's (b.1954) stand-out packaging is striking and affecting, and Mr Porky is everywhere – these are all traditionally-inflected products, great names and great heritage with a distinct British identity. Is that how you see your brands, and how are you going to make the most of what has been called your "retro range"?
The rich history of our brands mean that we have been part of people's lives as they have grown up. Brits have a unique passion for their snacks – and we are proud to make some uniquely British products (such as pork scratchings) and being at the forefront of innovation (such as launching Cheese & Onion 60 years ago).
We are delighted to have very loyal consumers who regularly tell us how much they love our distinctive flavours and products. That's why we gave them the chance to celebrate Golden Wonder's 75th birthday by voting to bring back their favourite flavours – Chip Shop Curry and Beef & Onion. The response to this has been fantastic and we're now seriously considering bringing them back into the range permanently, given how much love they have received (and how many packs are selling!)
Pork scratchings are uniquely British pub snack. You have the two leading brands of Mr Porky and Midland Snacks:, what is so special about them and how can independent retailers take advantage of these products?
Scratchings have been voted Britain's favourite pub snack. Most people are surprised to hear that more scratchings are sold in shops than in pubs, so any retailer not stocking pork snacks is really missing out – especially as they deliver great margins as they are VAT-free! The unique salty crunch of a scratching goes perfectly with a beer (and many other drinks) and so siting them next to BWS is the best way to capture incremental sales when people are picking up drinks. This is why we've developed a range of formats for our best-selling products, including clipstrips and pubcards to make it easy for retailers to site scratchings with snacks, BWS or at tills.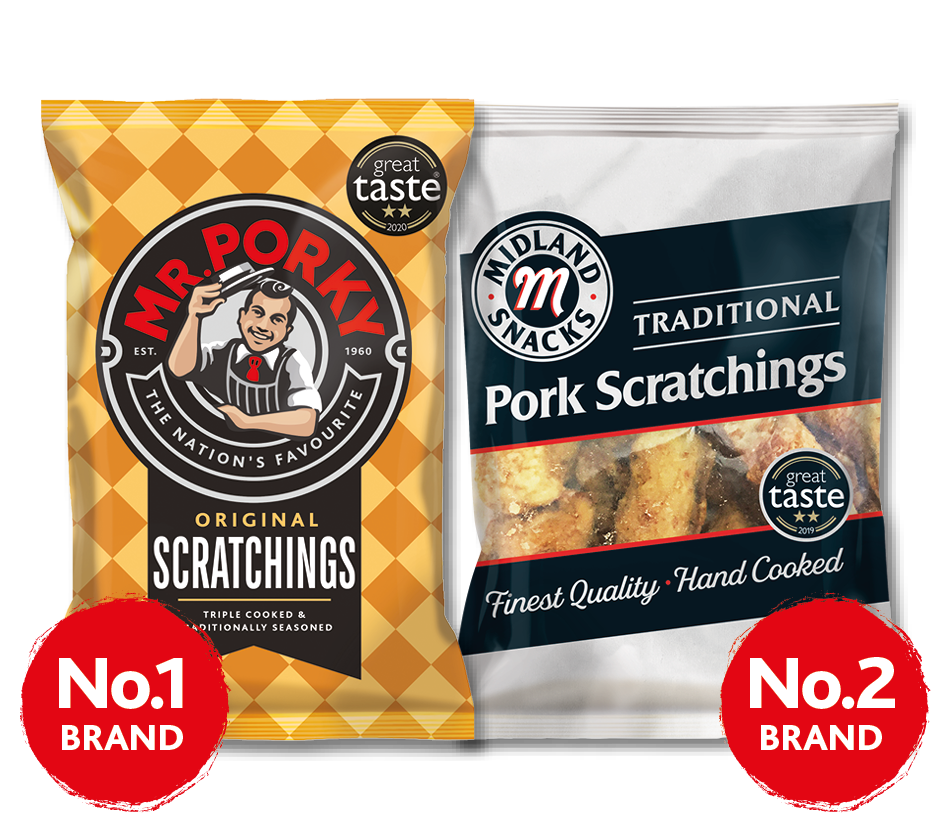 Mr Porky is the No.1 Brand (with the best-selling Original Scratchings in its distinctive gold packaging) but also capable of attracting new consumers with innovative products such as Crispy Strips – a less "hardcore" snack with all the taste of a scratching but with a lighter bite.
For the ultimate in traditional scratchings, Midland Snacks is a must-stock item. With its Great Taste Award-winning recipe and pub-style packaging, it's the perfect way for consumers to enjoy that pub taste at home.
NPD: what are your plans, what are your products? Puffs and Ringos Fire are intriguing – please tell us where the inspiration came from, who the target market is, and what you expect from them.
Ringos of Fire (Spicy Thai) is the latest flavour of our best-selling Ringos brand, which was inspired by consumers' continued interest in spicy flavours. It complements the current core range of Cheese & Onion, Salt & Vinegar and Sour Cream & Onion. Initial sales have exceeded our expectations, as it clearly brings excitement to both the brand and the category.
Ringos Puffs was all about creating a non-HFSS product that didn't compromise on taste. We're not marketing it as "healthier" as consumers are more interested in taste than health – and HFSS is a trade not consumer issue. Early sales are saying that we got this right with people picking it up another great-tasting Golden Wonder snack – not because they believe it is healthy!
As with the entire Ringos range, both Ringos of Fire and Ringos Puffs have less than 100 calories per serving which makes them perfect for those looking for a little treat. And by delivering Golden Wonder's legendary "more punch per crunch" they will not disappoint.
What is your relationship to the Convenience channel compared to others, and what are Tayto's plans to increase sales across independent retailers?
Tayto has a long history of working with the independent sector and we have tailored our ranges to deliver market-leading trade margins alongside great consumer value. This has resulted in us significantly over-trading in the Convenience channel and hence have a dedicated team to support wholesalers and retailers maximizing their snack sales. Our unique range of brands from Golden Wonder to Mr Porky, and our focus on this channel, are why we aspire to help you get "Snacking Sorted"!
As a snacks business, what do you see as the biggest problems coming up in the next, say, five years – and the biggest opportunities?
Our industry faces big challenges as we continue to respond to its biggest shake-up – in the shape of HFSS restrictions – and manage the new challenge of inflation and how the cost-of-living crisis, which will affect consumer behaviour. As ever, businesses that respond quickly and stay close to consumers' sentiments will succeed, which is why Tayto focuses so much on understanding the key market drivers. Despite all the change to come, we will continue to focus on what has made brands such as Golden Wonder and Mr Porky so successful – a relentless desire to create great-tasting snacks that offer excellent consumer value whilst providing our loyal independent retailers some of the best margins available.
Can you give our readers any merchandising advice to enable them to sell more Tayto Group products?
Understanding shopper missions is key when merchandising snacks. Ensure that you have a good shelf display covering the key categories highlighted above as this becomes customers' "go-to" place in-store for snacks. Additionally, ensure that you are picking up incremental sales by also merchandising snacks with products typically bought at the same time – BWS and confectionery. For these extra locations, make use of the formats available – such as clipstrips for pork scratchings that can be hung on a BWS fixture without taking up precious floor or shelf space.
Chili and hot spiciness has taken the country by storm (cf. Ringos Fire), but what do you think the next big taste sensation might be?
Hot and spicy still has a lot of scope for growth but we will see the flavours becoming more sophisticated, with a more complex taste profile rather than just heat. Ringos of Fire is at the forefront of this shift, and we have other products under development that will continue this evolution.
As consumers face pressure on finances, we expect to see two taste trends emerge – seeking comfort in traditional British favourites and a desire to escape by trying new, more exotic tastes from far-flung countries. The focus on British favourites will create more interest in products such as pork scratchings and flavours such as Golden Wonder's Chip Shop Curry. Meanwhile we will see "restaurant" flavours such as Peri-Peri and Gochujang start to appear in more snacks to entice those seeking a new flavour experience.