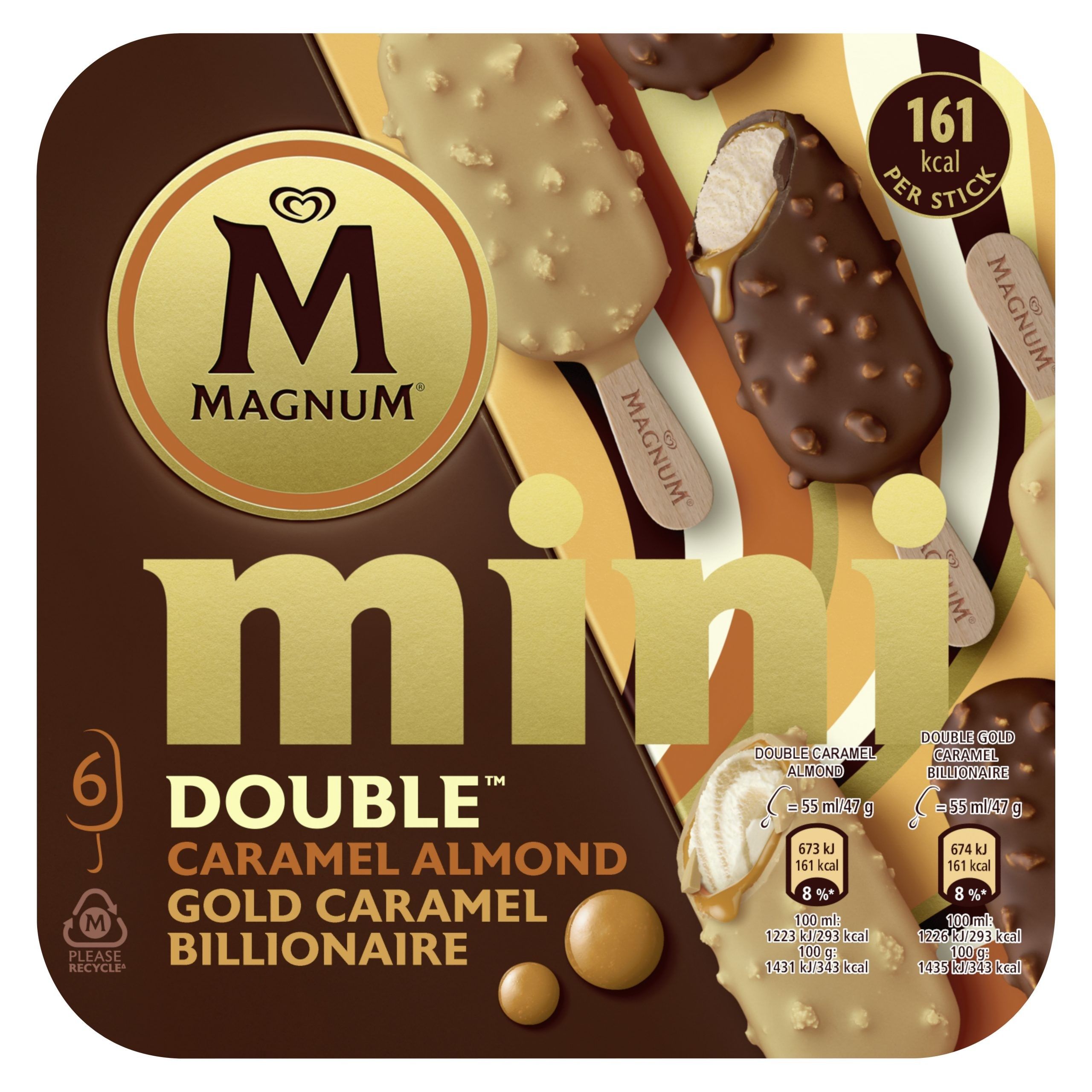 Magnum has unveiled an array of innovations to welcome in the new year and accelerate growth of the ice cream category. Capitalising on treat occasions, Magnum Double Starchaser and Sunlover are set to break ice cream records with a superior innovation including deliciously decadent flavours and eye-catching packaging. The brand is also expanding its mini and vegan ranges, with Magnum Mini Double Caramel Collection and Magnum Vegan Raspberry Swirl available now.
Ice cream sales grew strongly during the Covid pandemic with consistent year-on-year growth since, with sales up 22 per cent in 2022 versus 2019. There are currently 2.3 billion ice cream occasions in the UK, with Unilever targeting a bigger share of the snacks and dessert sector in 2023 with these products.
"Insight led innovation is vitally important to the ice cream category, creating a sense of excitement for shoppers and ensuring it remains relevant to evolving consumer trends and flavour profiles," said Jennifer Dyne, Head of Ice-Cream UK & Ireland, Unilever.
"Magnum remains the UK's number one ice cream brand, because it continues to deliver superior products with high quality ingredients and unique, indulgent flavours. We are so excited to bring Magnum Double Starchaser and Sunlover to market this season – both products are truly outstanding and completely unique – exactly what you would expect from a category-leading brand like Magnum.
"In addition to this, we will continue to expand our vegan and our minis range with exciting new flavours. In order to create sustainable category growth, we need to continue to expand and deliver across formats and consumer needs – our vegan and mini ranges do just that by offering Magnum indulgence to new users and occasions. We're confident that this triple line-up of new products will help retailers have a successful year in ice cream."
Magnum Double Starchaser and Sunlover
Ice cream occasions have long evolved from being an occasional treat in the summer. Nowadays, more shoppers are choosing ice cream for an indulgent evening treat on the sofa. In fact, 40 per cent of ice cream is consumed in the day compared with 60 per cent in the evenings, which was the leading insight for the new Magnum Double flavours, with two indulgent varieties launched to transport people to a balmy summer's day or a decadent evening treat.
Magnum Double Sunlover provides a refreshing treat for a hot summer's day with coconut ice cream, paired with a tangy mango and passionfruit ice cream swirl. With a sumptuous layer of mango and passionfruit sauce, Magnum Double Sunlover is encased in delicious white cracking chocolate combined with crispy coconut pieces. Magnum Double Starchaser is perfect for the ultimate summer evening dessert, featuring a double swirled popcorn flavour ice cream and caramel ice cream, encased in a gooey caramel sauce, and coated in delicious cracking milk chocolate with crunchy caramelised corn pieces.
Magnum is backing the launch with its biggest marketing campaign to date kicking off in April and live throughout the key summer months, with the campaign tagline 'Pleasure is always on'. This also features in-store activity and POS materials. Both editions will be available in multiple formats: sticks, minis and tubs.
Magnum Mini Caramel Collection
New for 2023, the Mini Double Caramel Multipack Collection pairs Magnum's most successful NPD and fan favourite, Gold Caramel Billionaire, with their first-ever Caramel Almond product, the ultimate caramel treat for spontaneous mini moments of pleasure. The Mini Caramel Almond flavour offers velvety vanilla ice cream and gooey salted caramel sauce, encased in Magnum's iconic classic cracking chocolate with crunchy caramelized almond inclusions.
Magnum Minis had a strong 2022 and is growing 8.3 per cent faster than the category. Its success has helped to extend the 'ice cream season' by bringing in sales during the shoulder months of March and October. With a shift in market dynamics towards minification amongst consumers, tied into the demand for more permissible snacking indulgence, Magnum Minis captured this growth space in the category.
To maximise this opportunity, Magnum Minis has refreshed its packaging for 2023, emphasising the premium credentials of the brand, supporting Minis stand-out on shelf, as well as including a new front of pack calorie call out.
"More shoppers are prioritizing health, so are looking for smaller versions of their favourite treats to control portions and calorie intake," said Dyne. "Magnum Minis are perfectly placed to meet these needs as people can indulge without the guilt, and it is why we're investing in the brand and reinvigorating the pack designs."
Magnum Vegan Raspberry Swirl
Launching in time for Veganuary but tapping into the increasing all-year-round demand for sweet plant-based options, Magnum is expanding its portfolio with the Vegan Raspberry Swirl. Containing a velvety raspberry ice cream with swirls of tangy raspberry sauce, dipped in signature cracking Magnum Vegan chocolate, Magnum Vegan Raspberry Swirl offers 100 per cent plant-based indulgence.
Utilising Magnum's iconic packaging with additional plant-based cues, Unilever expect the product to support sales of its growing Magnum Vegan collection, which is growing 5.2 per cent ahead of the category.
The extension of the Magnum Vegan portfolio is the latest move as part of Unilever's wider global Future Foods ambition launched globally with two key objectives: to help people transition towards healthier diets and work towards reducing the environmental impact of the global food chain. The ambition includes an annual global sales target of €1 billion from plant-based meat and dairy alternatives.
"We're continuing to expand our plant-based range to give more consumers the choice to go vegan without compromising the indulgence they want from ice-cream,"  Dyne concluded.
NPD:
Magnum Double Starchaser/Sunlover
X3 Multipack – RRP £3.99
Tub (Pint) – RRP £3.99
Impulse Singe – RRP £2.00
Magnum Mini Caramel Collection
X6 Minis Multipack – RRP £4.50
Magnum Vegan Raspberry