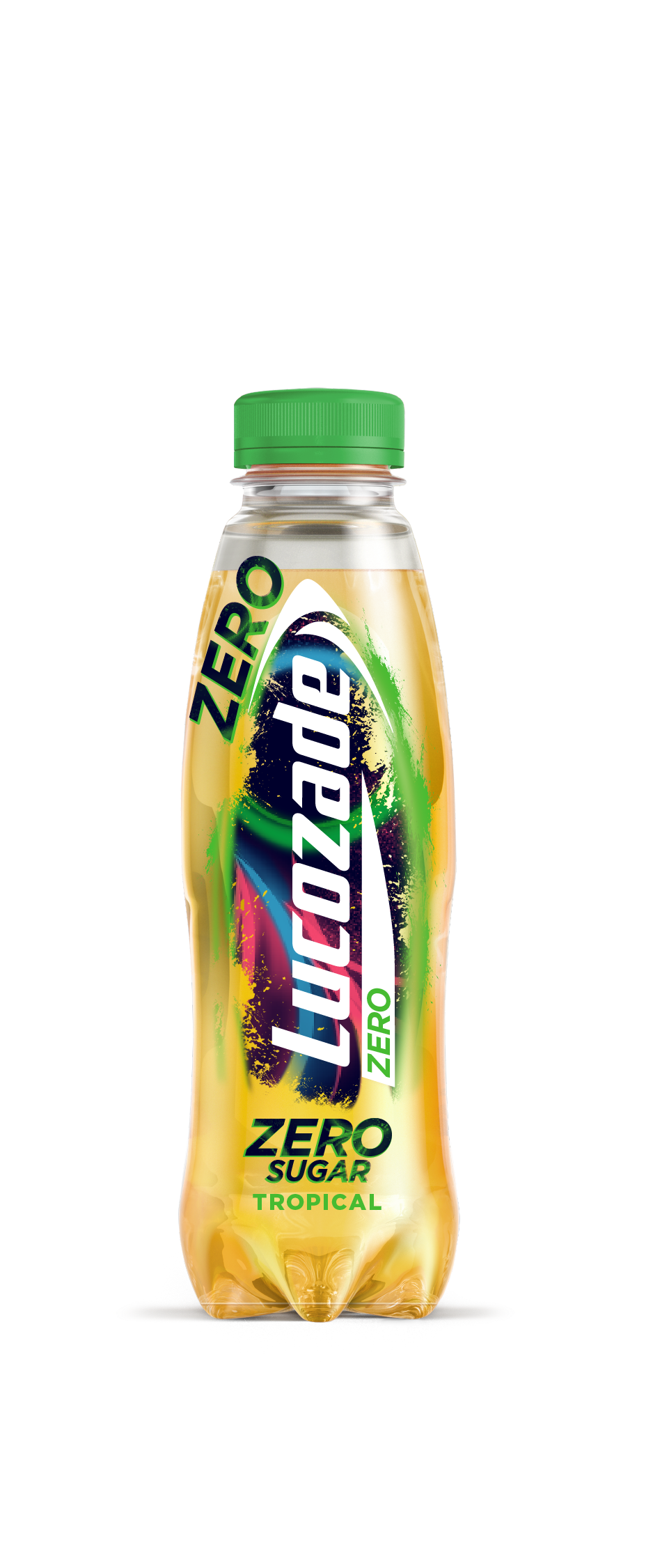 Lucozade Zero, the zero sugar range from the UK's biggest sport & energy drink brand, is adding a twist to retailers' shelves with the launch of a brand-new drink: Lucozade Zero Tropical, the Lucozade brand's first ever flavour exclusive to the Lucozade Zero range.
The new drink, which is the latest addition to the £21M Lucozade Zero range, is now available in 500ml bottles, and in 4x380ml multipacks from February 15th.
Low and no sugar soft drinks present a huge opportunity for retailers – making up more than half (58 per cent) of total soft drink volumes sold. Over the past few years, shoppers' spending on zero and low-sugar drinks has increased by 33 per cent and 29 per cent respectively, showing just how important this segment of the market is.
"When we were planning this launch, we spoke to retailers and 84 per cent told us they would be interested in stocking a new flavour from Lucozade Zero," said Zoe Trimble, Head of Lucozade Energy at Suntory Beverage & Food GB&I. "We also know that one in three shoppers would buy more Lucozade Zero if a new flavour was available – so the opportunity for this new Tropical launch was clear.
"Lucozade is famous for its impressive flavours range and so we knew we needed to be on-trend and go big with this launch. With our track record of NPD and tropical-flavoured energy drinks growing at 22 per cent, we're confident our newest flavour, Lucozade Zero Tropical, will support our retail partners at launch and beyond."
Lucozade Zero Tropical joins the Zero range of flavours which includes Pink Lemonade, Orange and Original.
The new flavour will be at the front of shoppers' minds thanks to a comprehensive marketing campaign including outdoor advertising, PR, digital and social media advertising which will go live in the summer.
Product name: Lucozade Zero Tropical
Size: 500ml, 4x380ml
RRP*:
500ml – £1.49
4x380ml – £2
Case size:
12x500ml
6x4x380ml
*Retail price is recommended only, retailers are free to set their own pricing