Since 2005 the retail market for frozen food has seen a steady rate of increase, achieving a +3.3 per cent growth rate to reach a value today of £7.21bn, according to Richard Harrow, CEO of the British Frozen Food Federation.
2020 was an especially good year for frozen (and chilled) food, as Covid-19 shut down restaurants and boosted frozen food for home sales by £872m – more than 12 per cent. In fact, says Harrow, for many retailers, frozen food was the highest growth food category, beaten only by alcohol. From the start of the pandemic, frozen grew faster than total grocery in every four-week period, according to Kantar.
"Shoppers were shopping less frequently and as a result buying bigger formats to see them through longer periods. Also, with restaurant closures they were keener than ever to recreate restaurant quality meals at home," says Shah Khan, Senior Marketing Manager at Aviko UK & Ireland – and frozen was perfect for this: "Consumers were saying our Super Crunch Thick Cut Oven Chips were like having good pub and restaurant quality chips at home."
Naomi Tinkler, Category Controller at McCain adds, "A year into the pandemic, the trend of customers seeking quick and convenient food solutions has grown as the novelty of cooking from scratchhas worn off. In convenience and independents, McCain saw strong growth with a value share of 67 per cent (IRI 12 week ending 2nd Jan 2021)."
Factors such as these determined that convenience was a big winner in the frozen sales bonanza. Kantar data showed the increases in online shopping (49.6 per cent), convenience (20.5 per cent), hard discounters (15.1 per cent) and freezer centres (14.0 per cent).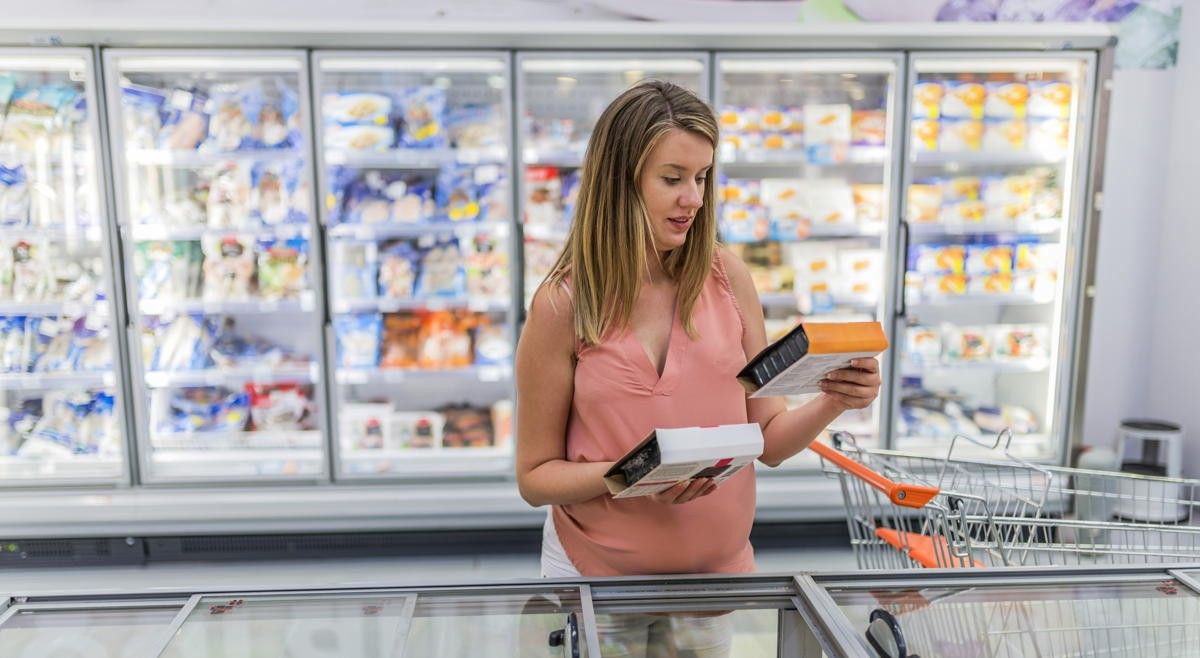 Hospitality will slowly come back on line over summer, but many in the industry believe that sales through retail and especially convenience should hold up well due to newly formed habits that will be sustained. Only 26 per cent of shoppers say they intend to revert to pre-pandemic shopping habits, with convenience playing a large part in consumers' choice to buy frozen, according to a Heron Foods survey which said it was "the second most important driver for consumers buying frozen; nearly 73 per cent said it influenced them to buy frozen."
And as Tinkler points out, even with restaurants re-opening and social restrictions starting to lift, consumers will be using mealtimes to catch up on get-togethers with family and friends:"This will provide an opportunity for frozen food brands to highlight the convenience of buying frozen products, especially when looking for ways to creates tasty and memorable meals with minimal effort."
"People have fallen back in love with their kitchen and with their freezers, but there will inevitably be more competition between retail and foodservice as restrictions ease," says Pukka's Category Controller, Julie Stevens."This means independent retailers should start thinking about which products will continue to pique shopper interest, to ensure category growth beyond lockdown."
Cold as ice
The future for frozen looks cool, then, if you know what to stock and how to snare sales in the fridge section.
The main categories should be catered for – with an extra allowance for plant-based, and vegetable frozen products, and protein fare such as Quorn.
"More consumers are considering the benefits of frozen fruit and veg," says Aviko's Khan. It's healthy and it's also ecological: "They're understanding that frozen works against food wastage whilst offering equal if not enhanced quality, health and taste over fresh produce, and as a result are filling their freezers."
He adds that "the Veganuary effect has once again been phenomenal." Kantar revealed that half of Britons (approx. 1.5 million people) who tried a vegan diet this Veganuary 2021 plan on either adopting a fully vegan diet, vegetarian diet or introducing plant-based alternatives into their diet going forwards.
Khan recommends Frozen products which are a component in cooking or an inspiration for par-cooking: " Our Herb Diced Potatoes for example are a great addition to curries, stews and even a twist on Mac N Cheese Bake," he says, also recommending – in addition to those thick cut chips – Aviko's new Super Crunch Julienne Fries, which are thin-cut and extra crispy offering shoppers a fast food feel, and excellent margins for storeowners. Gluten-free and vegetarian they have an RRP of £1.69 and a case size of 10 x 750g. For a sweet treat, another NPD is Aviko Churros, (made to an authentic Spanish recipe). Khan promises they pair well with ice cream –ideal for the BBQ season at£1.69 MRSP.
Pizza is probably king of the home frozen world, and Paula Wyatt, Head of Marketing – Pizza, at Dr. Oetker UK, says that as folk can now meet up with five other people in a garden setting, frozen pizza (six slices!) will remain a popular choice for people who wish to eat at home. "The value of frozen pizza has increased steadily at +7.9 per cent in the past 12 weeks and we expect this to increase further," she says, adding that The Chicago Town Takeaway range fits the bill. It features a unique dough that rises in the consumer's oven at home for freshly baked pizza, to easily rival the high street takeaway. (Dr. Oetker's Takeaway range is the number one sub-brand in frozen pizza, worth £62m and growing at +19.4 per cent YOY).
This March saw a new, lighter offering to the Chicago Town Deep Dish range – Chicago Town Deep Dish Light Cheese Feast, the first of its kind in the frozen pizza market, cheesy and fully despite having 30 per cent less fat than the original, at an MRRP: £2.39
To go with the pizza, of course, you need a good chip and McCain remains the largest manufacturer of frozen potato products in the UK. As category leader it has seen strong growth over the past year, says Naomi Tinkler, as consumers "evolve their shopping habits and purchasing style to adapt to the pandemic retail landscape".
She says that McCain products such as Home Chips and Crispy French Fries, make the perfect accompaniment to relaxed social meals and for convenience retailers, "offer an opportunity to inspire shoppers to bring different products together." There is also the fact the lack of hospitality has led to a demand for OOH flavours, to which McCain has responded with new range called Flavour Makers, which taps into the growing trend of flavoured fries and chips, where consumers can customise their fries with flavour sachets and replicate the flavours they would typically enjoy in a restaurant or pub at home. Naomi adds that "We expect to see products such as our Gastro Chips continue to demonstrate strong growth, following strong sales over the last twelve weeks with a value growth of +40.6 per cent."
Over at Pukka the religion is pies, and Pukka's Julie Stevens says that pies are an important part of the mix when it comes to selecting the right products to include within chilled and frozen fixtures in convenience stores. "This is because not only has the category seen long-term growth of +10.4 per cent to reach a retail sales value of £269 million, but in the short-term, sales have catapulted by +11.9 per cent – demonstrating there's plenty of headroom for further growth."
It's astonishing growth for a traditional meal item. "Firstly," says Julie, "in these uncertain times, shoppers are looking for comfort – and pies fit the bill. Secondly, as the nation's number one hot pie brand, with growth outpacing the wider category at +38.6 per cent – Pukka is the driving force behind the category's continued success."
So partly commercial, partly psychological. Pukka's frozen pies are now worth £47m and are purchased by 20 per cent of UK households – a figure which is rising +17.4 per cent YOY.
Pukka's Head of Marketing & Innovation, Rachel Cranston, says that for shoppers who want tasty tradition at top speed, "Our range of Shortcrust Pastry Micro Pie Twin Packs – available in All Steak, Chicken & Gravy and Minced Beef & Onion – can be heated in just four minutes straight from the freezer, so are the perfect choice for these shoppers."
She adds, "We've also recently added a brand-new recipe to Pukka's frozen range – our Veggie Cheese, Leek & Potato Micro Pie Twin Pack. The appetite for vegan and vegetarian food options continues to grow exponentially, so it was the natural next step." (There is also now a Vegan Chicken & Mushroom and Vegan Minced Steak & Onion, replicating the meat-based range.)
And speaking of vegetarian and vegan, Quorn's entry into the frozen aisle is well worthy of mention.Gill Riley, Marketing Director at Quorn Foods UK, points out that Frozen is leading the way within the meat-free category, with sales of more than £311mand growing at +26 per cent.
"We're advising retailers to stock everyday frozen favourites, such as Quorn Mince, Sausages and Crispy Nuggets,"he says."These make the introduction to meat-free really simple and provide shoppers with great-tasting meat free options for the whole family, without having to compromise on their favourite meals"
Gill says pack formats play an important role too, as shoppers look to fill their freezers and cover several weekly meals. Where space allows, retailers should stock these larger formats to meet consumer needs. "There has been an uplift in Quorn's bigger frozen pack sizes, most significantly across Quorn Nuggets (476g)," he adds.
Chill out, dude
The chiller section has also done very well over the pandemic year, and as people stock up the fridge for life at home, butters and spreads are upand healthy eating means filling the crisper drawer with crunchy, colourful salads – as Florette has taken keen note of.
"In spring and summer consumers place more importance on a healthy diet and lifestyle, both from a seasonal perspective but also this year in light of the current pandemic. It's an ideal time to include bagged salads as part of a meal solution or cross category meal deal," says Polly Davies, Florette Category Controller. Bagged salads – an enormous £598 million market – add speed, hygiene and convenience to healthy eating, and Florette's latest also adds beautiful colour.
The just-launched, category-boosting NPD, "Rainbow Crunchy", will bring standout to a fixture customers want to see more of in c-stores, with a colourful crunchy assortment of mild leaves, including escarole and radicchio and vibrant crunchy vegetables such as carrot and candy striped beetroot.
"Eighty per cent of households buy leafy prepared salads across the total market, but reduced access to them in convenience has restricted that figure to just 20 per cent," says Polly. It's time for indies to up their salad game and bagged leaves are just the ticket for summer.
"Summer is the time when salads really do come into their own," she adds. "With around 68 million packs already sold each year in convenience, now's the time for retailers to assess how a beacon brand like Florette, which is synonymous with freshness, taste and inspiration, can add interest and attract more shoppers to their fresh and chilled fixture."
The dairy shelves have profited handsomely from lockdown, and if cheese-to-go products bombed through lack of commuters and closed schools, block cheese did handsomely for filling home fridges, and as Trade Communications Manager at Mondelēz International, Susan Nash points out, brands like Dairylea did fine too, with children needing to be snackified regularly at home.
"The in-home lunch occasion has grown in popularity, with this expected to continue throughout 2021," she says."To cater for shopper needs, Philadelphia and Dairylea will continue to offer quick and great-tasting lunch solutions for consumers both at-home and out-and-about, providing meal-time inspiration when shoppers need it most."
Dairylea is the number one Processed Cheese brand in the UK and in strong growth, offering products across the Spreads & Portions, Slices, Parents to Kids and Snacking Kits segments.
At Saputo, Marketing Controller for Butters and Spreads, Emilie Grundy, explains that it is because Butters & Spreads are a "mainstay in almost all households' fridges", that they have had such a fabulous year. Fridges need to be full when you are at home, after all.
"With home working and periodic home-schooling prevalent throughout much of the last year, local convenience retailers have become a go-to for top-up shop missions and have seen increased customer demand for dairy staples," says Grundy."Indeed, 40 per cent of households have bought cheese and 33 per cent butters and spreads in the convenience channel in the latest year, a year on year growth of 1.4m and 1.5m households respectively."
Interestingly it is butter that has outperformed spreads (margarines and similar) in convenience over the past 12 months, although both are well up. Vitalite continues to lead the way in Dairy Free Spreads at +34 per cent value in convenience, and Clover is also up +12 per cent.
"Our value brands continue to perform well in relevant channels," says Grundy."Willow has notably delivered a strong 52wk performance, growing revenue by 11 per cent in Total Convenience, while Utterly Butterly has driven +3 per cent revenue growth in Independent Retailers."
However, Saputo's Country Life butter, currently valued at £58.8m and bought by 18 per cent of UK households, is growing at +26 per cent in Total Convenience, way out ahead of the category, and in cheese it is Block, Grated & Recipe driving the most dynamic growth (+20 per cent, +20 per cent and +23.5 per cent value growth respectively) at the expense of snack and FTG formats, for obvious reasons. Lockdown has made for a great cheese year overall, as Neil Stewart, Cathedral City Marketing Controller, explains: "The UK is a nation of sandwich-lovers, each of us eating an average of four sandwiches a week and 8 in 10 lauding the humble sandwich as their favourite lunchtime dish." Cheese and B&S – a virtuous circle in your chiller.
Cool and refreshing
Drinks occupy a large span of any retailer's chiller section, and in addition to the carbonates and juices there are dairy-based milk and yogurt drinks that can more easily be imagined as part of a retailer's polar-themed selection – especially with the summer coming up and frozen milkshakes are especially welcome.
That category has exploded recently with the "fairground attractions" that go along with food to go, and perhaps the flagship ice-cold milkshake maker is the revolutionary f'real(lower-case lettering as with pladis and graze is all the rage). Does anybody not have one, yet?
Isla Owen, Senior Marketing Manager at f'real, tells us that in the USA 55 per cent of consumers visit a convenience store just to buy a f'real, which makes it the killer footfall "app".
"Our phenomenal growth since launching into the convenience channel in 2018 has seen f'real machines installed in over 900 stores across the UK, with an average of two retailers coming on board every day. We saw a +12 per cent increase in rate of sale of our shakes and smoothies during 2020, driven both by footfall increases but also the shopper looking for more indulgent treating options," she says, adding that it's a strong performer throughout the year. "The Cookies and Cream flavour is probably the top seller, but all the flavours sell well."
Atul Sodha, who has a Londis in Uxbridge, testifies that his f'real machine has been a big success. "It sold out in the first two days!" he happily admits."Even health-conscious customers have been purchasing the smoothies in the morning, these are 100 per cent smooth unlike other alternatives which have a lot of ice to bulk them out."He says that in his shop it is the Chocolate milkshake that has been the best seller so far, whilst the Coffee Frappe is also performing well:"The f'real machines adds another USP to our armour, helping us to retain customers and drive repeat visits."
Milk in a bottle instead of from a machine is perhaps best represented by General Mills' Yoplait brand, which has enjoyed growth of 3 per cent during the pandemic, even with sales of kids' yoghurts are down 6.5 per centover the year (no school).
Joanna Goodman, Head of Marketing, Yogurt (Northern Europe) at General Mills also commendsthe Petits Filous Mess Free , which in the past 12 months it has achieved £3.7m value sales, and the Petits Filous no added sugar range, with just 4.9g of sugar per 100g.
Whatever you are stocking in the chiller and freezer cabinets this summer, stay cool and sell bigly.