When Brysons Londis in Prestwick, a forecourt store, won Independent Retailer of the Year at Asian Trader Awards 2019, a comprehensive refit they had recently undertaken proved to have played a key role in tilting the balance in their favour in a hotly contested category.
That refurbishment has seen the store massively improving their food-to-go operation with the introduction of Stone Willy's kitchen and new and additional Costa machines along with slush and Tango Ice Blast, all of which have become very popular with customers, and extremely profitable to the store consequently.
While the Covid-19 pandemic has been particularly hard on the booming food-to-go sector, Walter Bryson, who now manages their third generation family business with his cousin Peter, are not at all worried about the big investment. He says, in the long term, depending on your location, food to go, coffee and convenience impulse items will be important for a forecourt site. In fact, their sales are pretty much back on track now.
"The food-to-go side is generating quite a lot of turnover at the present time, although the fuel sales are fairly slow," Walter says. "We're probably at five per cent down on fuel sales because people aren't traveling as much. But Costa Coffee and our critical operations are very busy at the moment. And the shop itself is probably on a par and normal."
Brysons in Prestwick is set to celebrate its 120th anniversary next year, and that's really important to put the long-term plans of the business in perspective. You won't survive the peaks and troughs of the economic cycles without staying ahead of the curve, and their venturing into convenience retailing itself is an example of that. Primarily a car dealer – of new MGs and other, used marques, Brysons started a fuel station and convenience store in 1990, essentially to complement their vehicle sales, service and parts departments, and it took no time for the business to establish itself as a forecourt operator.
Deliverable
Many convenience stores have been benefiting from a grocery delivery service, and this is one area Walter would look to grow in the future. They have reduced their grocery and household offering at the time of the refit which has restricted their ability to offer a delivery service in response to the pandemic.
"We are short on range to be able to offer a good service. It's maybe something ongoing, and we have to have a look at because the markets now changed again, probably since the start of the pandemic," Walter says.
He still thinks the food-to-go offering, along with the coffee, is going to be of primary importance. At the same time, he shares the view that delivery is an emerging trend in the convenience channel as a result of the pandemic.
"I think more and more people will be looking to have things delivered to home, rather than having to come out. So I think the delivery side is going to be an important issue for convenience retailers," Walter says, adding that location should be a major factor in deciding on this. "It comes down to whether you are a local store or a transit store or a store in between, as to exactly what your customer base is."
For their store, he thinks a delivery service will become more important once they expand into evening trade. At the moment, their food-to-go operation is concentrating on breakfast and lunchtime trade. Through they are a 24-hour shop, they currently work restricted hours as "there isn't anybody out at night."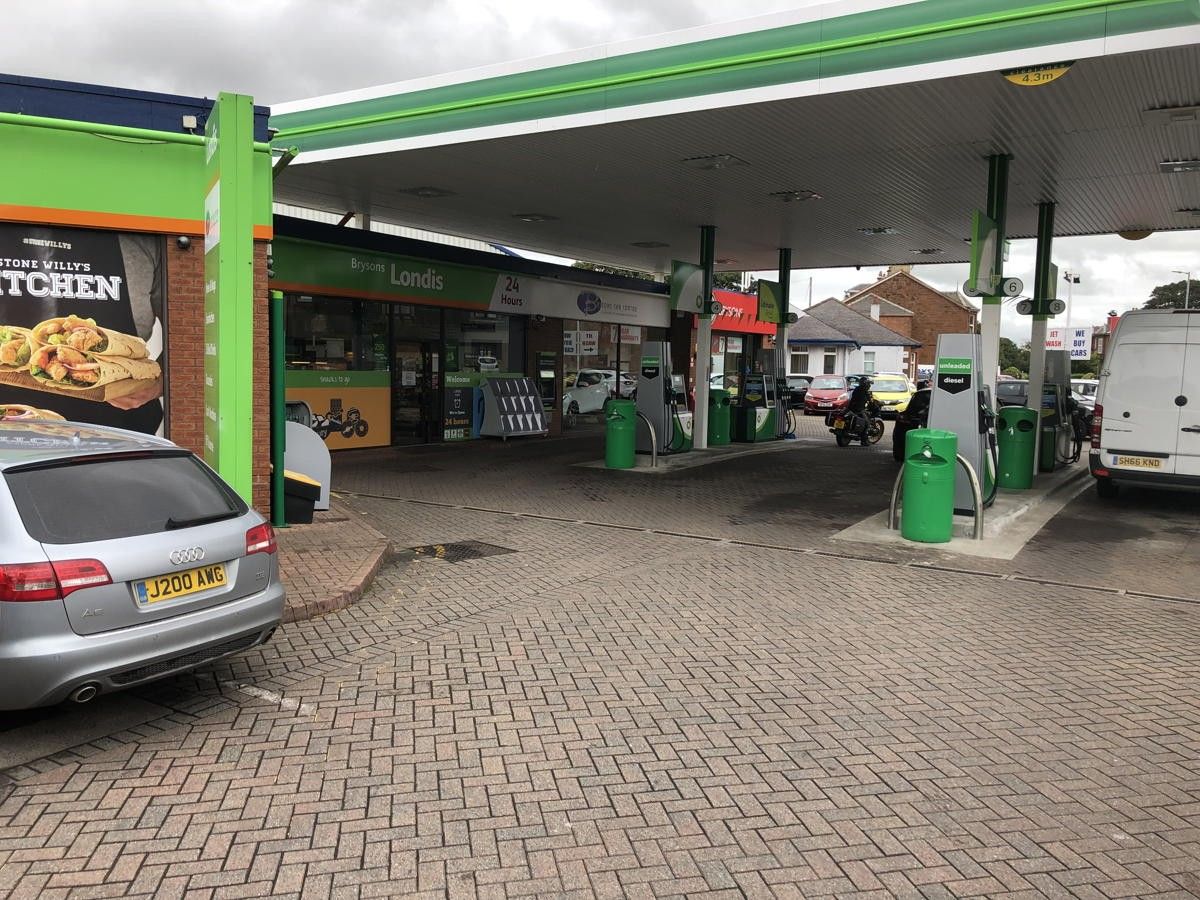 "At nine o'clock at night, the roads and the towns are very, very quiet," he says. "But once we get through the other end of the pandemic and things get back to normal, we'll be opening late shift again, and we'll be starting our delivery service for the products we do."
Customers demand more from a petrol forecourt these days and converting the store as a destination shop is something of an imperative, according to Walter. And, his key method is to offer "as many services as you possibly can to your customers."
"You're offering products and services that make people say: I want to go to that store or use that store because of what they're offering and the service they're providing," he adds.
The benefits of being local
As a local family business, Brysons are pretty much involved in a number of activities that support the community, and the pandemic period was no different. "I wouldn't say we have particularly stepped up our involvement in the community, but we've always been involved and been willing to help out where we could in the community," Walter says.
"Prestwick is a town of 15-16,000 people and being a long standing local business, you tend to get involved in different things on an ongoing basis. A lot of local people come and ask you to do things for them. So you help them out and do that."
The store has been a pioneer in sourcing products locally, and the underlying idea for the business is again community-focused, as a means to give back to the community.
"We've been in business for 119 years now. And the local community has supported us and been good customers to us over the years," Walter explains. "So, we try to reciprocate and give as much business as we can back to the community and buy from people and businesses within the community. We'll look at all different aspects and categories and see if we can buy locally if possible."
This standing of the business in the community perhaps explains a relatively incident-free period for them when stores across the country have witnessed increased violence and abuse, triggered by pandemic related issues such panic buying and mask rules.
"To be honest, it may just be our location," Walter says. "We haven't had a lot of abuse at staff. Biggest issue we've probably had was customers coming in and not wanting to wear masks when they're in the shop and trying to get customers to understand the kind of legal requirement."
When it comes to the products in the store, Walter is particular to avoid having just a standard range and run with that all the time. It's all about allowing people to "try different things" and he has several methods to ensure that is possible.
"We will try to do sampling for customers or we will bring in new products and monitor through till systems what's selling and what's not selling. Obviously, we try to get our colleagues or our counter staff to speak to customers and find out what they're looking for. And if the new products are liked enough, we keep expanding on the range. We're trying to do specials and introduce new items where we can," he goes on.
"Customers are always looking for something new and exciting. We try and give our customers what they need with points of difference around the store."
Being a forecourt store, they also place a lot of focus on their impulse lines. "We stock a full range of impulse crisps, drinks and chocolate that are well-presented and conveniently placed to disrupt the customers' mission to almost guarantee a purchase. We also ensure that we stock the most up-to-date products as soon as they become available," he explains.
They have also grouped the store into specific areas like food for now and food for later as well as bringing in a selection of local products to achieve maximum sales.
The priorities, in short, are: a very good product range, value for money, a good level of customer service and top display and hygiene standards. Among these, Walter puts a lot of emphasis on value for money and customer service to stand out from the competition in a challenging retail environment.
"We always try to run good value-for-money promotions, so that people know that they can come to us and the odds are they're more expensive in a lot of the other stores" he says, crediting Londis for providing with many such promotions to combat the twin challenges of price and margin.
The store also works hard on the speed and quality of customer service to bring customers back because, as Walter puts it, a lot of customer loyalty is built around customer relations. "Customers can come in, and they have a good relationship with your staff, and they can come in for a chat and they're being looked after," he says.
And, the caveat is: "It's just as important, as long as you're not, obviously, way more expensive than some of the other local stores or competition in the area."
Walter regards the returning customers and his interactions with them –"customers requesting and looking for good quality, say food to go, products that you're selling and just coming back and asking for them again" – as the best part of the job.
He adds that the pandemic has made a significant difference in customers' understanding of the local retailers, particularly in terms of the service and the convenience they provide in the community. "People don't necessarily need to go to the big supermarkets all the time. I think our customers' attitudes have been reinforced with the idea that local retailers can offer just as good, if not better, service and product availability than some of the biggest supermarkets."