KP Snacks has announced it is expanding its classic heritage brand Wheat Crunchies with the launch of the popular Spicy Tomato flavour in a 70g £1.25 PMP and a 45g Grab Bag.
Rolling into stores from mid-July, the Wheat Crunchies Spicy Tomato PMP and Grab Bag capitalise on "Spicy" being the third fastest growing flavour profile, engaging shoppers and driving sales for retailers.
The launch of Wheat Crunchies Spicy Tomato £1.25 PMP builds on the success of the Wheat Crunchies Crispy Bacon £1.25 PMP, growing +15.4 per cent. With £1.25 PMPs representing 18 of the 20 best-selling CSN SKUs within Independent and Symbol stores and accounting for 61 per cent of Independents sales, the new Wheat Crunchies PMP utilises the strength of this format to increase sales and brand penetration. KP Snacks is currently driving 39 per cent of total £1.25 PMP sales. The Spicy Tomato Grab Bag is also perfect to cater to on the go snacking occasions with Food to Go missions on the rise (+12 per cent).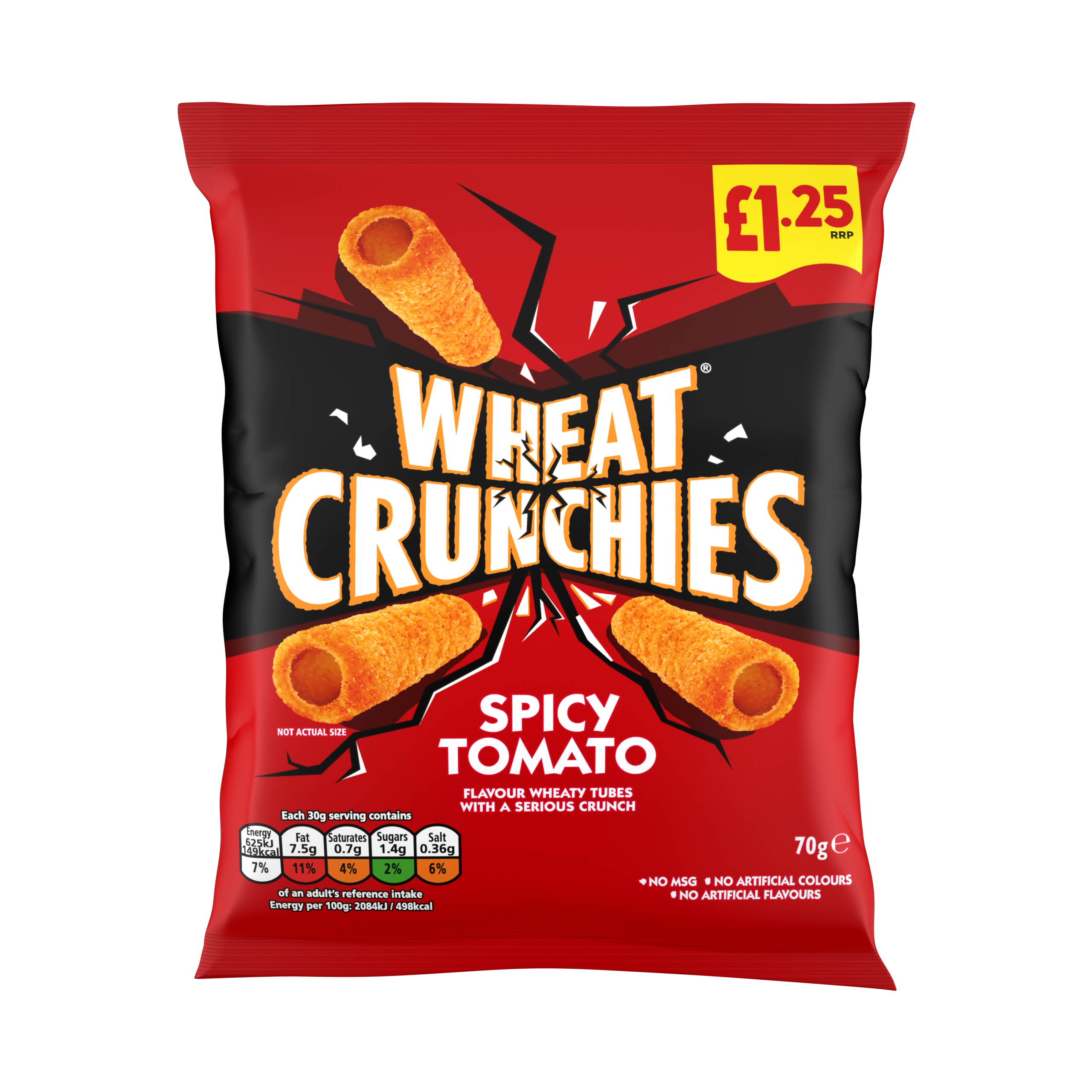 Pauline Warren, Heritage Portfolio Manager at KP Snacks, said: "Wheat Crunchies is an iconic heritage brand that has been delivering delicious flavours since 1987, making it the perfect choice for consumers looking for a snack with serious crunch and great taste. We are delighted to be launching Spicy Tomato, expanding the much-loved Wheat Crunchies portfolio with an exciting flavour that caters to our consumers' search for spicy snacks."
"At KP Snacks, we are always looking to add variety and value to our range and we are excited to be combining Wheat Crunchies, a popular Everyday Value brand that creates a sense of nostalgia in shoppers, with the strong £1.25 PMP format," said Trading Director Matt Collins.   "KP Snacks' £1.25 PMP portfolio is growing ahead of the overall large PMP market in CSN at +53.4 per cent. By expanding our market-leading PMP range we will continue to tempt and engage shoppers, driving retailer sales."
The Wheat Crunchies brand is worth £13.3m. These unique wheaty tubes are available in tasty Crispy Bacon, Cheddar & Onion and Spicy Tomato flavours,
Wheat Crunchies Spicy Tomato 45g Grab Bags have an RRP of £1.00.