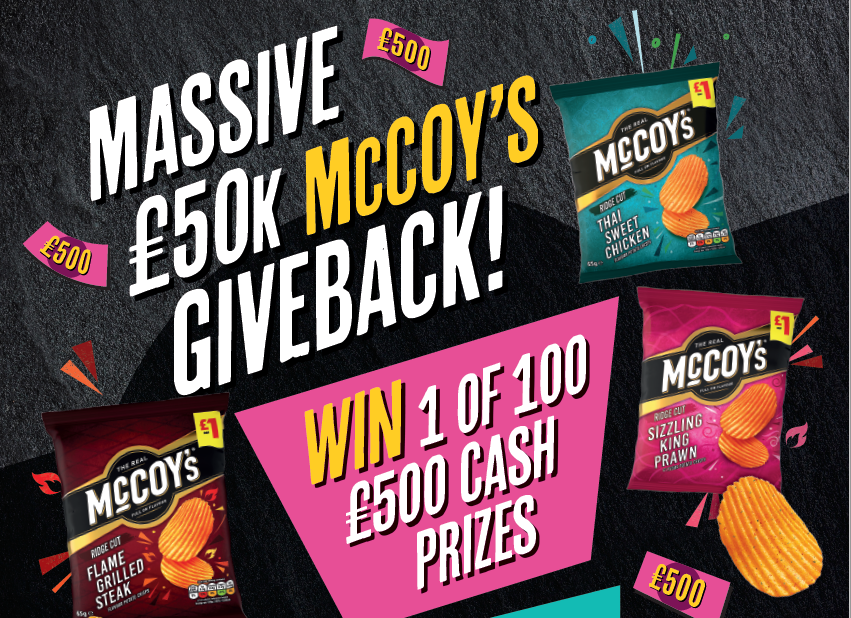 KP Snacks today announces the launch of its massive £50,000 McCoy's giveback supporting retailers and their staff amidst ongoing pressures they are facing.
Running for eight weeks from 19 September, the McCoy's giveback offers retailers the chance to win one of 100 £500 cash prizes. Retailers at participating wholesalers will be entered into the free prize draw when they buy five cases of McCoy's Grab Bags or £1 PMPs.
"It has been a challenging time for our retail partners and we are proud to be supporting them with the launch of our McCoy's giveback, offering them the chance to win one of a hundred cash prizes," said Trading Director Matt Collins.
"As the UK's number one ridged crisp, McCoy's is a well-loved and trusted brand, making it the perfect choice for our giveback initiative. With a flavourful portfolio available in a range of formats, McCoy's are a must-stock to drive sales for retailers."
A survey KP Snacks and ACS, found that 50 per cent of retailers are feeling more negative than this time last year and that 50 per cent have also reported that their personal finances have worsened because of the cost of living crisis. Meanwhile, 100 per cent of retailers said their day-to-day costs of running their business had increased.
Addressing these difficulties and offering further support to retailers, KP Snacks is donating £20,000 to GroceryAid from McCoy's sales. The donation will improve convenience retailers access to emotional and practical support as well as financial aid.
"By donating to GroceryAid, we hope we can make a genuine difference to retailers in need of help," Collins added.
The McCoy's brand is worth £146.8m, growing in value +10.4 per cent, and has one of the top-five best-selling £1 PMP ranges. From Salt & Malt Vinegar to Sizzling King Prawn, the McCoy's portfolio delivers full-on flavour and is responsible for the number two and three best-selling meal-deal choices.