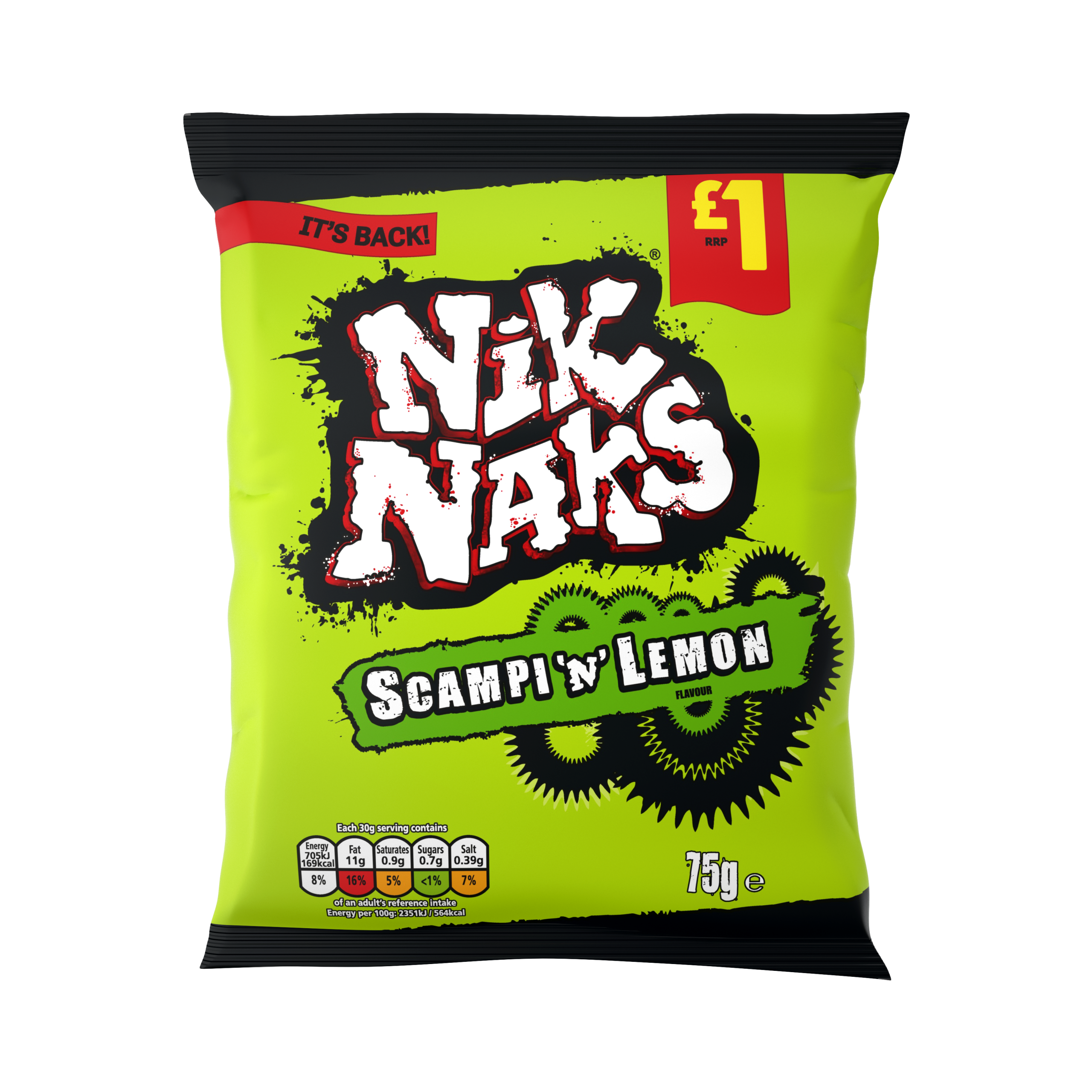 KP Snacks today announces the launch of two new £1 PMP SKUs: Butterkist Crunchy Orange Chocolate Flavour Toffee popcorn (70g) and Nik Naks Scampi 'N' Lemon (75g). Rolling out into stores this week, the new products combine trusted brands and favourite flavours with a highly popular pack format, to expand KP Snacks' market-leading £1 PMP range to 35 SKUs.
Retailers will be delighted to see the return of Nik Naks Scampi 'N' Lemon following high demand for the shopper favourite which has been absent across singles formats since 2008 and multipacks since 2019. Creating excitement as it makes its return to the market, Nik Naks Scampi 'N' Lemon £1 PMP delivers on great taste as well as great value. The Nik Naks brand is growing +5.3 per cent and is one of the top 10 best-selling £1 PMP ranges.
Bridging the gap between popcorn and chocolate confectionery, Butterkist Crunchy Orange Chocolate popcorn £1 PMP is perfect for a sweeter and more indulgent snacking occasion. Butterkist is the nation's favourite popcorn brand, enjoying a 35.4 per cent market share.
The two new products are well-positioned to boost retailer sales by capitalising on the strength of £1 PMPs in CSN, worth £221.8m and growing in value +17.1 per cent. 82 per cent of retailers say £1 PMPs are must stocks and 40 per cent of snack shoppers say they are more likely to buy a product in PMP format.
"As costs of everyday items continue to rise, consumers will be searching for great value products so PMPs will be an increasingly important format," said Matt Collins, Trading Director at KP Snacks. "We are delighted to be supporting our retail partners with a strong and growing £1 PMP range designed to excite shoppers and drive impulse purchases.
"We are also catering to shopper demand by bringing back Nik Naks Scampi 'N' Lemon as a £1 PMP. The return of this well-loved flavour after so many years without it, will engage and ignite interest from shoppers, boosting sales for retailers."
The KP Snacks £1 PMP range is worth £70.5m and is growing at +16 per cent. Synonymous with delicious popcorn, Butterkist is worth £49.8m and is a trusted, family favourite brand. Nik Naks is a classic KP Snacks heritage brand, worth £25.7m and growing in value +5.3 per cent.