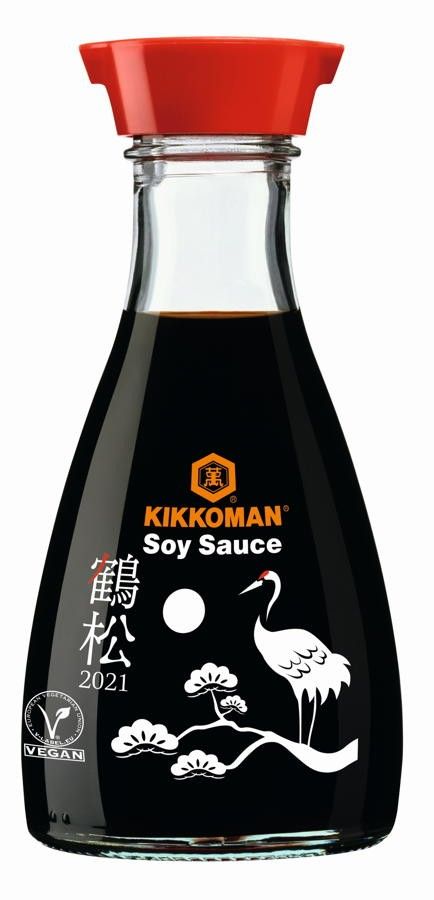 Following the success of its first ever limited-edition bottle, leading soy sauce brand Kikkoman has announced the launch of a second limited-edition design to its iconic 150ml dispenser bottle.
A set of classic Japanese images including a crane, a pine branch and a sun symbol will appear alongside Japanese characters spelling TSURUMATSU. TSURU means crane while MATSU means pine.
The crane is said to bring good luck and longevity in Japanese culture, as does the tortoise which is featured in Kikkoman's hexagonal logo. Cranes are common on Japanese bank notes, appear in old Japanese stories and often created in origami, the art of folding paper. The matsu pine is very popular in Japanese gardens and often grown for bonsai.
"The first limited edition bottle proved so popular we decided to create another carrying traditional Japanese symbols," commented Bing-yu Lee, general manager at Kikkoman UK.
"The Kikkoman 150ml dispenser is a unique shaped bottle, designed by Kenji Ekuan who later went on to design the world-famous bullet train. We think Mr Ekuan would approve of the designs carried on our limited-edition bottles. We're confident that it will be very popular with consumers and a great keep-sake for our most loyal followers."
Over 400,000 limited edition bottles will be available from now through to April when the stock is predicted to sell through.
Kikkoman is currently on TV and VOD with a major advertising campaign and is running promotions across the retail trade.