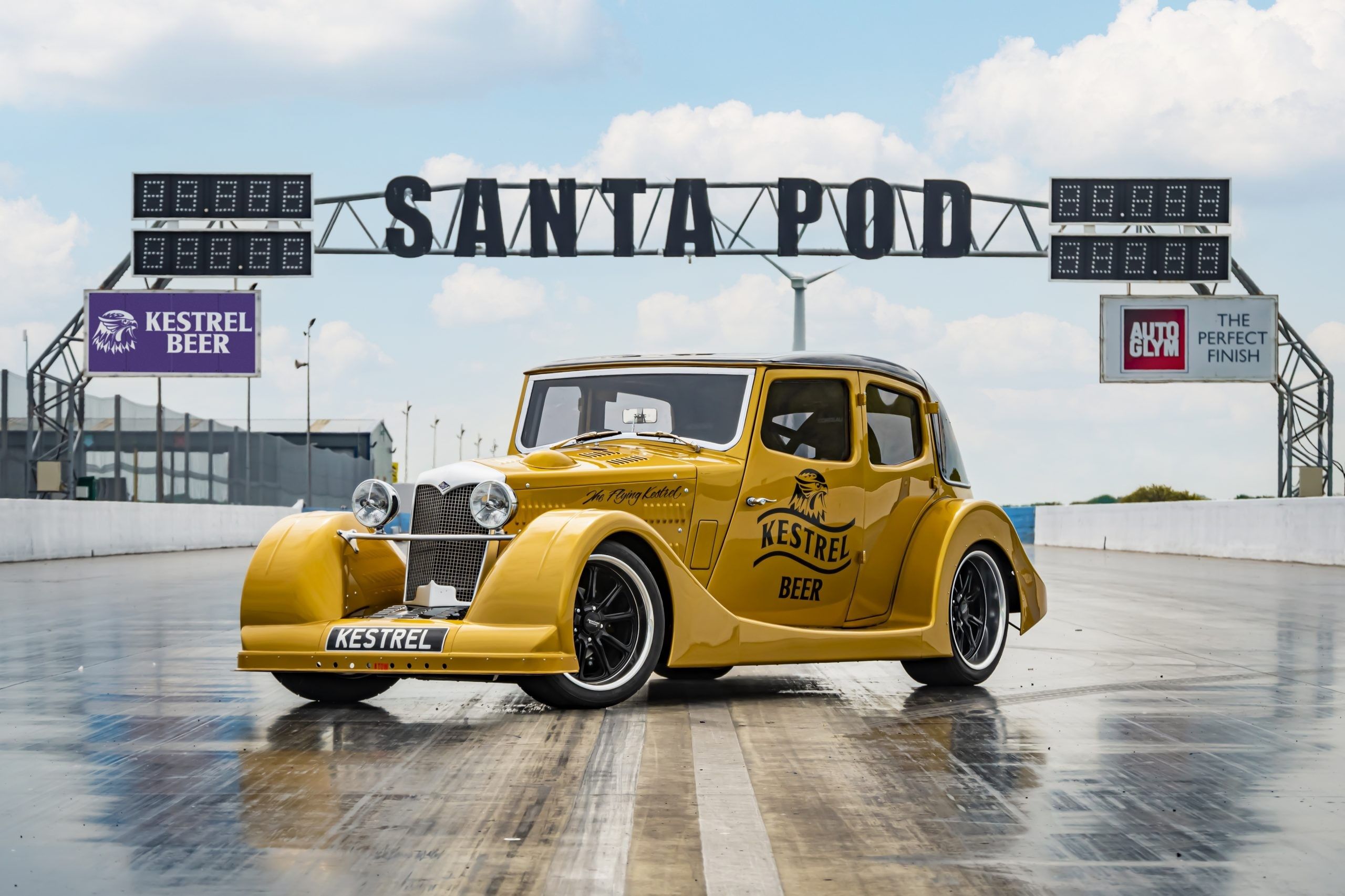 Award-winning brand Kestrel Beer has partnered with Santa Pod Raceway, the UK's most action-packed drag racing venue and has inked a high-profile sponsorship package which will see the beer become an official lane sponsor at the north Bedfordshire motorsport venue.
Kestrel was acquired in 2012 by Nigel McNally, founder, and CEO of Brookfield Drinks Ltd. McNally recognised Kestrel's potential and as part of his premiumisation strategy, returned the brand to its crafted Scottish roots.
The company recently made headlines with the story of its new corporate mascot. The Flying Kestrel, a 1935 Riley Kestrel 9 was rusting gently in a barn. It had been there since 1965 when McNally and his son, Joel – both committed car enthusiasts – discovered it and handed over their find to specialist fabricator Jon Webster, at Webster Race Engineering.
The challenge Kestrel beer set itself was to achieve Internationally recognised land speed records whilst retaining the same look and feel of the original Riley Kestrel 9.
When The Flying Kestrel finally emerged, its restored wooden body clad in gleaming company livery, and with the original chassis and components, it housed a turbocharged 2.5-litre Audi engine dispensing 900 horsepower.
In June, with veteran drag racer Webster, at the wheel, it clocked 159.63mph on Elvington Airfield to demolish the existing Class D 2.5-litre record for the standing half-mile, with further improvements in the pipeline. The Flying Kestrel now has seven official land-speed class records to its credit.
"We at Kestrel Beer are extremely excited to be partnering with Santa Pod Raceway as part of our ongoing investment in the Kestrel beer brand," said McNally. "Santa Pod is an iconic venue which will no doubt fuel our links with the motorsport industry and will further support our position as one of the UK's leading beers.
"As a bold brand we continue to develop interesting and exciting properties that communicate the originality and personality of a beer that's been enjoyed since the 1980s."