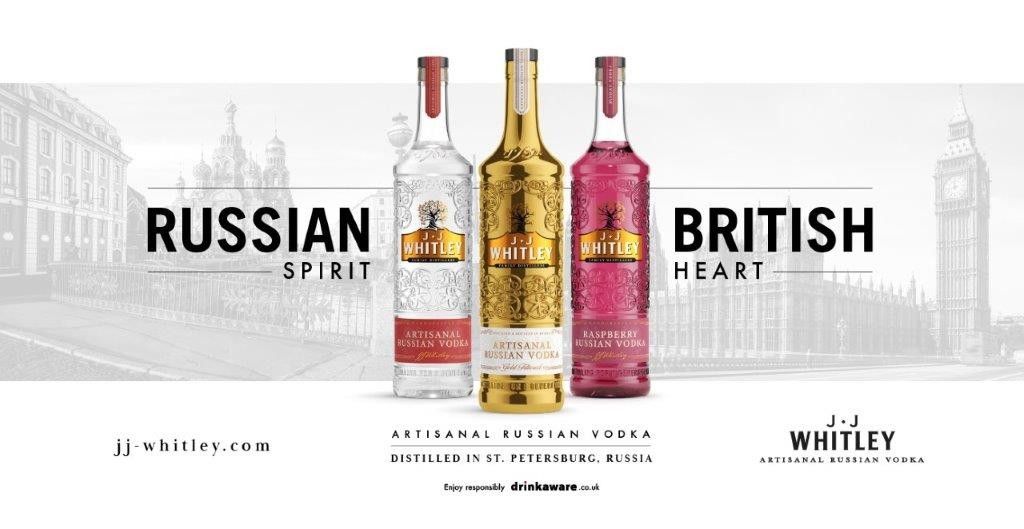 JJ Whitley Vodka has announced the launch of its first ever ATL campaign which celebrates the brand's Russian provenance, whilst also paying homage to its British heritage.
The campaign focuses on the brand's best-selling variants – JJ Whitley Artisanal Russian Vodka, Raspberry Vodka and its recently launched Artisanal Russian Gold Vodka, forming part of a wider campaign to grow awareness for the brand. It will also see the brand go on TV for the first time as sponsors of Sky One's 'Nights In' programming throughout August.
Production of the JJ Whitley Vodka range moved to the £5m vodka distillery in St. Petersburg, Russia in 2019, in order to enhance the provenance and quality of liquid. Its premium Russian vodka and line up of on trend flavours is also seeing exceptional growth, recently becoming the fastest growing 'Top 100' alcohol brand in UK retail.
"It's fantastic to see such strong growth for the JJ Whitley Vodka range over the past couple of years, and our new ATL campaign is now set to further drive brand awareness over the next six months, celebrating both its rich distilling heritage and quality Russian liquid," commented Simon Jackman, senior global marketing manager for white spirits at Halewood Artisanal Spirits.
"As the Vodka category continues to be the UK's largest spirits category, with flavoured variants also seeing significant growth, the range is perfectly positioned to help retailers tap into the significant sales opportunity."
The £3.5 million campaign kicks off this week and will be running until December. In addition to the Sky TV activity, it also includes placements at a number of high impact OOH sites across the country, as well as digital activity and print advertising in consumer and trade publications.