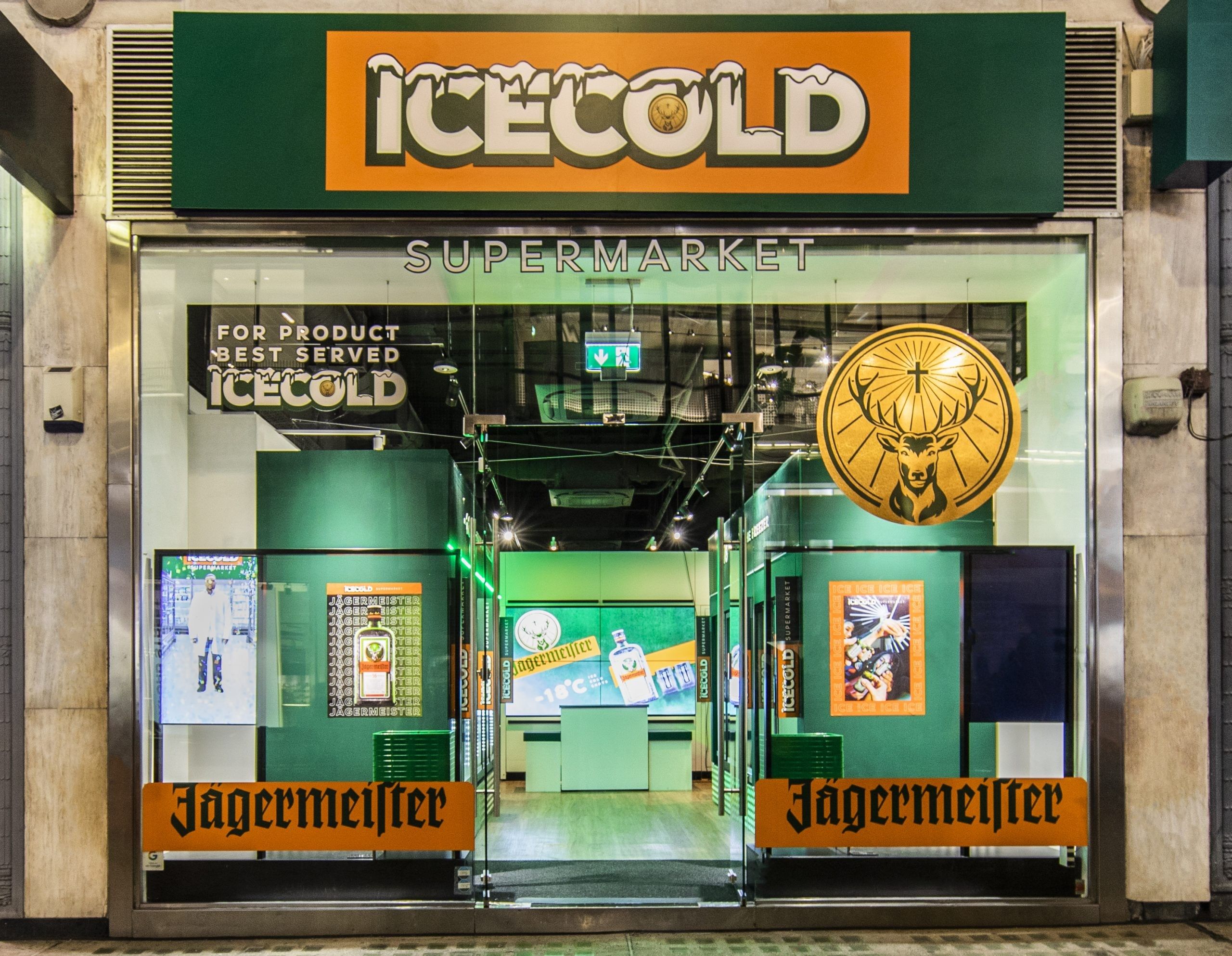 Today, Jägermeister opened The ICECOLD Supermarket on London's Oxford Street, offering customers an immersive experience where they can enjoy all things Jägermeister.
Inside, Jägermeister freezers cover the walls, packed with Limited-Edition ICECOLD Supermarket Original bottles – frosty and ready to buy at the perfect serving temperature of -18 degrees.
This immersive experience offers further surprises that are revealed when consumers descend the stairs into the venue's "Freezer Room", where a Jägermeister Bar will be serving ice-cold shots whilst guest DJs are spinning throughout the two days.
Customers can engage further with the brand by getting their hands on a range of limited edition ice-cold products including Jägermeister ice cream and ice lollies, as well as ICECOLD Supermarket's very own line of merch.
But that's not all. When night falls the freezer doors will REOPEN for the official launch party – revealing a secret basement rave IN the supermarket.
With the purchase of an ice-cold limited edition bottle of Jägermeister, one lucky customer can win a "Golden Ticket' and unlock access to party with the likes of Michael Dapaah and beats from DJ's Majestic, Martin 2 Smooth, Andy Purnell and Molly Collins.
The limited edition bottles feature the new interactive on-pack promotion called The Secret Is Ice Cold, encouraging consumers to keep Jägermeister in the freezer to reveal a secret code which becomes visible only after reaching the optimal chilled temperature. The secret code offers the chance to win more than 1,500 prizes such as e-shop vouchers, branded merchandise and a once in a lifetime European Jägermeister festival experience for four.
"Iceland wouldn't let us have a rave in their supermarket, so we made our own. The ICECOLD Supermarket showcases Jägermeister's optimal serving temperature of -18 degrees," said Mast-Jägermeister Head of Digital, Culture and Events, Peter Kennedy.
"Jägermeister is a brand best served ice cold and we couldn't think of a better setting for customers to fully immerse themselves with chilled surroundings, -18 degree temperatures and an ice-cold secret in store."
Jägermeister invites customers to come and enjoy the ICECOLD Supermarket experience. Doors open from 10:00am – 6:00pm on Thursday 13th and Friday 14th October at ICECOLD Supermarket, 58 Oxford Street, London, W1D IBH.