One of the most notable developments in the BWS category in recent years has been the flood of NPD in ready-to-drink alcoholic beverages (mostly in cans) including wine, and, increasingly, sophisticated bar-quality cocktails. What started many years ago with the innovative can of "commuter special" gin and tonic has developed into a colourful world of ring-pull tastes and combinations.
Bacardi Breezer, Smirnoff Ice and WKD were among the first major players in the RTD market in the 1990s. But brands, marketing and consumer values and lifestyles have changed significantly since then, and the category has seen a revival as RTDs responded to changing consumer desires.
"Changing societal habits have created a new demand for cocktail deliveries and canned RTDs for consumption at events and parties, which has led to a surge in both volume and innovation which will only increase. RTDs are still growing at higher rates than spirits, wine and beer, signalling a major shift in consumer interest," comments Kevin Fowler, General Manager Europe at Hard Rock International.
RTDs and canned cocktails (and wines) have the great advantage of convenience and unit form: they can be stored and enjoyed without any need for the usual paraphernalia – not even a glass. They can easily be assorted to provide on-the-go variety – a party in a can – and are disposable, recyclable, trendy (and very popular with the young crowd). They also have good margins and shelf appeal, and can (pun intended) be sold chilled with minimal space issues – the perfect C-store good-to-go item.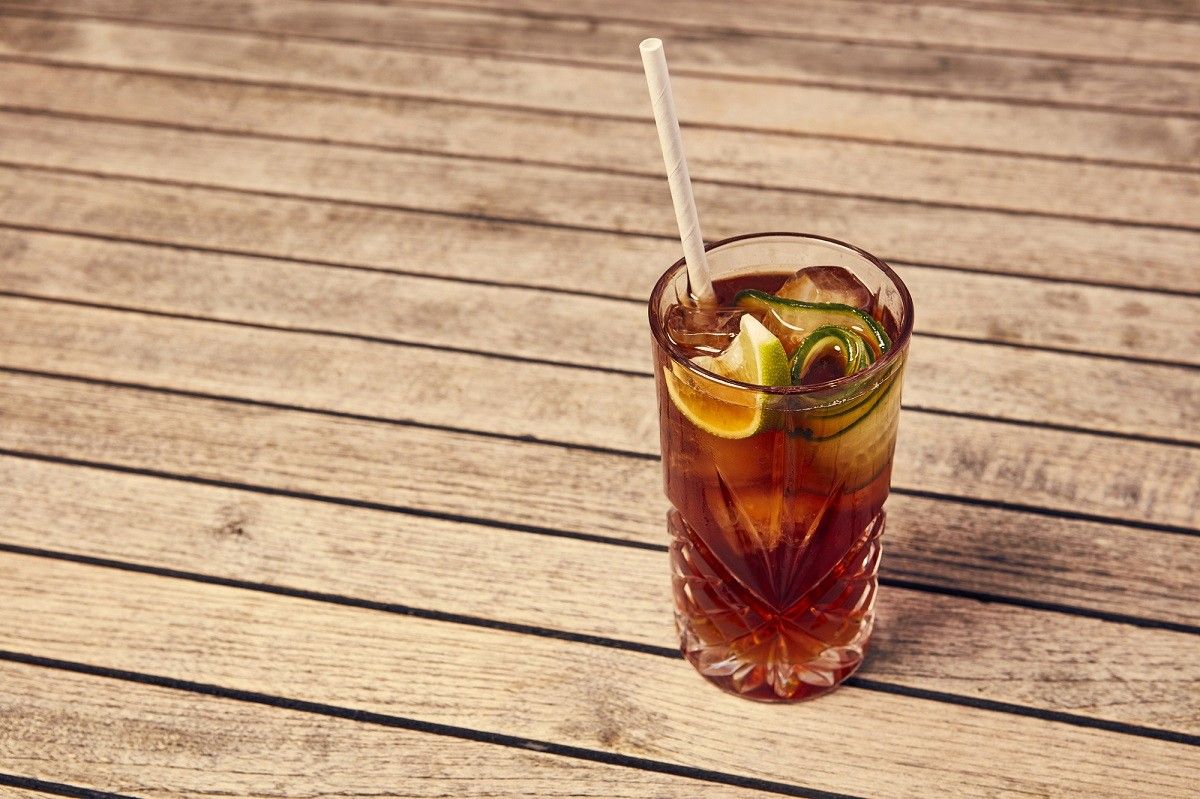 The RTD category has experienced resurgence in recent years, thanks to the increased uptake by consumers, who are attracted by new subcategories including seltzers and cocktails. The category is continuing to grow slightly ahead of the current off-trade BWS market at 28.7 per cent [Nielsen]. Category innovation is important for the convenience market, as RTDs, mixed cocktails and hard seltzers drive experimental and impulse buying decisions.
While traditional RTDs still account for a significant share of the flavoured alcoholic beverages (FAB) category, the major growth is being fueled by premiumisation and higher ABV brands. In fact, higher ABV brands are worth £56m, growing ahead of the total FAB category at 17.2 per cent in the year to Feb. 20 [IRI], whereas the "premiumisation" of the RTD category is opening it up to new consumers.
"These types of premixed drinks have evolved and become more sophisticated since their 'alcopop' heyday. Improved quality and variety of RTDs have enticed newbies into the category while winning back consumers who had shifted to other categories by offering exciting and innovative flavours," Caitlin Barker of Continental Wine and Food says.
Their Paradise Bay Cocktail Co. offers a range of lightly sparkling ready to drink premixed cocktails made with natural flavours, inspired by some of the UK's favourite cocktails, with the full range available in 6 x 70cl case sizes, with an SSP of £2.99/70cl. With the range including Strawberry Daiquiri, Mojito, Pina Colada and the new Blue Lagoon, launched in April, there is something for everyone.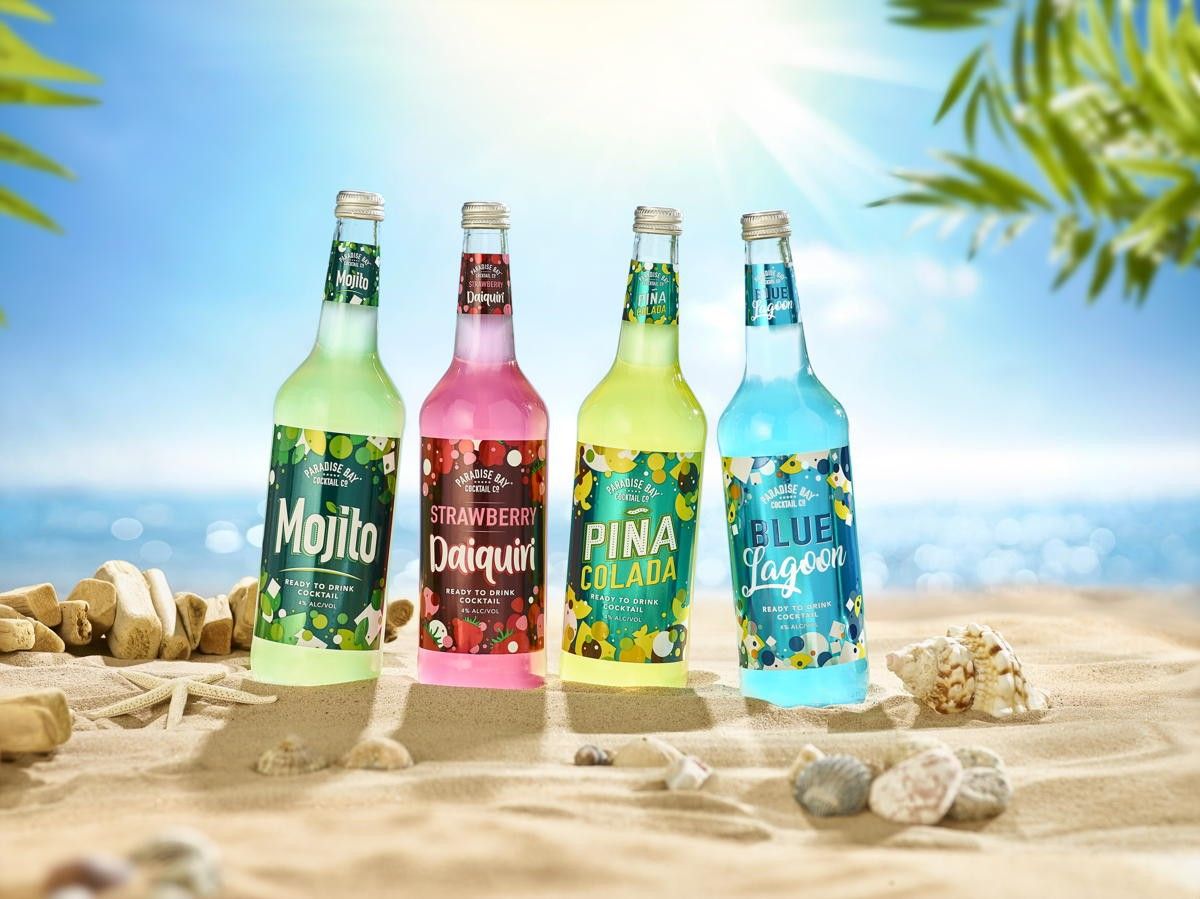 According to the IWSR, by 2023 it is expected that total beverage alcohol consumption will return to pre-Covid levels, with consumption steadily increasing through to 2025 and recovery will be particularly boosted by RTDs. The global RTD market is predicted to be worth $85.5 billion by 2030 and the growing demand for low-alcohol, convenient alcoholic beverages has led to an increase in RTD alcoholic beverage consumption in the UK [Insight Ace, 2022]. As per the WSTA Market Report 2021, the RTD cocktails category has almost doubled in value in the UK over the past five years.
"Consumers are on the lookout for innovation around great-tasting quality cocktails replicated conveniently at home and when socialising with friends and family. The trend towards RTD cocktails and their rise in popularity will be a key trend in the alcohol market this festive season, making them an easy and exciting offering at Christmas parties and celebrations," Fowler, of Hard Rock, adds.
Launched in the UK last month, following a successful debut in the US, Hard Rock Expert Cocktails provide great tasting cocktails in a convenient 330ml format from a recognised, iconic brand who have been making great tasting cocktails for over 50 years. Available in Piña Colada, Mojito and Passion Fruit Martini (five per cent ABV), they are an ideal solution for consumers looking for an easy to consume format.
"The market for ready-to-drink alcohol products continues to show traction and demand from consumers," Fowler notes.  "Consumers want convenience and choice, and this is something these alcoholic beverages can provide as they offer a variety in flavour that is easy to take on the go with you. They don't require any preparation therefore making them the perfect choice for consumers whatever occasion they are celebrating."
Creating value
Fowler points out that the independent retailers are well placed, literally, to steal a march on the multiples, when it comes to the RTD sales. "Independents are usually in places where people are consuming RTDs, therefore the relationship complements each other perfectly," he says.
"There may also be more space to keep RTDs chilled and therefore ready to be drunk in the moment, encouraging impulse purchases which multiplies miss out on if they don't dedicate fridge space to RTDs and only sell them in larger multipack options."
It is also important to create value for customers, he adds. "They are usually in a better position to offer creative options and being smaller usually equates to being agile. An example of this agility and creativity is creating calendar and news agenda themed POS and display stands, drawing customers in to the store and aligning products with daily lifestyle," he goes on.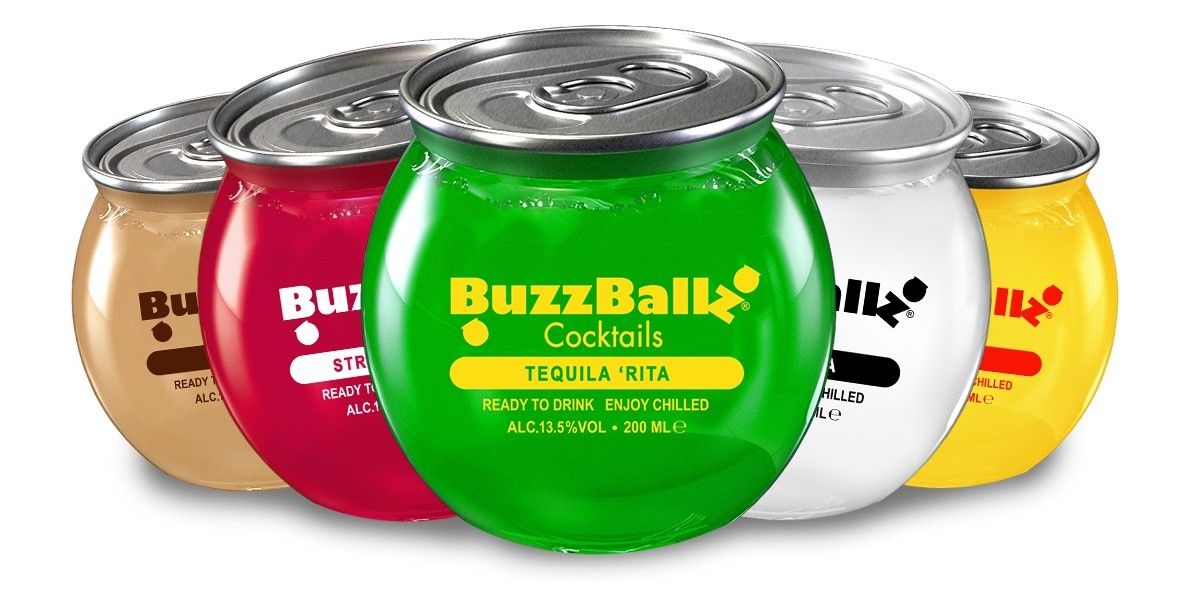 Tim Dunlop, Brand Director at Hammonds of Knutsford, the specialist drinks wholesaler which brought BuzzBallz – a leading premium, bar-strength cocktails from the US – into the UK convenience sector, also stresses on the importance of display to the category.
"We'd recommend displaying RTDs and canned cocktails in the drinks chiller, next to white, rosé and sparkling wines, hard seltzers and premixed spirit and mixer drinks to appeal to those looking for something to enjoy immediately, or to take to a group gathering," he suggests.
"Ensuring the fridge is stocked with products that appeal to the changing tastes of shoppers, especially younger adult drinkers, is key to capitalising on the at-home drinking occasion both for a planned evening in or an impromptu gathering. "
BuzzBallz offers retailers an extensive selection of branded POS materials to support the range including counter and chiller racks, free standing display units and eye-catching signage.
BuzzBallz Cocktails launched in the UK in June and are a smash hit in the USA, where they are on target to sell 100 million units this year. Made with premium spirits, and bursting with real fruit juice, natural flavours and ingredients, they are a different, no-mess solution with a unique round shape and strong visual appeal.
Six SKUs are available to UK convenience stores now via Hammonds: Choc Tease, Tequila 'Rita, Strawberry 'Rita, Lotta Colada, Chili Mango and Espresso Martini. All 200ml balls are 13.5 per cent ABV with an RRP of £3.50 each.
"Pre-mixed cocktails and long drinks are expected to increase share of the RTD market, so BuzzBallz Cocktails presents a significant opportunity to the UK drinks sector, especially when consumers are looking for new and unusual options in the chiller," Dunlop comments, adding that the brand is the biggest selling single serve pre-mixed cocktail brand in the US convenience channel.
"The UK RTD market is a fast-growing category, yet it is crying out for more innovation and excitement. We believe that BuzzBallz Cocktails can deliver this."
He anticipates a bumper few months ahead as there will be so many opportunities to tap into from early November, once the World Cup tournament kicks off. "At-home gatherings, whether for football viewings or festive drinks, are going to be a lucrative area for retailers and BuzzBallz Cocktails fit perfectly into these moments," he says.
The brand's UK launch strategy is to target 25 to 40 year-olds, living in urban areas, who enjoy on-the-go lifestyles and socialising with friends, at parties, events and festivals or simply in the garden.
Spirited entrants    
With vodka and gin being the top two contributors of value growth in the rapidly growing RTD market [NielsenIQ], leading flavoured vodka brand JJ Whitley is providing retailers with an innovative product range to tap into this significant sales opportunity with a new ready to drink line-up which includes Vodka Lime & Soda, Blue Raspberry Vodka & Lemonade, London Dry Gin & Tonic and Pink Gin & Lemonade.
"Our award-winning JJ Whitley range offers quality, British made vodkas and gins that tap into the latest flavour trends," James Stocker, Marketing Director, Halewood Artisanal Spirits comments.
"In addition to the popular Vodka Lime & Soda and Gin & Tonic serves, we've also added our Blue Raspberry Vodka and Pink Gin offerings, bring additional flavour diversity into RTDs and driving further recruitment into the category. We're confident that these will be a big hit with consumers, particularly during the summer months as convenient, on-the-go formats are key".

Meanwhile, another Halewood brand, Dead Man's Fingers, has expanded into the RTDs category with three new launches – Spiced Rum & Cola, Spiced Rum & Ginger Beer and Passion Fruit Rum & Lemonade.
Available now, the convenient format opens up a host of new opportunities for consumers to enjoy Dead Man's Fingers rums mixed up into delicious drinks on the go, without compromising on the brand's award-winning taste and quality.
"We've seen huge success within the rum category with our Spiced and Flavoured variants, which continue to attract incremental shoppers into rum and grow the category," Rachel Adams, Global Marketing Manager for Dead Man's Fingers Rum, comments.
"The launch of our new RTD format is a natural next step for our brand, particularly as we enter into the summer months when convenience is key, so we're excited to be able to offer that delicious Dead Man's Fingers taste in a handy new format".
"For retailers, it's also a great opportunity to introduce new shoppers to the rum category, and ultimately upsell to the larger 70cl bottle format for increased basket spend".
Dead Man's Fingers flagship Spiced Rum is inspired by flavours of Saffron Cake and Pedro Ximénez ice cream with hints of caramel, vanilla, cinnamon and undertones of orange, and is complemented perfectly by cola or ginger beer for delicious and refreshing on the go serves. Dead Man's Fingers Passion Fruit Rum offers sweet, tropical aromas, pairing with lemonade for a light and fruity option that's perfect for summer.
New variants from JJ Whitley and Dead Man's Fingers are available to order now in 330ml cans, with an ABV of five per cent at an RRP of £1.99 per can.
Functional moves
As this summer has seen the return of festivals and large-scale events up and down the county, a new drink has also arrived on the scene, creating a category first. Billed as the first post-social replenishment drink, Bounce Back is  designed to be consumed after a night of socialising with friends, to make sure that users have the stamina to keep functioning the day after.
Biochemists Dhruv Trivedi and Vandana Vijay have spent years researching, experimenting and developing the right combination of replenishing nutrients and finally, after 59 versions, found the winning ready-to-drink formula. Jam-packed with the right mix of vitamins, minerals, and amino acids, this functional drink helps to alleviate the stresses of an active social life, allowing the body to feel refreshed the next day.
"Consumers are looking for products to support both emotional and physical health needs, ranging from relaxation to hydration," Trivedi and Vijay comment.
"What might be of greatest interest is products that are perceived to address both states, with claims regarding sleep, stress, energy, immunity, gut health and balance, all rating highly for emotional and physical support, [and] with a driving demand for more sustainable packaging option."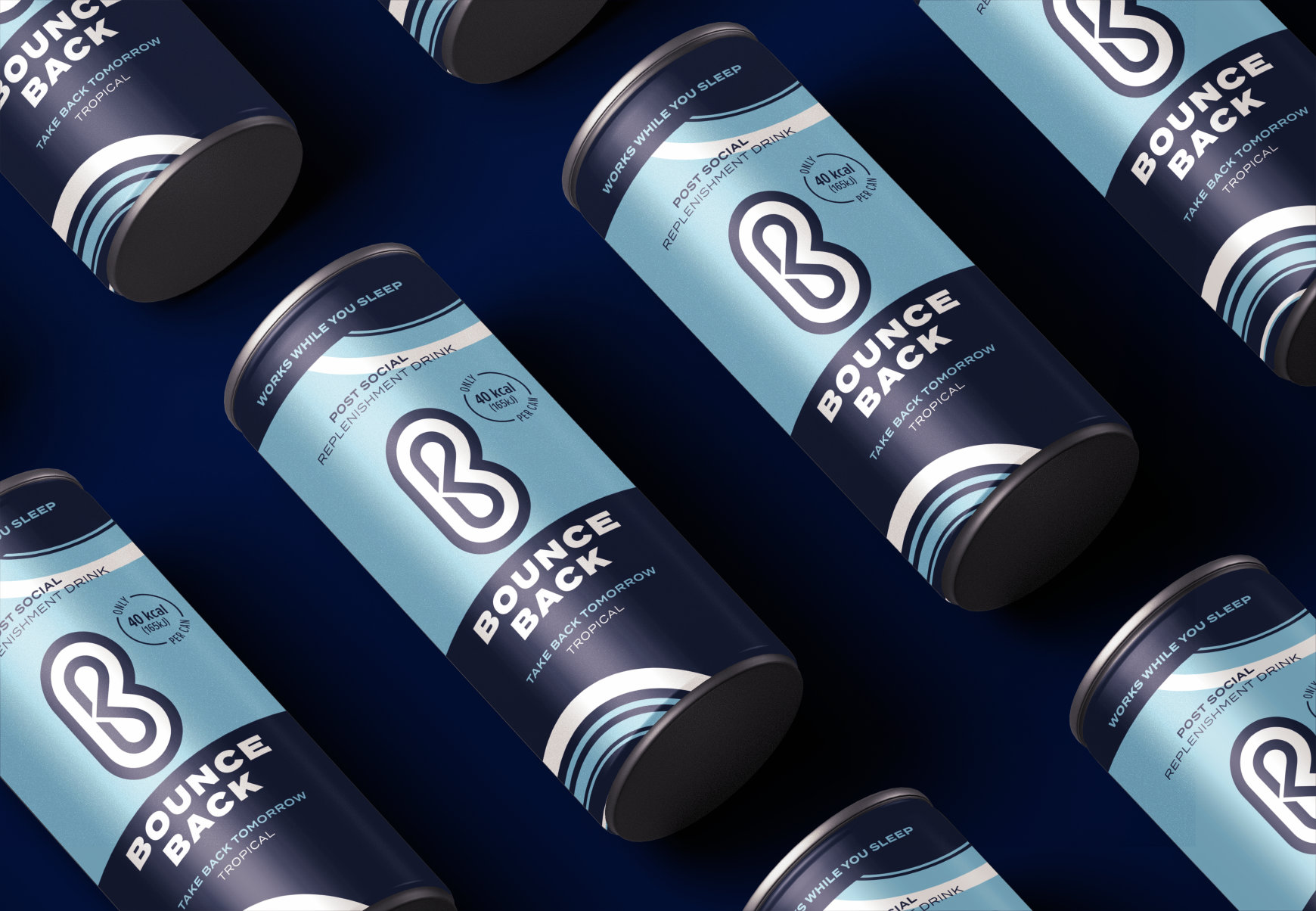 Both claim that Bounce Back fits in well with this trend as it works to replenish the body with a formula of 17 vitamins, amino acids and minerals, focusing on post social wellbeing and providing specific health benefits. Cans are also recyclable and environmentally friendly, as they note that this is something that consumers are very mindful of when purchasing products.
"Consumers are still looking for convenience, but the need for products that are eco-friendly has accelerated too – including in the food and drink markets. Consumers are now actively searching for products that are good for the planet, as sustainability has become a key issue in their buying behaviour. This is a trend that is only going to continue to grow in the future as the pandemic has forced consumers to look at making healthier choices and sustainable changes in their lifestyles," they add.
At the same time, they also remind retailers that the ongoing cost of living crisis would have a bearing on the purchasing decisions.
"Consumers are on the lookout for a low-cost and easy solution to making their own drinks when it comes to staying at home, and this is a key trend that is here to stay. With the cost-of-living crisis currently happening in the UK, consumers are going to continue looking for low-cost and easy to consume alcoholic beverages," they say.
Women's health is their next main focus, and Trivedi and Vijay have plans to launch future products to support with women's health, sleep and immunity.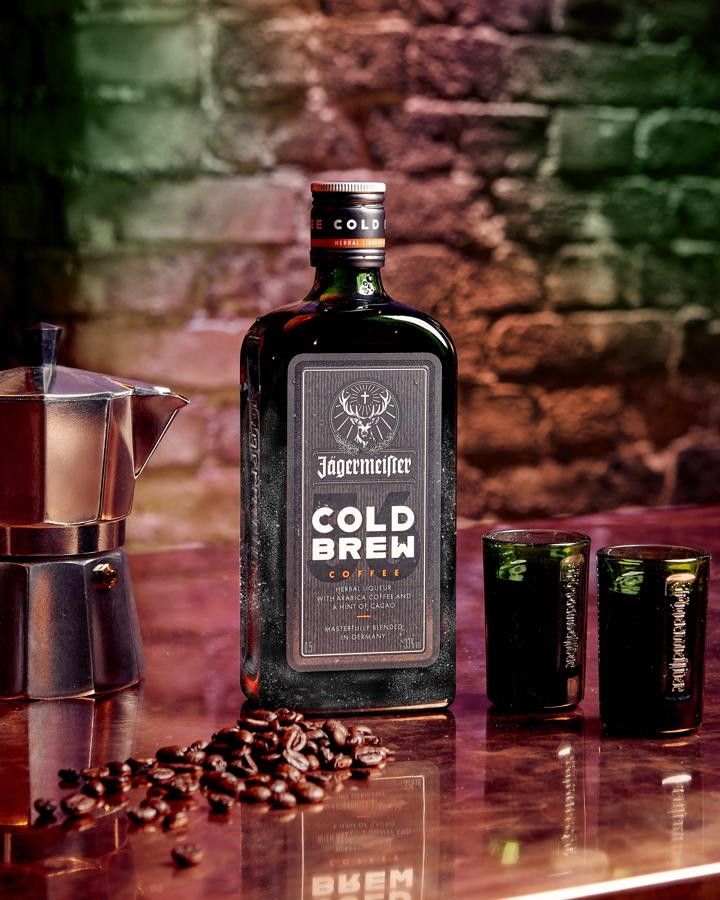 Meanwhile, Florian Beuren, Senior Brand Ambassador at Mast-Jägermeister UK, invites our attention to a lesser known aspect of the drink, that it can also be used to make simple, yet delicious cocktails.
"The Jägermeister Mule is a twist on a classic cocktail, which can be made easily at home with just three ingredients, 50ml Jägermeister, a dash of fresh lime, topped with ginger beer. For a finishing touch, consumers can also add a fresh slice of cucumber for garnish," he explains.
With 24 million households in the UK purchasing coffee, he suggests that their latest innovation, Jägermeister Cold Brew Coffee (ABV 33 per cent), is a must-stock for convenience retailers looking to capitalise on this trend.
"Jägermeister Cold Brew Coffee offers the perfect blend of Jägermeister and intense cold brewed coffee, creating a delicious, three-ingredient Espresso Martini, one of the top 10 cocktails in the UK according to CGA data. Use just espresso, sugar syrup and Jägermeister Cold Brew to make this Jägermeister Espresso Martini," Beuren adds.
He also recommends cross merchandising to increase basket spend as consumers pick up additional items for at home cocktail making. "Retailers can create cross-category displays which help consumers find everything they need in one place, making their shopping experience quick and easy," he notes.
Demand for ready-to-drink cocktails, the fastest growing alcoholic drinks segment, is expected to grow steadily over the next decade worldwide and in this fast-growing and fast-evolving category, it is important to stay in tune with consumers to find out what they want and what they like.