Dr. Oetker has announced the expansion of its baking range, with the launch of its brand new Dr. Oetker Billionaire's Chocolate Chips Mix and Rainbow Chocolate Chips Mix.
This expansion of the range comes as research suggests the UK has seen a rise in at home snacking occasions and many bakers are taking to creating their own homemade bakes. Additionally, more and more consumers are trying to recreate the baking trends they see on social media and out of home in places like coffee shops and cafes, calling for new and exciting home baking products that create more colourful multi-textured and multi-flavoured bakes.
The Billionaire's Chocolate Chips Mix is made of up to 32 per cent cocoa solids and includes a medley of real dark and white chocolate chips, plus delicious toffee chunks and gold pearls for a deliciously indulgent taste.
The Rainbow Chocolate Chips Mix is also made of up to 41 per cent cocoa solids, boasting a variety of flavours from white chocolate chips to multi-coloured crunchy chocolate beans, sugar strands and strawberry flavoured crunch. These Rainbow chips have been launched with Pride in mind, as a great way to celebrate the event this summer, across the nations Pride events.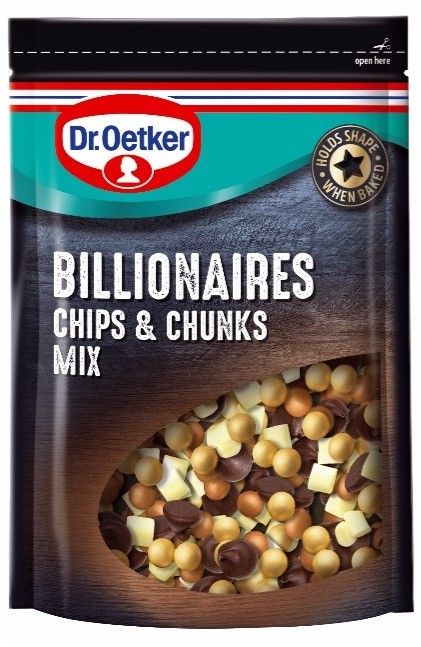 Both newly launched chocolate chip mixes taste and look great, offering a variety of textures, colours and flavours and are specially formulated to hold their shape when baked. Ideal for using in a wide range of desserts and even drinks as a decorative sprinkle, the new products are perfect to be added to anything from cookies, brownies, blondies and traybakes, loaded waffles, indulgent pancakes, doughnuts, ice-creams and sundaes, milkshakes and freakshakes, hot drinks and even cocktails!
"As the newest addition to our baking range, these new next-level chocolate chips and chocolate flavoured writing icings are sure to be a big hit with home bakers, both experienced and novice," said Jen Johnson, Head of Marketing, Cake & Dessert.
"We're always looking for new ways to help our customers elevate their bakes, offering them something fresh and exciting, but these new chocolate chips & chunks are so versatile they can be used not only for baking but also for ice creams, shakes and even cocktails and we can't wait for our customers to try them for themselves!"
The Rainbow Chocolate Chip Mix is suitable for vegetarians and both products are fully Rainforest Alliance Certified.
Dr. Oetker Chocolate Chips Mixes (MRRP: £1.85)