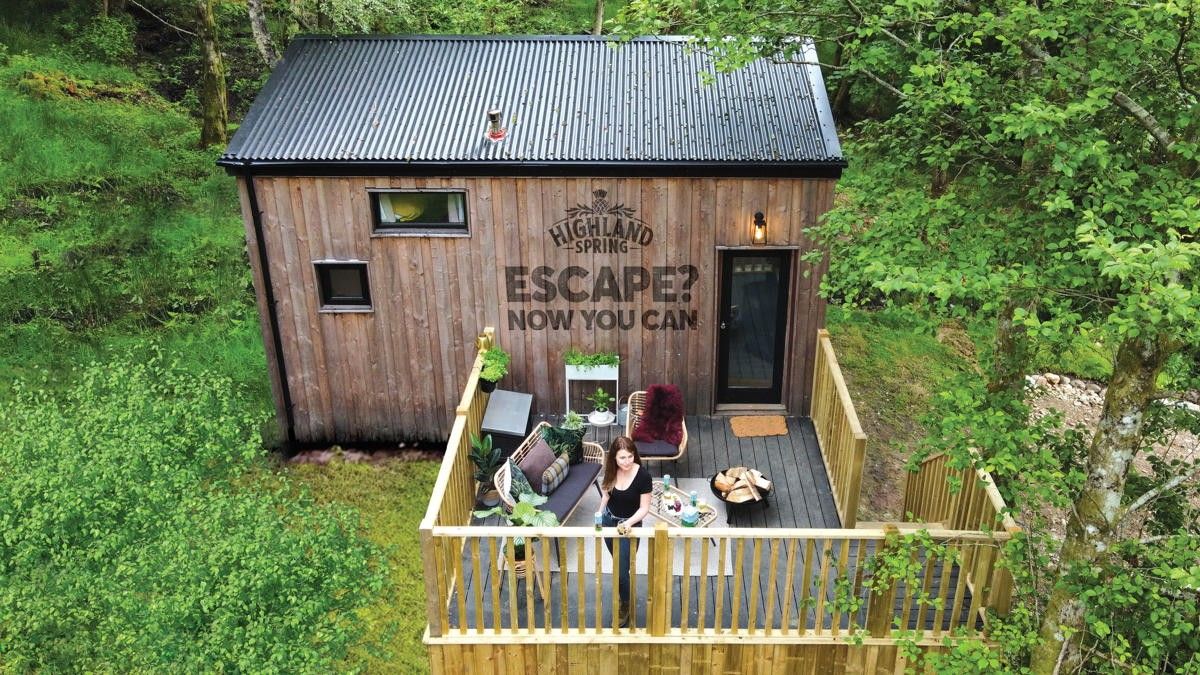 Highland Spring is offering a spectacular opportunity to enjoy a slice of stunning Scottish countryside for a year as part of its launch of new fruit-flavoured sparkling water cans.
The leading natural source water brand has unveiled an unusual draw allowing one lucky holidaymaker to get their hands on an idyllic, custom-built holiday home for the price of Highland Spring's new flavoured sparkling cans, which cost £1.15 (RRP).
The winner will have exclusive use of the luxury tiny home for a full year, as a secondary property, allowing the winner, along with one guest to stay for a maximum of 14 days per month. Nestled near Loch Voil on a sprawling 2,000-acre estate, the tiny house sits adjacent to the 5-star MonachyleMhor boutique hotel in Balquhidder, one of the most picturesque and sought-after holiday locations in the country.
The cans – which also are available in a four-pack – are bursting with wild and juicy flavours inspired by the stunning Scottish Highlands, such as Pear & Elderflower, Rhubarb & Ginger and Blackberry, Plum & Hibiscus.
"The last year has been difficult and with the summer finally here, we understand that people want to get away from it all. At Highland Spring, we're lucky to be surrounded by Scotland's untouched natural landscapes and we never take it for granted. We want to give everyone the chance to experience the quiet beauty of nature," commented Mike Buckland, consumer marketing controller, Highland Spring Group.
"Our new flavoured sparkling cans, which are 100% recyclable, are packed with flavours inspired by wild Scotland. Whoever gets their hands on our tiny house for a year will be able to experience the very best of nature right on their doorstep, in this once-in-a-lifetime opportunity – one of the most sought-after luxuries in one of the country's most beautiful locations will be all theirs. Surrounded by ospreys and otters, loch swimming and mountain climbing, this is a magical place for someone to call their holiday home."
To enter the photo draw, people must follow Highland Spring on Instagram or Facebook; and share a photograph of the new fruit flavoured Highland Spring sparkling water cans in an outdoor natural setting on their Instagram grid or Facebook page, tagging @highland_spring and adding #HighlandSpringHoliday.
Each photograph that satisfies the requirements will be entered into the photo draw, which will be drawn on 13 August 2021 with the house available to stay in before the end of the month.
Highland Spring's new fruit flavoured sparkling water cans are available nationwide at major retailers. Pear & Elderflower; Blackberry, Plum & Hibiscus; and Rhubarb & Ginger are available as sleek single cans, RRP £1.15. Four-packs of Pear & Elderflower; and Blackberry, Plum & Hibiscus are priced at £3.25.