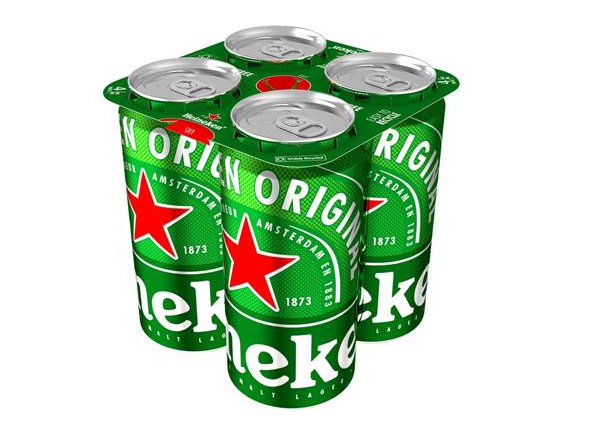 Heineken UK has launched the latest version of its sustainable packaging solution – the Green Grip, creating an even more robust solution for shoppers and retailers.
The new packaging follows the Green Grip's initial launch in August 2020, which replaced plastic can rings with a 100 per cent recyclable cardboard topper for multi-packs of cans, saving 336 tonnes of single-use plastic since its launch into market.
The latest version follows months of research and development, as part of a wider £14 million investment across all its UK sites by Heineken.
A dedicated team trailled several solutions in laboratories and in stores and found the double-layer Green Grip to be the best performing and easier for both retail staff and consumers to handle.
"We have delivered on our pledge to eliminate plastic can rings from our packaging, whilst ensuring retail staff and shoppers are still being offered the best-quality packaging," Chelsey Wroe, Head of Sustainability at Heineken UK, said.
"Through our Brew a Better World sustainability strategy, we are committed to innovation and continuous improvement to reduce our carbon footprint as well as eliminating waste and closing material loops. We're excited to introduce this new version of the Green Grip which meets our shoppers' needs for robust and sustainable, packaging."
Heineken added that it continues to work in partnership with retailers, ensuring they have reliable packaging solutions that serve the growing consumer demand for more sustainable. Before fully rolling-out the latest version of The Green Grip across the market, the new packaging was trialled in a number of Tesco stores to stress-test its strength and stability for retailers as well as the end shopper.
A Tesco Spokesperson said: "We're proud to be working alongside brands like Heineken as we look for creative solutions to the problem of plastic waste. Collaboration between retailers and suppliers is essential to developing innovative packaging and we'll continue to work with all of our suppliers as we reduce our plastic footprint wherever we can."
The roll-out of the double-layer Green Grip coincides with the installation of the Green Grip technology at Heineken UK's Tadcaster brewery, the final site to receive the packaging solution.