Brothers Kirtan and Kirti Patel have won the Independent Retailer of the Year award for 2020 at the Asian Trader Awards, and their family store – Londis Ferme Park Road in Finsbury Park, London – has been a neighborhood landmark for 42 years.
When the Patels' store bagged the coveted prize, both the local community and the shop staff sent up a loud cheer.
"It was very well received, especially by the staff. It's a good morale boost for them to win an award and then also for the local community. They were all happy to see a local shop wins such an award. It brings the whole community spirit up," Kirtan says.
The family has been in the retail business since 1979, and the store is now run by Kirtan, Kirti and their dad and uncle, Bimal and Alpesh Patel.
"We were brought up in it. We were joined in when we were young," Kirtan says. So, it felt quite natural for the brothers to enter the family business once they graduated – Kirtan studied accounting, and Kirti economics, at university. They have been leading the store's evolution ever since, because above all this is a store that does not stand still.
"We like to keep moving with the times," Kirtan explains about the store's approach. "So we try to pick up on trends that are happening, things that are changing in the market, and then adapt towards it."
Through the years, they have done extensions, expansions, and refits "to try and meet the needs of what the customers want and where the trends are," he adds.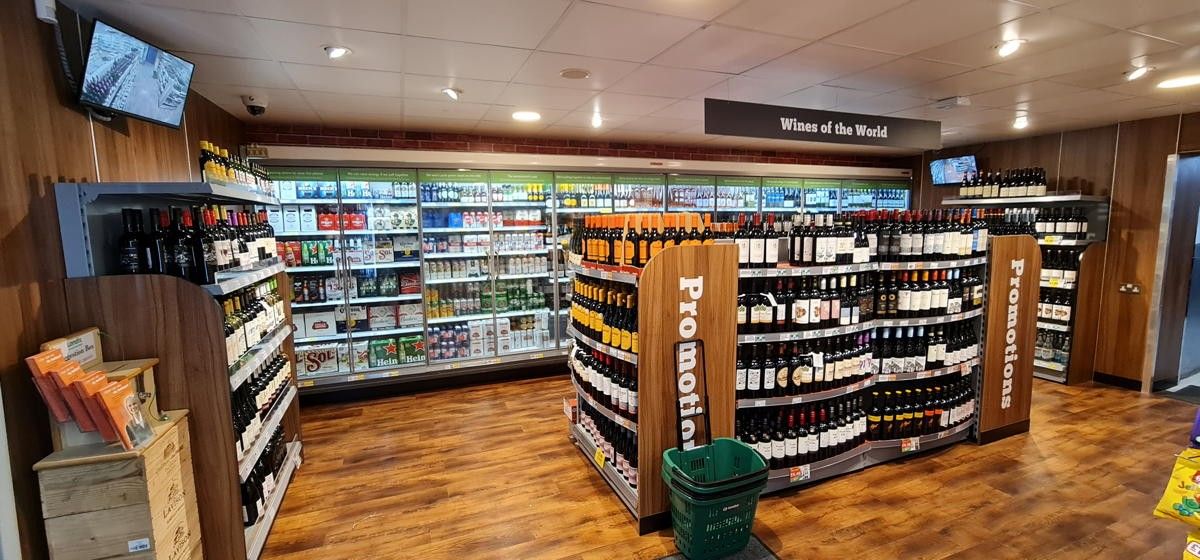 As a result, what started out as a simple 600 sq ft shop is now a large 3000 sq ft versatile and sophisticated shopping experience, offering many specialist and diverse products alongside the traditional ranges. Last year, they completed the fifth major refit of the last four decades by adding a bespoke off-license area,with a huge range of world wines and craft beers.
"This time we saw the trend towards craft beers and ales and specialty wines,so we allocated much more space –we doubled the space of craft beers –to accommodate for that moving trend," Kirtan says.
And, many of these craft beers are locally brewed. "We get 90 per cent of it from outside [of Londis/Booker] and maybe out of our full range, at least 70 per cent will be just local craft beers and the other 30 would be from a little bit outside, but majority we get is locally supplied craft beers," he reveals.
The lure of alternatives
Vegan is another trend they have got onto very early, reaping rich dividends.
"We stock a lot of vegan foods, and it's not something we've been doing recently: we've been doing vegan food for a long, long time," Kirtan says.
"In our chilled, we have about two and a half meters of just vegan foods. In our freezers, we have about three meters of vegan food. And then throughout the rest of the shop, whether it is biscuits, or food to go, we do vegan sausage rolls, vegan biscuits, gluten-free biscuits, now Christmas is coming upwe even do gluten free mince pies, we do vegan mince pies …"
Essentially, they do a bit of everything in terms of providing the customer a choice in what they need, and this is an approach they adopt for other product ranges as well, addressing both price-conscious shoppers and those who look for quality.
"We stock a whole range, from value to top quality, and we try to accommodate for all of the ranges," he details. " And then we also have a selection, like in our breads, where we have the normal bread, we'll have our organic bread, sourdough bread, the locally produced breads from the local bakery. Same in the grocery section, we have local jams, local spreads. We have some sort of local produce as well as an option for a higher quality produce as well, be it organic or vegan."
The organic and vegan ranges also act a point of difference to the store which is surrounded by supermarkets, with Tesco, Sainsbury's, Waitrose, and Co-op stores in close proximity.
"For us, our main attraction is our vegan, gluten free and organic products: the products that the customers get over here, they're not going to be able to find in their local supermarket," he says, "because, they're going to get Heinz baked beans wherever they go, but they won't get organic baked beans. So we try to offer the alternative as well."
It doesn't end at the vegan range – "We have an extensive range of Italian products that they won't find anywhere else," Kirtan says – but the gist of their approach is to stock products that customers need to come to the store to buy, that they can't get from anywhere else nearby.
"We work with a lot of specialist suppliers in order to have a specialist fine foods in the store that keep the customer coming back," he adds.
This array of different local and independent suppliers has also helped them in maintaining availability, first during the early days of the Covid-19 pandemic, and now when a shortage of drivers and workers affected deliveries.
"We've not been affected too much. We have good supply links that we work with different suppliers. So we managed to keep our shelves stocked. It's not like this supermarkets that have got empty shelves," Kirtan says of the ongoing shortages.
"But it is a growing concern, because coming up to Christmas now, everyone wants to stock up. And if it doesn't improve, then it's going to be a difficult Christmas, I think," he adds.
Identifying trends
Kirtan goes to two main sources for identifying the upcoming trends. "One is social media to see what the trends are coming up because they catch them there first," he says.
The other lies, as fellow winner Pete Patel told us in the last issue, lies across the pond. "We also we look at the American market because it seems that a lot of the trends come from America. If we see what is popular in America right now, normally within a few months, it starts getting popular over here," he explains.
So, they try and jump on whatever trend is growing in the US, and ensure that they are already ahead of the game before it comes ashore here. "Before any of the supermarkets, where nobody has had time to react to it, we've already got the products in store," he says.
He is bit sceptical, however,about the role of home delivery in the convenience sector, despite the pandemic-induced boom last year, and the emergence of the rapid grocery delivery apps, particularly in London.
"I think it's something that everybody has to do now because nearly everybody offers home delivery," he admits, adding that they also do the home delivery and click and collect service.
"But I think customers still appreciate coming into and roaming around the store," he says. "They get to look at different products and see new things. So even though that's something that everybody will offer, I don't think it's a definite thing." Often customers don't know what they want until they see it – especially with new products they might pick up and decide to try out.
While he counts on it to pick up trends, Kirtan says the social media is a very difficult thing to manage. "We advertise on Facebook. We have posts that we put out and promote, but it's very time-consuming to get the right content out there to make it big," he notes. "It's something we're looking at, but we've still got some way to go with it."
However, technology is still the spine of their store operations, with a back-office system running everything as much as possible. "We get all of our reports and data on there, whether it is our daily sales or weekly sales, top-selling lines. With the system we know what's selling fast, what's selling slow, what to de-list, what to maybe increase varieties of: that was all done through the back-office system," he says.
Community support
As the mission of the business, since the day it opened, has been to put themselves at the heart of their neighbourhood, it's quite obvious that they have emerged as a pillar of the community during the pandemic. Their links to local support groups, with whom they have been working very closely over the years, was without doubt their biggest strength.
"We've got a community food bank that's run by the Holy Trinity Church, just down the road. We were the biggest collector of food in the whole area for the church food bank," Kirtan says.
"They give us a list of products that they require. It's for people who are underprivileged, who are struggling to put food on the plate, struggling with general things like nappies, maybe it could be creams, things like that. So we do a collection for that for the food bank."
This has been part of their regular community work, but they expanded it during the lockdown, and Kirtan says the "regular face-to-face contact with both group organisers and those actually in need has forged an even stronger bond."
They also support the local school. "We support them at their summer fairs, their Christmas fairs. We supply them with food and drink for that. We make donations to them as well," he says. The involvement in the community also extends to the local music festival.
During the height of the "toilet roll crisis" at the start of the pandemic, they used their business contacts to source additional supplies from manufacturers. They also made big donations of fresh fruits and vegetables during Covid.
"We had a supplier that was delivering us pallets of fruit vegetables that would have gone to hotels but because they weren't able to sell them, they were selling them to us. So we would buy them and donate to the kitchens that were making food for the hospitals," Kirtan says.
Like many convenience stores across the country, they have enjoyed a big spike in sales during the pandemic, and those sales are still up when compared to 2019, something Kirtan attributes to the new shoppers they were able to retain.
"During the Covid time we attracted a lot of new customers who have now become regular customers. So due to that, if you compare to 2019, when we weren't in Covid, business is up," he says, adding that the new shoppers have been particularly appreciative of the lengths they have gone during lockdown.
"The new customers that have come into the store, who have not seen it before, they too really liked this. They appreciate and give good feedback. It makes a big difference," he says.
Customer service
A major point of difference that the store strives to maintain is their customer service, which Kirtan thinks helped much in retaining the new customers.
"The customers who come to us, they appreciate that. The staff welcomes them with a smile, they speak to them nicely, they pack their bags for them,and they know them by name. Having that customer service means that people sometimes would rather come here than go somewhere else and customer service for us is key," he explains.
It also helps that they have a good team of staff who've been with them long-term. "We work in conjunction with staff. They cover for each other and because we have a long standing group of staff who will understand and appreciate each other we haven't had many problems," he says.
Kirtan, in fact, would suggest that having great customer service must be the USP of local stores. "Because that's the main thing. What sets apart a convenience store from the supermarket is the customer service. Not the product setting, but the customer service makes the biggest impact."