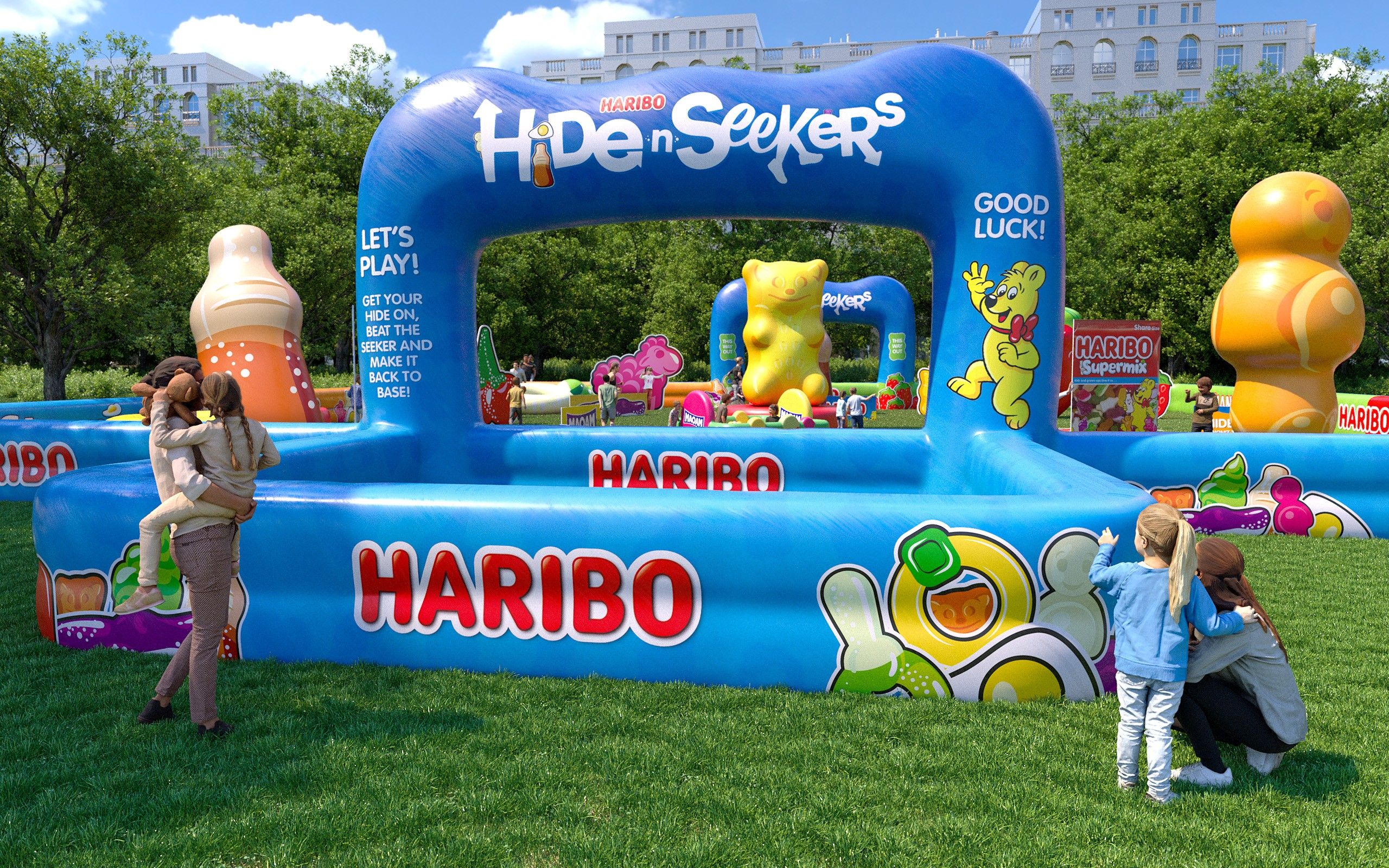 HARIBO, the UK's leading sweet brand, has launched HARIBO Hide 'N' Seekers, an exciting and interactive outdoor activation that will bring people of all ages together to celebrate classic family fun.
The activity forms the latest instalment in the company's multi-million-pound campaign designed to inspire even more moments of childlike happiness in a new and exciting way for consumers of all ages.
Built around a giant inflatable arena, HARIBO Hide 'N' Seekers will tour the country, visiting Heaton Park in Manchester from 5th–7th August, Cannon Hill Park in Birmingham from 12th-14th of August and Battersea Park in London from 19th-21st August this year, with thousands of free tickets available through Eventbrite.
During each event, participants will become 'hiders' that must make their way back to the Goldbear base without being caught by the super, sneaky 'seekers'.
This brand-new open air game format takes the best bits from playground games we all know and love and combines this with inflatable HARIBO pieces, enormous packs and iconic treats providing the perfect places to hide in, under or behind.
Ahead of each event playful training sessions will take place. Afterwards, winners will be 'crowned' on a specially designed podium and every player will receive a goody bag.
For those that can't join in the fun at the locations or dates planned, there is an opportunity to engage and follow the activity across the brand's social media channels where outtakes, bloopers and sizzle reel footage will be posted.
Head of Marketing at Haribo, Phil Murphy, comments: "HARIBO is all about childlike happiness and always has been. We are excited to keep finding new ways to bring this to life for our consumers. This activity is the perfect addition to the campaign work that we already do.
"The HARIBO Hide 'N' Seekers arena will attract people of all ages and bring childlike happiness to life!
"Friends and families that are looking for a free fun-filled activity should book their tickets online. It's a great excuse to get outdoors to play a classic family game but with a HARIBO twist.
"As well as our giant inflatable arena, participants will also have access to our pick 'n' mix tent. After all, no HARIBO activity would be complete without a selection of our tasty treats to try, share and enjoy!"
HARIBO Hide 'N' Seekers is the first instalment of the HARIBO Happy Games activation, which will become an annual experiential programme to firmly establish the brand as the perfect summertime treat.
Expected to attract thousands of people, the activation will be supported by PR amplification, influencer engagement and social media content.