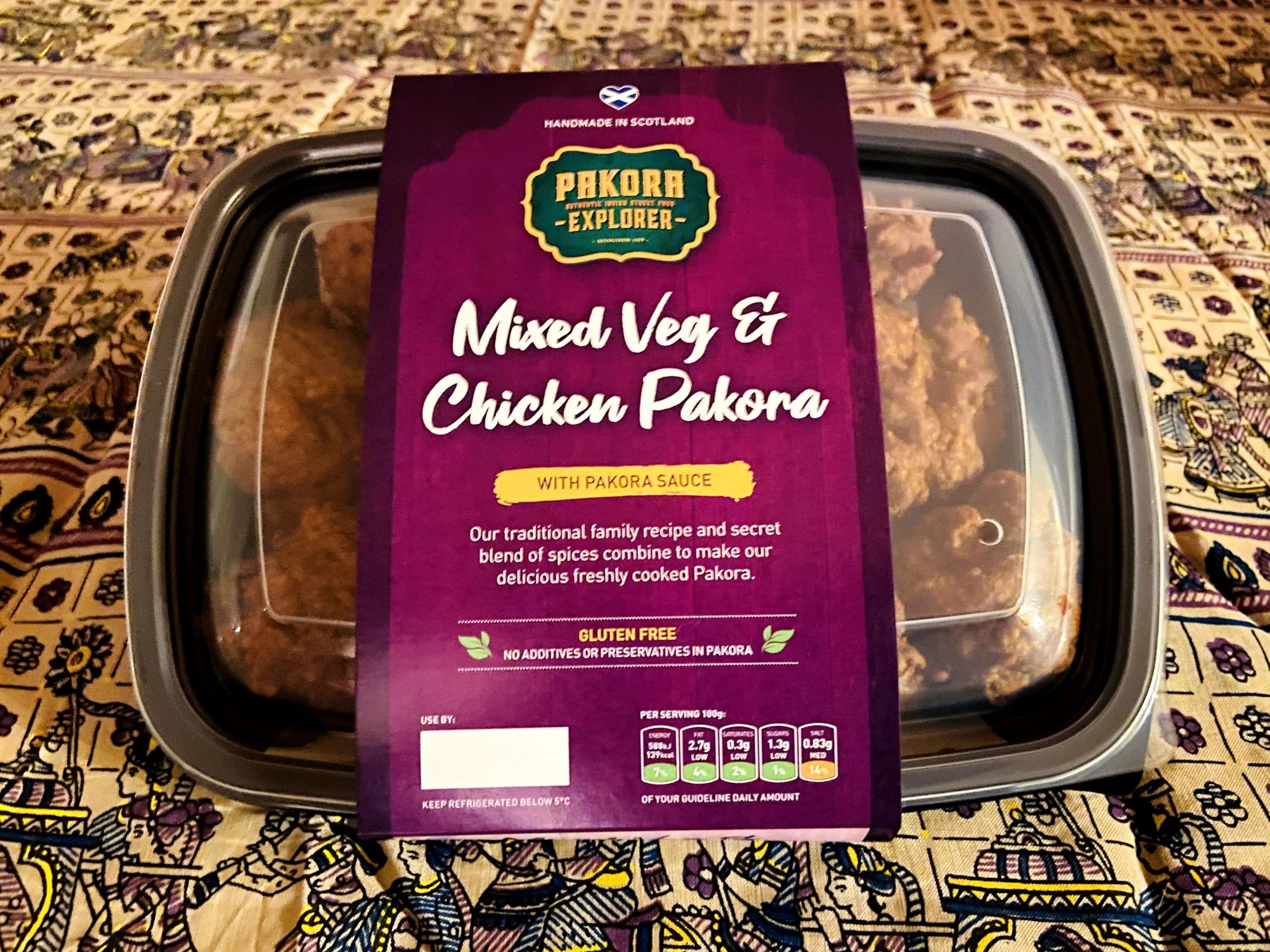 Authentic handmade fresh pakoras created by enterprising Scottish start-up The Pakora Explorer, launched to the trade this week. Aimed specifically at the "food to go" category, these pakora packs will provide a tasty starter to any home-cooked meal.
Cooked in small batches in Glasgow and inspired by producer Sheetal Revis's Indian and Pakistani roots, this popular street food sets itself apart with no additives, colourings or preservatives in its pakora, which are also gluten free. In addition, the vegetable pakora, dips and sauces are suitable for vegans. Produced from a family recipe and a secret blend of spices, the pakoras are available in 3 packs – Vegetable, Chicken, or a mixed Vegetable & Chicken.
Packaged in recyclable trays with a recyclable cardboard wrap, the pakoras are freshly cooked and come with an accompanying pakora sauce, exactly as Sheetal would serve on her kitchen table. A squeeze of fresh lime or lemon adds the finishing touch. With a seven-day shelf life they will particularly appeal to those who want a starter or quality snack with a homemade taste and appearance. There's two other sauces in the range just waiting to be discovered, the Sweet Tangy Onions and Chilli & Lime Mayo, which was a creation of Sheetal's brother, so a true family business!
"For an Asian family, food is a very important part of our culture. When mine moved to the Orkney Islands in 1988 to run a croft, the way to make friends was through food," says Sheetal. "I decided in 2019 to start making pakora spices commercially and opened a street food truck for events. The pandemic has made it difficult for the food truck but the demand for my pakoras has not diminished so I began working towards selling them to grocery stores, delis, farm shops etc.
"The difference between our pakoras and other more commercial brands is that we offer what we produce and eat on our own kitchen table that's true to our roots – including the fact that there's no chilli in the pakora because I surprisingly don't like spicy food! This allows everyone of all ages and tastes to enjoy our products, which they can spice up if they prefer. We are already stocked in a few locations in Glasgow but aim to roll them out throughout the UK this spring.
"As we are a small batch production, orders can be turned around very quickly. With the desire for interesting and tasty food to go, given the fact that restaurants are closed, these especially appeal to lockdown foodies."
Pakora Explorer are aiming to distribute via Lomond Foods and are also in talks with Filshill.
RRPs:
Vegetable Pakora – 190g – £3.50
Chicken Pakora – 250g – £4.20
Mixed Vegetable & Chicken Pakora – 340g – £4.00
Each pack is fresh (and can be frozen) and comes with a tub of pakora sauce.