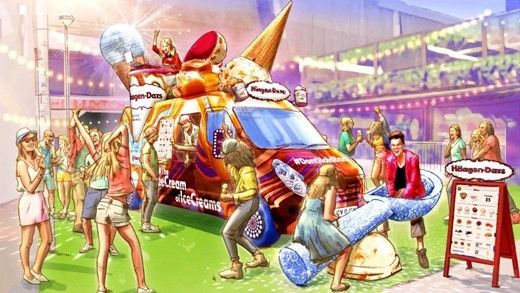 As part of its summer activations, the Häagen-Dazs "Ice Cream Van of Ice Cream Vans" will be touring the UK, bringing joy to ice cream-loving consumers in some of the hottest summer spots.
Following the launch of Häagen-Dazs' most recent TV and VOD advertising campaign that aired in June 2022, which encouraged people to let go and be in the moment, the "Ice Cream Van of Ice Cream Vans" will deliver a real life consumer experience. The experience will embody the brand's #DontHoldBack ethos, and mission to bring as much joy to the summer season as possible.
With DJ decks on the rooftop, an oversized ice cream disco ball and a sparkling scoop shaped see-saw, the exuberant and joyful vehicle creates a wild and wonderful twist on the old school ice cream van. Häagen-Dazs lovers are encouraged to be fully in the moment to create memories that will last a lifetime with their favourite ice cream. Resident celebrity DJs including Pixie Lott, Woody Cook and Arielle Free, will take centre stage on top of the van playing the nation's favourite high tempo dance tracks whilst consumers can enjoy their very own ultimate ice cream creations.
The van will be the UK's only Häagen-Dazs Shop this summer; consumers will be encouraged to create their very own ice cream creation by choosing from the selection of indulgent ice cream flavours, sauces and Don't Hold Back approach to toppings.
"It's time for a new era for ice cream vans: The UK's most iconic ice cream moment, elevated with a Häagen-Dazs twist to bring our 'The Ice Cream of Ice Creams' campaign to life," said Jade Evans, Häagen-Dazs UK Brand Experience Manager. "The launch of this redefined ice cream van showcases the joy of our premium ice cream experience in an over-the-top, playful way, building on our iconic and joyful brand identity.
"Through this activation we hope to spread moments of joy with Häagen-Dazs across the UK, making the Häagen-Dazs Ice Cream Van the ultimate destination for the best summer experience."
The Häagen-Dazs van will be starting its journey in the heart of the capital at Boxpark Shoreditch from the 15th to 16th July, followed by a residence at Edinburgh hotspot St James Quarter on the 23rd and 24th July.