The government has finally agreed to introduce an amendment to make attacking a retail worker an aggravated offence, resulting in tougher sentencing for offenders.
The trade bodies for independent convenience stores have earlier expressed their disappointment at the government's failure to take action to introduce tougher sentences for shopworkers. In the recent Lords debate on the Police, Crime, Sentencing and Courts Bill held on 17th November 2021, amendments to make attacking someone working in retail a more serious offence were withdrawn.
Speaking during the debate, Minister Baroness Williams of Trafford said, "Obviously, a wide range of offences already exist covering assaults on any worker, including retail workers, and they include offences such as common assaults."
The minister also mentioned the government's previous commitment to address this issue in the Lords. During an earlier debate in the Commons on this Bill, Victoria Atkins, now Minister of State for Prisons and Probation, had said, "I make it clear that we want to assure my honourable friend and Members of all parties that we are not complacent about the matter and that we are actively considering tabling an amendment, if appropriate, in the Lords."
In the debate, Baroness Williams said: "In the Commons, Minister Atkins committed to actively consider this issue and that remains the government's position, but as part of that process of consideration I very much wanted to hear and then reflect on the debate today."
The trade bodies weigh in
Displeasure with the outcome echoed across the grocery and retail sectors. "We are extremely disappointed that the government has once again failed to take urgent action to protect colleagues working in our sector," ACS chief executive James Lowman commented then.
"These amendments would've introduced a new specific offence for attacks on shop workers in line with recently passed legislation in Scotland and provided our colleagues with the additional protection that they so desperately need. Violent and abusive incidents can be traumatic for the individuals, often with significant emotional and physical implications and shop workers should be provided with the same level of protection across the UK.
"Violence and abuse towards staff is a top concern for retailers and we will continue to call for the Government to introduce tougher penalties for attacks on shop workers to send the clear message that these incidents are unacceptable and should not be tolerated."
The chairman of the Federation of Independent Retailers' (NFRN) political engagement committee Shahid Razzaq said, "We are grateful to the members of the House of Lords who supported retailers during [the] debate by raising the plight that people working in shops face every day. Theft, vandalism and physical and verbal attacks are an all too familiar part of life for independent retailers.
"We will continue to lobby the government, police chiefs, and police and crime commissioners for greater legal protection for everyone who works in retail."
The NFRN had then expressed hope that the last debate, and the support the amendment received across the House, will encourage the government to table its own amendment to the Bill, guaranteeing support in the House of Lords and crucially, when the Bill returns to the House of Commons.
On 14 September 2021, the House of Lords had debated the main principles and purpose of the proposed Police, Crime, Sentencing and Courts Bill during its second reading. The bill aims to make changes across the criminal justice system, and the NFRN and other trade bodies have been consistently advocating for the inclusion of retail crime to be specifically named in the bill's amendments.
During the second reading, parliament members discussed assaults on emergency and retail workers. Four Lords spoke in support of the adjustments for the bill to contain retail crime, including Baroness Williams of Trafford. Williams discussed the antisocial behaviour aspect of retail crime, saying "I share their concerns about the unacceptable increase, during the pandemic, of assaults on shop workers. There is already a wide range of offences that criminalise disorderly and violent behaviour that would apply in cases of violence towards people whose work brings them into contact with members of the public.
"These offences cover the full spectrum of unacceptable behaviour, from using abusive language to the most serious and violent offences. Nonetheless, the Government has agreed to actively consider whether legislative change is necessary and to bring forward any proposal if it is."
Meanwhile, Lord Rosser discussed how the pandemic and lockdown restrictions have seen a rapid increase in retail crime, but he stressed it was not a new occurrence: "On retail workers, it is important to recognise that assaults are not just a problem born of the pandemic. Although the pandemic heightened it, this has been a rising problem faced by shop workers for many years."
In October 2021, in the House of Lords, Baroness Neville-Rolfe and Lord Coaker tabled amendments aimed at giving retailers in England and Wales similar legal protection as retailers receive in Scotland, where attacking a shop worker is now an "aggravated" offense.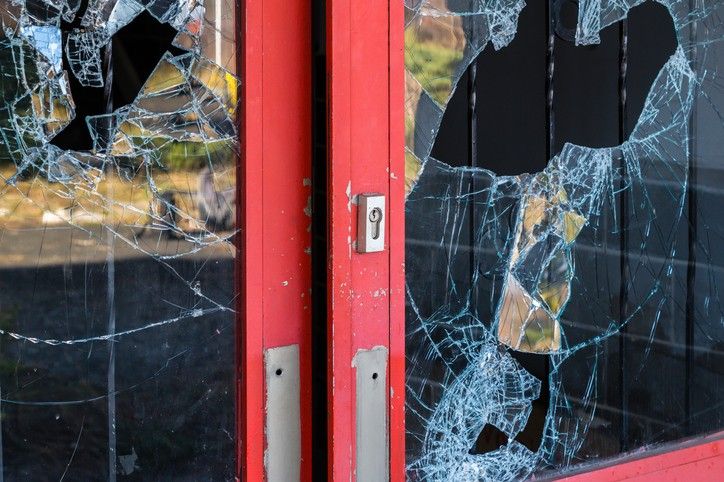 Why associations want harsher laws
According to the BRC crime survey 2021, the frequency of violence and abuse rose from 424 incidents to 455 incidents, every single day. That's over 150,000 incidents of abuse and violence every year. Figures from the 2021 ACS Crime Report also show that there were over 1.1m incidents of theft over the last year, many of which were committed by repeat offenders with a drug or alcohol addiction. The report also shows that there have been over 1.2m incidents of abuse over the last year, which often go unreported.
"Our Shopworkers' Protection Pledge, signed by over 50 cross-party MPs, called for politicians to stand with retail workers to support legislation to better protect them. That is why we have called for a standalone offence of assaulting a shopworker, deterring would-be criminals, and providing our colleagues with the protections they need. It has happened in Scotland – and now the Government must follow their lead in England," said the British Retail Consortium (BRC) report.
"To date, the UK Government has resisted the proposal arguing that current laws on violence and abuse covering the general population, together with the potential for sentencing perpetrators with an aggravated offence, are insufficient. We reject that." BRC said, "Our survey clearly shows that approach is not working. Only six per cent of attacks ever result in prosecution and an even smaller handful of three per cent in prosecution as an aggravated offence. Interestingly attacks resulting in injury represent six per cent of all attacks."
The association believes that the introduction of a standalone offence for Emergency Workers has succeeded in ensuring such crimes are prosecuted. It would seem that even clearly illegal abuse for racial or sexual orientation is not being taken before the courts. Failure to prosecute means the victims do not ever get the opportunity to make a victim impact statement.
A standalone offence would also help to ensure that the true extent of the problem is understood by police and officials, as statistics would be recorded against this offence rather than against general offences without mention of the retail connection. Failure to prosecute undermines confidence in the police, which is reflected in the statistics on perceptions of the police response. While these have improved, they still stand at less than 50 per cent.
Other more detailed policies suggested in BRC crime survey 2021 that the Government should adopt include:
Set up a fund for innovative solutions for tackling violence in the retail sector
Include retail crime as a strategic policing priority with appropriate resourcing and prioritisation
A Home Office led strategic review of best practice for retail partnerships
A single online reporting tool
A Review of retail violence by the Police Inspectorate
Using the College of Policing to improve understanding of retail crimes of violence
Better recording of retail crimes of violence
Review of out of court disposals
Removal of reports of abuse and violence as a reason to reject a licence renewal
Increased penalties and sentences
Police and Crime Commissioners to make provision for retail violence in their Police and Crime Plans, making it a priority in their strategy.
Violence and Abuse Against Retailers: Timeline by ACS
March 2019: ACS, Home Office and retail sector launch #AlwaysReportAbuse campaign.
April 2019: Call for evidence on violence and abuse is launched, and receives responses from almost 3,500 interested parties, including retailers and colleagues that have been victims of abuse and violence at work.
March 2020: Yvette Cooper speakers at Retail Industry Parliament Reception on violence and abuse against shopworkers.
March 2020: Ten Minute Rule motion on Assaults on Retail Workers, proposed by Alex Norris MP, is passed and added to the register of Parliamentary business. The Bill is first scheduled to be debated in April 2020, but is subsequently delayed.
May 2020: Police and Crime Commissioner elections are delayed due to Coronavirus, currently scheduled to take place in May 2021.
July 2020: Government issues formal response to call for evidence on violence and abuse over a year after the consultation closed, stating that no changes to the law are necessary.
September 2020: Crime Minister Kit Malthouse writes to all Police and Crime Commissioners, reminding them of the importance of prosecuting shop theft offences under the value of £200 as well as those over £200.
December 2020: Home Affairs Select Committee launches new consultation, looking at whether the Government's own response to its call for evidence was adequate.
February 2021: Scottish Parliament passes the Protection of Workers (Retail and Age-restricted Goods and Services) (Scotland) Act. The Bill was sponsored by Daniel Johnson MSP and introduced an aggravated offence for attacks on shopworkers
March 2021: ACS launches 2021 Crime Report, revealing that 89% of colleagues in stores have been the victim of abuse over the last year, with a total of 1.2m incidents of abuse recorded.
April 2021: ACS gives evidence to the Home Affairs Select Committee, outlining the scale of the problem of violence and abuse against shopworkers.
April 2021: ACS, the Home Office, Crimestoppers and over 100 retailers and trade bodies come together to launch the #ShopKind campaign, funded by the Home Office.
May 2021: Second reading of Alex Norris' Bill on Assaults on Retail Workers is once again delayed. A second reading date is yet to be set.
May 2021: Police and Crime Commissioner elections take place. ACS sets out a series of recommendations for Police and Crime Commissioners to encourage them to take retail crime more seriously.
June 2021: Shadow Policing Minister proposes an amendment to the Police, Crime, Sentencing and Courts (PCSC) Bill that would introduce a new offence for abusing a shopworker.
June 2021: Government rejects amendment to PCSC Bill, stating that existing legislation is adequate to deal with violence and abuse. Suggests that employers need to do more to increase reporting levels.
June 2021: Home Affairs Select Committee, led by Rt Hon Yvette Cooper MP, publishes report on violence and abuse against retailers, calling for urgent action to address the problem. Recommendations include a new offence for attacking shopworkers, and a more formal response to incidents from police.
September 2021: Home Office responds the Home Affairs Select Committee report
November 2021: Amendments to the PCSC Bill related to attacks against shopworkers were debated and withdrawn.