In the beer and cider feature Asian Trader ran last year, we began by saying, "Suddenly we are in uncharted waters. Last week, at a stroke, the UK on-trade vanished." Yes, the lockdown had just begun, and the immediate effect of setting sail on those uncharted waters was panic-buying, or at any rate empty store shelves due to massive disruptions in the supply lines of many categories and products, including beer and cider.
A whole year on and only now is the lockdown starting to lift, with the prospect of life slowly returning to normal. And again there is anxiety over the danger of disrupted supplies as the hospitality industry prepares to resume full opening in June, demanding its enormous share of liquids. The fear is that once the on-trade is back on tap, the off-trade will suffer shortages for different,but related, reasons to those of 2020.
Another fear is that the extra sales and revenue that store owners have grown used to over the past 12 months will evaporate as a thirsty nation piles back into the pub.
Budweiser Brewing Group UK&I's Convenience Sales Director Jess Markowski explains that the forced closure of pubs moved many drinking occasions into the home, but believes that the change will persist. "Value sales rose 29% year on year across the total off-trade in 2020, with the Impulse channel growing ahead of the total market. Even as the on-trade is able to re-open, we expect the at-home occasion will remain popular over the coming months." She points out that "beer has become a new staple at mealtimes, with three out of five beers now consumed with food."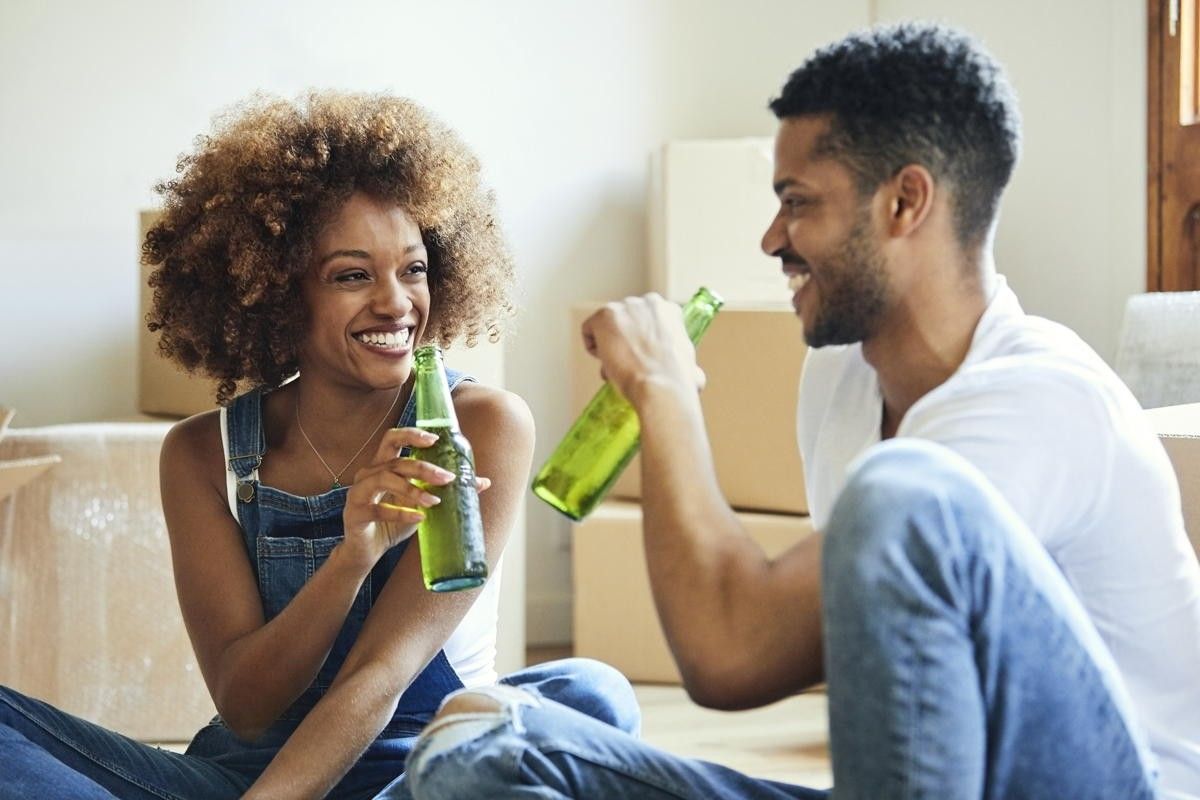 In fact, it looks as if the fears over pubs are mostly groundless: BBG has added millions of extra litres of capacity to deal with the hospitality sector re-opening – and with the increased popularity of beer generally. And if one brewer has thought about the future, it is more than likely they all have – or will soon, in the light of Heineken reporting that it is in danger of selling out (however briefly) of premium brands such as Birra Moretti.
In fact these news "snapshots" are highly informative of where the category stands: greater demand, premiumisation and changed national habits – perhaps mostly due to lockdown but to an extent permanent, according to the experts.
With some estimating that as much as a third of the on-trade will not survive the lockdown, at the very least there will be a lot more at-home and informal social consumption of beer to keep sales buoyant; and the rediscovery of living (and purchasing beer) locally, not to mention the restoration of impulse buys as people start to get out more now, will also boost or maintain convenience sales.
And that's before we contemplate the summer season, which makes consumers thirsty – more so this year as we celebrate the return of social life. Then there's a fabulous summer of sports occasions upcoming, not to mention the very limited opportunities for international vacations, meaning that Britain will holiday – and drink beer – here, this year.
A healthy market
The ranges of beers and ciders stocked in convenience stores has undergone a flowering recently. "With the on-trade closed for most of the year, consumers turned to convenience to source their favourite alcohol brands," says Alex Dullard, Head of Customer Marketing, BrewDog PLC. This led to retailers re-evaluating their ranges to ensure they were tapping into shopper requirements:"The result – a very strong year for off-trade alcohol."
It certainly was for BrewDog (craft beer generally has thrived) which enjoyed sales rising by+65.9% to £158m.
What goes for beer also goes for cider as Nicola Randall, Senior Marketing Manager, Brothers Drinks Co, reports: "Beer and cider have always played a crucial role in convenience sales and with the forced closure of pubs, bars and restaurants this has been heightened as consumers have looked to recreate on-trade experiences at home," she says."This in particular has further entrenched the trend of premiumisation into consumer's shopping behaviours, and in the cider category we saw the premium mainstream segment experience a value sales increase, over the course of 2020, of more than 20%."
Mark Dawson, Category & Insight Controller at cider-maker Aston Manor, remarks that things are looking oven "rosier", pointing out that cider is as popular as ever and has seen continuous innovation over the last few year with new flavours and styles such as cloudy and rose – and that the drink is escaping its stereotype as a harvest festival special.
"Cider is not just a summer drink," he says. "Two thirds of the category's annual sales are steady throughout the year. The remaining third of all cider sales are classically seasonal and category fortunes are heavily dependent on the British weather…it doesn't have to be blisteringly hot for cider sales to spike, all it needs is a blue sky day with moderately warm temperatures when UK consumers are enticed outdoors to enjoy some brief time in the sun."
He notes that in 2018 we had one of the warmest and sunniest summers on record and sales of cider went through the roof. That was followed by a wet summer in 2019 when cider sales fell short of expectations. In 2020 Take Home Cider was roaring, particularly within convenience, "putting it in a great position to continue this growth in 2021."
"We're forecasting that 2021 will be another huge year for beer, with the total category growing by double digits, and the convenience channel set to grow ahead of the market compared to the last year of regular trading in 2019," says Jess Markowski. "This summer, continued momentum of at-home drinking occasions and the return of international sport presents a huge opportunity for independents to drive sales, resulting in strong uplifts for Q2."
Nowt beats beer and stout
"Beer is currently the fastest growing category within BWS in the UK and the ongoing popularity of the liquid makes it a must-stock this year," says Hannah Dawson, Head of Category Development, Off Trade at Diageo, makers of Guinness stout.
"As the most distinctive brand in BWS, Guinness is a high-quality and trusted beer choice, accounting for 92% of total off-trade stout brand sales in the latest 52wks to the end of February 2021," she says."The Guinness portfolio continues to develop innovative beer options and various formats and pack sizes to allow our customers to maximise the sales potential. Retailers can also look to help consumers recreate the Guinness 'on tap' experience from the comfort of their own homes with the Guinness Draught in Can 4pack & 10pack. Distinctively dark and creamy with a smooth, velvety texture, the iconic taste of Guinness Draught is best served chilled and poured at a 45-degree angle."
Beers of all types are doing very well in convenience and the shop local, buy local trend is having many beneficial effects on local suppliers, as Steven Sturgeon, Marketing Controller at Belhaven Brewery in Dunbar, Scotland, explains."It is well documented that this lockdown has changed shopping habits for the foreseeable future, with quality, value and authenticity at the vanguard of choice," he says, adding that, "Buying local is also a prevailing trend, which is especially true in Scotland."
A recent report confirmed that 71% of Scottish shoppers thought produce labelled Scottish were better quality, and for the rest of the UK, shoppers noted that buying Scottish was on par with buying British.
"There is a national pride attached to choosing from the Scottish larder – so buying local produce is definitely on the up … especially in the convenience and impulse sector as shoppers elect to buy Scottish." Sturgeon recommends Belhaven 80/- and Scotch Pie or Belhaven Best with beer battered fish and chips.
Fellow Scots beer-fanciers BrewDog have had a good pandemic, reaching the parts other brews cannot get to. "The brand is now perceived as even more 'responsible' and 'happy', demonstrating its solid position to help its customers emerge through this crisis stronger than before," says Dullard, pointing pout that one of the biggest areas of growth – and a key trend of convenience retail – is craft beer, which is by definition premium and carries with it better margins.
"Growing ahead of total beer, 14.4% of British households have purchased craft beer in the last 12 months, and it is the number one category that shoppers buy 'because they felt like it'. All this means it is a category that cannot be ignored!" he enthuses, saying that 62% of convenience shoppers agree it is worth paying more for good quality beer or wine. "Craft beer shoppers actually spend more when in-store, so ensuring you are stocking your customers' favourite brands will help to increase basket spend."
Dullard explains that as more craft beer brands have entered the market, the increased demand has led to a resurgence of cans as a popular format, which have now overtaken bottles as the vessel with the largest value share (77% vs 23%). Total growth in craft beer is being driven by multi-pack cans, thanks to increased distribution and, shoppers just buying more of them – they are boxed and highly portable in BrewDog's case, as we can confirm!"Nine out of the top 10 SKUs in craft are multipack cans and the 4-pack can is the most important format for craft beer and BrewDog shoppers," says Dullard.
BrewDog Punk IPA is the number one craft beer now, and the 4-pack format is valued at £37.6m with a 26% share of all 4-packs, growing at +36.7% YoY. Dullard b notes that BrewDog Punk IPA is also available in a 12-pack and 8-pack, which is exclusive to the convenience channel.
Other brands that should be considered by retailers are BrewDog Hazy Jane and BrewDog Elvis Juice. The NEW BrewDog Hazy Jane 4-pack is the number two craft beer in this format, valued at £9.9m , while BrewDog Elvis Juice 4-pack is valued at £7.5m, and growing at +44.6%, making it the number three SKU in the 4-pack format. Meanwhile the carbon-neutral BrewDog Lost Lager was launched into the convenience channel this April.
Nigel McNally, MD of Brookfield Drinks, says that sales of higher-strength lagers are seeing significant growth as consumers become increasingly polarised when it comes to ABV. "The craft boom has seen tastes change, with sales of higher strength ABV beers achieving +15% growth YOY," he reveals
Right now, Kestrel Extra Premium lager is allowing retailers to capitalise on additional margin opportunities as a result of ABV and price point. The product has been introduced in a 24 for 22 cans promotional pack and at a suggested WSP of £26.49, which when sold at the RRP of £1.99 per can delivers a 33% POR(plus, see the competition in the Must Stock section to win free Kestrels).
The best-selling lager brand is expanding its offering to include Kestrel Extra Premium lager in 500ml cans, exclusive to independent retailers.
"Kestrel is an iconic brand, with a loyal following of people who love and appreciate genuinely brewed, exquisite beer," says McNally. Kestrel Extra Premium lager is available to purchase from Parfett's, Dhamecha and many other regional and national wholesalers.
The trend for really exquisite and thoughtfully brewed premium lagers is further exampled by Budvar, which launched itsnew-look Budvar Reserve (the historic brewery's premium 7.5% ABV premium Czech Lager) back in March. Budweiser Budvar UK MD Jitka Vlčková says that "Budvar Reserve is a special, strong, cellar-aged beer that really showcases the brewing traditions and dedication to taste and quality we've stayed true to at Budweiser Budvar for 125 years. It is brewed using the finest Moravian malts, whole-cone Saaz hops and soft water drawn from an artesian well 300 metres below the brewery, before being matured in Budvar's historic cellars for 200 days – and is packaged in 330ml bottles with an off-trade RRP of £2.25.
I am a cider drinker!
Cider is as popular as ever and has seen continuous innovation over the last few years with new flavours and styles, particularly cloudy and rose, that have brought renewed interest to the category. "That said, demand for the everyday ciders remains stronger than ever and it is essential to satisfy the needs of these valuable frequent shopper," according to Mark Dawson of Aston Manor.
"While the Coronavirus pandemic has been an extraordinarily challenging period for retailers and suppliers alike, the cider category has shown itself to be remarkably resilient," observes Darryl Hinksman, Head of Business Development at Westons Cider. He says that premiumisation and crafted ciders are driving record growth in the off-trade – now worth £1.3bn.
Cider remains a summer favourite for consumers in the UK, with sales increasingly dramatically in warmer months. MD Nigel NcNally says that Brookfield Drinks'Diamond White premium cider is a must-stock cider for retailers, as it earns the highest POR in its category. "Apple cider remains the most popular flavour of cider and Diamond White is a triple filtered apple cider which comes in a 500ml can format," he explains."This cider is also considered as a lower abv alternative to wine, with its sweet-medium fruitiness and refreshing fizz; this means that Diamond White can gain incremental sales by appealing to a wider range of consumers. "
Health-consciousness is still increasing within consumers, which is a trend that retailers can capitalise on with Diamond White. Diamond White is vegan, with a lower calorie and sugar content than many other ciders on the market.
While cider may not be exclusively a summer drink, there is no doubt that as the weather warms up, so do cider sales. Brothers Drinks' Nicola Randall says that Retailers will need to adapt to changes in consumer behaviour in the summer months. "Alcohol impulse purchases are a key shopping trend as the weather gets warmer [and] we've seen an increased basket spend and as a result a greater demand in larger pack sizes. At Brothers we've introduced our fridge packs for our Wild Fruit and Strawberry & Lime variants which include 10x330ml cans as well as Red Apple in 10x440ml cans to cater to this trend and retailers will need to ensure they're stocking a variety of pack sizes to ensure they maximise sales."
Randall predicts 2021 will enjoy a summer of celebration and socialising:"We can therefore expect beer and cider sales to increase accordingly, much like we saw in 2018 with the World Cup and weeks of glorious sunshine, that resulted in total beer and cider sales in the off-trade increasing by 5.6%." This year that 2018 figure may end up being drowned in new convenience sales – especially in the cider category which, like craft beers, has seen extraordinary levels of NPD.
"We've seen innovation drive continued interest in the category, and provide consumers new avenues for exploration," Randall says."42% of cider drinkers express an interest in more unique flavours and this rises to 49% amongst women and 48% amongst 25-34s . With this in mind, there is a huge opportunity for brands to drive interest and value in the cider category through innovation whilst tapping into the trend towards premiumisation."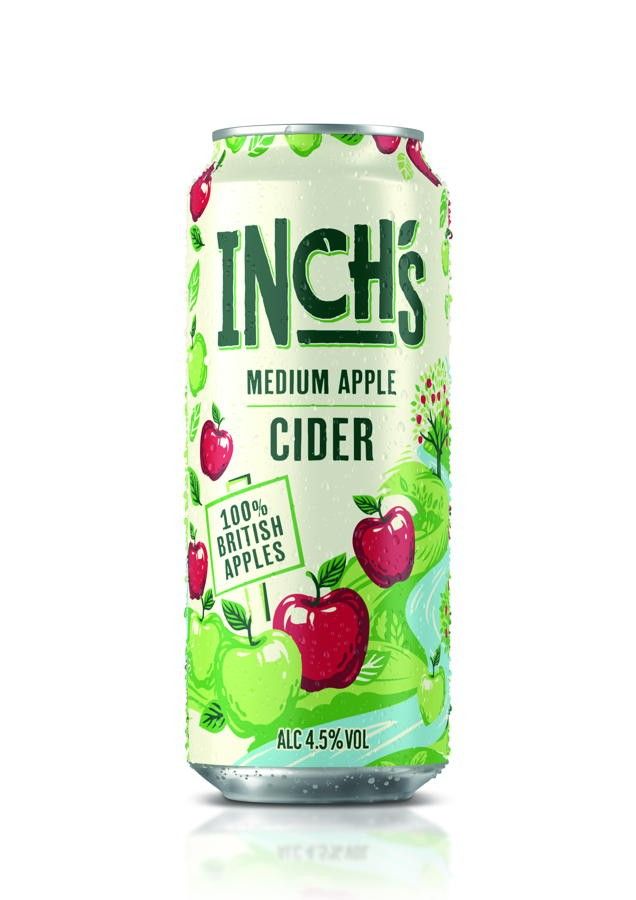 Heineken has climbed aboard the cider wagon with the launch of the Inch's brand, with which it "aims to shake up cider category". Heineken UK Cider Marketing Director, Rachel Holms, says it is a sustainable apple cider, made from 100% British apples,"and with an exceptional taste consumers will be sure to love."In depots now, the new cider will be available in 500ml bottles, 4x440ml cans and 10x440ml cans. "From sourcing to sustainability, we are progressive cider makers on a mission to do things properly in pursuit of a great tasting British Cider that goes that little bit further to do the right thing" she adds, saying, "The brand already has exceptional taste credentials, with research showing that four out of five 18–34-year-olds prefer the taste of Inch's to its nearest competitor. Inch's is also gluten free and vegan friendly."
Westons' Darryl Hinksman stresses the trend (and profits) concerning premium cider growth. "This has, in part, been driven by the enforced closure of the on-trade," he explains. With fewer people able to visit pubs, bars and restaurants across the UK, consumers have redirected some of their spend towards high quality, crafted ciders, in a bid to recreate the 'perfect serve' from home.
"Consequently, the average price per litre has risen to £2.40 in the convenience channel, ahead of the total market (£2.31). This has been driven by the unwavering demand for crafted ciders – a subsector which reached triple digit growth – with independents seeing huge volume growth of +153.4%. Crafted ciders continue to propel category growth and, within this, the top ten crafted brands represent 82% of crafted category value – led by Henry Westons."
Hinksman says that these figures suggest stocking premium, branded lines which play into these subsectors will be independent retailers' ticket to maximising sales. "This is where our bestselling Henry Westons brand – worth £63.1M in total retail up +37.8% YOY – comes in. Our range expansion – including Henry Westons Vintage Rosé, Henry Westons Cloudy Vintage, and Henry Westons Organic Cider – has helped retailers drive penetration amongst cider shoppers within these subsectors."
The consumer has never been so well-served for this cider summer.
Beating the mults and pubs
The battle-lines are drawn up and the contest is about to commence: the summer struggle between mults and convenience is set to be a big one, with sales all round – and perhaps after all that has happened in the last year, with the indies enjoying a slight edge over their larger competitors.
"The single most important thing that Independents can do to gain a big advantage over the multiples is ensure that every can, glass bottle or big bottles in their range is chilled," says Mark Dawson, emphasising a super big advantage convenience has over the supermarkets' unchilled carboard booze boxes.
"It is important to know that more Cider is sold in Convenience than in Supermarkets and this totally bucks the trend compared to other alcohol categories," he says – and that's because customers can drink it (just like other kinds of brew) ice cold when it counts: immediately.
"Furthermore," he adds,"certain brands and pack formats commonly stocked within Convenience are often not stocked within Supermarkets making Convenience stores often the only place to buy them." Yes – more of that please, with craft and premium brews a great way to go.
Jess Markowski predicts we will see the move towards shopping locally continuing this year. "In 2020 25% of Brits claimed to shop more at their nearest local store, helping impulse to gain +1.7ppt volume share of beer across the total market," she says."There's a real opportunity for retailers to consolidate the increased footfall seen in 2020 and expand their customer base this year, by catering for changing consumer behaviours and occasions as lockdown restrictions lift."
She also says to look out for the continuing trend for Seltzers, which BBG sees as incremental to the category rather than a substitution purchase – and perhaps why they have launched Bud Light Seltzer into the market this spring, "available in lemon-lime, passionfruit, and strawberry flavours, is a great choice for those looking for refreshing, naturally flavoured options". There are fruit beers and ciders, so why not welcome fruity seltzers into the pantheon?
A whole new fruity, crafty, stouty beer world approaches as the summer draws near, and convenience is poised to capitalise on it,