Both alcoholic and non-alcoholic premium brand, small batch and independent-label drinks have been taking the country by storm in recent years as shoppers look to increase their quality of experience, downgrading the average and seeking out the exquisite.
This has had an effect across all categories, from exotic/exclusive spirits to micro-brewery beers and mixers all 'upping their game', refining brand image, ingredients, recipes and marketing.
Margins on craft drinks are higher than standard SKUs and can 'dial up' the quality of other goods in the shopper basket. They also add interest and attraction to the local store, which has greater latitude in stock selection than many larger establishments, despite perhaps smaller floorspace, and can include greater variety.
"The shifts in customer purchasing habits as a result of the pandemic have been preferable for smaller business, in our opinion," Tom Soden, co-founder and chief executive of canned cocktail brand Ace+Freak, comments.
"The longer dwell time and greater premeditation around purchase as a result of the slowing down of tempo has resulted in a shift towards local and craft producers and retailers. We believe this trend will continue as consumers have realised and appreciated the better quality and more social experience of shopping locally."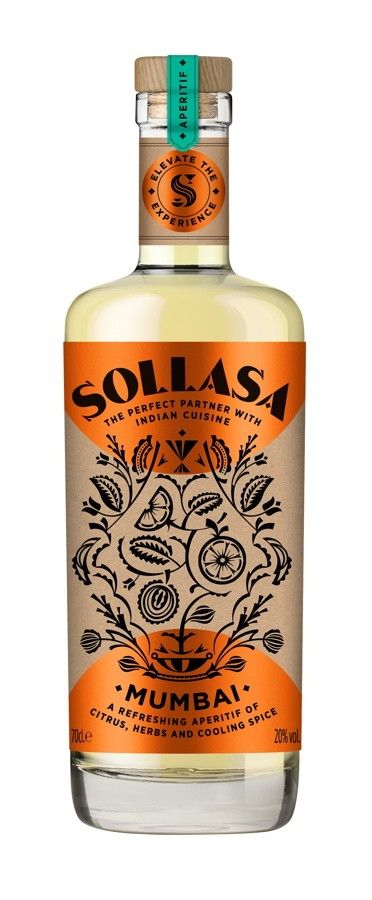 Vishal Patel, co founder of Sollasa, a lower alcohol alternative to gin crafted to pair with Indian cuisine, also feels that the pandemic trend of shopping locally, along with the surge in the popularity of at-home drinking occasions lends great opportunities for craft drinks.
"While consumers are going out less, they are spending more on quality food and drink to be consumed at home, which has seen an increased appetite for new and interesting drinks brands," he notes, adding that drinks products that are easy for consumers to replicate at home work best in convenience, that is, "spirit plus mixer, rather than requiring multiple ingredients."
Sollasa burst on to the UK drinks scene in July 2021, and has caused much excitement with its unique proposition, as a spirit designed specifically to enhance and complement Indian cuisine.
It is a grain-based, lower alcohol spirit, blended to 20 per cent ABV, and made from all natural ingredients, bringing together orange zest, lime, lychee, mint, basil, coriander seeds, cardamom, and a pinch of sea salt.
Vishal and his brother-in-law Sajag Patel developed the drink in collaboration with leading chefs, mixologists and food scientists, to solve consumers' drinks dilemma with Indian food. "[The] mission was to create a drink that genuinely complements Indian cuisine's complex flavours, so that consumers need no longer settle for ill-fitting drinks, such as lager and wine, but can enjoy an authentic and exciting alternative," Vishal says.
Sollasa (70cl, RRP £29) is available to the independent retail sector now via the premium drinks company Ten Locks, as Soden's Ace+Freak, which appeals directly to the millennial consumer with bar quality drinks that look and taste great, made to the highest standard and in the most sustainable way possible.
Lauched in August last year in three variants, Mint & Elderflower Spritz (5.5% ABV), Ginger & Lemongrass Mule (5.5% ABV) and Watermelon & Cucumber Sangria (4% ABV), the brand will be launching nationally to consumers this year.
"This represents the 'craft' evolution of the RTD market that has historically offered sugary, sweet, artificially flavoured drinks – and is now seeing the emergence of more naturally produced, higher quality, flavourful, convenient and conscious brands," Soden says.
"Retailers need to be conscious of the opportunity that 'craft' products provide – a premium price point validated by defined product attributes. With Millennials and Gen Z viewing the purchase of quality food and drink as an essential part of 'self care', this provides small retailers with an excellent opportunity to increase their cash margin," he adds.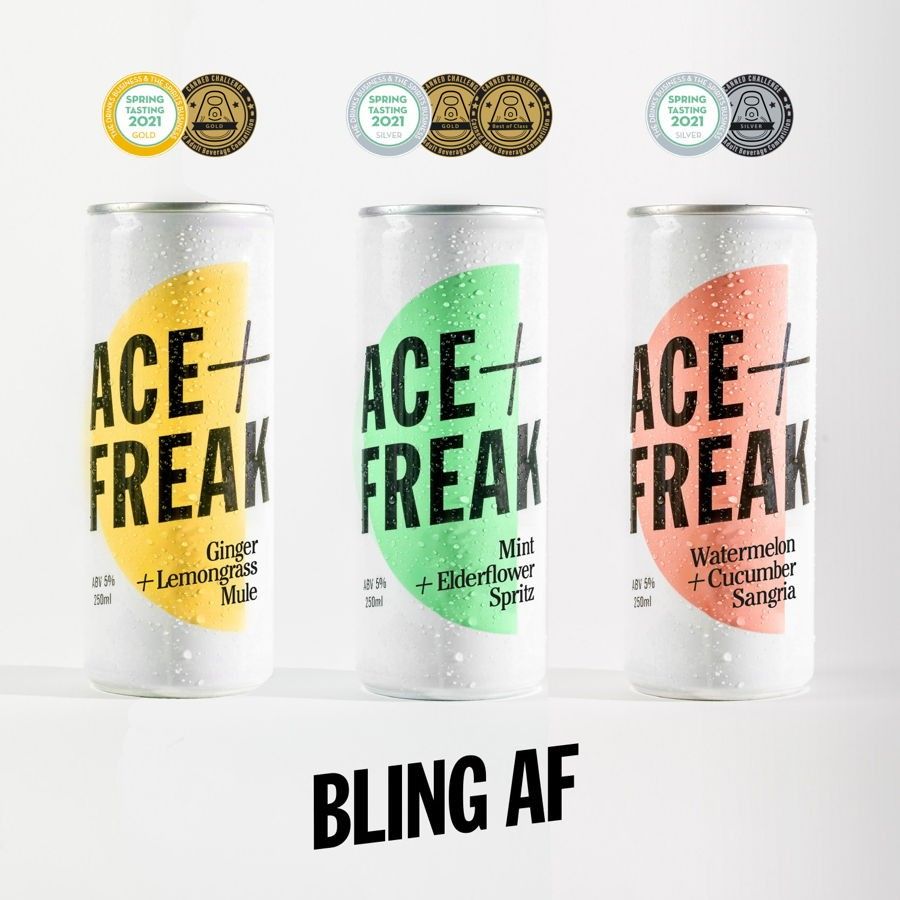 He stresses that the premiumisation to 'craft' of historical stable categories is always a window of opportunity. "We have seen this happen with snacks, protein bars, crisps, beer and gin with new categories such as craft snacks and ready to drinks (RTDs) being big trends for 2022," he notes.
Soden, who is also the co-owner of Nine Lives cocktail bar in London, believes that craft drinks particularly offer small independent retailers an opportunity to play into their greatest strength: agility.
"The ability to outmaneuver the larger players within the market due to their size. We see this time and time again in East London where local convenience stores offer a range of products ideal for the demographic in their area and reap the rewards as a result," he observes. "Understand your customer and react to them quickly."
Sourcing Local
There's a growing appetite among consumers for local products when it comes to craft drinks. A YouGov survey for the 2020 British Craft Beer Report by the Society of Independent Brewers (SIBA) has shown that an increasing number of consumers, 50 per cent in 2020 up from 43 per cent in 2019, recognise that genuine craft beer must be produced by a small independent brewery.
Provenance was also important, with 22 per cent saying it should be made by a brewer local to the area. Anil Patel, of Costcutter Chislehurst which boasts wonderfully curated aisles for 300 craft beers, says they have been intent on sourcing of local suppliers, adding that these products also give them a point of difference to the multiples.
"We have lots of things that come from Kent and we're right on the border of London. So with regards to craft beers, we stock all the London craft beers. And we also stock some from like the middle of England, north of England, and the whole of south of England. We kind of rotate it," he says.
In 2020, brothers Kirtan and Kirti Patel, who runs the Londis Ferme Park Road store in Finsbury Park, London, completed the fifth major refit of the last four decades of their neighbourhood family store by adding a bespoke off-license area, with a huge range of world wines and craft beers.
"We saw the trend towards craft beers and ales and specialty wines, so we allocated much more space –we doubled the space of craft beers –to accommodate for that moving trend," Kirtan says.
And, many of these craft beers are locally brewed. "We get 90 per cent of it from outside [of Londis/Booker] and maybe out of our full range, at least 70 per cent will be just local craft beers and the other 30 would be from a little bit outside, but majority we get is locally supplied craft beers," he explains,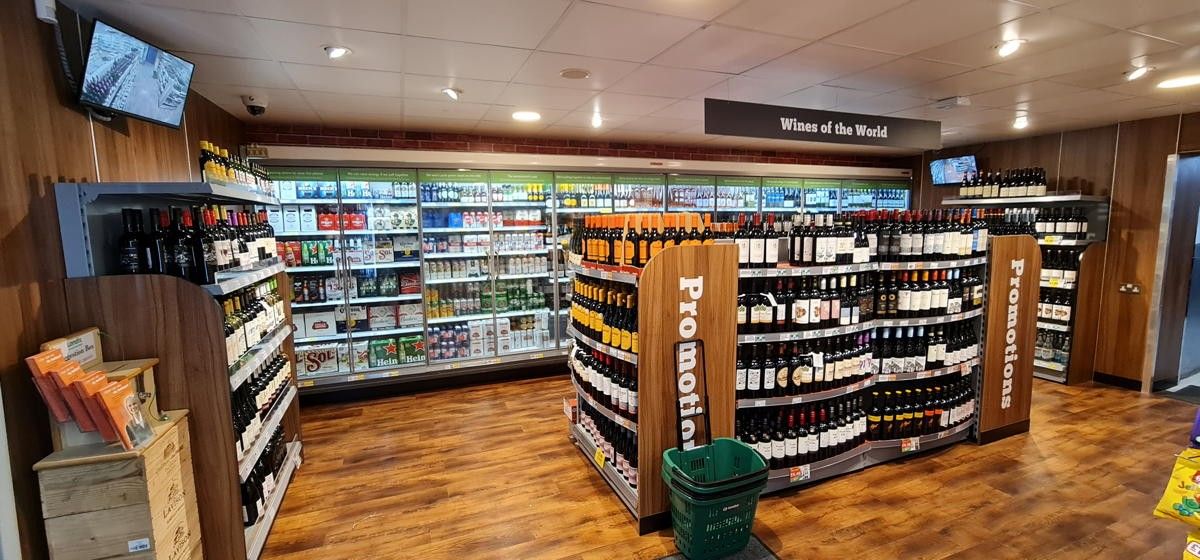 Pete Patel, who runs Costcutter Brockley in Lewisham, has also increased the size of alcohol section as part of a store redevelopment in 2018. "We made a conscious decision to stock different products to our competitors so that as well as some of our core lines, we can also offer our customers smaller batch produced BWS," he says.
Pete points out the need to delegate as the process of stocking from a number of local breweries is invariably challenging and time-consuming. He urtures an excellent relationship with local suppliers, and has a member of the staff in charge of ordering all the beers from those which are the fastest sellers.
"It's easy to split the store into categories for the staff to manage so they can just concentrate on [theirs], especially when there are lots of supplies, and then they're responsible for their supplies," he adds.
Beer Necessities
Beer dominates the craft drinks scene, and the market size of the craft beer production industry in the UK is expected to bounce back to £1.32 billion in 2022, growing at 15.7 per cent, according to an IBISWorld report.
The industry took a hit last year, when the Covid-19 pandemic ravaged the pub and hospitality sectors, with revenue falling to £1.14bn, after hitting the peak of £1.44bn in 2020.
It is pertinent to note that the £1.32bn forecast for this year compares with £751.3 million in revenue in 2012, representing over 76 per cent increase in a decade. The industry has touched the £1bn mark in 2015, and grown 3.8 per cent per year on average between 2017 and 2022, increasing faster than the consumer goods and services sector overall.
Leading players have a busy year in 2021, with new launches hitting the shelves. North London's Camden Town Brewery has expanded its core range, introducing Unfussy Unfiltered Lager in November.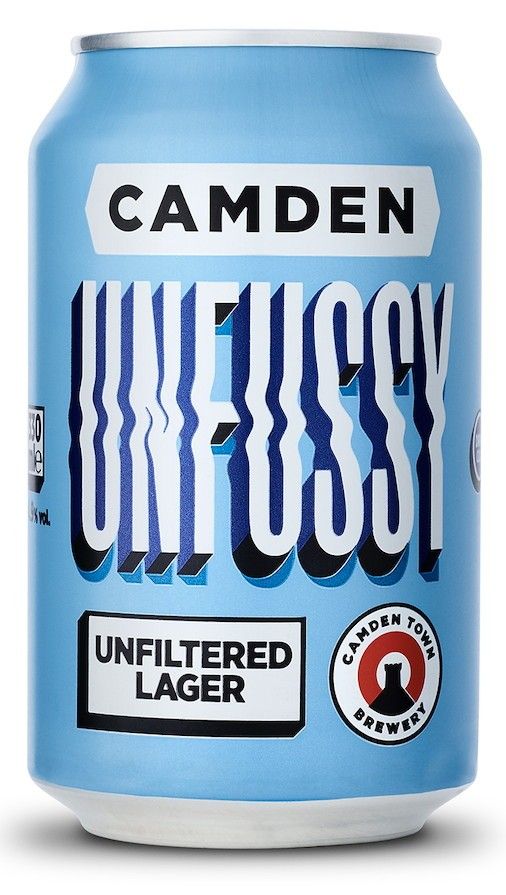 Unfussy (4.9% ABV) is a lager which is unfiltered and unfussed with, tasting just as fresh as if it came straight from a tank at the brewery and never pasteurised. Inspired by traditional German Kellerbiers, this beer's brewed with Camden's house Pilsner malt from Bamberg, torrified wheat, Callista hops and dry hopped with Spalt Select, so it's hazy, hoppy and full bodied.
"[The] new Unfussy Unfiltered Lager is brewed with the addition of un-malted grains for a softer, more rounded malt character. German Hops are added later in the boil to bring out floral and peach aromas, with a medium body, bitter taste and crisp finish. Think traditional German style meets Camden's modern lager," the brand said.
The latest beer to join Camden's permanent collection, Unfussy will sit alongside brand favourites: Camden Hells Lager, Pale Ale, Off Menu IPA, as well as fellow new kid on the block, Canapé Session IPA. Hells Lager was the leading craft beer brand ranked by sales in the UK as of 2020, with sales amounting to approximately £40m during the 12 months ended October 3, 2020, according to a Statista report.
Camden Hells Lager's sales were only slightly more than that of the next best selling brand, BrewDog Punk IPA, and based on the MAT sales, the latter was the leading off-trade craft beer brand in the UK in 2019, with sales exceeding £41m.
BrewDog, with over £86m generated in sales in 2019, is the leading craft beer company in the UK market. Their latest offering, Planet Pale (4.3% ABV), continues the carbon negative brewer's mission to brew beer that is good for the planet.
The new sustainable beer joins the core range, replacing BrewDog Pale Ale with a new recipe and stronger brand proposition, and follows the re-launch of Lost Lager, earlier in 2021.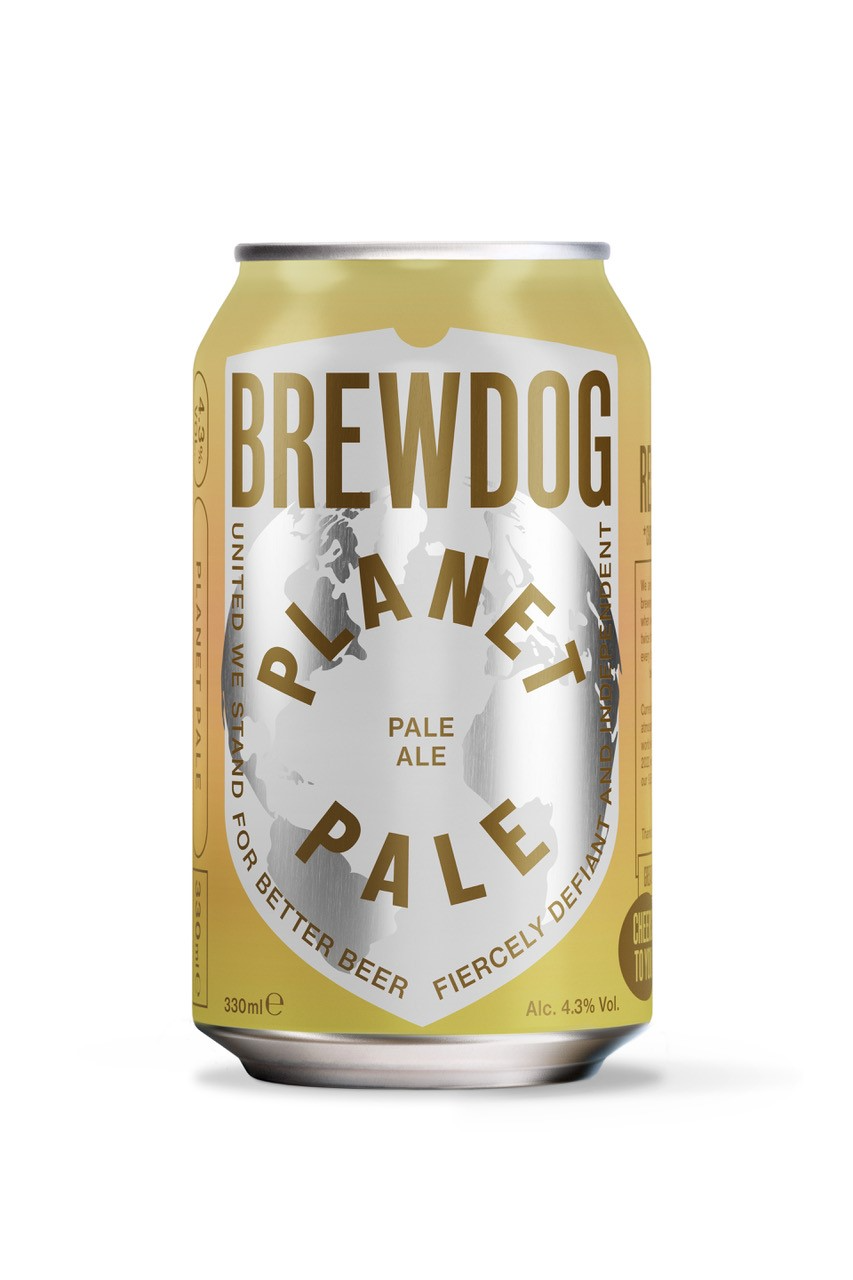 Creating an accessible offering with wide appeal, the new Planet Pale delivers session-strength fresh grassy hops with subtle tropical tones of pineapple and lime in the background. Featuring the classic hop combination of Citra and Mosiac, the liquid is a homage to the West Coast style, with a recessive pale and dry biscuit base, offering support to offset moderate bitterness while allowing the citrus peel to shine.
With craft beer continuing to evolve in the UK, BrewDog said increased penetration presents the biggest opportunity for category growth and pale ale is recognised as a key driver to bring new drinkers into craft.
"We want to make great beer that people love, whilst also being great for the planet," said Alex Dullard, head of customer marketing at BrewDog. "Following the re-launch of Lost Lager in the Spring, we established that 70 per cent of beer drinkers are more likely to purchase a beer made in a sustainable way presenting a huge opportunity to grow frequency and penetration with a planet-friendly beer offering, that can be enjoyed responsibly."
As BrewDog Punk IPA (5.4% ABV) remains the number one craft beer in off-trade, contributing 15 per cent of total category growth latest MAT vs YA and holds a 20.7 per cent share, Planet Pale aims to complement Punk IPA's success and delivers an opportunity to fill a gap in the category for a pale ale with a lower, more accessible ABV.
"With its sub-5 per cent ABV, new BrewDog Planet Pale offers a solution for retailers that balances session-ability with flavour, providing the sweet spot for this style of beer," Dullard added. "The redeveloped recipe packs a significant hoppy punch with a balanced malt base, while the name combines our missions for a greener future with our love of great beer. It is a simple nod to our carbon-negative credentials, coupled with the style … and does what it says on the can."
Planet Pale is available in single 440ml cans (RRP: £2.25) and four-pack 330ml cans (RRP: £5) as four-packs are becoming an increasingly popular choice across the whole craft category. The 4x 330ml craft cans now make up 34.4 per cent of all craft value sales, illustrating a 10 per cent growth year-on-year [Nielsen 52w/e 27.11.21].
This rise in demand heralds an exciting time for the industry, signalling a shift in the way that people are shopping craft. Where craft was previously all about experimentation and trialling single cans from a variety of brands, consumers are now feeling more comfortable and familiar in the space and looking to purchase multipacks from trusted brands.
Beyond Beer
The expansion of craft beyond beer, and the increasing interest of alcohol majors, is best exemplified by a recent partnership between Molson Coors Beverage Company and Southwestern Distillery in North Cornwall.
Molson Coors has secured a long-term partnership with the distillery, home to super-premium craft Cornish gin brand Tarquin's Gin to bring its products, which include variants such as Tarquin's Cornish Dry Gin, Tarquin's Rhubarb and Raspberry and Tarquin's British Blackberry Gin, as well as its new and popular Twin Fin Rum, to retailers nationwide and into Western Europe.
Southwestern Distillery is based near Padstow close to Molson Coors-owned Sharp's Brewery in Rock, and the two have already collaborated to develop the limited-edition Tarquin's Hopster Gin.
Founder and master distiller Tarquin Leadbetter said: "I've spent almost a decade building Tarquin's Gin, from distilling on my cooker at home in 2012, to selling the first batch out of the boot of my car in 2013, we've grown to a team of 50 staff to become one of the largest independent family distilleries in the UK in 2021. This new distribution will enable us to rollout further into UK retail and expand export beyond our existing 25 international markets."
Molson Coors has also partnered with premium tonic water and mixer brand Lixir Drinks. Currently available in 16 countries, Lixir Drinks has an 8-strong range of drinks all made from natural ingredients, which are low in calories. The company will support Lixir Drinks' rollout in the UK off-trade, following its successful trial in the Republic of Ireland and Northern Ireland in 2020.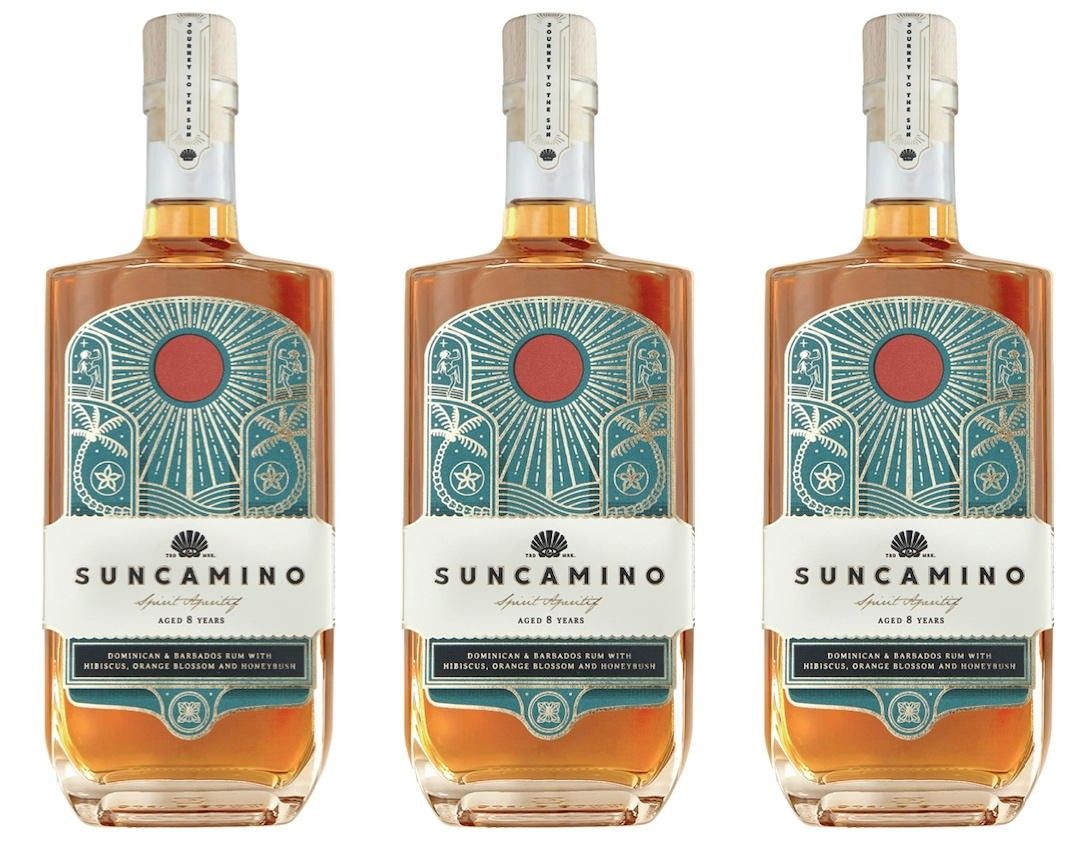 Meanwhile, Suncamino, the world's first floral rum, from Cape Town, South Africa, has landed in the UK, distributed by 31DOVER, with a mission to "reinvent rum and lead the category beyond the traditional horizon of rum as a masculine spirit with its nautical themes and pirate stories."
Aged for up to 8 years, and infused with Hibiscus, Honeybush and Orange Blossom, Suncamino Floral Rum (RRP: £28.95, 50cl, 40% ABV) combines the trends of premium aged spirit, natural ingredients, and an increased focus on botanicals. Amid the rise of craft, Suncamino targets those looking for craft credentials in this spirit category.
In the rising alcohol-free category, Infinite Session has launched a revised recipe for its successful alcohol-free craft beer range. Rolling out across the three-strong portfolio, the new recipe offers a fresh new taste profile.
"We pride ourselves in creating great tasting alcohol-free beer, that brings you the same level of flavour and craftsmanship as our alcoholic counterparts," said co-founder Chris Hannaway. "We've always wanted Infinite to be a beer that you'd actually want to order another one of, and we're really pleased with the new taste profile of the range. Our on pack re-fresh allows us to put more emphasis on 'Infinite', meaning it's something you can drink again and again."
What the new low-alcohol sparkling craft mead range Bemuse has been offering is a completely new drinking experience based on Britain's oldest alcoholic drink. The brand aims to meet consumer demand for innovative and tasty drink choices in UK off-trade, offering a range of sparkling, modern craft meads that are low in alcohol and sugar.
Founded by entrepreneurs Nataliya Peretrutova and Anna Chalov, Bemuse reimagines mead for today's tastes, creating a refreshing, lightly sparkling drink, available in four natural flavours, that also supports its natural producers: our endangered city and country bees.
"With its unique focus on low-alcohol meads, Bemuse has reinvented the style to produce an enjoyably fresh drink and, also, create a pioneering drinks category. A light, social, low-alcohol and low-calorie drink, the Bemuse mead range can be enjoyed all year round, on their own or as an accompaniment to food," Chalov said.