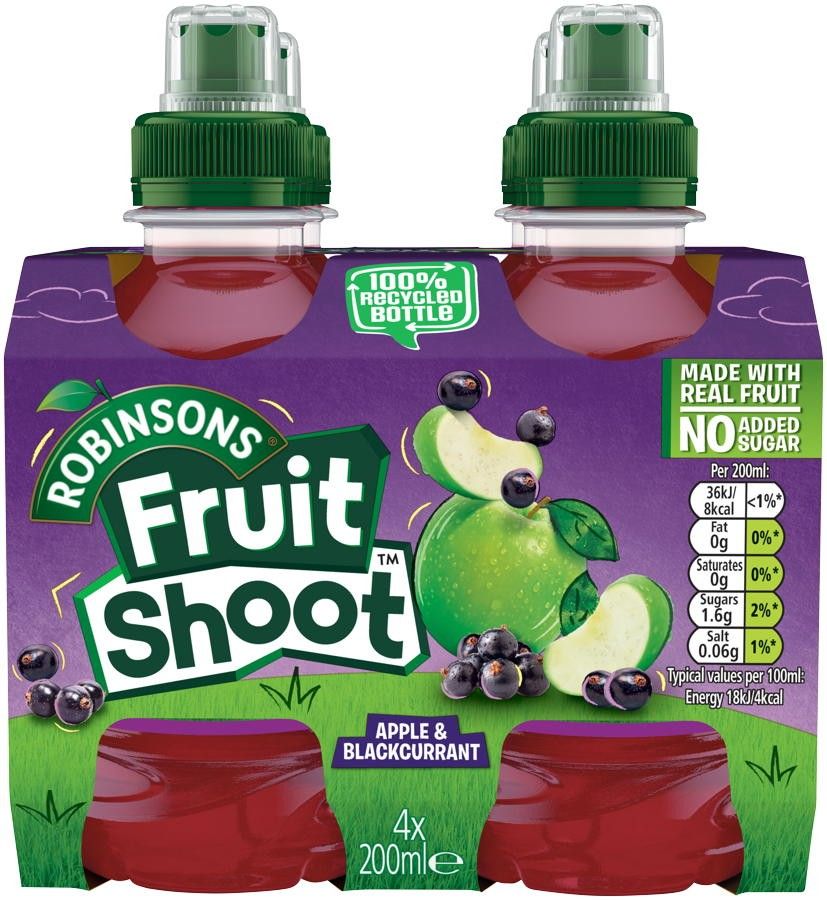 In October, Fruit Shoot singles and multipacks across its core range made the move to 100% rPET (recycled plastic) and clear bottles*.
The update is another step on Britvic's journey to reaching its ambition that all bottles produced and sold in Great Britain will be made from 100% rPET by the end of 2022. The product will also undergo a recipe refresh and packaging redesign for the first time in three years. Alongside its new clear bottle, Fruit Shoot will now be preservative free following a reformulation.
As the number-one kids' soft drinks brand, Fruit Shoot supports retailers in meeting the ever-changing needs of consumers. Sustainability is not only a growing concern, but is also now a factor in their decision-making. A study revealed that 95 per cent of parents hold brands responsible for addressing their sustainability concerns, with a further 71 per cent claiming they've become more concerned about sustainability since becoming a parent.
However, it isn't just parents that are increasingly conscious of their impact on the environment, but also their children – as 95 per cent of kids say the environment needs protecting.
"We're proud to continue our packaging innovation, continuing to switch our Fruit Shoot bottles to 100% rPET, after the initial update to Fruit Shoot Hydro last October," said Phil Sanders, out-of-home commercial director at Britvic. "One in four kids juice and juice drink occasions took place outside the home in 2019, and as restrictions have eased and families are back on the move this is only set to increase further with kids drinking while out and about. Therefore, our single Fruit Shoot bottles are a great option for parents taking their kids out over the weekends, or as an after-school drink. The new packaging is also sure to catch the eyes of parents on shelves or in chillers, showing the true colour of Fruit Shoot for the first time."
As part of wider consumer research, Britvic found the transition to a clear bottle had several impacts on parents' perceptions – eight out of ten parents said they would trust Fruit Shoot more and almost three quarters said it showed Fruit Shoot was more natural than they thought. Made with real fruit, no added sugar, artificial colours, flavourings or preservatives, Fruit Shoot offers parents peace of mind when it comes to the health of their children.
The packaging update will include hand-drawn elements added to each bottle, to bring it to life and add an element of fun. As a result, they will be eye-catching on shelves, driving appeal and purchase – particularly for those who are conscious about the contents of the products they purchase.
To drive awareness of the switch to 100 per cent rPET bottles, Fruit Shoot will be visible across outdoor and digital platforms early next year, demonstrating the new clear bottles with the messaging, "New CLEAR bottle, just as fruity!"
Fruit Shoot is available in Orange, Apple & Blackcurrant, Summer Fruits and Apple in the below formats:
275ml – £0.69 RRP
4 x 200ml – £2.00 RRP
8 x 200ml – £3.00 RRP
*Across Fruit Shoot single and multipack bottles, excluding caps and labels.