The Dole Sunshine Company, a global market leader in packaged fruit products and healthy snacks, is delighted to announce the arrival of its new Fruit and Cream dessert range which combines sun-ripened fruit with a tasty and smooth plant-based cream. Available in two delicious flavours that consumers love, apple and cinnamon along with peach and vanilla, the products are available now, with an RRP of just £2.49 for a pack of four.
Dole's Fruit and Cream range contains real fruit pieces and only natural fruit sugars, is one of your five a day and is gluten-free, halal and vegan. The product packaging also shows a 'B' NUTRI-SCORE to underline to consumers that it's a positive healthy choice for them to make. Finally, it performed strongly in consumer testing, with consumers enjoying the great taste of the fruit and recognising plant-based cream as being innovative for the category and adding to the overall healthiness and naturalness of the product.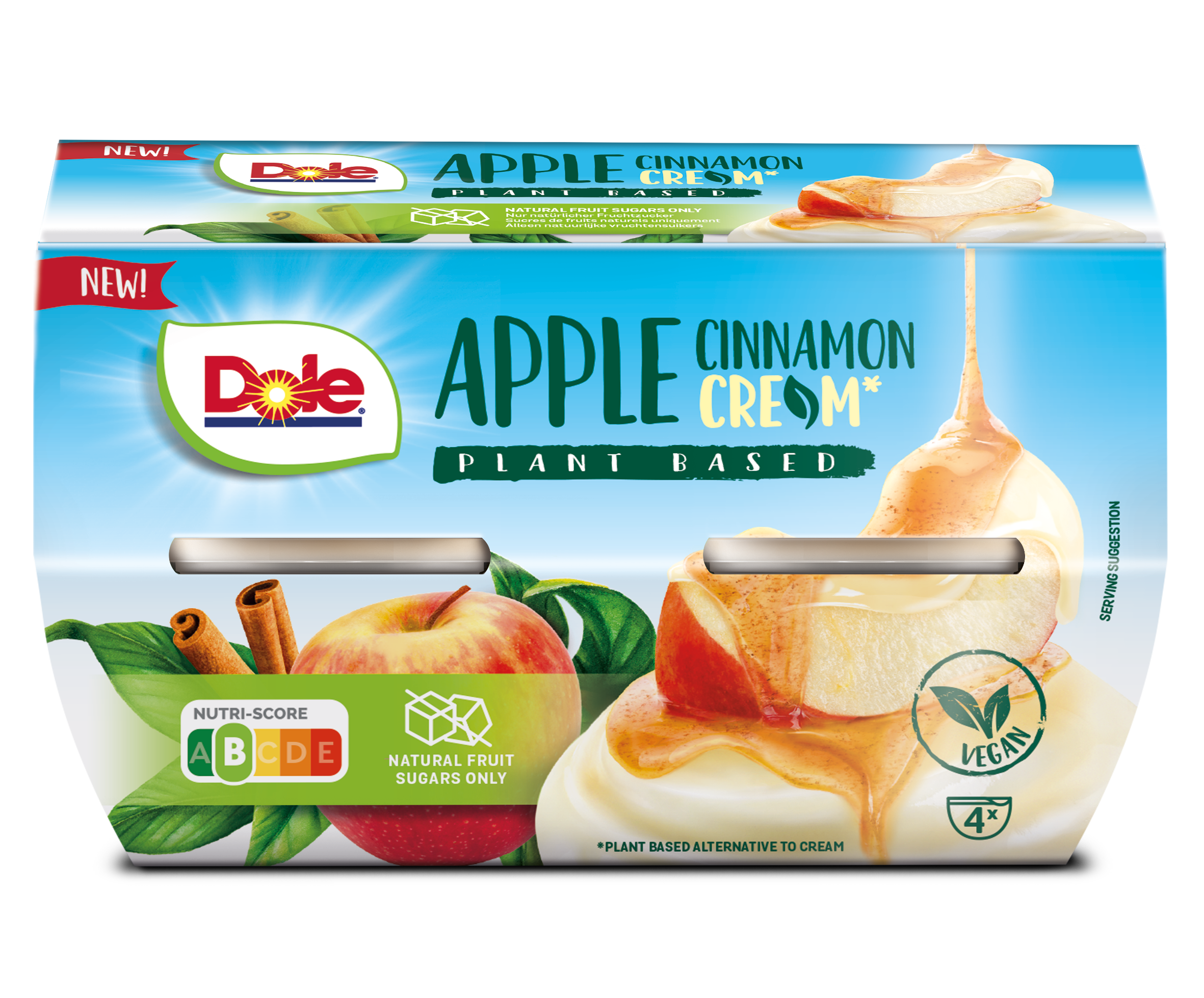 The pandemic has encouraged consumers to want to eat more healthily. However, this is being impacted by the cost-of-living crisis, which is forcing many consumers to change behaviours and make difficult decisions. Shoppers want indulgent, healthier desserts but price is a key factor for many when considering which ones to buy, with an increasing number recognising that ambient products have a longer shelf life and therefore offer better value for money and less waste. A recent Mintel report also confirmed that nearly half of UK consumers are looking to add more plant-based food to their diets.
"As part of our transition from packaged foods to a nutrition and wellness brand, we are expanding our offering using our expertise and strong product credentials, with the launch of Dole Fruit & Cream" says Andrew Bradshaw, UK Sales Director at the Dole Sunshine Company. "As consumers continue to aspire to eat more healthily, while at the same time wanting indulgent treats, this new range should provide the perfect option, driving incremental sales to the ambient dessert category. It not only offers consumers something healthy and delicious that they can enjoy without guilt, but also at an affordable price which is so important right now."