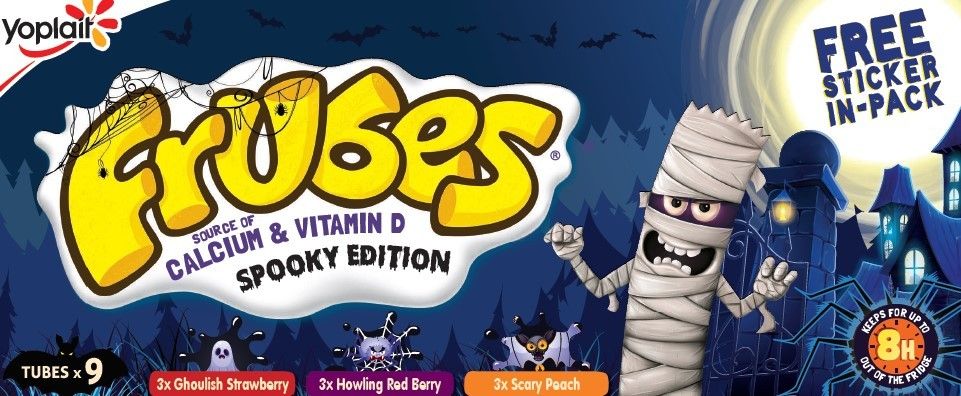 Yogurt snack Frubes is cementing its position as one of the kids' yogurt category's most playful brands with its first ever limited-edition Halloween 'spooky' pack design and gift-in-pack promotion.
Due to hit shelves this October, the limited-edition pack will be available across grocery and convenience channels. Kids will be able to collect one of three spooky stickers – a Mummy, Skeleton or Vampire – which are hidden inside. A cut-out Halloween mask will also feature on the back of each Frubes variety pack.
To bring more of the Frubes fun home, the brand has also changed the names of its iconic flavours to 'Ghoulish Strawberry, Howling Red Berry and Scary Peach'.
"As a £22.4m brand and growing, we want to deliver fun like no other kids' healthy snack!" said Joanna Goodman, Head of Marketing, Yogurt (Northern Europe) at General Mills. "Kids will love our limited-edition Halloween pack and by making parents a partner in fun, we're inspiring families to come together in more laugh-out-loud moments. Approved by parents, Frubes are a source of Calcium and Vitamin D and contain no added colouring or artificial sweetener."
Retailers are encouraged to stock up on the range to meet increased demand this Halloween season.
Frubes Variety Pack (9x37g) – RRP: £2.00