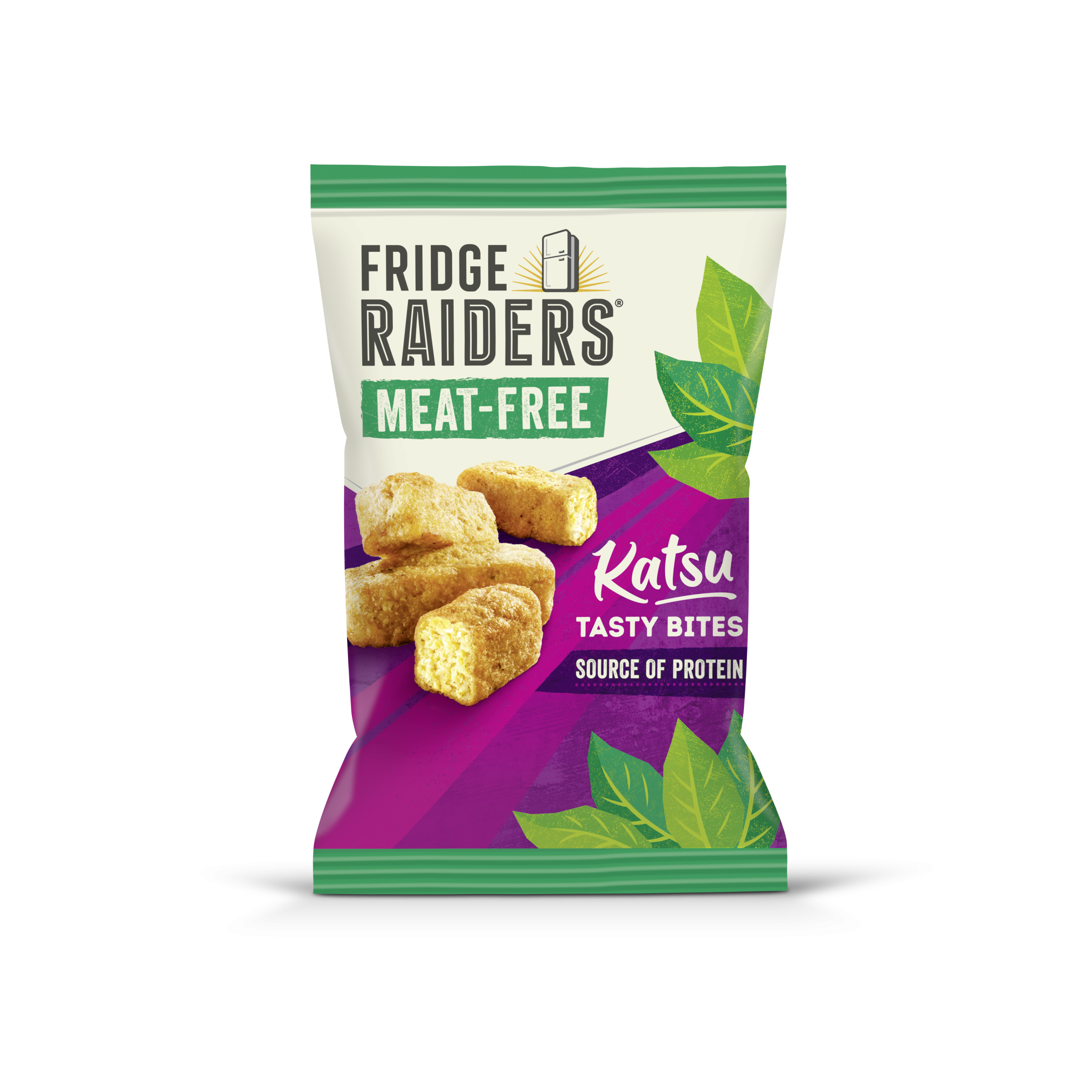 Fridge Raiders, a Pilgrim's Food Masters brand, has announced the launch of Meat-Free Tasty Bites, rolling out across grocery and convenience channels in May.
Made with the fava bean, Fridge Raiders Meat-Free Tasty Bites mimics the brand's best-selling Chicken Bites, even down to its hearty texture and superior flavour.
Launching in its classic Slow Roasted flavour and consumer favourite Katsu, the new Fridge Raiders Meat-Free Tasty Bites pack a punch with protein and fibre to help keep shoppers fuller for longer.
The plant-based category is currently worth £572 million and shows no signs of slowing down. Recent research by Pilgrim's Food Masters forecasts the category will be worth £998 million by 2026. With plant-based snacking growing 17.5 per cent year on year and predicted to be worth £42 million by 2025, there is a huge opportunity for growth. The launch of Fridge Raiders Meat-Free Tasty Bites offers retailers the chance to boost meat-free snacking sales with a brand that they can guarantee will be a hit with shoppers.
Fridge Raiders has been on a huge growth trajectory in recent years, named as the second-fastest growing brand in FMCG last year. With a sales increase of 33.4 per cent in 2021, Fridge Raiders has now reached an RSV of £94.2 million.
"The growth of the meat-free category is not slowing down, so we're excited to offer our customers a delicious meat-free snacking option in a category that we know currently under-delivers on taste." says Chris Doe, Marketing Manager for Fridge Raiders and Richmond. "We know that consumers are on the hunt for a meat-free snack that delivers on taste, texture and quality whilst also being a healthy and fulfilling option. At Fridge Raiders, we love a challenge and we've put everything we've learned from our much-loved Chicken Bites into creating the perfect plant-based alternative. Our Meat-Free Tasty Bites tick all the boxes for beating hunger cravings and packing a punch with flavour."
Fridge Raiders Meat-Free Tasty Bites will be available in a 65g back-of-store format and front-of-store 45g grab bags, catering to evolving consumer snacking habits.
Fridge Raiders will be supporting the launch with a £1.1m integrated campaign including advertising on VOD, social and OOH channels as well as in-store activations to boost trial.