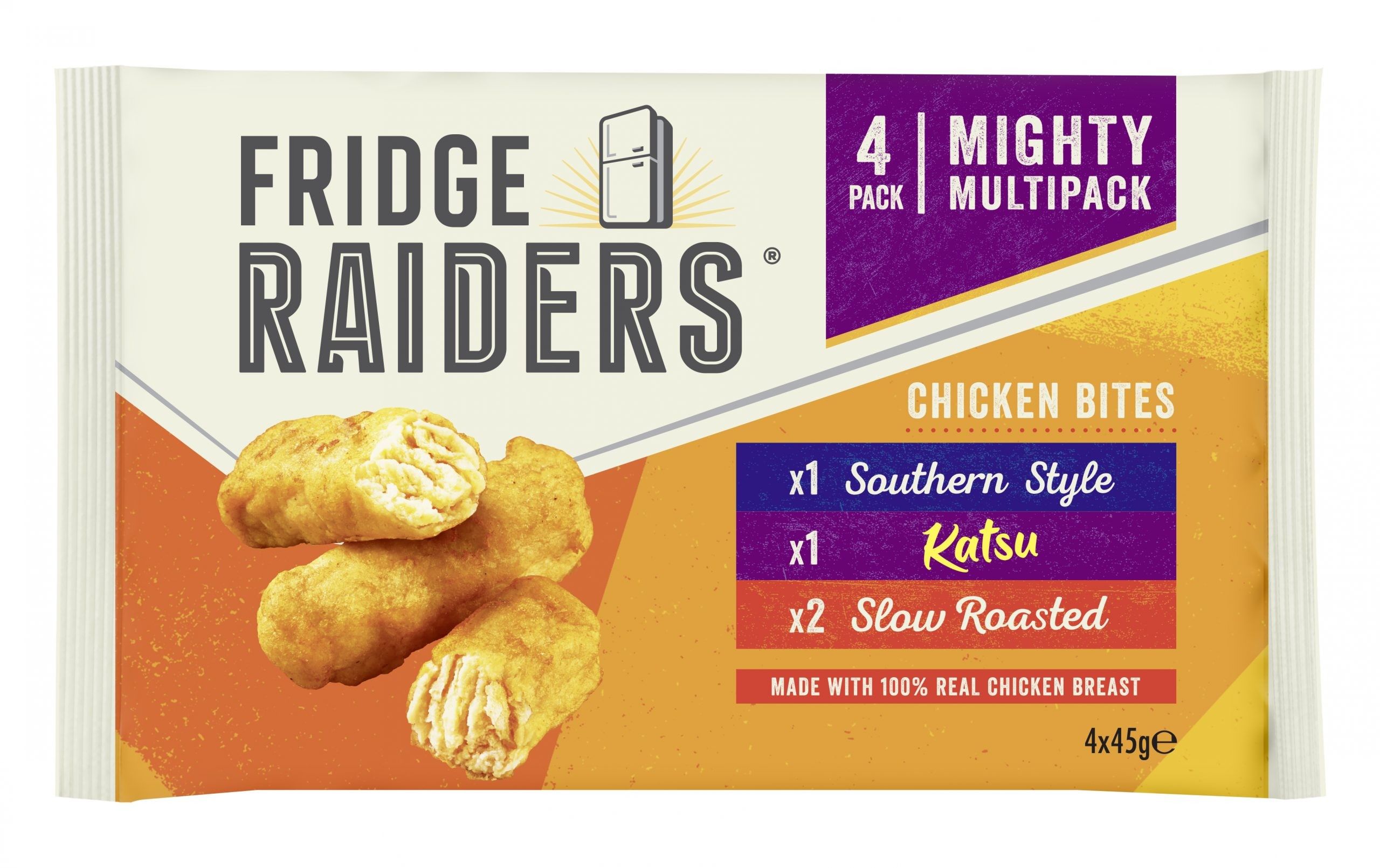 Fridge Raiders, part of Kerry Foods, has announced a significant expansion of its popular Chicken Bites range with three new SKUs in its meat-snacking offering, including a brand-new product, Chicken & Dip, and two new packaging formats including a Grazing Tub and an Adult Multi Pack. The new products are available now with further roll out later this month.
Fridge Raiders' original Chicken Bites are already a staple in the nation's fridges. Now, in response to changing snacking habits – meat and cheese snacking saw an increase of 54% in the past year – the brand is branching out to help retailers capitalise on the interest in meat snacks and offer consumers flavour-filled solutions to their hunger cravings both at-home and on-the-go:
Chicken & Dip – For the first time and with new flavours, Fridge Raiders is introducing Chicken & Dip – combining its popular Chicken Bites with a tasty dip. This on-the-go and at-home friendly format packs a punch with flavours such as Roast Chicken with Sweet Chilli Dip and Southern Fried Chicken with BBQ Dip. Fridge Raiders Chicken & Dip caters to the growing demand for diversity in meat snacking and provides consumers with a brand-new format for snacking wherever they are. With the tasty dips enhancing the already popular Chicken Bites and the on-the-go friendly format making snacking easier than ever, Chicken & Dip is set to be the next snacking sensation.
Grazing Tub – In response to consumer demand for more at-home friendly snack formats, Fridge Raiders is launching a larger format for the first time. The Roast Chicken Bites Grazing Tub, available in 185g, is resealable, allowing consumers to enjoy the fresh, delicious flavours for longer. Fridge Raiders Chicken Bites are a staple in retailers' chilled snacks ranges, and the inclusion of this new Grazing Tub aims to satisfy shopper demand for a bigger, cost-effective solution to their hunger cravings.
Adult Multi Pack – Fridge Raiders is also launching Adult Multi Packs, a twist on its current multi pack offerings, containing two of its 45g Roast Chicken Bites, one 45g Southern Style Chicken Bites and one 45g Katsu Chicken Bites. This new Adult Multi Pack has been designed with flavour and diversity in mind and gives consumers the choice between Fridge Raiders' tried and tested flavours as well as the more adventurous and popular Katsu Chicken Bites, a flavour that has driven growth of 24% across the Fridge Raiders range.
Meat snacking is an area with huge potential for retailers as the UK comes out of lockdown. The meat-snacking category continues to go from strength to strength, now worth £19.1m, benefiting from a boom in home snacking . Fridge Raiders has seen an 18.7% growth in sales in the past three months, making it the second largest brand in meat-snacking in the UK.
"We've seen a huge shift in how consumers are snacking, driven by changes to the way we live and work. We're committed to helping active adults maintain their busy lifestyles so are delighted to be launching these new formats and delicious flavours to help retailers cater to all snacking occasions," said Julia May, Brand Manager.
Made with 100% chicken breast, the new launches allow retailers to capitalise on the demand for chilled snacks as consumers look for more health-conscious, protein-filled tasty snack.
Fridge Raiders Chicken and Dip 80g: (RRP: £1.29)
Fridge Raiders Grazing Tub 185g: (RRP £2.29)
Fridge Raiders Adult Multi Pack 4 x 45g: (RRP £2.49)