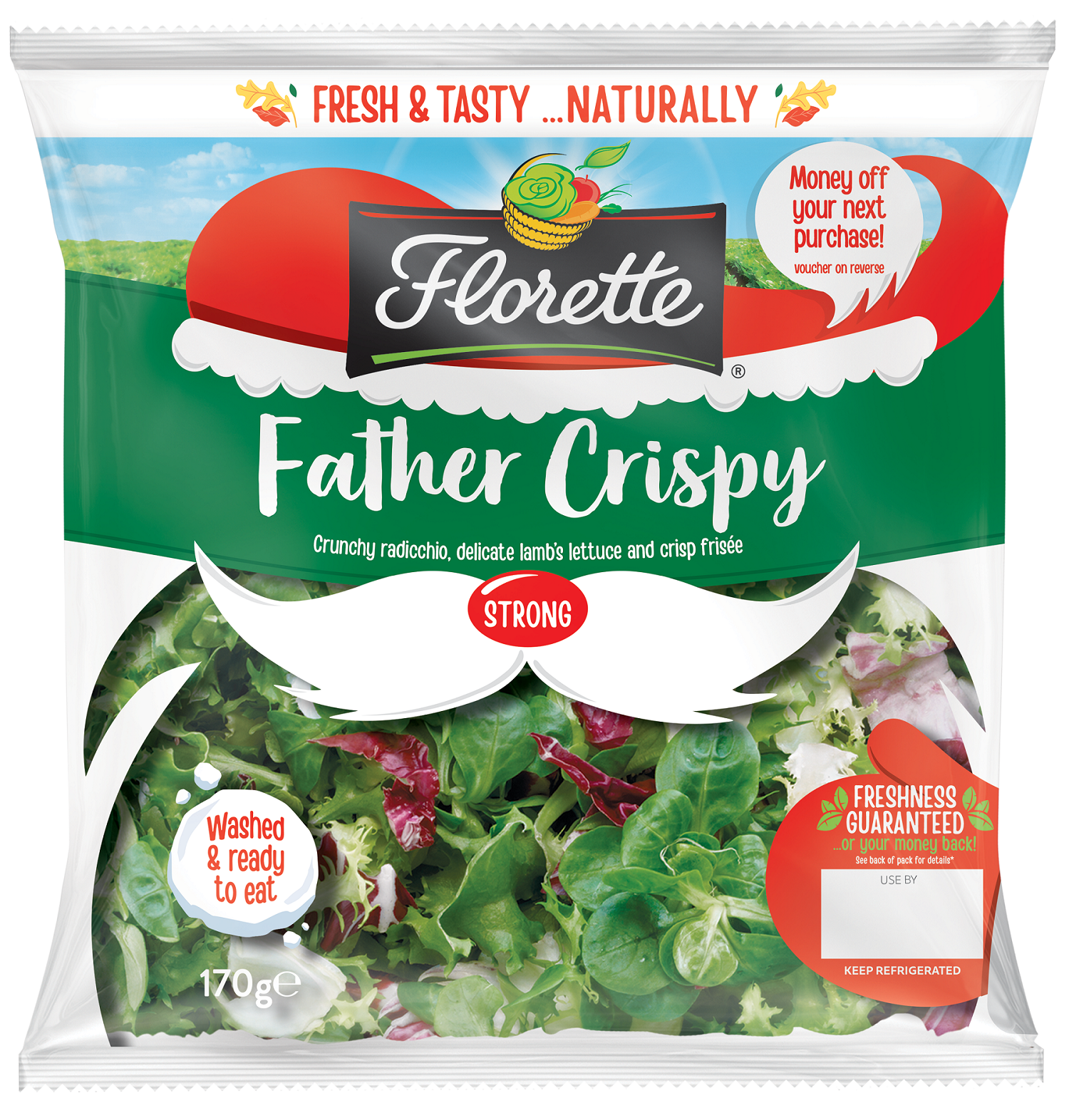 Florette, the biggest-selling brand in the UK's £606 million leafy prepared salads market, is bringing a burst of fun and engagement to the fresh produce fixture this Christmas with limited edition seasonal packs.
The brands best-selling SKU's, Classic Crispy (115g and 170g) will be transformed into "Father Crispy" and Mixed (150g) will undergo a similar festive makeover, becoming "Have a holly, jolly Mixed-mas". The designs will feature across over two million packs from Mid-November through to the end of the year and will also feature a "30p off next purchase" coupon, to help incentivise repeat purchase and so drive further sales.
Martin Purdy Commercial and Marketing Director at Florette UK explains why many retailers are missing out this seasonal sales opportunity in the chiller: "Salad is synonymous with summer. As temperatures rise, prepared salad sales grow exponentially with the demand for lighter eating with a fresh accompaniment like Florette becoming a staple. However, many retailers aren't aware of a second smaller peak we experience each year during the festive period, and so are missing out on potential sales.
"Research shows more than a third (34 per cent) of Brits continue to eat salad through the winter months, including side of plate servings. An impressive 10.2m shoppers purchase the leafy salads category in the month of December alone, this represents over 36 per cent of UK households, which shows a real appetite for our category all year round. Let's not forget that shoppers pair salad with their festive favourites such as the classic prawn cocktail (23 per cent). With this in mind, we recommend retailers ensure they have a good selection available in store to meet seasonal demand."
The launch follows in the footsteps of "Merry Crispy", the limited edition variant of Florette Classic Crispy 170G which saw 1.1m packs sold over a six week period last year, which is up two per cent vs the prior year.