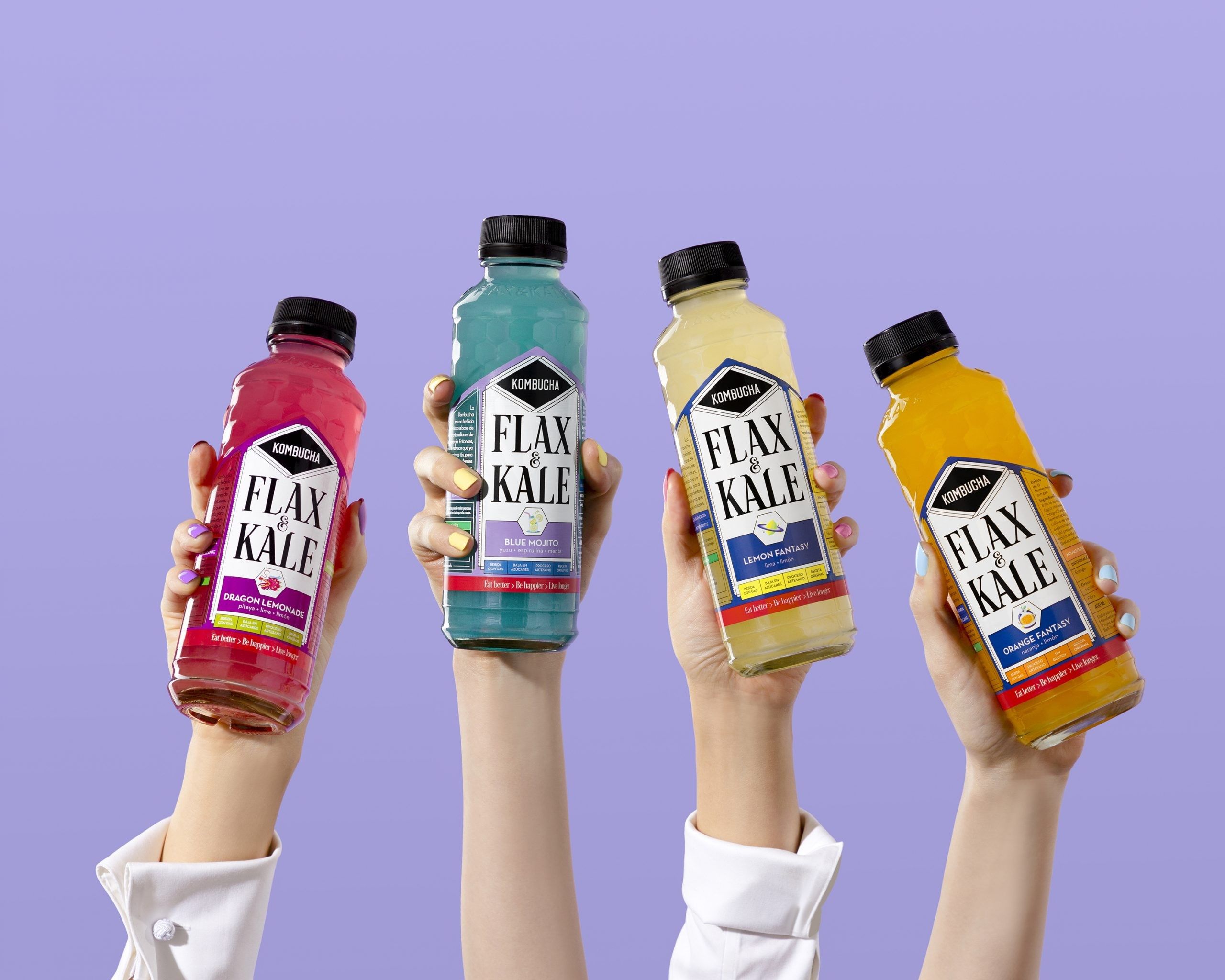 Spanish flexitarian company Flax & Kale officially launches in the UK at the Plant Based World Expo 2022 today at Olympia, London.
Pioneered over 40 years ago, Flax & Kale was ahead of its time, opening restaurants focusing predominantly on flexitarian, healthy food before it became popular. Its mission was to be a driver of change through enjoyable, natural food whilst respecting the environment. It has poured all this experience into becoming the only multi-category food tech brand with its production capacity and R&D centre.
Flax & Kale aims to democratise healthy eating for everyone, innovating the world of tasty, and sustainable food. To accomplish this mission and keep growing sustainably Flax & Kale is committed to the most demanding international standards: B Corp and the UN's Sustainable Development Goals.
Flax & Kale is known for their fermented products such as kombuchas and non-dairy cheeses. Low in sugars, kombuchas are one of its bestselling products with probiotics that are made with cold-pressed juices in a wide range of flavoursome recipes. The healthy alternative to soft drinks has options such as traditional cola or lemonade: Lemon Fantasy, Kombucola or the signature recipes with different ingredients like spirulina or passion fruit: Blue Mojito, Symbiotic Passion.
The brand's innovations are also seen within the category of fermented cheeses which are spreadable cheese, creamy cheese, mature cheddar, and semi-cured Manchego-style cheese. To complete its portfolio, Flax & Kale has a range of meat alternatives and ready meals, which are available for retailers. The company's expertise and production capacity has allowed them to manufacture white label solutions for like-minded partners for the mutual benefit of both brands.
The meat alternative range is versatile, including solutions such as beef and chicken burgers, meatballs, mince, nuggets, or croquettes. The ready meals range is inspired by its restaurants in Spain, and offers convenient options, helping one to eat more healthily, some examples are "Plant-based Bolognese lasagne" or "Mushroom Cannelloni".
At the show, Flax & Kale is offering people the chance to taste their incredible cuisine with a three-course meal at the culinary theatre using their range. Visitors will see the executive chef, Sergi Barulls, and CEO Jordi Barri cooking up a storm accompanied by Flax & Kale chef Dani Blanco. They will cook delicious recipes showing different uses of their products. And to celebrate its launch in the UK, this will be accompanied by the best-selling Dragon Lemonade Kombucha made into a cocktail. At the stand, they will also be serving cocktails at the show.
"We are excited to be launching in the UK, an important market for us, where there is a strong appetite for tasty, healthy and sustainable products," said Barri. "Plant-based produce isn't just for vegetarians and vegans, so it is a growing category. We look forward to more people being able to enjoy our healthy yet nutritious range of food and drink very soon, regardless of their regular diet," he added.