Be it pandemic or the current inflation, there are very few aisles in a store that continue to remain more or less unaffected. The frozen and chilled food section is one such category that promises to be resilient, as it is well positioned to service the change in shopping and consumer behaviour as well as changing tastes, needs and nutritional requirements.
Figures show that over the last two years, frozen has attracted over 400,000 more shoppers. The retail frozen food market is now worth £7.1 billion and has added nearly £850 million worth of sales since 2019- that's value growth of +13.5 percent and volume growth of +9.2 percent. With the total grocery market broadly flat, frozen sales have significantly outperformed the market, indicating that Britons have truly fallen back in love with their freezers.
A 19.8 percent growth rate has been recorded in sales of savoury frozen foods since 2019, with plant-based products up 16.8 percent. Ice cream is the largest single category in frozen, worth £1.3bn to retailers and accounting for 18.6 percent of their overall frozen food sales, which is up from 17.3 percent in 2019. Frozen fish broke through the £1bn barrier in 2020, and 2021's sales represent a 16.4 percent (£141.2 million) gain in just two years.
However, lifestyle changes are driving the sale of meat-free frozen ranges as well. Vegan and vegetarian frozen products have generated a 16.8 percent growth rate since 2019, contributing to a £237.4 million growth in sales of savory foods in the same period.
There has been incredible innovation in the frozen plant-based category, says a recent report by British Frozen Food Federations. It is no surprise that consumers with all kinds of dietary needs and preferences are adding these types of products to their baskets.
Another factor that is and will drive frozen sales is food waste. The majority of shoppers (62 percent) are now influenced in their food and drink purchases by sustainability issues and frozen food, with its proven ability to cut food waste, is perfectly positioned to help, says the report.
Ice Cream and Meals
Ice cream is the undisputed leader in frozen section- no arguments there. And with newer, healthier, vegan and flexible options available in the market, ice cream is no longer just a summer thing.
In convenience, ice cream sales are currently worth £416 million, with handheld multipacks proving to be the strongest category with sales worth £174 million.
Michelle Frost, General Manager at Mars Chocolate Drinks and Treats, recommends retailers to stay well stocked all year round to meet this demand in a mix of formats such as singles, multipacks, and tubs.
"Consumers are seeking a wider choice of vegan and dairy-free products. Nostalgic flavour is another current trend where consumers seek out familiar flavours that bring back good memories," Frost tells Asian Trader, adding that Skittles Stix and Starburst Ice Lolly are prominent in this category.
Skittle Stix is a fruity flavoured ice cream with a secret pearl centre while Starburst Ice Lolly is available for the first time ever in the UK in delicious lime, orange, and strawberry flavoured lolly with jelly base.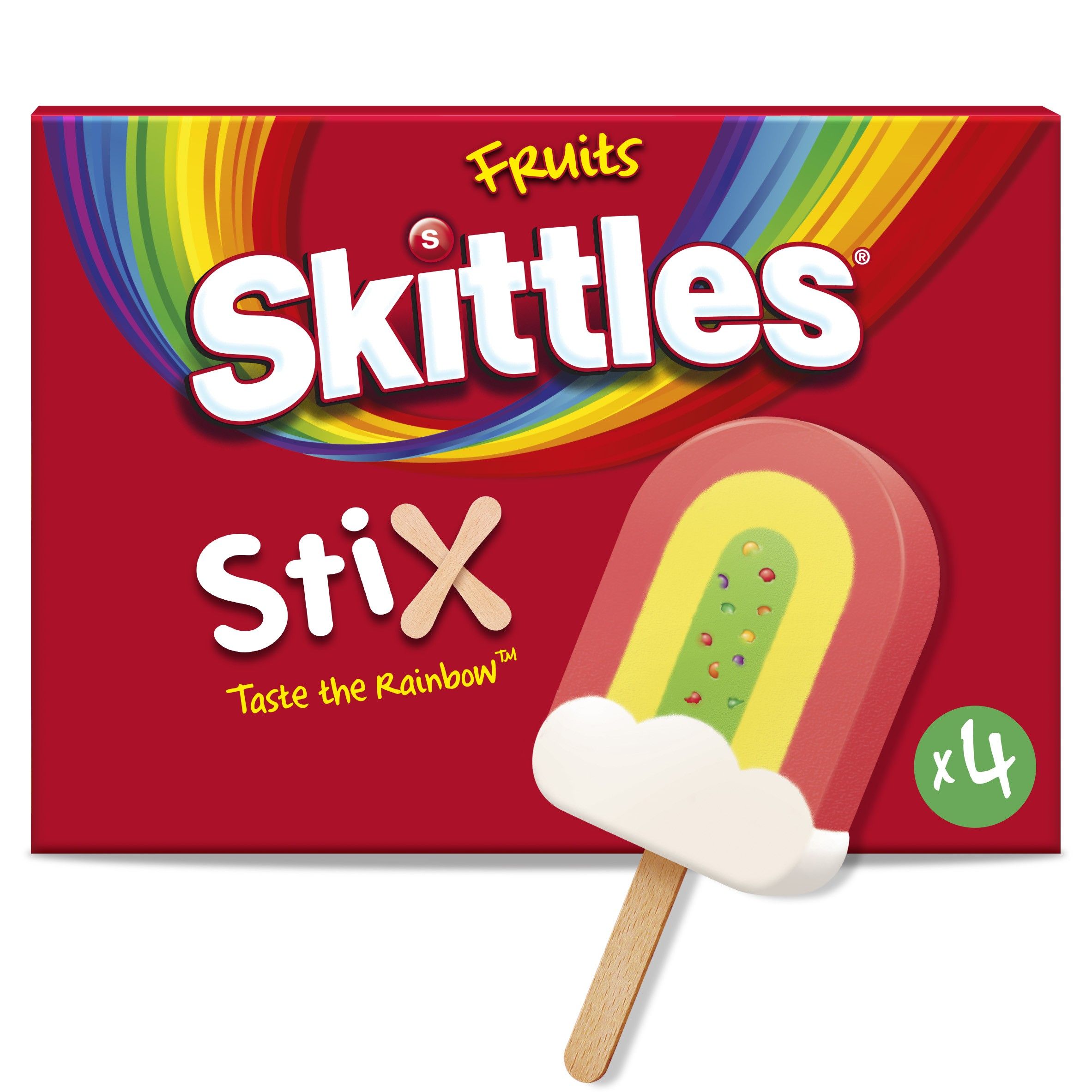 Other top-most selling brands that should be available in stores are Magnum, Ben & Jerry's, Cornetto, Haagen Dazs, Cadbury's, Twister and Solero.
Apart from ice creams, chilled Ready Meals category too holds a major presence in the chiller of convenience stores, meeting demand for hot, tasty and easy meal solutions for every occasion.
"With 91 percent of shoppers buying Chilled Ready Meals and one in three regularly buying branded options, brands such as Rustlers are helping retailers cater to demand for convenient solutions that cater to Food to Go (eat now), Top-up and meal for tonight (eat later) missions," Alex Pickering, Category & Shopper Marketing Controller at Kepak- the home of Rustlers, tells Asian Trader.
Rustlers' Cook in Box range offers a compelling on-the-go hot eat solution which can sit within the FTG fixture as part of offering shoppers strong choice and value.
Stocking Rustlers' Core4 range of best-selling products is an easy way to leverage the key consumption occasions of breakfast and lunch.
Launched in 1999, the Quarter Pounder is Rustlers' another leading product worth over £7.2m within the Impulse Channel, and one of the brands 'Core 4' products – alongside the All-Day Breakfast Muffin, Southern Fried Chicken Sub and BBQ Rib. The latest product to join this range is Rustlers Hotdog.
Another staple in the freezer is pizza. Frozen pizza brand Dr. Oetker Ristorante recently announced the launch of five price marked pack (PMP) variants for retailers in the convenience and independents channel.
The pizzas, which comprise Pepp-Salame, Funghi, Pollo, Mozzarella and Speciale, will all feature the price flash of £3.50 each or two for £5, and launch this month. Dr. Oetker Ristorante already accounts for a third of the total branded thin and crispy pizza sales in the Symbols and Independents channel.
The frozen aisle is still incomplete if it does not have salads and greens. Martin Purdy, Commercial and Marketing Director at Florette UK, too feels that retailers who are overlooking salads are missing out on a major sales opportunity in the chiller.
"The leafy prepared salads market is worth over £600m annually and continues to see big sales uplift. More shoppers are purchasing the category year on year too, with half a million more shoppers than in 2021," Purdy tells Asian Trader.
Florette is taken home in six million households as "shoppers recognise its quality and health credentials when seeking meal solutions", says Purdy, reiterating that by stocking a beacon brand like Florette, retailers are making a statement about their commitment to driving a fresh produce presence into their stores.
Florette recently launched a major on-pack partnership with the world's biggest animated franchise to coincide with the much-anticipated film release 'Minions: The Rise of Gru'. The mischievous, iconic characters are embellishing over 13 million packs of Florette as part of an on-pack promotion until the end of September.
Apart from bestselling cold and fuzzy drinks, retailers should also make space in their chillers for new-age energy drinks as well. C4 Energy is one such product that might entice shoppers to as it is one of the fastest growing energy drink brand with a mission to maximise human potential through high quality science.
C4 Energy Drinks are available in four explosive flavours- Twisted Limeade, Orange Slice, Cosmic Rainbow and Frozen Bombsicle. It contains "BetaPower", and other key ingredients that support explosive energy, alertness, and performance. C4's other offerings are C4 Ripped and C4 Ultimate, apart from popular C4 Original.
Daily Dairy
A focus on leading healthier lifestyles is a major factor that works in the favour of cheese snacks.
Within the cheese market, processed cheese is growing at 2.8 percent, and brands are playing a huge part in this. In fact, Mondelēz International's contribution to the category is growing ahead of the market at four percent.
With an established heritage and a wide portfolio, both Dairylea and Philadelphia are household favourites. Philadelphia's core range has a distinctive creamy taste, meeting the needs of shoppers for more than 100 years, with a whole range of flavours and fat levels, as well as a snacks range.
Dairylea has been an iconic staple since 1950 and is present on "one out of two" families' shopping lists.
"Dairylea's iconic triangles, made with milk and cheese, provide a good source of calcium with no artificial colours, flavours or preservatives. At 33kcals per triangle, this tasty snack is perfect for the shoppers looking for portion control for their families," Susan Nash, Trade Communications Manager at Mondelēz International, told Asian Trader.
Many of the Dairylea snacking products, including the portable format of Dairylea Filled Crackers, moved to under 100kcal in line with its commitment to bring snacks that are typically bought for families under this threshold.
Other than Mondelez, another leader in cheese snacks is Lactalis whose brands- Seriously Spreadable, President, Galbani, and Leerdamer- have been seeing growth in the convenience channel.
Heloise Le Norcy-Trott, Group Marketing Director for Lactalis UK & Ireland, states that snacking is the pushing the value growth of cheese market and interestingly that too, mainly driven by kids snacking products!
"Grated is the second highest contributor to growth driven by Cheddar and Mixes," Norcy-Trott tells Asian Trader, adding that slice comes third growing, mainly driven by sliced mature cheddar and mozzarella.
"There are also signs of premiumisation within Continental and Recipe cheese with Burrata being the second largest contributor to volume growth."
With lives returning to normal, consumers are once again expected to gravitate towards quick and easy to use formats. Leerdammer, which joined the Lactalis Group portfolio in September 2021, is sold mainly in a sliced format. Leerdammer Light, with 52 calories a slice, offers options for those looking for healthier choices.
Apart from cheese, flavoured milks and drinkable yoghurt are other popular products which are sought by adults as well as children.
Ewa Moxham, Head of Marketing- Yoplait, states that as a result of the increase in at-home snacking occasions, the flavoured milk market grew over the course of the pandemic, particularly in terms of spend per shopper and frequency.
In fact, demand for convenient snacks and the increased focus on health have given a major push to yoghurt brand Yop.
"Well-placed to leverage the trend towards 'better-for-you' drinks, Yop is a source of calcium and vitamin D which are important for healthy bone development," Moxham says.
Yoplait's kid range is another interesting product to stock to induce impulse purchase. In fact, Kids' yoghurt drinks are a particularly fast-growing sector since parents are increasingly drawn to the Vitamin D fortification.
Moxham recommends stocking Yoplait's Petits Filous' Mess Free drinkable format comes with a convenient sports cap, meaning kids can enjoy delicious and nutritious yogurt without any spillages.
Mess Free range has been extended with two 'No Added Sugar' options – Raspberry & Apple and Banana & Apricot.
Petits Filous is another offering by Yoplait in kids' yogurts range. Its 'No Added Sugar' variant is made with naturally sourced ingredients and has 4.9g of sugar per 100g, often deemed as bestselling no added sugar product in the market.
Petits Filous recently launched its latest marketing campaign 'Mischief Makes Us', which champions the fact that the iconic French brand name "Petits Filous" translates to 'Little Rascals'. The campaign aims to reframe mischief as a force for good that can help kids go further in life.
Plant-Based
Meat free eating is at an all-time high, with almost 50 percent of the UK population buying into the category – that's more than 28 million households choosing meat free.
"Shoppers have never been more aware of their environmental impact and how their everyday choices can have a positive effect. This has created a sustained interest in meat free diets, whether that's vegetarian, vegan or flexitarian," Gill Riley, Marketing Director at Quorn Foods UK, tells Asian Trader.
Quorn's chilled and frozen products are extremely versatile and provide delicious meat free meals for every mood, making them an accessible choice for the whole family. Quorn expanded its popular frozen vegan Takeaway range earlier this year, with the launch of Sticky BBQ Wings and Sticky Sriracha Wings.
The meat-free leader has also recently expanded its popular chilled deli range with four new premium products- Quorn Yorkshire Ham, Roast Beef, Finely Sliced Ham and Roast Chicken Style Slices, developed to bring even more meat reducers into the category and boost sales.
Stocking a wide range of meat-free products is an effective way of gaining long-term loyal vegan customers.
Quorn's Deli range is already the most popular with loyal meat free shoppers, helping retailers drive chilled sales. These delicious new vegan additions have been developed to drive incremental category growth, appealing to a new flexitarian shopper.
"We're confident that our products are a crucial penetration and frequency driver for retailers and wholesalers and would advise them to stock NPD alongside Quorn's best-known products, such as Mince, Sausages and Pieces, to make the most of meat free sales," adds Riley.
Additionally, one in three Britons now drink plant-based milk, so it becomes essential for a store owner to offer a vegan option as well.
"In recent years, we've seen an increase in families seeking dairy free alternatives, either due to intolerances or simply as a lifestyle choice," Moxham says.
Last year, Yoplait introduced Petits Filous- the first ever plant-based SKU. The almond-based variant comes in the much-loved brand's bestselling raspberry flavour while iconic Apricot core-brand flavour is the newest NPD.
Lactalis too is banking on the popularity of plant-based products through its new launches- Président Brie Bakes and Seriously Cheese Nuggets- which are designed to appeal to non-vegan consumers who are trying to reduce their meat intake.
Plant-based meat alternative brand This has also launched its frozen range that includes a range of hyper-realistic frozen products including Southern Fried Chicken Tenders, Chicken Nuggets and Sausages.
Frozen will flourish
As demand is increasing, especially among Generation Z consumers, frozen food aisle holds a promising avenue for convenience stores.
The rising preference for fresh and natural food products and constant temperature monitoring requirements for frozen food products threatened to hinder the growth of this market to a notable extent at one point in time. However, back-to-back events of the last two years have once again altered consumer buying behaviour in the favour of frozen section.
While Britons being confined to their homes for more than two years and at-home snacking becoming a necessity, frozen snacking items became sought after thing. And now that the world is resuming normalcy, inflation is once again sending shoppers rushing to the freezer cabinets in search of value and quality, continuing the boost of frozen products sale.
Sainsbury's boss Simon Roberts too revealed recently how shoppers are turning to cheaper frozen foods as they watch "every penny and every pound". Customers were changing their behaviour in response to the rising cost of living, making more shopping trips but buying less on each visit.
"There is some evidence of customers shopping [more] to own-brand and also areas like frozen are increasing," Roberts said during a tour of a Sainsbury's store in Richmond, south-west London. To further encourage the trend, the British Frozen Food Federation is launching a food waste-themed campaign to raise awareness among consumers struggling with rising living costs. The BFFF said it hoped the campaign would play an important role in educating younger shoppers about the "the very real benefits of buying frozen" amid hiking bills.
However, higher energy bills now pose a threat to this aisle in terms of cost. Retailers across the country are trying to minimise the number of freezers used as they reel under higher bills and overall higher costs.
To ignite shopper interest and maximize revenues, retailers must find the right merchandising balance of ice-creams, dairy and meals in both plant-based and conventional forms. With the rise in popularity of vegan eating, it is crucial that a shopper who is interested in plant-based meat alternatives should not leave empty-handed.
The right promotional offers, marketing and informatory signages can work in this section. Signage is particularly critical — perhaps more so than in any other part of the store — because consumers can't always see what's behind the glass.
Keeping a well-stocked chiller with fuzzy and energy drinks is another effective way to drive impulse purchase.
There was a time when frozen foods were considered "not as healthy as fresh alternatives". However, as Britons stockpiled for lockdown and days after, they apparently have fallen head over heels in love with this category, all over again. Innovations are running high in this segment. So is customers' appetite for trying new products and tastes.
It is time retailers too make the best of this wave and cash in some revenue.