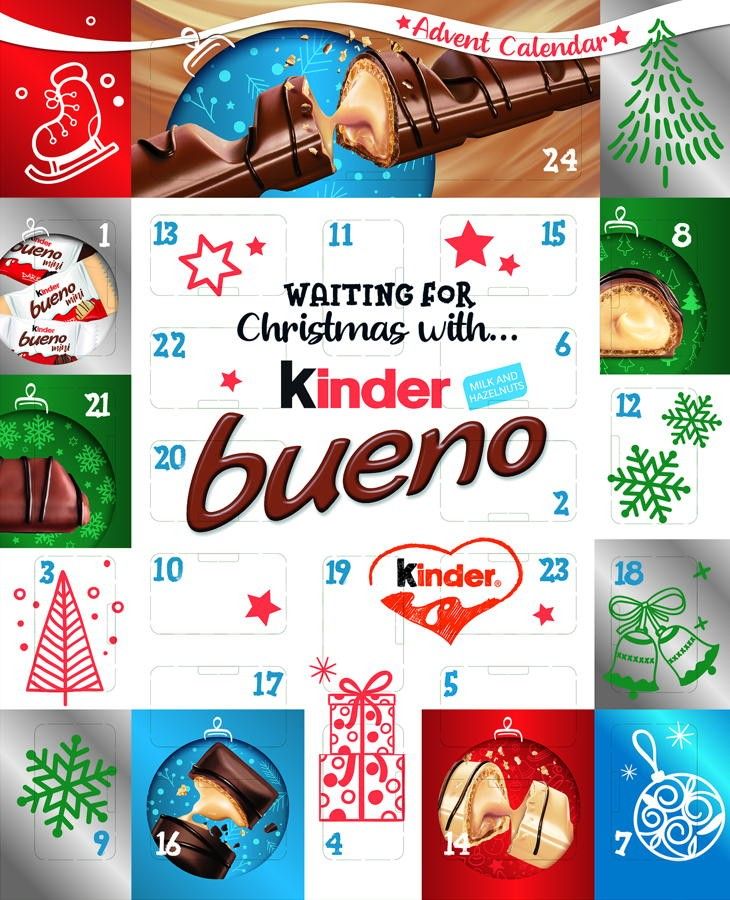 Ferrero has unveiled an array of new products across its chocolate confectionery brands ahead of the Christmas season.
The range includes refreshed novelty figures and advent calendars, in addition to entering new confectionery segments.
While Christmas confectionery experienced a slight decrease last year from the previous year as a result of the pandemic, the gifting occasion still saw increased growth and Ferrero hopes that this year, with restrictions hopefully eased, Christmas celebrations should be able to return and support in driving the seasonal confectionery category as a whole.
"We are all hoping to be able to enjoy a Christmas with our loved ones this year. With the easing of restrictions many of us are eager to celebrate by getting together and this is a promising time for retailers too," Levi Boorer, customer development director at Ferrero, commented.
"We have developed our seasonal range across Kinder, Ferrero Rocher and Thorntons to provide both individual treats and sharing formats to meet shopper demand for all occasions. Although our core range may be available all year round, our Ferrero Rocher and Thorntons range make great gifts during seasonal occasions.
"We've also recently rolled out our new Ferrero Rocher Chocolate Bars and Thorntons Pearls, which will give shoppers even more choice within the premium chocolate segment when it comes to me-time moments and sharing with friends and family."
Ferrero Rocher
This year, Ferrero is expanding its Grand Rocher range with Grand Rocher Dark 125g– available in grocery and convenience. Featuring a thick, hollow dark chocolate shell with hazelnut pieces, the product will have an RRP of £5.00. Capitalising on the much-loved brand, the large format is ideal for gifting and sharing, with the launch supported by POS and digital assets.
Christmas is a golden opportunity for boxed chocolate and Ferrero Rocher. Last year the pralines segment saw strong Christmas performance with significant growth coming from the Rocher brand.  The Ferrero Rocher 300g is the perfect gift. Having had huge success last Christmas, the product is the number one in classic boxed chocolate with growth of 31 per cent and adding £5 million to the range.
Thorntons
The Thorntons moulded figures range will be relaunched for Christmas 2021, with a new Cheeky Reindeer and Cheeky Elf 90g. The figures will liven up the popular Christmas stocking occasion and provide a premium treat for families.
Last year, the Thorntons brand saw great success as gifting occasions were popular in the absence of being able to see loved ones. During 2020, the Thorntons Continental range generated a sales value of £14m RSV whilst the Thorntons Classics rangeis currently in growth of 21 per cent, worth £27.8m in value sales.
Kinder
To support retailers in offering shoppers more choice and driving excitement in the lead up to Christmas day, Ferrero is launching a 167g Kinder Bueno Advent Calendar. Rolling out from September, the calendar will include 8x classic, 7x white, 7x dark mini Kinder Buenos with door 24 hiding a full classic Kinder Bueno. With an RRP of £7, the advent calendar will increase relevance of the Kinder brand during this peak season for chocolate confectionery.
The Kinder brand is also undergoing a refresh of its Christmas artwork on all Kinder seasonal packs. This modern look and feel will create standout on shelf and encourage purchase amongst shoppers.
Last year, Kinder stocking fillers – 110g Santa Hollow Figures, 75g Santa surprise and 100g Kinder Egg – had strong value sales of £2.7m as shoppers celebrated the festive season by picking up a range of smaller treats that can either be great stocking fillers or simple self-treats.
Christmas confectionery launches for 2021
Ferrero Grand Rocher Dark 125g RRP: £5
Thorntons Cheeky Reindeer 90g RRP: £2.50
Thorntons Cheeky Elf 90g RRP: £2.50
Kinder Bueno Advent Calendar 167g RRP: £7
Santa Hollow Figures 110g RRP: £2.50
Santa surprise 75g RRP: £3.03
Kinder Egg 100g RRP: £6.35