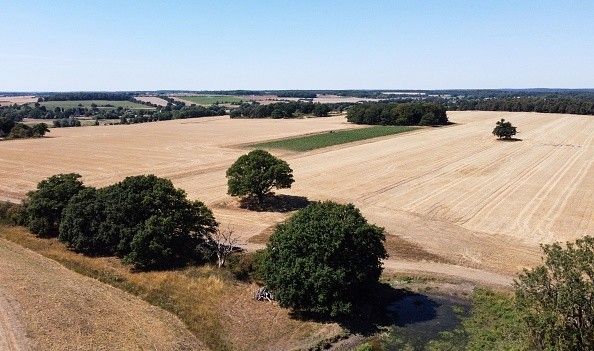 Harvest in England is expected to be hampered this year owing to ongoing drought conditions, leading to the fear of availability of fresh produce in the coming months.
Experts have warned of widespread crop failures across England, as charities and farmers criticised water companies for dithering over hosepipe bans despite drought being declared across much of the country.
The Environment Agency on Friday (12) classified eight of the 14 areas of England as being in a drought. Despite this, water companies, including Anglian Water, Southern Water and South West Water have not brought in hosepipe bans. Thames Water said it does not plan to expedite a hosepipe ban expected next week, reports said.
Leaked documents seen by The Guardian from a meeting of the National Drought Group show concerning figures about the state of farming in England.
The group was told "irrigation options are diminishing with reservoirs being emptied fast", and losses of 10-50 percent are expected for crops including carrots, onions, sugar beet, apples and hops. Milk production is also down nationally because of a lack of food for cows, and wildfires are putting large areas of farmland at risk.
Half of the potato crop is expected to fail as it cannot be irrigated, and even crops that are usually drought-tolerant, such as maize, have been failing. One of the driest areas is East Anglia, which is also home to much of England's farming, including more than two-thirds of its sugar beet crop and a third of its potato crop.
Criticising Anglian Water's move of ruling out a hosepipe ban for this summer,  Tom Bradshaw, the deputy president of the National Farmers' Union (NFU), said that " we havemembers who can't abstract irrigation water but still in East Anglia there is no hosepipe ban. We can't believe that we aren't allowed to irrigate to grow the fruit and vegetables the country needs but there is no ban on excessive consumer use."
He suggested the government should be intervening to make sure that water companies did their part to mitigate the drought. "Defra ministers need to prioritise food production. Feeding people is critically important."