Increase in National Minimum Wages is having a "detrimental effect" and "negative impact on profitability" of convenience stores at a time when they are already reeling under increased cost of food, fuel and energy.
As per the new directions, National Living Wage for over-23 is now £8.91 to £9.50 an hour. This increase in the minimum wages to UK workers came into force on April 1, benefiting about two million people. 
The increase in minimum wage tends to touch upon the lives of store workers as well. As per Statista, convenience stores provide around 392,000 jobs as of 2021.
The new rates, which were announced in October, came just in time as household budgets were facing mounting pressure because of the soaring cost of living. 
However, the increase has put extra pressure on convenience store owners who were already facing a reduction in footfall as well as basket size and average spend due to constantly increasing prices and spiking energy bills.
London retailer Pete Patel is resorting to working smartly and cutting down as many extra hours as possible. He has five convenience stores, all under Costcutter fascia, in addition to a Bargain Booze outlet.
"The increase in minimum wage has obviously had a negative effect on my profitability. We are also now looking at how we can get the staff to work smarter, so we don't need as many hours," Patel told Asian Trader.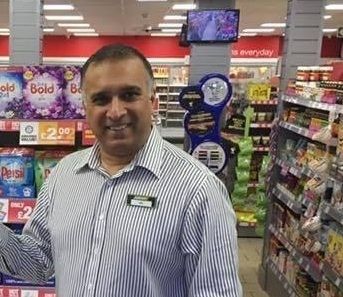 South Lanarkshire-based retailer Mo Razzaq echoed similar sentiment when he revealed how this recent increase in minimum wage has only added to a slew of expense pressure.
"We already had inflation. We also were facing an increase in electric and gas bills. Not to forget a massive increase in petrol and diesel prices. Now this increase in minimum wages is having a detrimental effect on our business," Razzaq told Asian Trader.
Inflating Yet Shrinking
According to the Lumina Intelligence UK Convenience Market Report 2021, the sector grew by 6.3 percent in 2020, pushing its value up to £43.1 billion.
However, the cost of living crisis is affecting stores as well. Shoppers are choosing discounters over local stores to seek cheapest possible prices and discounts. 
The cost of food and fuel in the country has risen sharply, with inflation reaching 9 percent in April — the highest in 40 years. The same month, annual energy bills jumped by 54 percent, amounting to an extra 700 pounds a year on average for each household. Another energy price hike is expected in October, as Russia's war in Ukraine and rebounding demand after the pandemic push oil and natural gas prices higher.
The prospects for the coming months remain gloomy. Experts have predicted that price rise, exacerbated by the Russia-Ukraine conflict, will have long lasting effects, spilling to next year as well.
A recent report from the International Monetary Fund said the U.K. is expected to be the slowest-growing economy out of the Group of Seven leading democracies in 2023 as the war sets back the global economic recovery from the pandemic.
Before the minimum wage was introduced, there were concerns that it would cost jobs, because business owners would compensate for their higher wage expenses by hiring fewer people. Some argued that increases in minimum wage put pressure on businesses and will increase unemployment as businesses seek to protect their bottom line.
This year, the concern is seemingly turning out to be partly true. Although there is no data or evidence to claim that there is an overall loss of jobs linked to the minimum wage, the latest increase in the minimum limit is having its own subtle ripple effects. 
Like in cases of small and medium convenience stores, owners are refraining to hire more staff even if there is a requirement. Retailers, to cut down expenses and maintain the profitability of their businesses, are now making extra effort to manage with the present staff and making sure not to expand their workforce.
Patel, who has stores in Brockley, Derbyshire and Brentwood, Essex, informed how he is trying to keep minimum-possible staff though he also does not want to reduce the  strength further knowing it will damage the whole system.
"Since we are trying to keep minimum staff, we are running on a tight shift. I don't want to reduce staff even if I want (to cut down the cost) because then that will just reduce the customer service level and other stuff," he said.
"Since the overall cost is shooting up, we have to be a lot more careful, especially during people's holidays and other stuff. All we are trying is not to put extra staff as it will put extreme pressure and leave me robbed of profit margin," he said.
The average salary for grocery store jobs is £31,787, with highest pay seen in Central London and lowest in Stoke-on-Trent.
Traditionally, the retail industry has its own way of responding to wage increases, mainly among which are improving workers' efficiency, investment in technology to automate low-skilled jobs and hiring more under 23s. 
This year's 6.6 percent increase is hurting the retailers more than before.
Like Patel, retailer Razzaq too is rationing strictly on working hours so as to cut down as much extra expense as possible.
"Right now, I am concentrating on managing my workforce efficiently and trying to cut down extra hours," he said.
Razzaq too claimed that despite struggling with this recent increase in staff wages, he has still not cut down his work force.
He also informed that apart from this aspect, he is working on cutting costs on everything else as well to "tighten the business as much as possible without having a service setback on customers".
A recent survey by NerdWallet claims that 73 percent consider issues with staff retention a threat to their organisation. 70 percent of small and medium business leaders stated that difficulties in recruiting new employees pose a major threat to their business. More than one in four (26 percent) consider recruitment issues to pose a major threat to their business, says the report.
Contrarily, both Patel and Razzaq denied facing any workforce availability issue at the moment. Their core issue remains to cut down expenses and be more efficient when it comes to maximum utilisation of their resources.
Although present in every segment and industry, it is retail, care and hospitality sectors that account for a large number of minimum wage jobs. The new guidance is supposed to cover everyone including part-time workers, casual, agency workers, piecemeal workers, apprentices, trainees, workers on probation, disabled workers, agricultural workers, foreign workers, seafarers or offshore workers.
Higher Prices, Lower Profits
Increase in wages may be impacting small and medium businesses in these decades-high inflationary times but the move seems to have done its bit in uplifting low-paid workers as well.
According to a new analysis from the Resolution Foundation published last week, the share of low-paid workers in the UK has hit a record low and is on track to be "eliminated" by 2024. 
The report found that the introduction and elevation of the minimum wage has helped to reduce low pay this year to a joint record low of 13 percent in 2021.
However, the number of low-earning self-employed has gone up, says the report.
Separate data from the ONS showed average wages continued to fall behind the rate of inflation. Earnings in March shot up by 9.9 percent on the year, regular earnings excluding bonuses fell by 1.9 percent  although wages excluding bonuses jumped 4.2 percent in the first quarter. 
The figures suggest that the latest 6.6 percent increase in the national living wage will not do as much as ministers had intended. New minimum wage rates are proposed each year by the Low Pay Commission. There is an explicit government target for the National Living Wage – two-thirds of the national median wage by 2024, conditional on wider economic conditions. 
However, average wage growth, despite being accelerated, is still failing to keep pace with inflation.
According to a last year's survey, 21-23 percent of retail firms said they had responded to past minimum wage increases by raising their prices. 
As stores may not have the ability to reduce profits, it seems likely that they will respond to the minimum wage increase by adjusting their prices and figuring out further the best possible ways to make their workers more productive.