Leading ingredients experts Eurostar Commodities has teamed up with author, chef, and master of Indian cookery, Anjula Devi, to show people how easy and healthy it is to cook with gluten free flour. With a series of delicious, high-quality recipes Anjula is asking people to make the switch to gluten free during National Curry Week (4th – 10th October 2021).
Anjula will be creating a series of recipes for people to create delicious gluten free foods at home and running an Instagram Live cooking tutorial on Wednesday 6th October 2021. She will be using Eurostar Commodities gluten free flours to produce gluten-free Roti (chapati), and gluten-free paratha. She is expected to reveal additional recipes of gluten free Paratha Aloo, gluten free Nan Bread and gluten free plain paratha.
Eurostar Commodities Gluten Free 'White' Chapati Flour has been award a 1-star gold award in the 2021 Great Taste Awards.
Jason Bull, MD, Eurostar Commodities says; "We love Anjula's food, and we love her style. There could be no better person to bring to life gluten free cooking in the way she does. We have many similarities and have a joint mission to revolutionise the way that people cook and eat gluten free chapati and roti."
"We are going to set the standard for quality in gluten free cooking with breads that taste as good as or better than wheat-based alternatives, but have significant health benefits for coeliacs, those who need a gluten free diet, and for people who just want a lighter, more digestible alternative," Bull said.
Anjula Devi commented that "I don't think I could be more excited about a product than I am about Eurostar Commodities Gluten Free Chapati Flour. It is the best chapati atta that I have used in the market."
"It is workable, flexible and easily performs as well the traditional atta. I really believe that this is going to change people's lives and allow them to eat food that has previously not been on the menu. Please join me as we look at the very best ways to use this flour and make outstanding Asian breads," Devi said.
Anjula Devi has written two cookery books including best-selling, Spice for Life. She is most famous for her passion for nutritious and healthy Indian food. She has taught at cookery schools and events all over the world and her demonstrations showcase the best techniques, equipment, hints and tips to perfect your Indian cooking skills.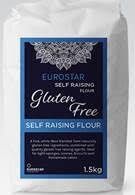 Anjula will showcase Eurostar Commodities Gluten Free Clean Label Chapati Flours. A great alternative to traditional flour, this flour produces a workable dough that makes high quality, tasty chapati, still with softness and flexibility, giving great results. High in Fibre. Gluten Free, Coeliac and Vegan friendly. Developed specially to produce outstanding chapatis! To support the campaign Eurostar Commodities are offering 25% off Gluten Free chapati flour from 24th September to the 10th October 2021.
Anjula will also work with Gluten Free Self-Raising Flour. This is a fine, white flour blended from naturally gluten free ingredients, combined with quality gluten free raising agents. Ideal for light sponges, scones, biscuits and homemade cakes. All products are 100% gluten and allergen free, packed in a gluten and allergen free factory. Eurostar Commodities has significantly invested in clean-label production facilities at its Yorkshire headquarters. The new state-of-the-art facility houses a dedicated allergen-free and clean-label production plant to supply volume to UK industry and represents a considerable investment of more than £600,000.