You could say the energy drinks market has gone from old four-star to super unleaded, if the statistics are anything to go by. Ordinary fuel will no longer do for a lockdown nation, and something like nitro is demanded on the menu!
That's an exaggeration, of course, but Bestway Wholesale's Trading Director, Kenton Burchell, has noticed that the category, while in growth, is shifting in a certain direction. "Functional energy is driving the growth +14.26 per cent overall with brands like Red Bull, Monster and Relentless etc.," he says,"whereas refreshment energy is in decline (brands like Lucozade etc.) Consumers are opting for energy with function at this time. New Product Development (NPD) and new flavours, core and multipacks are all driving significant growth in this category."
We can speculate on why this might be, but even if lockdown is stimulating an appetite for stronger and more impulsive brews to get us up off the couch, it is surely only an acceleration of a trend that had been developing for some time now: that of a growing distinction between soft drinks (leisure drinks, if you like), and the technical side of the fridge, where functional and protein sits revving away.
A Lucozade brand such as Revive, for example, while certainly an excellent mid-afternoon pick-me-up, with the benefit of Stevia as a sweetener, is not packed with the Tasmanian-Devil ingredients that the more serious energy drinks contain, and makes no claims in that direction.
At the same time, producers such as Barr Soft Drinks have decided to enter the evolving energy drinks market with power-packed versions of their existing brands, so that we now have Rubicon Raw and IRN BRU Energy reaching the shelves.
And so the market splits and starts to widen, to differentiate. And splitting one market into two is always good because it means (altogether now) … incremental sales!
"Energy is a fast-growing part of the soft drinks market, delivering the highest profit per litre, with over 1 in 3 soft drinks sold in convenience stores being an Energy drink," says Adrian Troy, Barr Soft Drinks' Marketing Director, who sees how splitting a brand into into energy and leisure versions can clearly boost sales (excuse the pun) – according to IRI Total Market Place, Energy is now worth a whopping worth £1.4bn annually.
"The Energy category has always been driven by people's needs and there are currently big sections of society that are busier than ever before," Troy notes – and indeed, half the country has been working harder than ever over the past year supplying the other half stuck indoors."We may have lost the busy morning commute, which has always been a hotspot for Energy consumption, but it's been replaced by the pressure of lockdown, juggling childcare and the need to catch up on work late into the evenings which creates the need to feel alert and awake throughout the day."
In that sense it looks like a great summer coming up for Energy whatever happens as the category begins to achieve real maturity and identity in the channel, and certain Energy brands even begin "reverse takeovers" into the soft drinks area, as Boost has recently done in its partnership with Hall & Woodhouse to secure exclusive distribution rights for the Rio brand.
Boost Drinks was established in 2001 and has grown to become a significant player within the UK sports and energy drink market. The brand is now the third biggest in Energy Stimulation, 2nd biggest brand in sport and is already the 3rd fastest selling iced coffee drink since its 2020 launch, says Simon Gray, Founder and CEO. "Boost's growth is driven by its strategy to focus on the independent convenience channel," he explains."It is recognised throughout the industry for its knowledge of the channel and its track record for delivering a portfolio that is tailored to the needs of retailers and consumers."
That Boost is now aligned with Rio, from a 243-year old Dorset-based brewer (and one of the top 10 soft drink fruit carbonates brands in the UK, supplying over 1m hectolitres) is testament to the way Energy brands are now seeking a broader identity across categories as they expand.
Stocking up for summer
This developing demand for energy drinks, partly formed by the lockdown, has also had an impact on format (just as it has with soft drinks), such that larger bottles, cans and multipacks are in greater demand at present – and if newly established shopping patterns are "sticky", are likely to remain that way.
"As a result of the pandemic, the energy drinks market has seen a shift away from the usual impulse purchases to larger take-home formats, as energy drinkers have not been on the move as much as before,"says Phil Sanders, Out of Home Commercial Director at Britvic. "Therefore, packs for drinking at home have grown five times faster than singles."
Even if this reverses somewhat after lockdown finally lifts, Sanders does not think it will hurt Energy:"Energy is the fastest growing reason that people are reaching for a soft drink, as over half the population claims to be frequently tired," he says."Shoppers buy energy drinks for a variety of reasons, from caffeine-free 'pick-me-ups', to caffeinated stimulant drinks, which provide a real boost. The latter are particularly key in the growth of the energy category, and account for the number one single-serve drink in convenience."
Zoe Trimble, Head of Lucozade Energy at Suntory Beverage & Food GB&I, says, "We know 60 per cent of shoppers want specific drinks that meet specific occasions, and that 64 per cent of consumers would buy a larger serve pack if it were available – making our new 1.45L bottles perfectly placed to help retailers meet the increased shopper demand for take-home formats."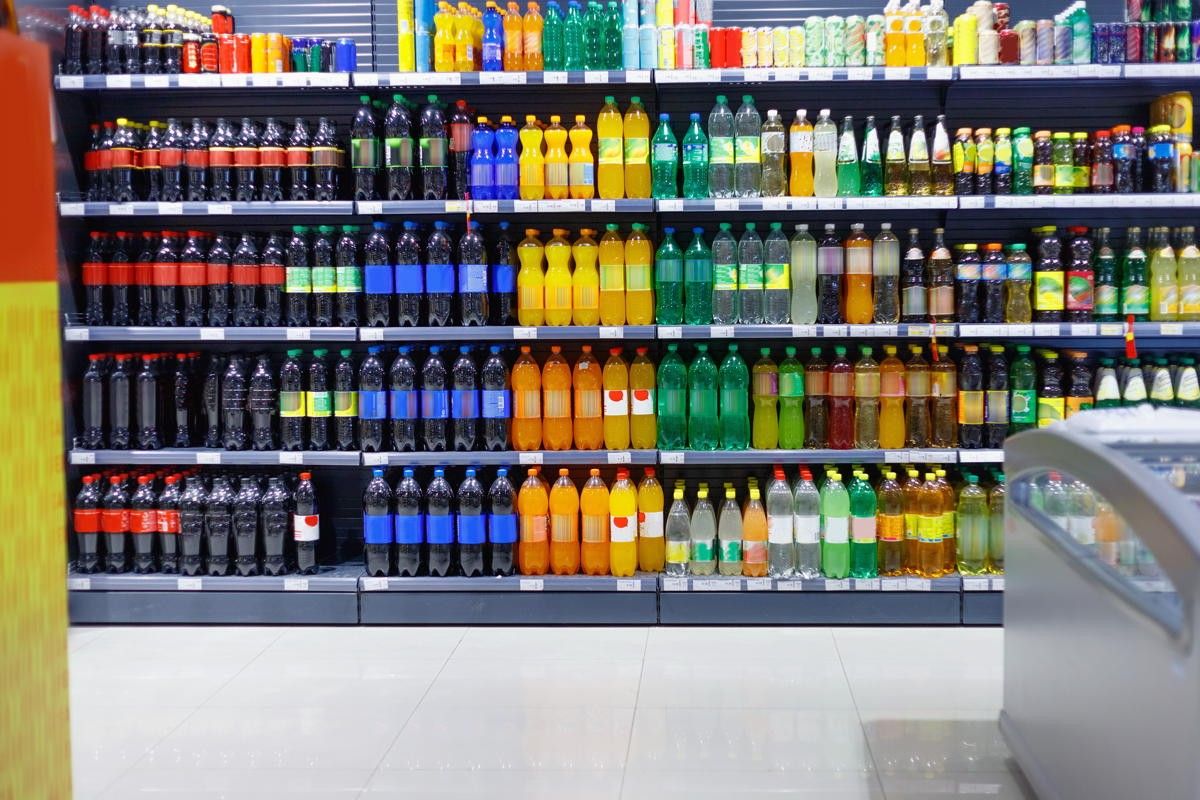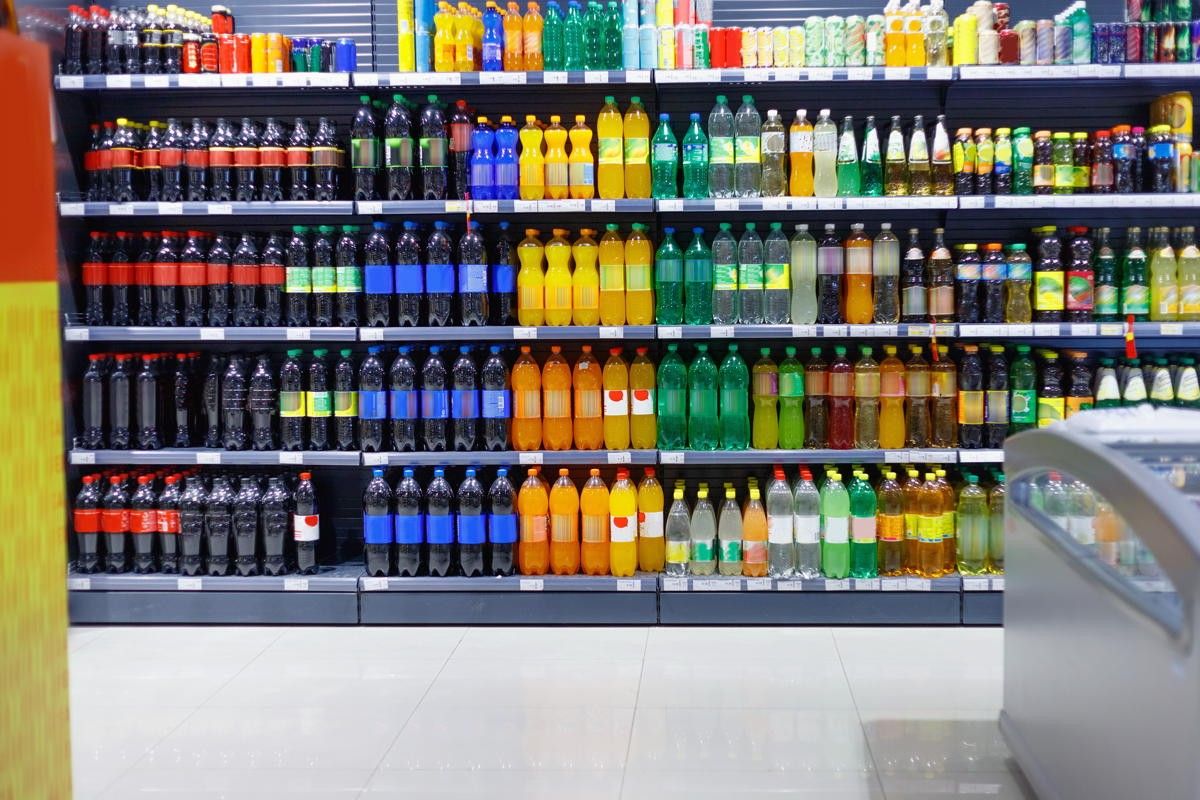 She says that multipacks have added more than £350m to the category since the start of lockdown, with bulk pack sales in carbonates and energy growing by 30 per cent, and multipack can sales growing by 32 per cent .
"By introducing this new 12x330ml cans pack alongside the 1.45L bottle, we are playing a key part in expanding purchase occasions of both new and existing shoppers. Choice is a key driver  for consumers selecting a shop to visit so retailers should offer larger formats and multipack options to help drive footfall in their stores.
"But simply launching our drinks in the format consumers want isn't enough for us. We want to make sure our drinkers hear about these formats through creative advertising too. We're putting just over half a million pounds behind these launches with out-of-home advertising and social media promotion to make them unmissable – in fact, 37 per cent of all adults will have five opportunities to see our marketing," she adds.
Bestway's Burchell says that careful planning is needed for bulk selling: "Retailers can increase space on the shelves aligned to sales and increase additional shopper touch points in store from the likes of Free Standing Display Units (FSDUs), end of aisle displays and additional chilled. Consumers need more energy now than ever and this is why we are seeing the growth coming from bigger cans and multipacks.
Burchell says that retailers should ensure the key need states are covered within Energy by ensuring top performing shelves ranged for core SKUs, flavours, diet and low kcal and multipacks. Making sure that signpost brands have the right amount of space on shelf to increase ease of shop.
But not only large packs will sell: smaller, on-the-go sales are expected to pick up again a year after they fell off a cliff with lockdown.
"People will increasingly have the chance to be on the move towards the summer," says Britvic's Sanders."We expect this will lead to an increase in on-the-go purchases, with fewer people looking to buy big bottles or multipacks as we move out of lockdown. To ensure retailers are prepared accordingly, and can cater for their customers' energy needs, it is important for them to stock well-known brands, such as Rockstar, and also to get them in the right pack format.
The contenders
So what are the plans of the signpost brands for the upcoming season?
"Stimulants are the driving force behind the energy category, and are now worth £1.1bn," says Sanders. "They are also growing ahead of soft drinks overall, accounting for over half of the category's value growth over the last two years."
"The energy market remains buoyant with value growth in all time periods in the latest year, with strong value performance in the latest quarter across independents," agrees Mark Tanner, Head of Independents and Wholesale at Carabao UK&I.
Sanders says that those who drink stimulants are highly loyal shoppers, and they buy energy drinks frequently throughout the yearto boost their energy levels.Yet they are still choosing other drinks for energy 46 per cent of the time, and he argues that stocking a range of different flavours is one way to ensure shoppers engage further.
With some very strong brands available, which ones should you stock for maximum sales this summer season?
Britvic's Rockstar offers an extensive range of flavours (and taste sensations in these sensation-deprived times is everything) for those looking to keep their energy levels up. The brand also offers a variety of ingredients and functional benefits. The core SKUs within the strong Rockstar range are Punched Tropical Guava, XDurance Blueberry, Pomegranate & Acai, Original and Juiced Mango, Orange & Passionfruit. "These represent the must-stocks for retailers and are all available in the popular big can format (500ml), which has proven successful with energy drinkers, seeing +20.1 per cent growth, as well as 500ml 4-can multipacks for take-home purchases," says Sanders.
He says stimulant drinks present a huge and still under-exploited opportunity for retailers, and there is scope to drive further awareness of the brands available, as the addition of new consumers is low (9.6 per cent)."Rockstar has a number of exciting large-scale plans this year to meet the needs of a larger audience of potential energy drinkers, to drive new customers into the category," he promises.
Carabao, like Boost, is a brand dedicated to the convenience channel and has been rewarded with loyalty and success because of it.
Carabao's popularity among gym-goers is driven by its ongoing commitment to football sponsorship – an example of a long-term marketing strategy that has really built a solid identity into the brand.
Well known for its partnership with the EFL via sponsorship of the Carabao Cup, as well as for a partnership with Chelsea FC, Carabao has recently gone north of the border and become the official energy drink sponsor of both Heart of Midlothian and Hibernian FC. Regionalism is a great tactic, especially for a convenience-focussed brand, where the stores are dispersed minutely across the country and in all out-of-the-way places.
"While the demand for healthier energy drinks was already very evident pre COVID, the current pandemic has made shoppers even more conscious of what they consume and the desire to buy lower sugar, healthier drinks has skyrocketed, with 89 per cent of shoppers expressing an aspiration to eat & drink more healthily," says Tanner. This, he adds, is particularly important to note when discussing sports products.There is often a direct correlation between those that make conscious choices on what they consume and those who keep fit.
Tanner explains that Carabao is well placed to capitalise on the need for healthier products, since each of its fruit-flavoured energy drinks containsjust 63 calories per can, (and 60 per cent less sugar than Red Bull.
Carabao is also giving retailers the chance to win pairs of tickets to England Cricket matches this summer. To qualify, retailers simply need to purchase a case of Carabao, take a picture of the cans sitting proudly in their chillers and head to the competition landing page to be entered into the prize draw.
"It promises to be a scintillating summer of sport, with three of the top International cricket teams visiting UK soil, and Carabao is excited to give both independent and forecourt retailers the chance to witness the action," Tanner says (the competition will close on 1 June).
Monster, meanwhile, is the fastest growing energy brand in the country, worth more than £321m and adding £63.5m to its retail value over the last year. Coca-Cola European Partners (CCEP) is energetically supporting the brand as well as launching a whole clutch of new NPD to do battle on the shelves this summer.
But CCEP's Energy profile is not limited to the flagship Monster brand: "The Monster Energy Co. portfolio also includes Relentless, worth nearly £42m, and Reign Total Body Fuel – the biggest performance energy drink in GB, four times bigger than its nearest competitor," says Amy Burgess, Senior Trade Communications Manager.
Reign Total Body Fuel feels like it represents the coming generation of super-technical energy drinks, high performance and highly specialised. "We developed [it] in response to growing demand among 18 to 35 year-olds for drinks that can help them achieve maximum results when they work out, without having to compromise on taste," Burgess says."As well as containing 200mg of naturally-sourced caffeine, the recipe is enriched with branched-chain amino acids (BCAAs) to help prevent protein muscle breakdown, L-Arginine to improve blood flow and stimulate the release of growth hormones, and Vitamins B3, B6 and B12, which can contribute to reducing fatigue and normalising metabolism."
Since launching at the end of 2019, Reign has become the UK's number one performance energy drink, four times bigger than its nearest competitor, says Burgess.
But: "If retailers want their energy fixture to work harder, Monster's the brand to make it happen," she asserts."The success of the range speaks for itself, and we've got a new retailer support initiative to help our customers make the most of the sales opportunity energy drinks represent."
She says that in 2017 the company identified taste as one of the biggest drivers of future growth for the energy sector, so they began to develop exciting and exotic flavours that please fans while also recruiting new consumers.
"We've brought this to life over the past three years with our great-tasting Monster Juiced range, which is now worth £107million and growing by 55 per cent. Mango Loco is the biggest flavoured Monster variant in GB and is worth £32m."
The Coca-Cola Energy range, smaller than Monster but worth £6 million, is designed to appeal to consumers who love Coca-Cola but who are not traditional energy drinkers – bringing new consumers into the energy sector. "Last year we enhanced the recipe to add more of the Coca-Cola flavour that we know consumers love," says Burgess.
"We also added a new cherry-flavoured variant to our Coca-Cola Energy range in 2020, to help retailers capitalise on demand for flavour innovation. The can design is consistent with the rest of the range but comes in striking pink to deliver maximum stand out on the shelf."
She also adds that health is an ever-growing concern and that zero-sugar options are a response to this customer need, even within Energy, where glucose can be successfully substituted with other compounds, as several brands have triumphantly proven.
"Our Monster Ultra range is number one in the zero-sugar energy segment, worth almost £76m and in 19 per cent growth.We are continuing to innovate in the sector and have unveiled another new variant to help retailers further tap into this growing trend."
Burgess reminds us that Coca-Cola Energy is also available in a zero-sugar variant to appeal to consumers who are on the lookout for soft drinks with natural ingredients– caffeine from naturally-derived sources, guarana extracts and B vitamins.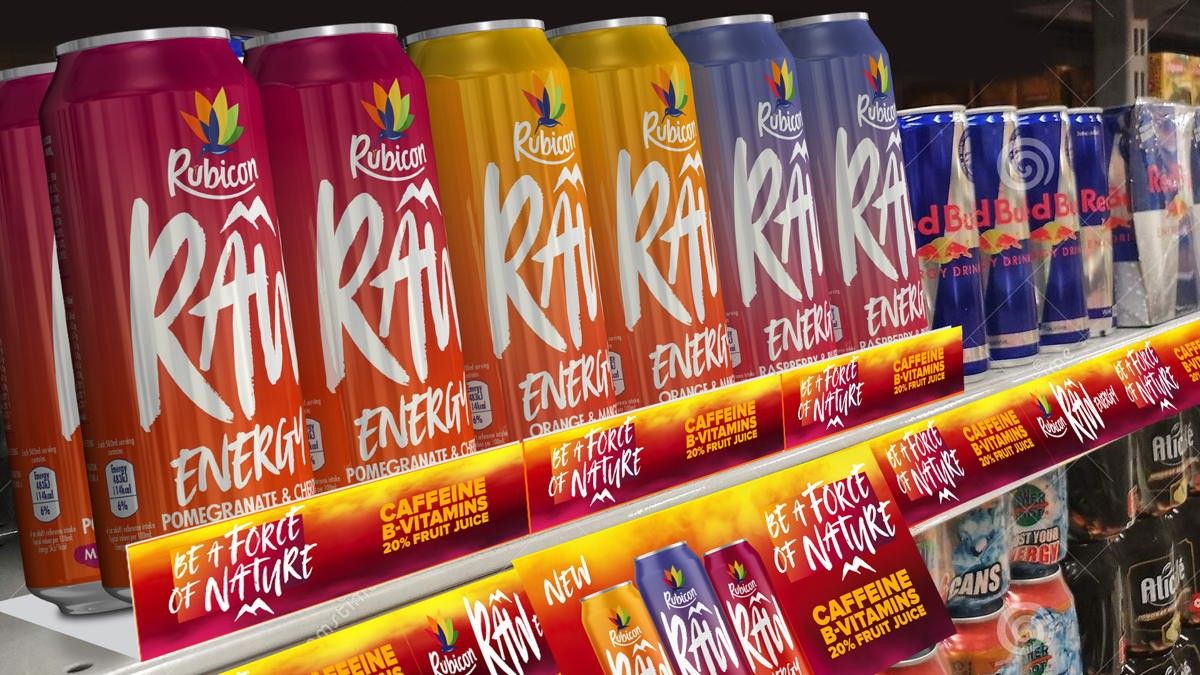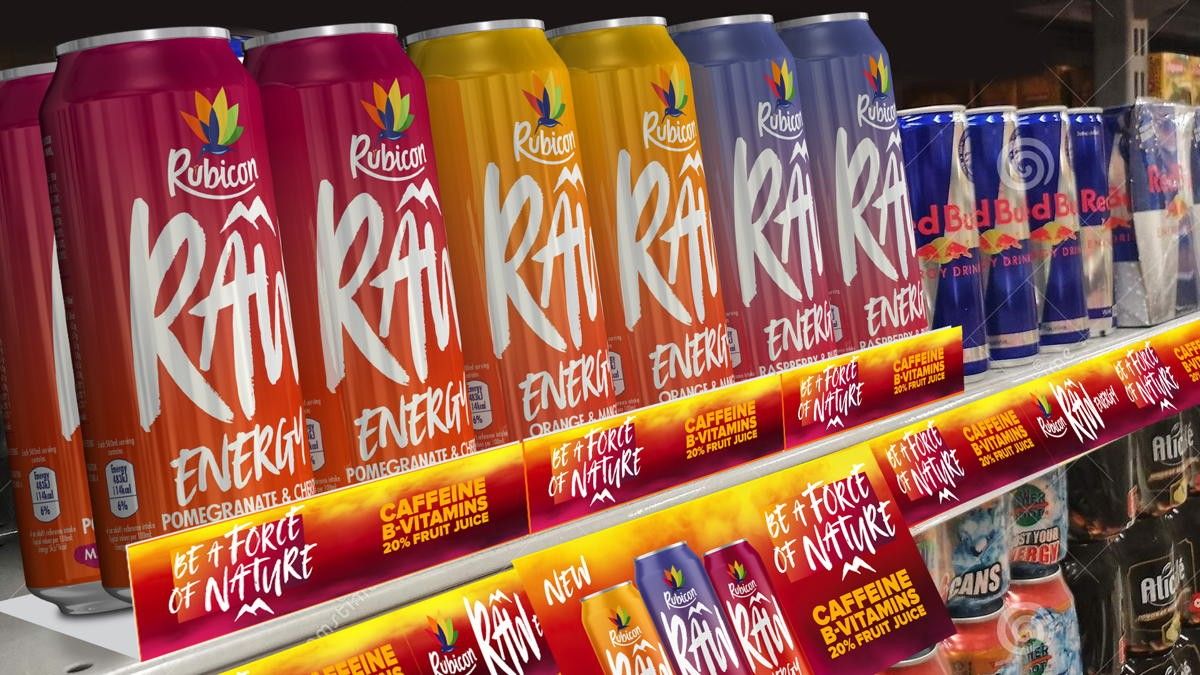 Barr Soft Drinks has entered the Energy Drinks space with aplomb, launching in February their new Big Can Energy drink from Rubicon, Rubicon Raw, which carries on the DNA of the Rubicon brand by containing 20 per cent real fruit juice along with caffeine from green coffee beans, and B-vitamins.
"We have invested heavily throughout the development of Rubicon Raw to understand the Energy consumer better, and what's relevant in their lives today," says Adrian Troy. "The average age of an energy drinker is older than one might think at 31, and their needs are moving on. They are life maximisers, people who want to get the most out of life. Energy drinks fuel that lifestyle.
He says Rubicon Raw ticks all their boxes and has performed exceptionally well in research.
The Rubicon Raw range comprises three variants – Raspberry and Blueberry, Orange and Mango and Cherry and Pomegranate, all with natural flavours and no artificial colours.The launch in February was be supported by a £1.5 million marketing campaign designed to establish provenance in the contested Energy aisle, and the sugar-levy-free 500ml Rubicon Raw range is available in both a plain pack (RSP £1.29) and a £1.29 PMP, with a range of in-store and in-depot POS to signpost the category.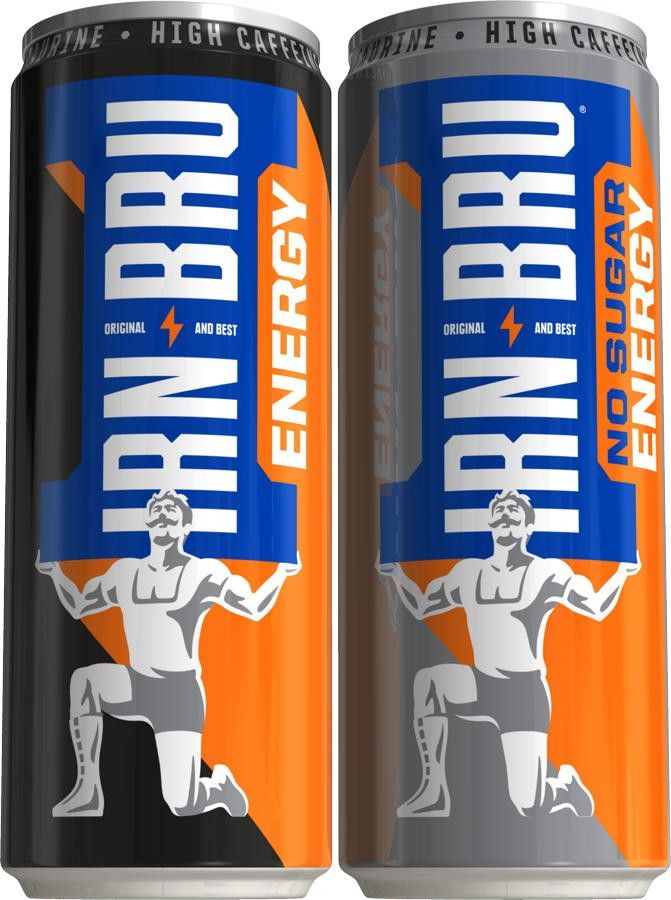 Meanwhile IRN BRU Energy came to market a little earlier, back in pre-pandemic July 2019, and has since successfully established itself, selling over 7.5 million cans to fans of both its sugared and unsugared versions, boasting taurine, caffeine and B vitamins, and retaining of course the classic IRN BRU taste of real Scottish girders.
The ubiquitous Red Bull, one of the originals of the category,  continues to drive growth across the wider market, and embracing changes in shopper behaviour boosted the brand's sales £35.4m vs YTD last year (Nielsen). Reflecting lockdown habits, shoppers are also putting more Red Bull in their bigger baskets, more frequently.
A Red Bull spokesperson said that in the latest six months, Red Bull sold a third more Sugarfree volume through multipacks– with these variants also growing penetration by a quarter(Kantar), underlining the larger pack trend.
"Red Bull Energy Drink 250ml is worth over £135m," continued the spokesperson."We believe this is the perfect pack size for Functional Energy and it fits most consumers' energy needs, containing the same amount of sugar as a glass of apple juice and the same amount of caffeine as a cup of coffee."
Red Bull has also partnered with Bestway Wholesale to create a digital consultancy tool enabling retailers to receive tailored advice on how to maximise soft drinks sales in-store.
The tool is available to stores within England, Wales and Scotland and aims to help retailers remove soft drinks from their chillers that aren't performing as well in the store's local area.
"Red Bull Energy and Monster Energy have been the shining stars so far this year," says Bestway's Burchell, "both in double digit value growth and growing significant share." Something to bear in mind.
Innovative NPD
Great new products are coming thick and fast for the Energy category, and the approaching summer is a perfect time to set them up in the chiller for great sales.
The Lucozade Energy brand from Suntory Beverage & Food GB&I (SBF GB&I)is catering for the rise in in-home drinking occasions with the launch of a brand new 1.45L bottle, price-marked at £2. This new format launch will also be joined by a Lucozade Energy 12x330ml cans pack.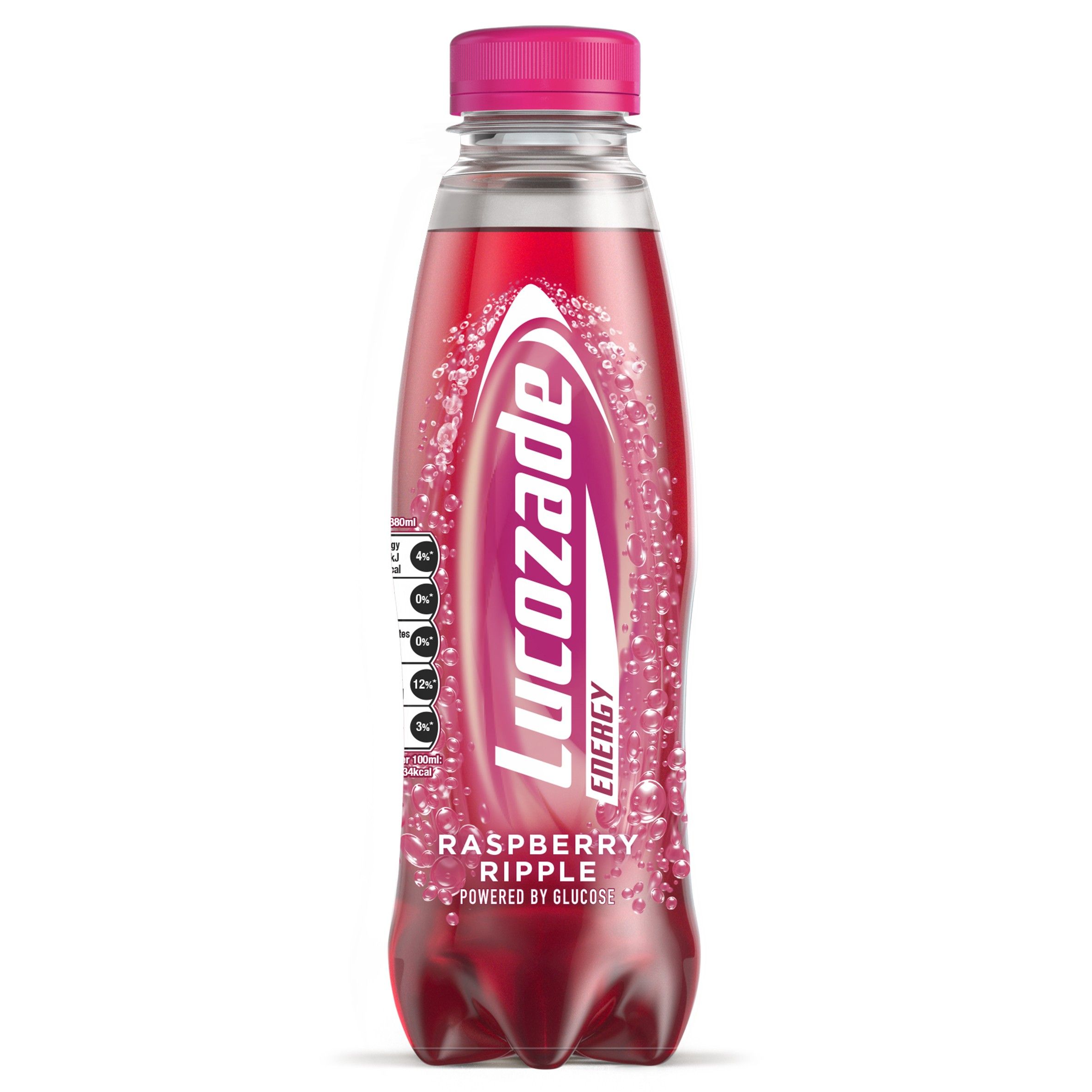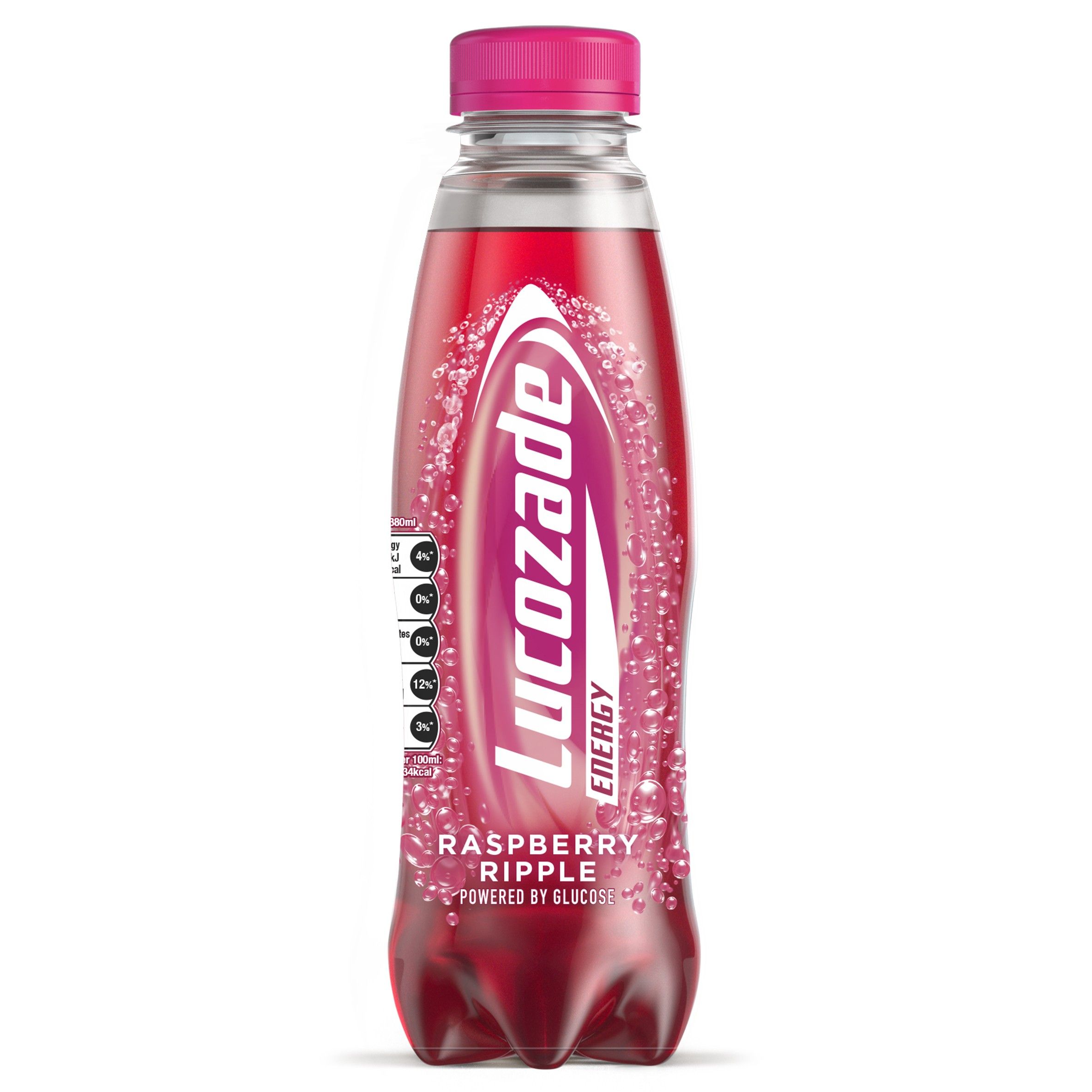 It adding a new stable-mate for its Lucozade Energy Range with a summery Raspberry Ripple, which launched just last month. It is the latest addition to the Lucozade Energy flavours range, which has contributed a significant £60.7m-worth of sales to the energy category. "New flavours are crucial for retailers looking to drive excitement and incremental shoppers to the category, with one in four  flavour shoppers being entirely new to the energy category," says Trimble.
The Lucozade Energy Raspberry Ripple, which is available in a 380ml PMP, will build on the success of Lucozade Energy Citrus Chill, which launched last February to great acclaim and added £1.73m in category sales.
"The Raspberry Ripple name is iconic and nostalgic for British consumers," she says, "and we're confident that the combination of such a great-tasting flavour and the Lucozade Energy brand will be a hit. In fact, in planning for this launch, 63 per cent  of shoppers told us that they would buy a new raspberry flavour if one were available."
Lucozade is proud of its track record with NPD across the Lucozade Energy range – not only the  Citrus Chill but Watermelon & Strawberry Cooler also made a big splash, and now Raspberry Ripple is being strongly supported by a bespoke social media marketing campaign as well as total brand activity throughout the year.
Red Bull's summer season is marked by its (fast-becoming-traditional) limited edition –  available now, and not around for too long. This year the flavour is Cactus Fruit, which has something very summery about it.
It delivers all the functional benefits of Red Bull Energy Drink, along with an invigorating burst of berry "that blooms into an exotic fruit and violet flower taste". Red Bull Editions, as these NPD are known, grew +32.6 per cent in value last year, so stock up on this new flavour fast.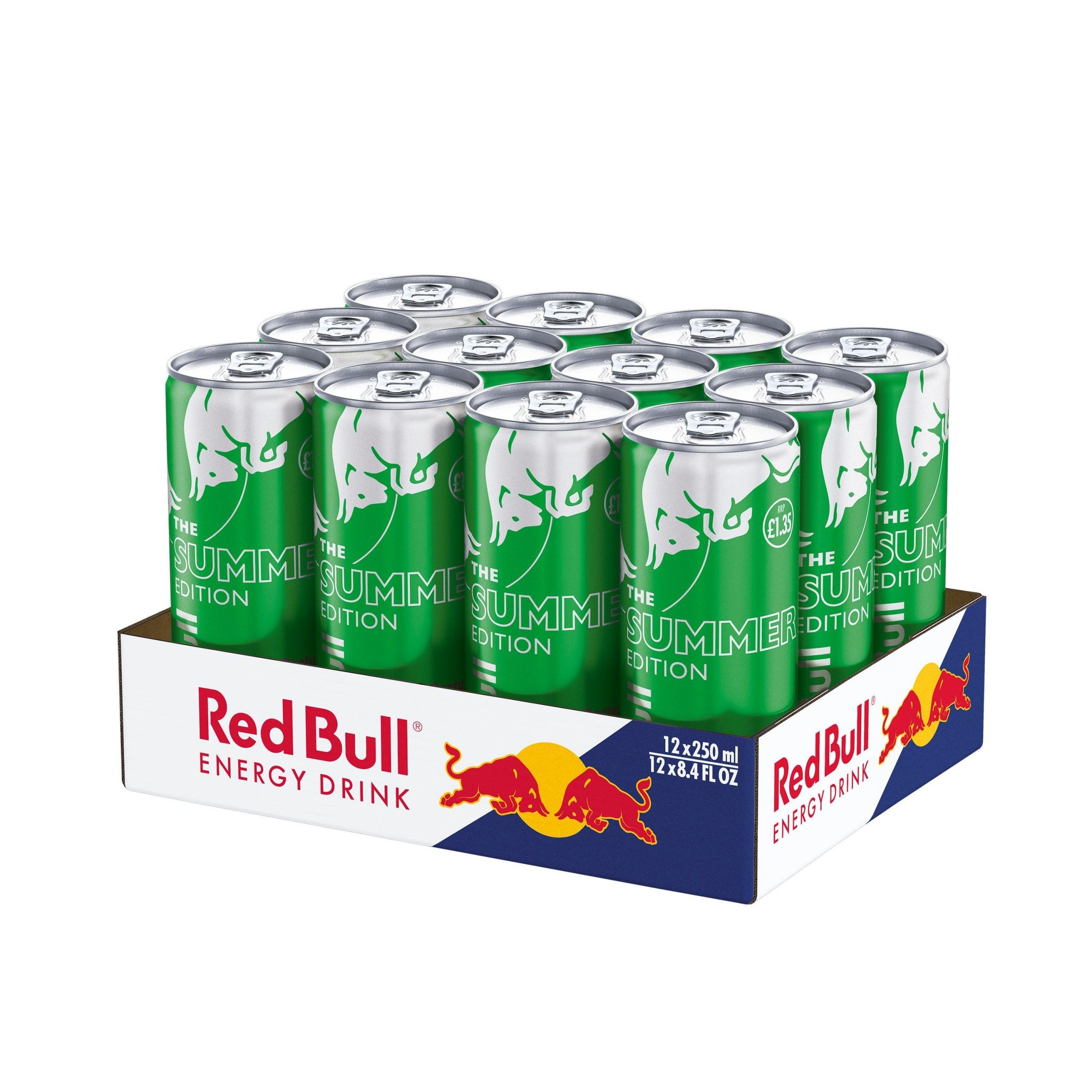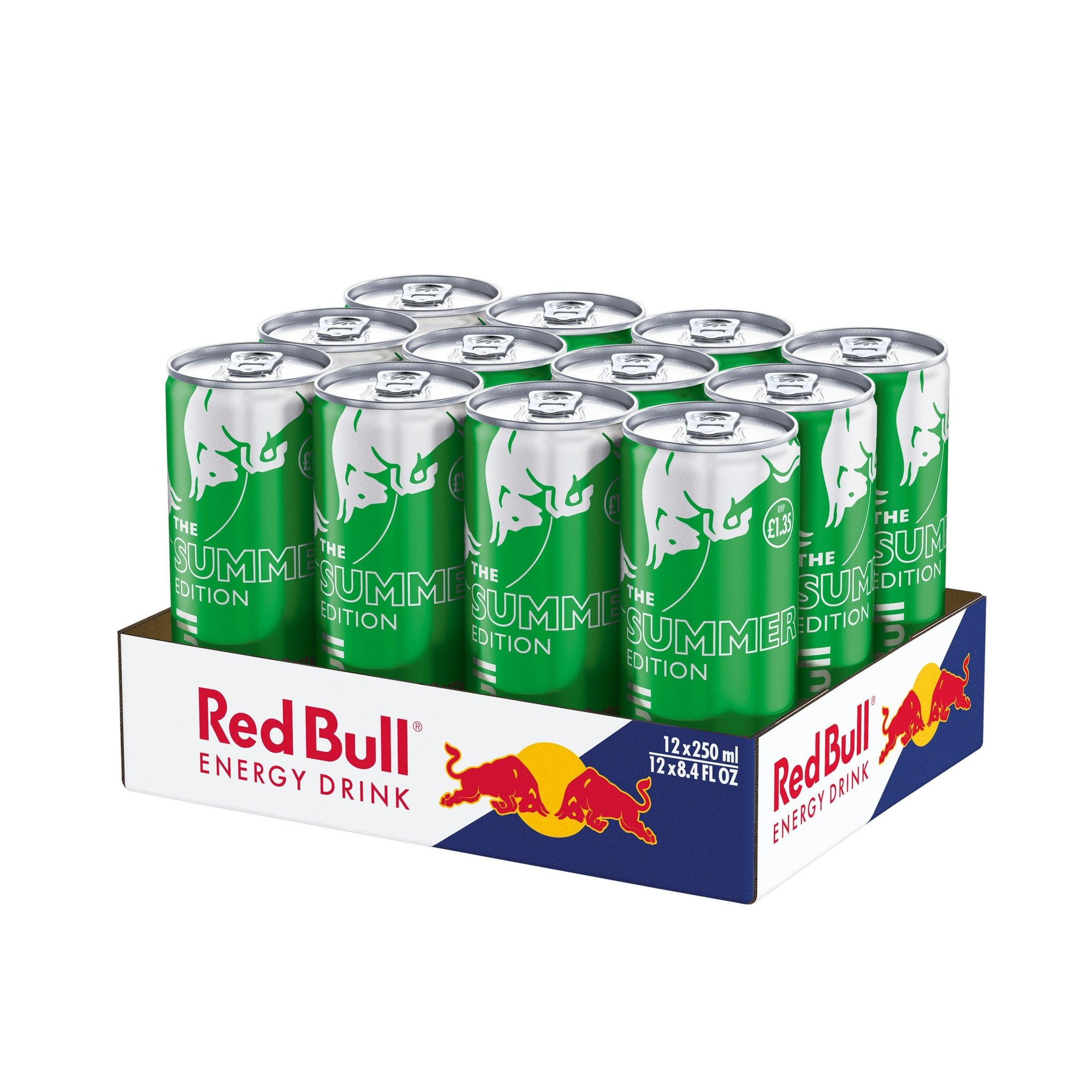 Last year's Red Bull Summer Edition proved so popular with shoppers that it has now become a permanent and known as the Red Edition (250ml PMC – £1.35 per can).
Boost Drinks is also expanding its Energy range with a brand new Mango flavour, set to attract new shoppers to the energy fixture – Mango flavoured drinks seeing an incredible +22 per cent YOY growth (Mango is the new watermelon!).
Boost's founder Simon Gray says it is the only mainstream brand offering this on-trend flavour in a 250ml format in the market, meaning independent retailers can offer an on-trend flavour from a trusted brand, and the 59p PMP cans will be available in depot from 5th April – that's four days ago, so hurry if you don't yet have it!
Gray says the launch demonstrates Boost's legendary support for the independent convenience sector by offering retailers a clear point of difference in their stores over the major multiples.
"The launch of the new SKU aims to attract new shoppers to the energy drinks fixture, with Mango being one of the fastest growing flavour in the category," Gray added, explaining that flavours now contribute 30 per cent of energy stimulation sales, with more than a third of shoppers revealing they make their purchase based on flavours alone.
"To stay ahead of the curve, we continually evaluate consumer and market trends to identify the next exciting flavour to add to our range. We are excited to bring innovation to the category, without compromising on our commitment to independent retailers and the promise of strong cash margins, something Boost is renowned for."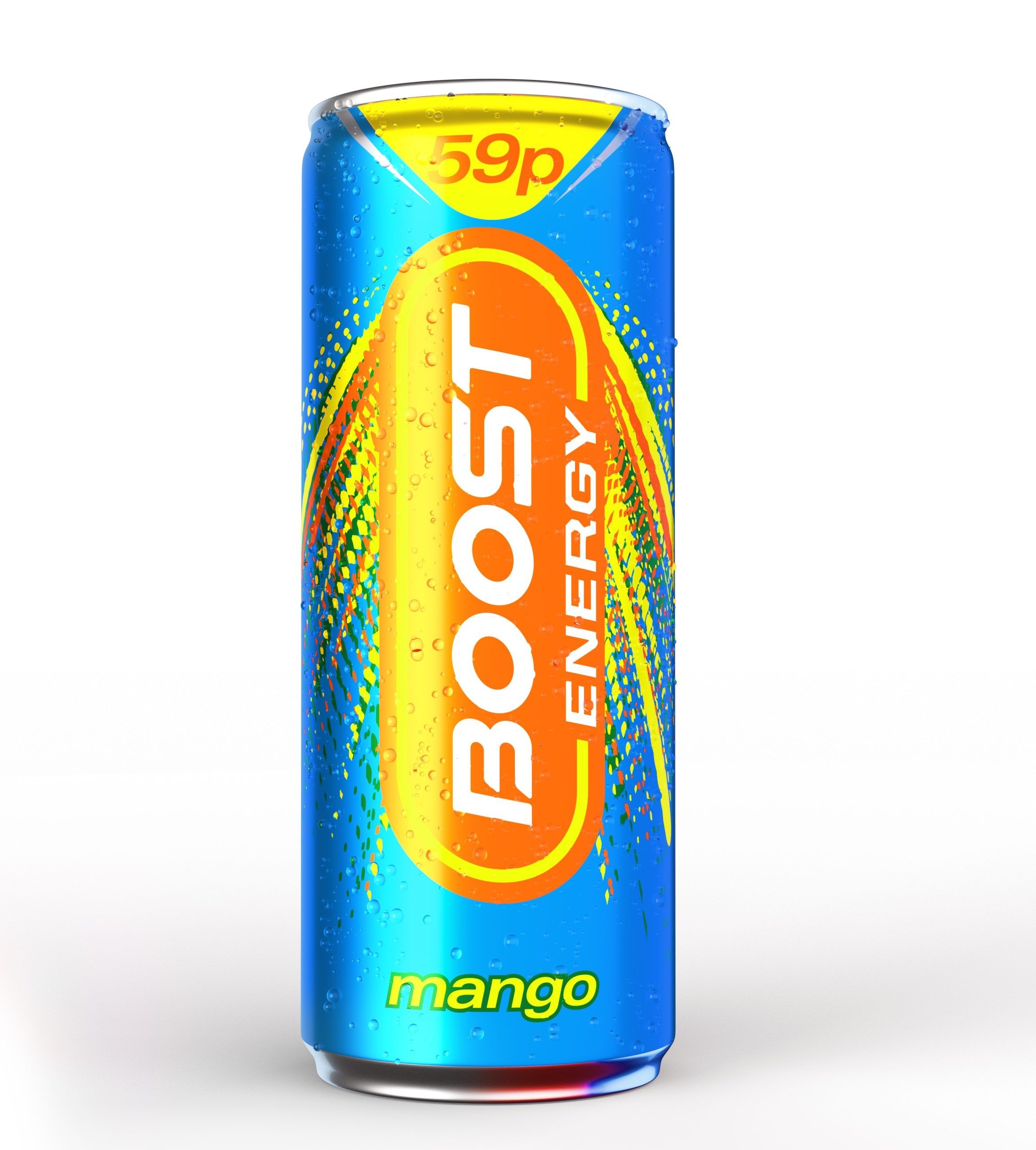 To support the NPD launch and drive buzz and excitement within the category, Boost is activating a comprehensive multi-channel marketing activation plan, targeting both trade and consumer audiences. This will include in-depot support such as sampling, experiential activity and Mango-specific distribution driving activity from May, to help land the product on-shelf. New POS in the form of Shelf Talkers and Wobblers will also be easily accessible via Boost's new website and available free of charge for retailers, with Boost delivering this direct to stores.
Monster's Trio of summer titans comprise the Monster Mule – an Energy twist on the famous Moscow Mule cocktail – in 500ml cans with32mg of caffeine per 100ml,offering a satisfying taste of spicy ginger and a hint of lime; the Monster Ultra Fiesta – juicy mango with the renowned Monster with no calories and no sugar;  and the Monster Juiced Monarch – which is in fact a can with a butterfly on it!
"Bringing together a mix of peach and nectarine, Monster Juiced Monarch combines real fruit juice with Monster's unique energy blend," explains Burgess."Named after the Monarch butterfly, the new variant comes in eye-catching packaging with street culture-inspired butterfly designs.
Burgess says convenience retailers will be able to choose between plain and price-marked 500ml packs of Monster Mule, Monster Ultra Fiesta and Monster Juiced Monarch.
Never before has there been such choice in the Energysector and never before has it appeared such a worthy alternative to the traditional soft drinks category. We can doubtless expect to see many more interesting splits and hybrids very soon, as this fascinating market continues to develop.