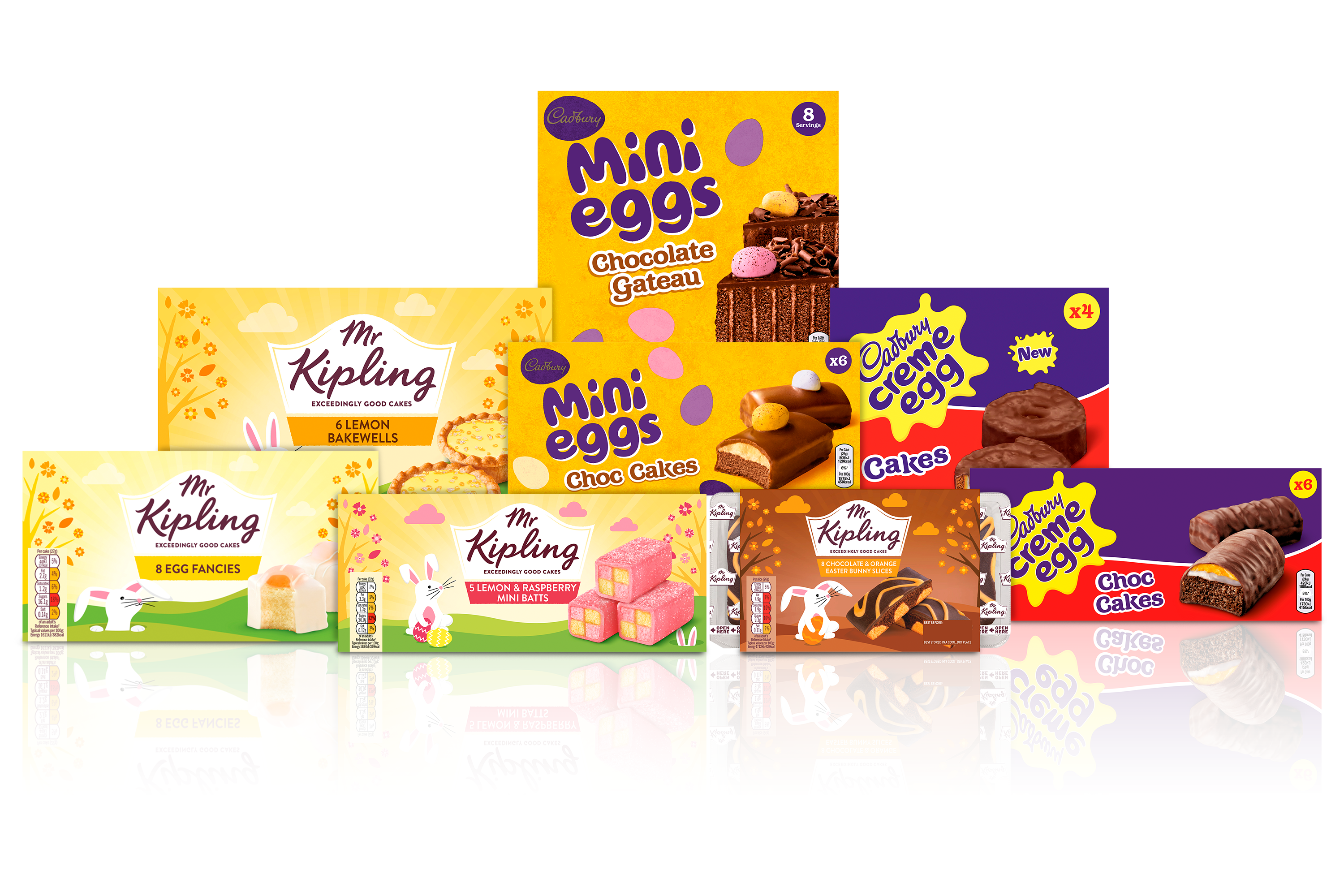 Premier Foods is bouncing into Easter this year with seasonal launches from its popular cake brands. The Mr Kipling and Cadbury Cakes ranges will both see new additions for Easter 2021, after the two brands experienced success over the season earlier this year with £11.1m sales in 2020 and +3.4 per cent share [1].
Cadbury, the number one Easter Cake brand in the UK [2], is continuing the success of its Crème Egg Easter cakes. This builds on the returning Crème Egg two-pack Cupcakes which grew +20 per cent value sales [3] and its new Crème Egg Choc Cakes, which delivered £1.9M RSV [4], becoming an instant favourite with shoppers. The new Crème Egg Chocolate Gateau caters to at-home sharing occasions with family and friends that are popular in the run up to the Easter weekend.
Mr Kipling will also be adding two new products to its Easter line-up with Lemon & Raspberry Mini Batts and Chocolate & Orange Easter Bunny Slices. The Lemon & Raspberry Mini Batts aim to drive excitement with a twist on a traditional cake format, particularly appealing to older shoppers as a special sweet treat at an affordable price. Mr Kipling will also be expanding its Easter novelty cakes with the new Chocolate & Orange Easter Bunny Slices following the success of its novelty Egg Fancies, which grew +179 per cent in 2020 [5] and will return in 2021.
"The new products launching across our two market-leading Easter Cake brands attract a broad audience of shoppers to the category, by offering a variety of flavour combinations and formats," said Mathew Bird, Brand Director of Sweet Treats at Premier Foods. "The impressive results delivered by the Cadbury Crème Egg range in previous years have presented us with an exciting opportunity to further extend this range, taking it to both individual and sharing formats we already know work well for our Mini Egg themed SKUs."
The new products join returning Easter favourites from Premier Foods, like Mr Kipling Lemon Bakewells and Lemon Whirls, as well as Cadbury Mini Egg Nest Cakes and Mini Egg Choc Cakes which are among the bestsellers available in the run up to Easter.
[1] IRI Data, IRI Grocery Outlets, 20 w/e 18 April 2020
[1] Kantar Data 16 w/e to 19th May 2020
[1] IRI Data, IRI Grocery Outlets, 20 w/e 18 April 2020
[1] Kantar Worldpanel, 20 w/e 19 April 2020
[1] IRI Data, IRI Grocery Outlets, 20 w/e 18 April 2020