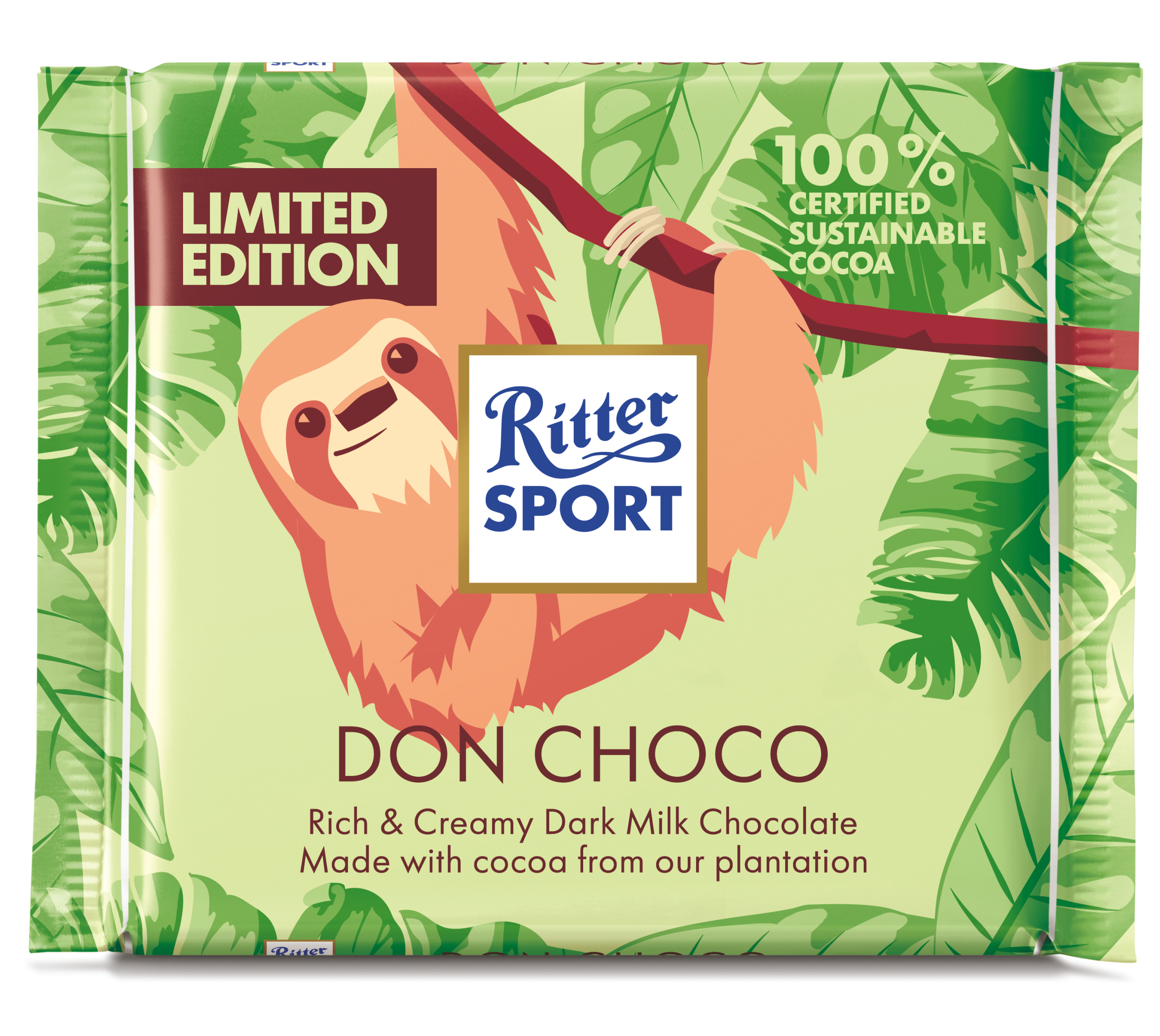 Hot on the heels of Ritter Sport being officially recognised as a carbon neutral company – it has now announced another huge milestone in its sustainability journey with the launch of Don Choco – a limited-edition dark milk chocolate bar made from 100 per cent certified, sustainable cocoa from its own cacao plantation in El Cacao, Nicaragua.
Made with rich and creamy dark milk chocolate with a 40 per cent cocoa content, Don Choco is the company's first dark milk bar, in stores this month. Darker and higher cocoa content chocolate is growing +9 per cent YOY, so this new bar is expected to help drive incremental category sales.
The packaging features the loveable Don Choco sloth character, recently hired as the new Director of Slo-perations, modelled on a real-life sloth living on the El Cacao plantation.  The back of pack tells the story of the work at the plantation and tells consumers about Ritter Sport's sustainability credentials.
"Doing the right thing to create really good chocolate is at the very heart of our brand and we're incredibly excited to see our new Don Choco product swinging into stores nationwide," said Katy Clark, Head of Marketing at Ritter Sport UK & IRE. "Sustainability is already on-trend, and dark milk has a strong appeal for shoppers wanting to try darker and higher cocoa content chocolate."
With an MRRP of £1 for a 100g bar, Don Choco is being supported with an amazing Slo-cial campaign across Facebook, Instagram, as well as PR activity to ensure news of the launch and our important sustainability message reaches as many consumers as possible.
Ritter Sport has owned El Cacao since 2012, when it became the first major block chocolate brand to own and operate a cocoa plantation. Today El Cacao is one of the world's largest cocoa plantations at over 2,500 hectares. Here CO2 is extracted from the atmosphere by approximately 1.7 million cocoa and shade trees, as well as forest areas. El Cacao has since been recognised as a Carbon positive, Gold Standard certified climate protection project.
The brand will be available through Cash and Carries and Wholesalers including: Dhamecha, SOS Wholesale, Filshill, Rayburn, and CJ Lang.