Danish confectionery brand Anthon Berg has refreshed the packaging for its core chocolate liqueur and chocolate cocktails range for 2023.
The brand, distributed in the UK by confectionery experts World of Sweets, has been given a modern and premium look and has been made more sustainable.
Plastic windows have been removed from all packaging to cut down on plastic use and give greater visibility of the chocolate liqueurs and chocolate cocktails.
The new look comes as the brand seeks to reach a new audience with its sophisticated Chocolate Cocktails range and its popular Chocolate Liqueurs.
The Chocolate Cocktails are created by Anthon Berg's team of chocolatiers who've produced delicious dark chocolate bottles filled with smooth liquid fillings inspired by cocktails from around the world.
They have worked with expert mixologists to develop the delicious cocktail recipes and consumer favourites which includes Cosmopolitan, Mojito, Espresso Martini, Vodka Mule, Pina Colada and Lemon Drop.
Anthon Berg have partnered with world leading recognised spirit brands for the updated cocktails which includes Mount Gay Barbados Rum and Cointreau. Logos now feature on all packaging to increase shopper appeal.
Packaging has been given an eye-catching, brightly coloured feel to ensure it stands out on the shelf with the individually wrapped bottles vibrant, appealing and with clear brand identification.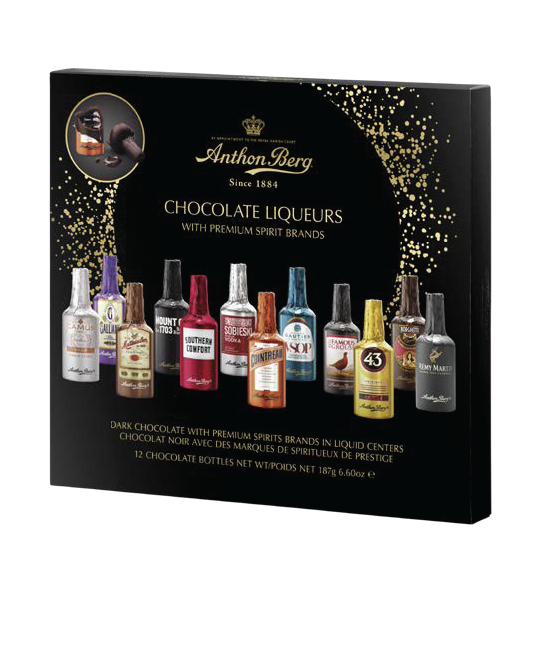 The iconic Chocolate Liqueurs are bottle-shaped dark chocolate filled with famous liqueurs from across the globe.
Among the tasty tipples are Cointreau, Famous Grouse, Drambuie, Remy Martin and Grand Marnier with fruity whiskey liqueur Southern Comfort being introduced for 2023.
The chocolates are available in four, eight, 12, 16 and 24-piece formats making them the perfect gifting item for birthdays and anniversaries giving retailers and their customers increased choice.
"The changes made to the packaging will have a massive impact. The product instantly stands out on the shelf, looking luxurious and will tempt existing and potential new customers wanting to enjoy the chocolate liqueurs and cocktails," Chris Smith from World of Sweets said.
"This is great news for retailers looking to stock the product for seasonal or out of season sales. The updated modern packaging instantly draws customers in which is a big selling point – increased interest and retail sales.
"The products will work well in grocery, high street, garden centres, farm shops and outlets which offer a gifting option."
Anthon Berg was founded in 1884 and is the world's leading liquor filled chocolate brand. It's been owned by Toms International, a Danish confectionery producer since 1954.
Tom's Group will be moving to complete 100 per cent Rainforest Alliance certified chocolate by the end of this year. It's also aiming to have 100 per cent recyclable packaging by 2025.