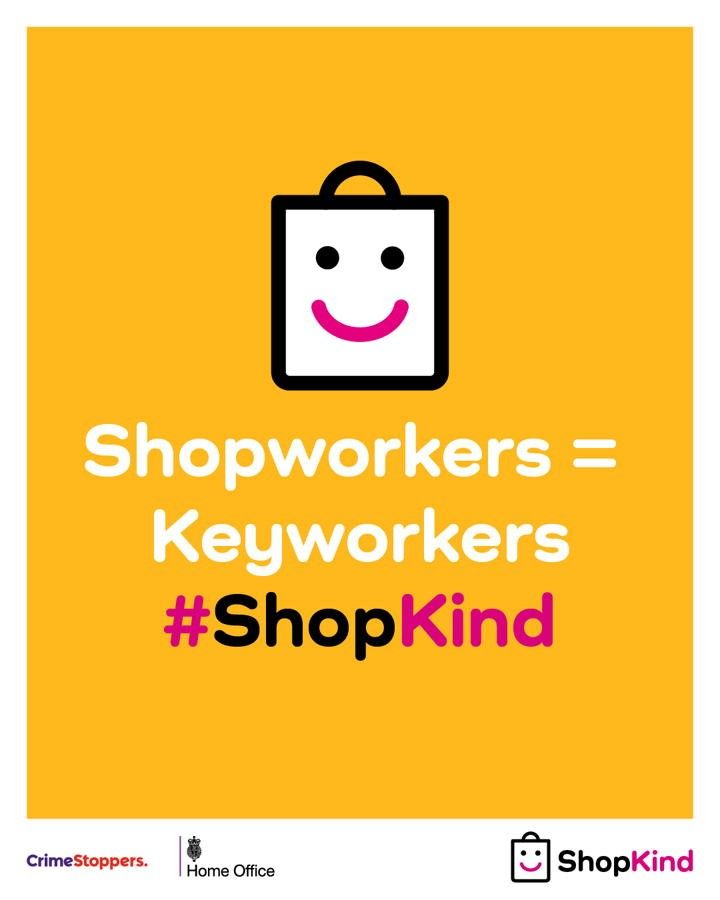 Leading retail businesses and trade associations have joined forces with the Home Office and independent charity Crimestoppers to launch a new campaign urging the public to ShopKind after the reopening of more stores and shops across the country.
The #ShopKind campaign urges the public to be mindful of shop workers' essential role in supporting people during these difficult times, and asks them to treat workers and also other customers with respect, kindness and gratitude.
The campaign is being launched in the backdrop of growing abuse and violence towards shop workers, with at least 400 shop workers abused every day.
"Throughout the pandemic, shop staff have been the lifeline for many in our communities, and I am grateful for their vital service," Home Secretary Priti Patel said.
"Violence and abuse towards shop workers is utterly despicable and unacceptable, everyone has the right to feel safe at work. As the daughter of shopkeepers, I fully support ShopKind, a reminder to customers to consider their behaviour towards shop staff, and I would encourage all retailers to fully support it."
The campaign is backed by the Home Office and supported by major high street retailers as well as the nation's independent shopkeepers, and the shopworkers Union Usdaw.
"Retail workers have played an essential role in supporting communities across the country during the pandemic and have worked tirelessly to put covid-secure measures in place to keep us all safe," Paul Scully, minister for small business, consumers and labour markets, said. "Staff in our great shops, pubs, hairdressers and more should be treated with the utmost respect and gratitude – after such a difficult year, we all have a duty to treat each other with kindness."
The Association of Convenience Stores' (ACS) 2021 Crime Report, published last month, has showed that over the past year there have been over 1.2 million incidents of verbal abuse, and around 40,000 incidents of violence against people working in convenience stores. Of these, more than a quarter involved a weapon, such as a knife, hammer, axe, or syringe.
Two-thirds of retailers (65%) had experienced Covid-related threats, with the most common causes of abuse being: reminding customers to wear face coverings, reminding customers of social distancing measures and queueing outside stores.
James Lowman, Chief Executive at the Association of Convenience Stores, added: "Convenience stores have been open throughout the pandemic, keeping communities going and being first to adapt to keep customers and colleagues safe through Covid secure measures. While the majority of customers have been incredibly supportive and embody the messages of the ShopKind campaign, there are still too many people being abusive and violent to retailers and their colleagues.
"We fully support ShopKind, which serves as an important reminder of the essential work that convenience stores have done over the last year and continue to do to as the rest of retail reopens."
If you have any information about someone who is abusive or violent towards retail and shop staff, please let Crimestoppers know 100% anonymously on freephone 0800 555 111 or through the untraceable Anonymous Online Form at www.crimestoppers-uk.org.