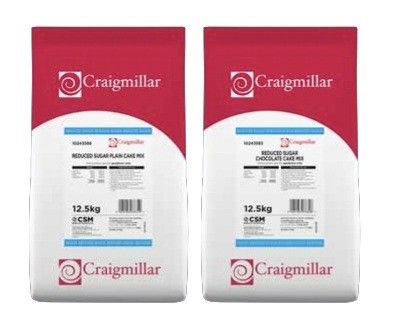 CSM Ingredients has announced the launch of two brand-new reduced sugar cake mixes in Plain and Chocolate varieties under its Craigmillar range.
Featuring the same taste as its range of Craigmillar Crème Cake mixes but with 30% less sugar, the new products tap into both consumer demand for healthier products, and government targets following focus on high-sugar items.
"The launch of the two new reduced sugar cake mixes will enable bakers to offer products to their customers that tap into the ever-increasing demand in the market for healthier food items. The 'war on sugar' has put increased pressure on the food and drink industry to reduce the amount of sugar used in products, but this can be tricky for businesses to achieve," Cristiana Ballarini, CSM Ingredients activation director west, south & international, commented
"Not only are the new Craigmillar reduced sugar cake mixes easy and efficient for bakers to use, they don't compromise on flavour which is what a lot of consumers find off-putting when it comes to reduced sugar produce. The deliciously light and fluffy consistency works for a number of different baked goods and will enable businesses to extend their appeal."
Available from April, the versatile mix is suitable for producing all types of bakes, from whole cakes and loaf tins, to individual portions such as cupcakes and muffins.