Christmas is the best time for retailers to boost sales in the snacks and crisps category. After emerging through a challenging year, people are more excited than ever to celebrate the approaching midwinter festival. The crisps and snacks market is worth £3bn and is growing at a healthy three per cent YoY. In fact, growth is accelerating with the market growing +7.7 per cent YoY over the latest 12 weeks, says the IRI market advantage report. According to Kantar research, this year 60 per cent of consumers say they are most looking forward to celebrating with friends and family and 50 per cent of consumers say snacks are a must-have for a great evening in. Even during the lockdown, retailers enjoyed uplifted profit from the sales in the snacks and crisps category. Now it looks like being an even better time to celebrate sales.
Market & Trends
Pork Snacks have been growing faster than the market (+5.5 per cent vs +2.8 per cent) in the last three months as consumers continue to enjoy the ultimate pub snack at home – a behaviour encouraged by lockdown pub closures that shows no sign in stopping. Matt Smith, Marketing Director for Tayto Group (owners of the UK's top three pork snacks brands – Mr Porky, Midland Snacks and Real Pork Co.) says, "£1 PMP Sharing Snacks, which saw huge growth during the lockdown, continue to grow faster than the market (+6.0 per cent vs +5.0 per cent) as we continue to enjoy a snack in front of Netflix or, once again, have friends round."
Tayto's Golden Wonder will celebrate its 75th anniversary in 2022. The brand continues to perform by delivering on the brand promise of 'more punch per crunch'. By also offering great branded value to consumers and strong retailer margins, Golden Wonder over-trades significantly in Convenience/S&I.
Sharing formats become even more important over Christmas as customers stock up on snacks – or grab a quick bag – ready for home entertaining or meeting with friends.
Golden Wonder's £1 PMP Snacks range is driving the category – growing faster than the market (+12.1 per cent vs +6.1 per cent) – with market-beating growth across its brands: Transform-A-Snack (+16.5 per cent), Saucers (+8.8 per cent), and Fun Snacks being the star (+151 per cent) due to the launch of £1 Spicy Bikers which has become a top-ten seller within months of launch2 and sits alongside the existing £1 Tangy Toms and Ringos range.
It continues to add to its £1 PMP range with the addition of Sour Cream and Onion Ringos and Cheese and Onion Transform-A-Snack in recent months, as well as the phenomenally successful Spicy Bikers – all of which were supported with strong trade marketing campaigns to drive growth.
Having been voted Britain's favourite pub snack, scratchings are synonymous with the pub but surprisingly almost half of the purchases are in retail. Mr Porky, the No 1 Brand with 44 per cent share, continues to drive the category by growing faster than the market (+6.8 per cent).
Smith explains, "Pubs hold a special place in British hearts as somewhere to relax, shake off the stresses of daily life and enjoy ourselves – especially as things turn more festive as Christmas time. Pork scratchings are undisputedly linked with drinking alcohol – 83 per cent of pork snacks are consumed with a drink – and drinking is associated with the pub. The combination of a pint and scratching is one that many have grown up with and see as fundamental to the pub experience.
"Whilst scratchings are the ultimate pub snack, sales in shops are higher than in pubs. Many have chosen not to rush back to the pub as we've embraced a new-found preference for staying at home, where the 'home bar' or 'garden bar' has come into its own," he adds. "Consumers frequently talk about buying their pork scratchings 'at the offie', by which they mean their local convenience store, so retailers should be stocking the recently launched range of pork snacks clipstrips from the two leading brands – Mr Porky and Midland Snacks. These handy, highly visible clipstrips, allow pork scratchings to be merchandised with BWS without taking up precious floor or shelf space."
Contrary to popular belief, pork scratchings are not the preserve of 'old blokes'- 44 per cent of consumers are women, 63 per cent are under 45 and 41 per cent are under 35, and A third of pork snacks are consumed by AB consumers and over half are consumed by ABC consumers.
Smith comments, "Scratchings are the perfect partner to cider, wine, spirits – and especially – premium beers and lagers, due to their unique taste. The fattiness balances the sharpness and carbonation of some drinks, while the saltiness enhances the flavour of a drink and helps get your thirst on – making both the snacks and the drinks even more moreish. There really is no matching a scratching."
"In every piece of research we have conducted, taste is always the No1 reason for purchase as consumers recognise savoury snacks are a treat and so, have to be 'worth the calories." Smith suggest, "Retailers can maximise sales of scratchings by tapping into shopper behaviour. With over 80 per cent of scratchings being consumed with a drink, smart merchandising can drive sales. Consumers talk about buying scratchings on impulse from the 'Offie' (i.e. a convenience store or forecourt) so hanging pork snacks clip-strips with BWS will capture these impulse sales without taking up precious shelf or floor space."
He recommends, for those looking for innovation in snacking, Mr Porky Crispy Strips offer the perfect solution for customers who might find traditional scratchings a bit 'hardcore'. With a lighter bite, similar to crispy bacon rind, and the same rich, porky flavour for which the brand is famous, they are a perfect everyday treat.
"Impulse sales are starting to bounce back. Value for money is increasingly important as many consumers are concerned about their financial situations, so brands that can deliver great taste and value will continue to be successful. An excellent example of this is Golden Wonder Ringos, which has seen growth by delivering a fully-flavoured snack from 59 calories per pack at a great price.
Healthy CSN (Crisps Snacks and Nuts)
KP Snacks had a strong Christmas performance in 2020, delivering over 26 per cent of overall category growth. It is focused on continuing to grow the CSN category with a diverse and relevant range that will drive shopper spend in CSN and help get the party started this festive season.
"CSN is a key category to back at Christmas, worth £300.1m during December," said Matt Collins, Trading Director at KP Snacks. "Snacks are key for social celebrations, with 62 per cent saying Crisps and crisp-style snacks are their go-to snack. Throughout the festive season last year, shoppers gravitated towards brands they can trust, with existing ranges making up 78 per cent of the category and 70 per cent of consumers continuing to buy favourite brands,"
He adds, "KP Snacks is uniquely placed with a huge variety in its range, offering a portfolio of delicious snacks which will drive sales this Christmas with products for all shoppers and occasions. Our exciting and diverse range can create value and generate demand by meeting all consumer needs and 'together time' occasions."
Christmas also sees an increase in shoppers trading up in their purchase of CSN products, with 26 per cent of shoppers willing to spend more on higher-quality CSN products in this period. Retailers should broaden their product offering for the festive season to accommodate and capitalise on this trend.
CSN products are hugely important in the wider healthy snacking space and this is no different at Christmas. This festive season we are driving awareness of popchips, which recently moved to No. 1 'Better for You' Brand within sharing in the Crisps, Snacks and Nuts (CSN) category. Available in all formats and for a range of consumption occasions, popchips appeals to younger shoppers who are looking to make empowered choices.
With its high protein content and natural credentials, nuts appeal to consumers who are looking for a tasty but permissible snack. Worth £82.3m and growing in value at +12.3 per cent , KP Nuts is the driving force of the UK nut segment with its flavour-filled products and quality credentials. In 2020, there were £98.4m sales of Nuts in Q4 and a 60 per cent increase in people purchasing nuts in the month of December. Shoppers buying KP Nuts increased +126 per cent in December 2020. Our Nut Caddies are also fully recyclable, including the lid and contain 60 per cent recycled content, saving the equivalent of 6.63 tonnes of plastic.
KP Snacks has the brands and range to excite and inspire all shoppers for all snacking occasions, including family celebrations and entertaining friends. Tyrrells 150g sharing packs are a great treat for these celebrations, offering classic and tasty flavours including Mature Cheddar & Chive, Sea Salt & Cider Vinegar, and Lightly Sea Salted. As a premium brand, Tyrrells is acclaimed for its high quality and delicious flavours, with 90 Great Taste awards to the brand's name. Alcohol consumption tends to grow over the festive period with 56 per cent of consumers saying they like to consume savoury snacks with an alcoholic drink , and Tyrrells crisps pair exquisitely with a variety of wines while KP Nuts are the perfect match for a cold beer.
With delicious flavours and a range of formats, the KP Nuts range is the number one branded nut, at more than six times the size of the nearest branded competitor. Popular KP Nuts flavours, Original Salted, Dry Roasted, and Honest Roasted Peanuts will be available in large sharing packs and KP Caddies, ideal for social gatherings this festive period. For shoppers looking for something a bit different KP Nuts flavours and coated nuts are perfect, this range not only includes the classic Honey Roast variant but also Aromatic Thai Chilli Coated Nuts which launched earlier this year.
Ideal for cosy family nights spent watching Christmas films, Butterkist is the nation's favourite popcorn brand. At twice as large as its nearest branded competitor, Butterkist enjoys a 37.2 per cent market share. With popcorn sharing occasions growing at +21 per cent, and 85 per cent of popcorn consumed at a sharing occasion (2+ people present), Butterkist is a delicious treat for quality time with family and friends.
KP Snacks has expanded the Butterkist range with the launch of its new Crunchy Orange Chocolate flavour toffee popcorn. The brand new flavour bridges the gap between popcorn and chocolate confectionery to create a sweet and irresistible snack.
Popcorn is the fastest-growing segment at Christmas, growing 16 per cent YOY in 2020. We are driving category penetration by focusing on the fun, with the launch offering a more indulgent alternative to our non-coated products, making it the ideal choice for sweeter snacking moments. Created to target more consumer occasions, Butterkist Crunchy Orange Chocolate is a unique snack that brings exciting innovation and growth to the popcorn segment.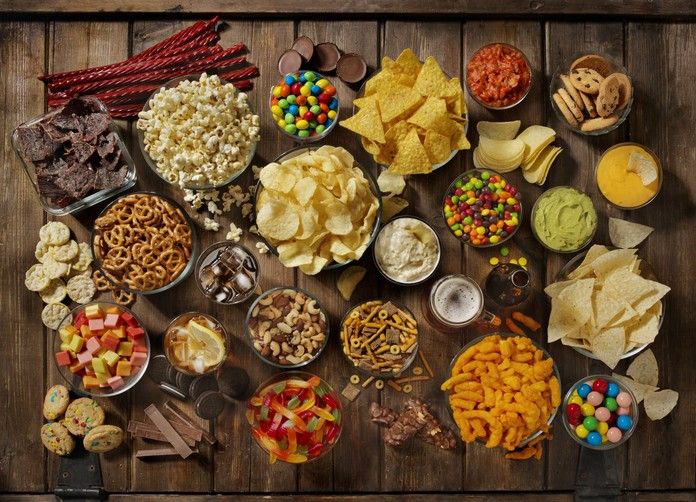 Stock up on these snacks this Christmas
"As the UK continues to emerge from the pandemic, we are hopeful that this year's festivities will see friends and families reunite after spending last Christmas apart. Despite the uncertainty last year, grocery retail sales grew 11.4 per cent compared to 2019, with December 2020 being a record month. As we look ahead to this year, we expect sales to be even bigger to make up for missed celebrations, so retailers should ensure they are preparing early to meet demand, says, Julia May, Fridge Raiders Brand Manager at Pilgrims Food Masters.
With over half of shoppers saying they always lookout for new and exciting products at Christmas, Fridge Raiders will be bringing back its limited-edition Festive Chicken and Stuffing Bites. The exclusive range provides the classic chicken and stuffing taste that shoppers know and love during the Christmas season, in a handy on-the-go packet. Fridge Raiders Festive Bites delivered 20 per cent incremental uplift last year and ranked within the top six for snacks in the food-to-go market, so the new launch is sure to be a hit with shoppers again this year. New limited edition festive flavours is a great choice for retailers looking to cater to chilled snacking occasions throughout the festive period.
Additionally, as consumers become more health-conscious, chilled options enjoy a lot of success in the snacking category with natural protein being seen as healthier. True to the original recipe, Fridge Raiders' Festive Chicken & Stuffing Chicken Bites are made from 100 per cent chicken breast making them high in protein, allowing retailers to offer healthier festive options.
"Christmas is all about treating family and friends therefore your customers will be looking for items that are a little different in terms of flavour and or product. In terms of snacking I therefore suggest making sure that, alongside the traditional core range favourites, you stock a good mix of exciting flavours, so something like Crunchips WOW Jalapeno and Cream Cheese Inferno, and also things that are a little different that will start up a conversation such as Lorenz Curly Classics or Pomsticks that are available in a great range of flavours," suggest Envis Snacks.
Cheese snacking is also on the rise in the UK, particularly amongst kids, with the category growing 5.2 per cent this year. Strings & Things' portfolio is instrumental in this, growing 10 per cent in the last 12 weeks, ahead of the total category.
"This year, to help retailers drive sales in the cheese snacking category during the festive period, Strings & Things will be bringing back it's best-loved Wintershapes. The range proved hugely popular last year, reaching an RSV of £258,000 so is a must-stock for retailers looking to diverse their festive offerings, says Sarah Davies, Strings & Things GB and International Marketing Manager at Kerry Foods.
"The limited-edition Wintershapes will include an array of new shapes, including a snowflake, cuddly penguin and a winking reindeer, to allow retailers to drive excitement whilst enabling shoppers to provide a kid's option on their festive cheeseboards."
New Launches
Just in time for Christmas, Tayto is launching a new range of £1 PMP sharing crisps that offer even more – more premium flavours, more sales and more profits for retailers. Sales of sharing packs have sky-rocketed over the last 18 months making big bag formats a must-stock for independent retailers.
"Since launching our first Cheese & Onion crisps almost 60 years ago, Golden Wonder has been famous for fully-flavoured crisps. These latest flavours, exclusively available in £1 PMP packs, are the perfect way to upgrade any sharing occasion," expressed Smith.
The three unique premium flavours – Mature Cheddar & Spring Onion, Chargrilled Steak and Crispy Smoked Bacon – were, when asked, consumers' preferred flavours. Specially crafted to deliver Golden Wonder's legendary taste – perfect to share!
The launch will be supported over the next few months with a digital campaign, a national Share & Win competition and extensive trade marketing support. Available now in C&C, the fully flavoured crisps sharing range adds a premium angle to independent retailers' sharing offering, so don't miss out – stock up now!
Given the impressive growth of the £1 PMP segment, Tayto has focused on expanding its successful sharing range, in time for Christmas
Spicy Bikers was added to its £1 PMP snacks range earlier this year and it has already become a top ten seller1. "We continue to promote the launch through digital support, including opportunities to win bikes and activity exclusively for independent retailers, including money-off vouchers," says Smith.
He adds, "To drive further growth in the £1 sector and help independent retailers to stock up for less, we recently offered mixed cases and FSDUs of our iconic Transform-A-Snack. Exclusive to convenience retailers, these deals enabled retailers to grab our best-selling flavours – Saucy and Spicy – PLUS the new £1 Cheese & Onion flavour."
PMPs are a proven way for independent retailers to demonstrate that they are offering great value when compared to larger stores. Smith explains, "Shoppers in Convenience are concerned that they will pay inflated prices for shopping locally and PMPs assure them that this isn't the case. An additional benefit is it makes it quicker for shoppers on a 'grab and go' mission as they don't have to search for a shelf ticket as the price is right there on the pack."
Capturing the booming sharing snacks market – especially at Christmas time – means retailers need to be stocking, and giving prominence to, a strong range of £1 PMP snacks. We've seen Golden Wonder Spicy Bikers become a top ten seller within months of launch, joining Ringos and Transform-A-Snack as our top performers in the £1 sector. As ever, Golden Wonder's success comes from delivering our legendary 'punch per crunch', great consumer value, as well as strong margins for retailers.
The success of PMPs is borne out by their dominance of savoury snack sales in Symbols & Independents as Smith explains, "PMPs account for over half of sales, showing that they are essential for the independent retailer at key price points: entry (30p), mid (39p) and sharing (£1). Products such as Golden Wonder's Spicy Bikers are performing well at both 30p and £1 by offering the brand's legendary 'punch per crunch' and great consumer value, as well as strong margins for retailers".
Merchandising tips
Retailers can make the most of this opportunity by stocking a product range that appeals to the customers on this occasion like in-home treating and gifting. Merchandising by key occasions make life easier for shoppers and also enable retailers to capitalise on increased demand. To help retailers capitalise on the festive period, many brands work closely with retailers to develop 'right range, right store' plans and bespoke, targeted promotional programmes for key selling times of the year.
In the run-up to Christmas, displaying snacks close to the till point maximises impulse purchasing', and cross-merchandising by displaying them near the alcohol or soft drinks fixture. Consumers are willing to pay a premium for new or favourite snacks while cross-category promotions are a great way to encourage them to buy into multiple categories such as wine, beer, soft drinks and snacks.
Retailers should also ensure they have a fully stocked with new and recognisable brands. In addition, retailers should also stock exciting NPD and a variety of formats that are suitable for sharing.
To fully benefit from Christmas snacking, retailers should take a few simple steps in-store: Create a Christmas snacking fixture: make it as easy as possible for the shopper who is coming in-store for their favourite Christmas snacks; Awareness: Use PoS in-store to shout about products perfect for Christmas– a good way to increase impulse purchases; Stock larger RRP PMP sharing packs to capitalise on evolving needs; and Cross-category: boost cross-category buying among shoppers. For example, position crisps and nuts within the alcohol aisle and sharing bags with the dips.
Merry Christmas
Christmas is the most awaited festival in the UK for retailers because of the booming sales in certain categories. After the challenging year, this year the festive is more valuable and retailers can cherish the maximise benefits through sales during Christmas by stocking-up all the new and favourable brands in their stores.